Red Heather campground near Squamish provides a winter wonderland for backcountry campers. The proximity of Red Heather Hut offers added peace of mind, as you can seek refuge if the weather takes a turn for the worse.
Camping at Red Heather campground
If you're familiar with outdoor pursuits in Squamish, British Columbia, then you've almost certainly heard of Red Heather Hut in Garibaldi Provincial Park. It's a popular destination for ski tourers, split boarders and snowshoers. The hut itself is just an emergency shelter; you can't sleep in it (unless you need to) but you can warm your cockles in front of the fire. You can also pitch a tent nearby and enjoy the snowy delights of Garibaldi Provincial Park for as long as you like.
There are several backcountry campgrounds in Garibaldi, but Red Heather is a good winter option for a few reasons.
Firstly, it's the first camping area that you come to, assuming that you park at the Diamond Head Trail parking lot. It's just 5km from the upper lot, so you don't have to haul your winter tent too far uphill.
Secondly, you have the security of Red Heather Hut right next door. While the hut isn't for overnight stays, you can go inside to organise your gear, warm up in front of the fire and cook your dinner. This adds a bit of luxury, not to mention the comfort of knowing that you can retreat to the hut, if that winter sleeping bag isn't as warm as it says.
Finally, you can use Red Heather as a base, from which you can strike out further into the backcountry. Ski tourers and split boarders can do a few laps off of Paul's Ridge and Round Mountain before bedding down for the night. Snowshoers can head up to the ridge to enjoy the spectacular views across Garibaldi Provincial Park and the Tantalus Range (assuming it's a clear day!)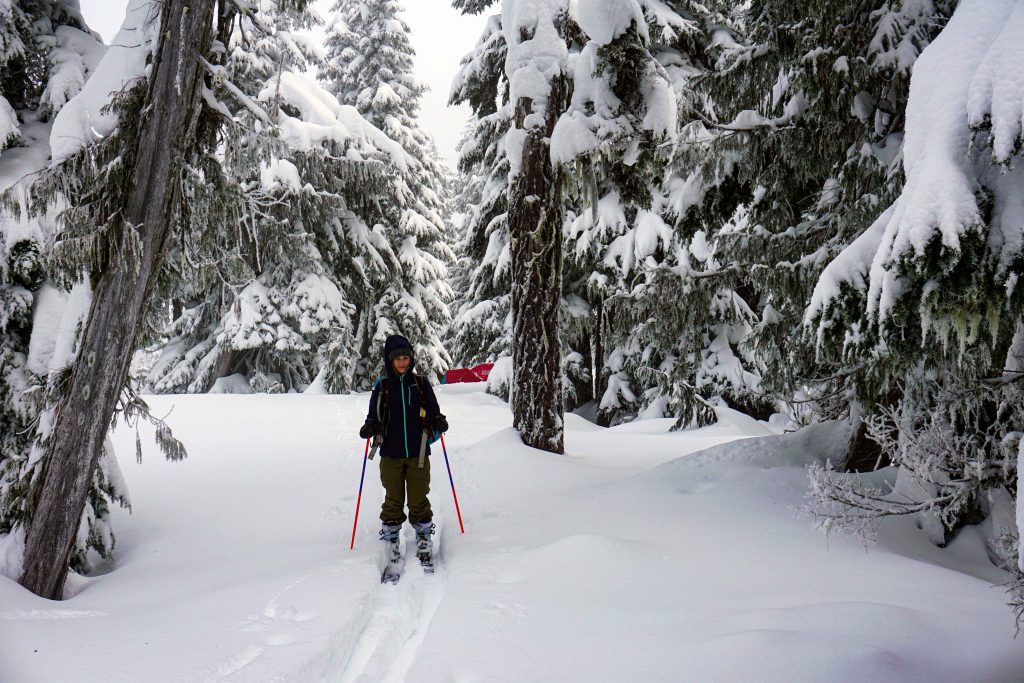 What you need to know before you go
If you're planning a winter camping trip to Red Heather campground, then here's what you need to know before go.
Driving and parking
Park at the Diamond Head Trail parking lot. The access road is a narrow mountain road that's often packed with snow and ice near the top. Winter tires (or mud and snow tires) are a must and 4WD is recommended.
There are two parking lots: an upper lot and a lower lot. If you want to access the upper parking lot (which is where the trailhead starts) then you'll need snow chains. You can be fined if you drive past the chain-up area without chains installed.
If you don't have chains then you can park at the lower lot and walk up. However, park rangers have been known to wait further down the road and turn away vehicles without snow chains. This will be a nuisance, as you'll either need to go and buy some, or you'll have to park a considerable distance from the trailhead.
Fees and permits
You don't need a permit to enter Garibaldi Provincial Park during winter, but if you plan on staying the night, you must buy a backcountry camping permit advance of your trip. This applies, even if you're sleeping in your own tent. You can purchase a permit on Discover Camping. Camping without a permit carries a fine.
Hiking up
The trailhead starts from the upper parking lot. There's an outhouse here if you need.
The trail itself is narrow and tree-lined. There are no views en route, aside from a clearing at around the halfway mark from which you can see across Squamish. It's uphill all the way until you reach the meadow, where the trail flattens out. A little further along you'll find Red Heather Hut tucked into the trees on your right. In terms of navigation, the first part of the trail is extremely easy to follow. Later on, it opens up slightly and you'll need to follow the orange marker poles.
The distance between the upper parking lot and Red Heather Hut is 5km. It takes between one and two hours, depending on how quickly you move.
Where to camp
Red heather campground is in the immediate vicinity of Red Heather Hut. It's an alpine meadow and the area is relatively flat. There are no designated pitches or tent pads, so can choose your own camp site. Bear in mind that the hut has a heavy footfall, particularly at weekends. The glades behind the hut offer greater privacy on a busy weekend.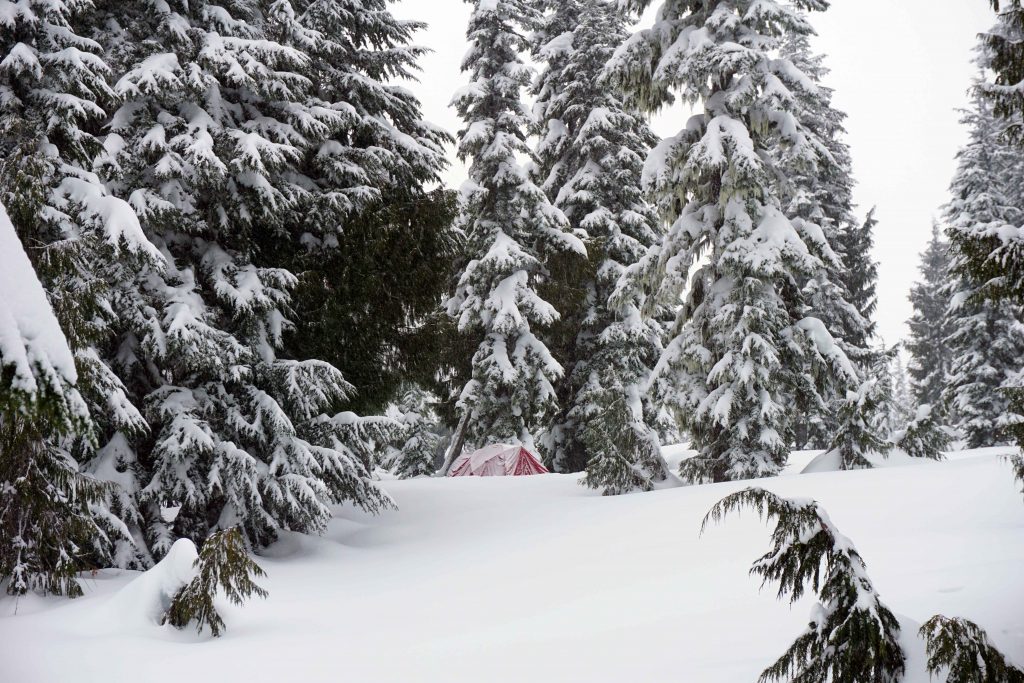 Red Heather Hut
You're not allowed to sleep inside the hut, unless it's an emergency. However, you are permitted to use the facilities. Inside, you'll find two picnic benches and a wood burner. There's a wood pile just outside the front door, along with an axe for chopping. The wood supply has to last the entire winter, so be conservative. There's also a two-ring propane stove and a sink for grey water. You will need to melt snow for drinking water, which should be boiled and/or treated.
If you're camping nearby, you may want to leave certain items inside the hut, although you do so at your own risk. Hooks line the walls so you can hang up bags, clothing and equipment. But be warned: there are lots of mice, so be sure that any food is tightly concealed.
Just beyond the hut is an outhouse. As of July 2021, BC Parks is operating a 'bring your own toilet paper' policy in the Sea to Sky Corridor – you've been warned!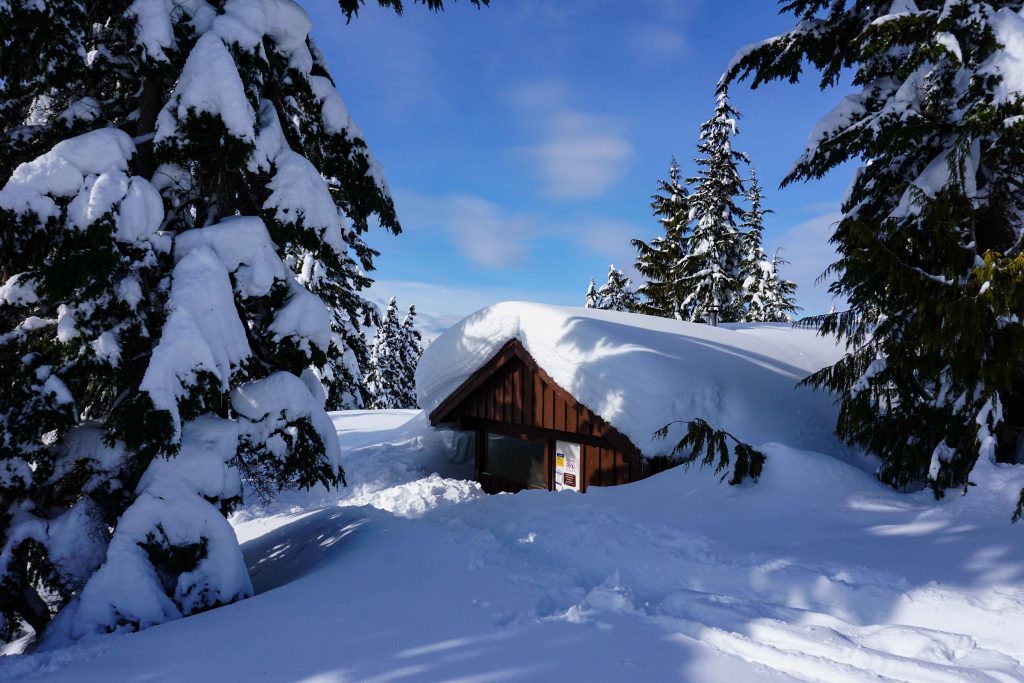 What about summer camping?
You can only camp at Red Heather during the winter months. Currently, this means between the dates of December 1 to April 30. Check the BC Parks website for up-to-date information. A camping permit is required.
The hut is open year-round as a warming hut and an emergency shelter. The wood stove should only be used in winter.
Activities nearby
This is a very popular winter recreation spot. Hikers and snowshoers typically head to Red Heather Hut before making the return journey. Ski tourers and split boarders enjoy the backcountry terrain around Round Mountain and Paul's Ridge. It's also possible to continue along the winter trail towards Elfin Lakes Shelter, which is 6km past Red Heather Hut. Winter camping is permitted at Elfin Lakes, and sleeping is allowed in the hut if you have a reservation. More challenging terrain can be found beyond Elfin Lakes.
Safety
There's sign near the start of the trailhead indicating that you are entering into avalanche terrain. You should carry a beacon, probe and shovel (and know how to use them). The trail to the hut is often considered low risk, but there are sinkholes and creeks, so be sure to stick to the path and operate a buddy system.