I put the Sealskinz Waterproof All Weather Mid Length Sock through the ultimate test: a Vancouver winter. They more than stood up to the challenge, scoring highly on waterproofness and warmth.
Product description
Sealskinz says: "We designed the Waterproof All Weather Mid Length Sock to keep you dry and on the move in wet or cold conditions…Ideal for a variety of temperatures, this sock will keep you dry and warm in rain, snow, and mud, through stream crossings, and standing in leaky waders."
The review: Sealskinz Waterproof All Weather Mid Length Sock
For anyone who isn't familiar Canada's west coast, you should know that Vancouver is commonly known as Raincouver. Because guess what? It rains. A lot. If you want statistics, then I can tell you that it rained a total of 171 days in 2020. So, what better way to test a pair of waterproof socks than a wet, cold winter in British Columbia?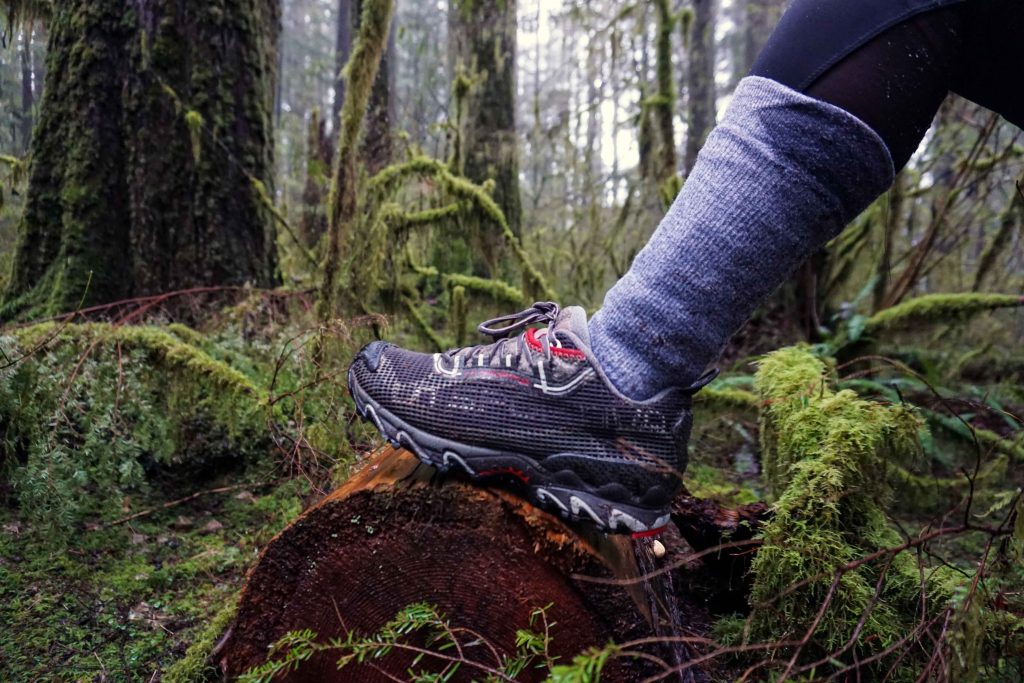 At first glance
Straight out of the box, you'll notice that these socks feel a bit 'strange'. It's hard to describe, but they don't feel like your ordinary sock. The reason being is that they are constructed of three layers. The outer layer is made from nylon, which is known for its durability. The middle layer is the waterproof hydrophilic membrane, which is the clever technology that keeps water, mud and snow out. Finally, the inner layer is made from merino wool, which is prized for its warmth and sweat-wicking abilities. Slip them on your feet and yes, they still feel a bit unconventional. They don't fit snug to your feet like other socks. But that's kind of the point – these aren't conventional socks.
The size chart on the Sealskinz website indicates what size sock you should buy. I'm a UK size 5 and the small socks fit me perfectly. Bear in mind that these are thicker than your average sock, so if you're at the upper end of a small, Sealskinz recommends that you select a medium (and so on). I definitely found that my shoes were tighter than normal, although the socks weren't so chunky that it was a problem.
In the field
My first jaunt was a road run in the pouring rain. My road running trainers are incredibly thin and have zero waterproofing. Out and about, I found the socks to be really comfortable, which I wasn't expecting because they have such an unusual fit. Back at home, I squelched out of my soggy trainers and found the outer part of the socks to be completely sodden. This wasn't a cause for concern, as the outside layer isn't waterproof.
Inside the socks, my feet felt like they were wet, which raised some alarm bells. But when I took the socks off, my feet were pretty much dry. What I could feel was perspiration from my feet. The socks are described as 'extremely breathable', as the waterproof membrane is meant to 'release perspiration steam and warm air from inside the sock.' However, it seems this function may be compromised with high intensity activity. I've also read that when the outer layer becomes wet, the socks lose breathability. Whatever the cause, I do find that sweat builds up inside the sock, both while road running and trail running.
Even so, I still wear them for running in cold, wet conditions. They're really warm and comfortable, with the blister-proof design living up to its promise. I like that the socks extend halfway up the calf muscles for extra protection against the mud and wet. And given the choice between sopping wet feet and dry (but slightly sweaty) feet, I'll take the latter any day.
In any event, these socks aren't actually aimed at runners. They're billed as an "ideal choice when there's a risk of getting your feet wet while hiking, cycling, commuting, hunting, fishing, or working outside." I tried them while mountain biking and commuting around the city, and they do a terrific job of blocking rain, spray and wind chill.
In fact, these socks were particularly impressive while I was out on the mountain bike. My feet are normally so cold when I ride in the winter. But I finally found warmth with my trotters cocooned in the Sealskinz Waterproof All Weather Mid Length Sock. At one point I slipped off a skinny wood feature and landed my foot straight into a puddle. Did my foot stay dry? Yes it did. I've since worn them riding in the snow and the rain, and my feet have always been nice and toasty.
The verdict
As socks go, the Sealskinz Waterproof All Weather Mid Length Sock is a pricey option. In certain scenarios, the breathability may also be sub-optimal. Having said that, they have truly revolutionised my winter activities. They do a fantastic job of keeping your feet warm and dry – even when your foot is fully submerged in water. Sealskinz are so confident of their performance that they even offer a lifetime waterproof guarantee.
These socks aren't built for summer adventures, but are ideal for wet weather activities in colder temperatures. They get bonus points for being low maintenance, as you can throw them in the wash with the rest of your laundry. This is a relief, because I've found myself ferreting them out of my sock drawer time and time again.