While Mayne Island is just 21 square kilometres, it wants for very little. Fresh produce, locally brewed beer, artisan shops and quiet beaches can all be found on this little lump of rock. Combine this with well-paved roads reaching all four corners of the island and you've got yourself a wholesome, cyclist-friendly retreat.
Cycling on Mayne Island
There are lots of different types of cyclists. If you're of the variety that likes to adopt a leisurely pace, snack on roadside berries and stop for a well-earned beer, then Mayne Island is for you. There's no hard shoulder or bike lanes, and as always, there are hills a-plenty. But even so, this is a cyclist hotspot. During the summer months you're guaranteed to see people packing panniers. The traffic is respectful and the roads are all rideable.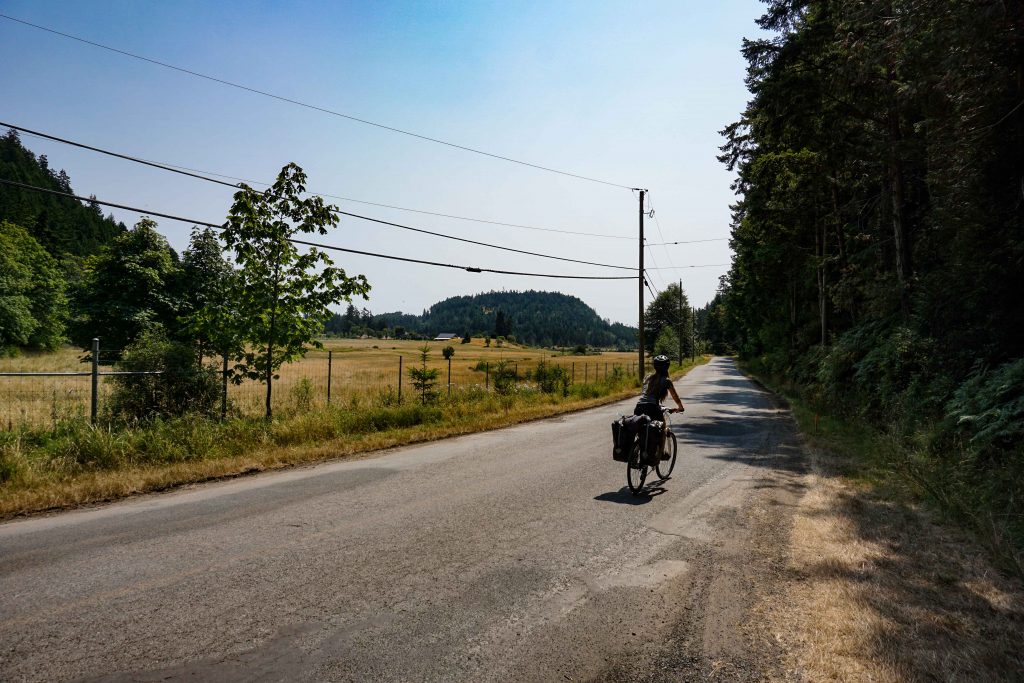 Mayne Island is small enough to cycle around in one day, but it's also big enough to explore over the course of a long weekend. I was glad to have three days, as I was quickly overcome by the relaxed pace of island life. From May to October, there's also a calendar of events to keep you entertained. During one August weekend, I stumbled upon the weekly farmer's market, an outdoor cinema and a live music concert – and I wasn't even trying to find any of them.
Three-day itinerary
Conveniently, the road system is also circular in nature. This means you can loop around different parts of the island, rather than going back and forth on yourself. On the first day I pottered around the farmer's market at Miner's Bay before heading up to Georgina Point Heritage Park and lighthouse. This was followed by a relaxing afternoon on Campbell Bay beach and beers at Mayne Island Brewing Company.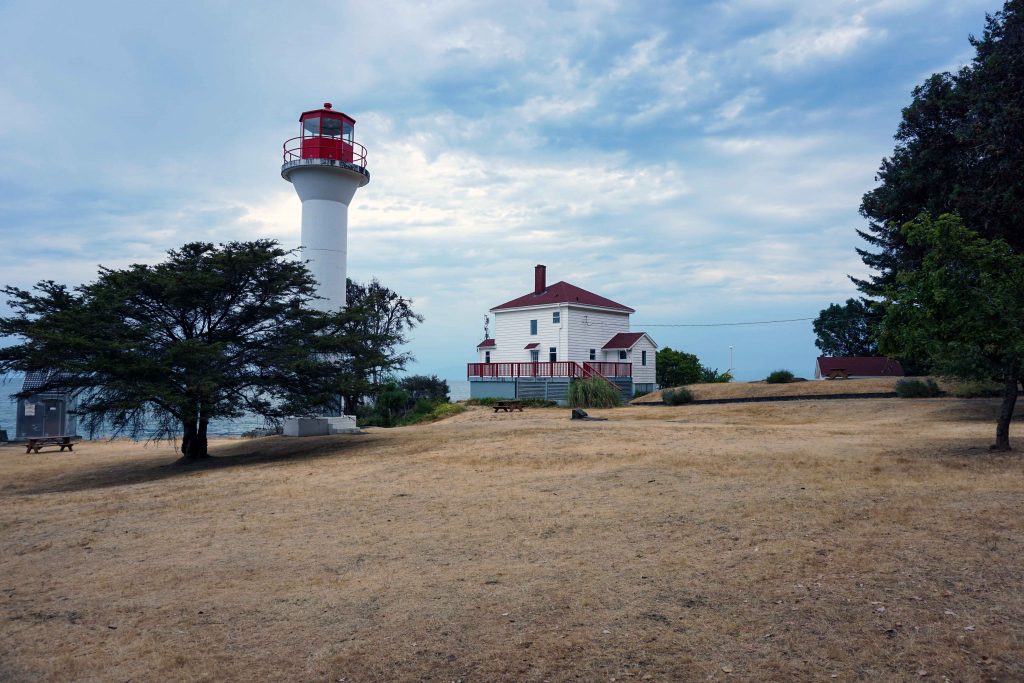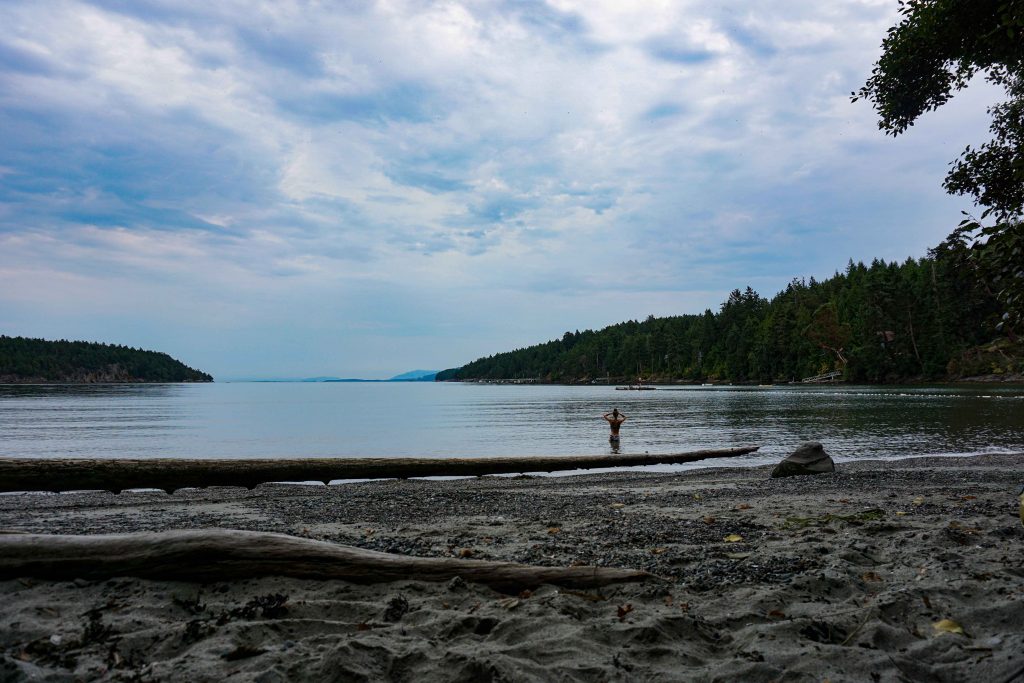 On the second day I stopped for a coffee at the Shavasana café. Once fuelled with caffeine, I made a beeline for Bennett Bay and Campbell Point. Afterwards I cycled to St John Point Regional Park for a stroll amongst the arbutus trees and a nap on the beach. I cycled past the brewery on my way back, so it seemed rude not to stop for a second time.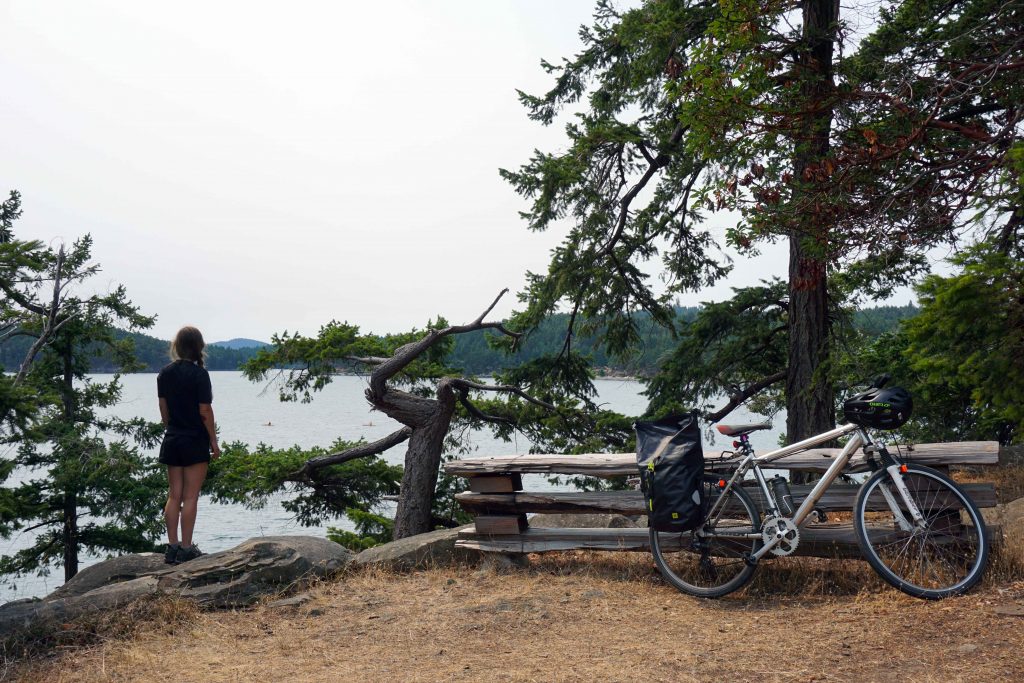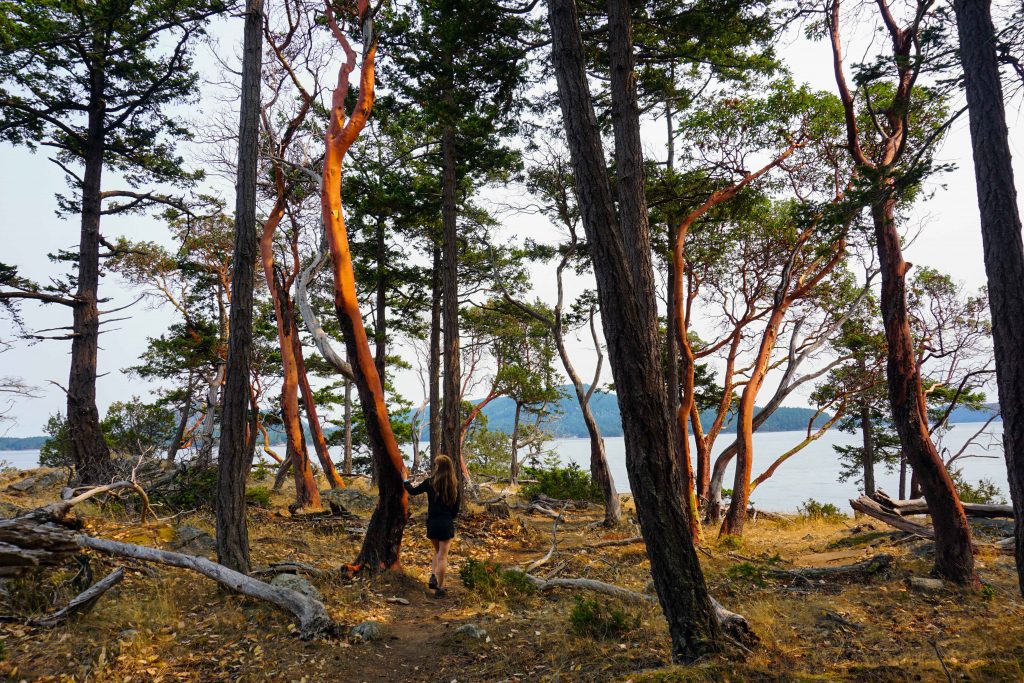 On my final day I headed straight to Mount Parke and hiked up to the viewpoint. Once I was back on my bike, I looped around the south of the island, stopping for a swim at Piggot Bay. Then it was a quick cycle back to Village Bay to catch the ferry.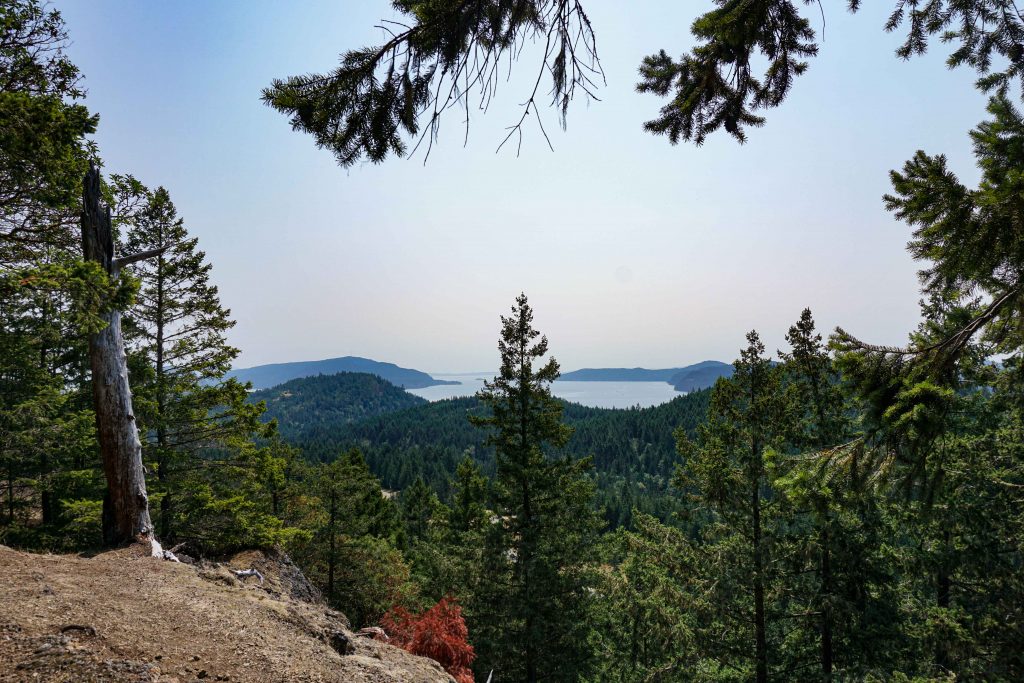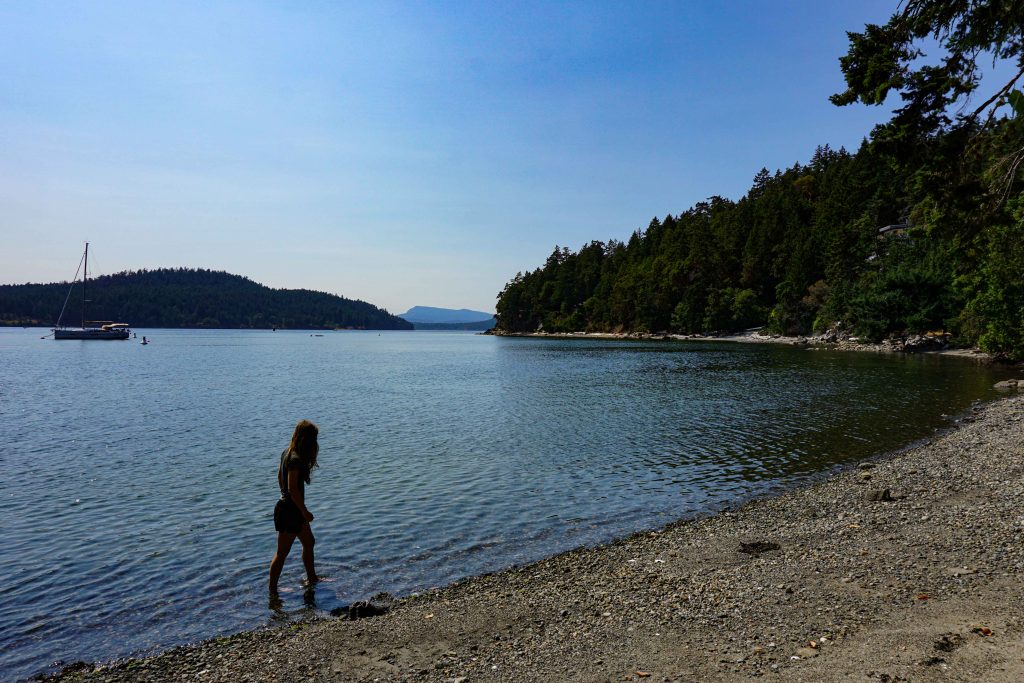 An artisan island
At all times, my progress was slowed by the relentless onslaught of fresh produce. Vast swathes of Mayne Island are given over to farmland, and they seem to be a prolific bunch. You can barely cycle 100m without another farm stand looming on the horizon. Some offer up flowers, others delicious fruit, veg and eggs, others homemade pickles, chutneys and other bounty. Many have even entered the modern era, allowing you to pay by either cash or e-transfer.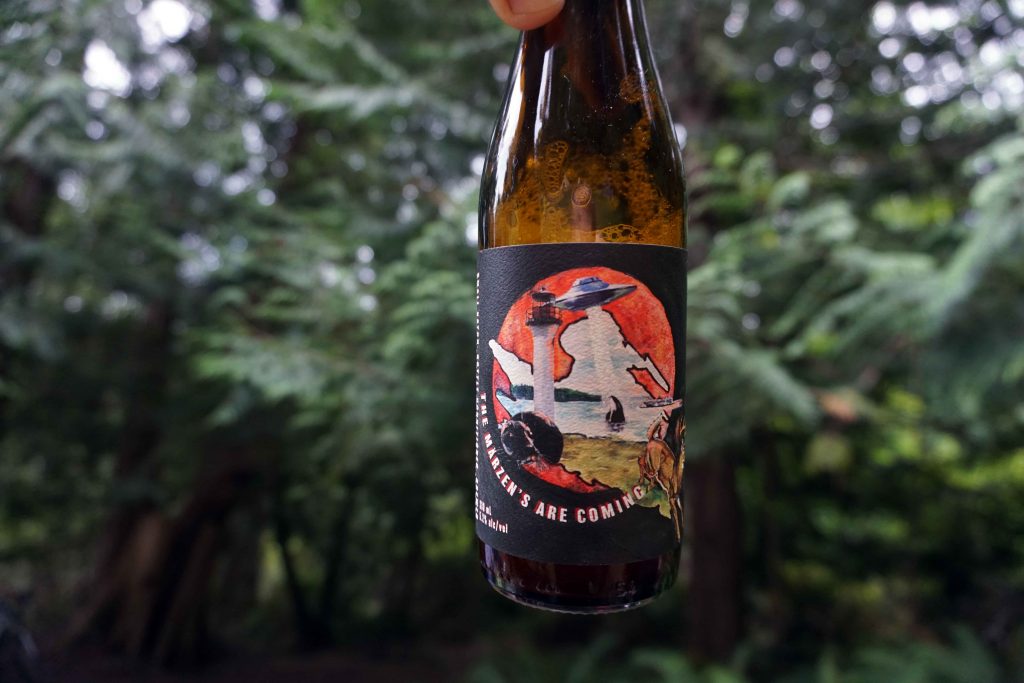 If you time it right then you'll find the roadside hedgerows to be bursting with blackberries. There aren't any bears here, so you can pick at will. If you need further supplies, the small community of Miner's Bay has two grocery stores, a bakery, a few eateries, a café, a post office, a gas station, an ATM and even a library. More quaint stores can be found further along Fernhill Road, including a second-hand book shop.
Camping on Mayne Island
While there's a variety of holiday rentals on Mayne Island, there is just one campground: the privately owned Mayne Island Camping. Located just above Miner's Bay, it's only a 12 minute cycle from the ferry terminal and a short pedal to the grocery store. Private pitches and group camping are available.
Subject to water shortages, the campground has a beautiful shower erected amongst the trees (with privacy screens), drinking water and grey water sinks. However, there are no trash cans or recycling facilities. You either need to pack your rubbish out with you, or pay to drop it off at the island's recycling centre.
The campground is situated on the water's edge. It has a little beach and boat launch. If you follow the trail through the forest behind the meadow, you'll reach another stone beach with beautiful views across the ocean. It's the ideal place to hang a hammock and kick back with a good book.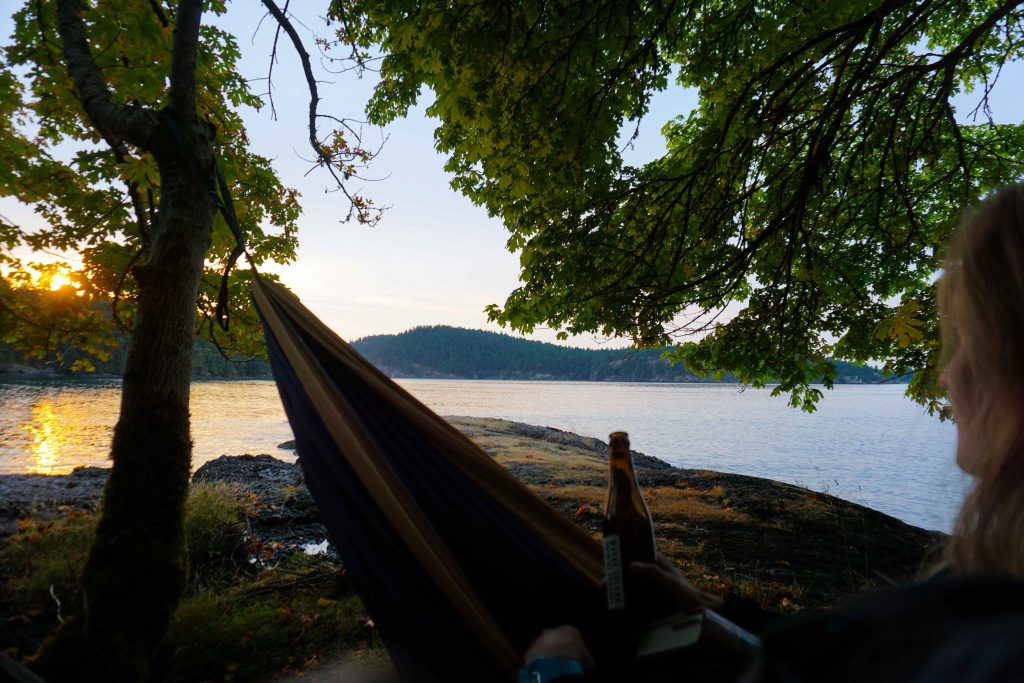 What to do on Mayne Island
Visit the farmer's market, held every Saturday between May long weekend and Thanksgiving, 10am to 1pm, on the grounds of the agricultural hall
Stroll around Georgina Point Heritage Park and lighthouse
Go for a swim at Campbell Bay beach – there's a pontoon and the water temperature is manageable!
Hike up Mount Parke and enjoy the views. You can make it into a loop by hiking the halliday ridge trail, the old gulch trail and the lowland nature trail
Hike into St John Regional Park – my personal favourite
Visit Bennett Bay and Campbell Point
Take a look around the Japanese gardens
Eat your way around the fresh produce stands
Sample a flight at Mayne Island Brewery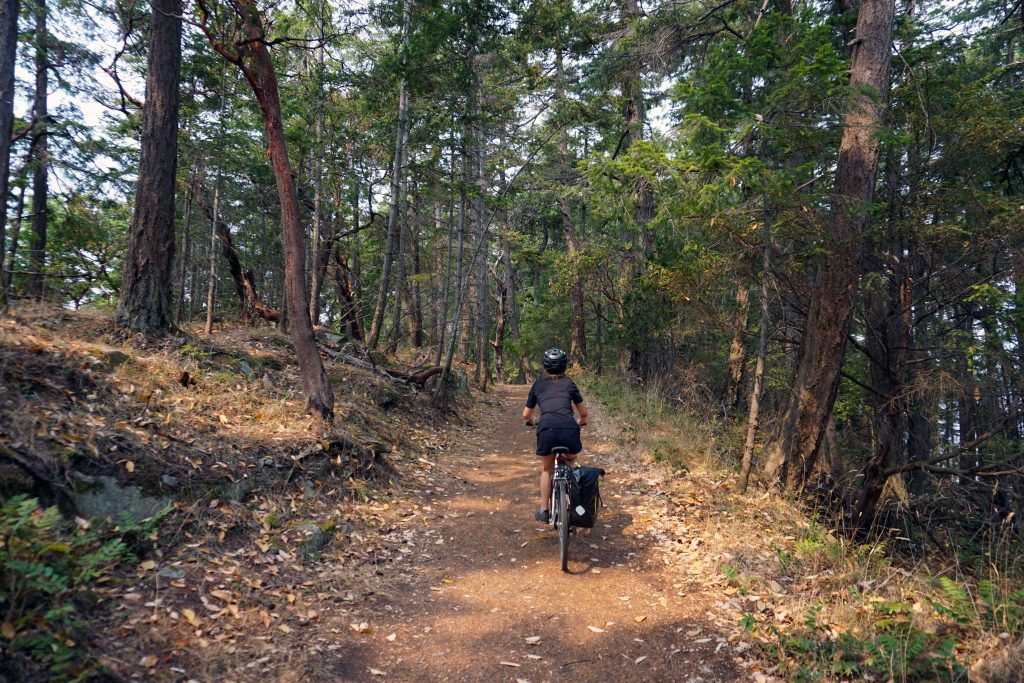 Cycling to Mayne Island: know before you go
Get to Mayne Island via BC Ferries (Tsawwassen/Swartz Bay to Village Bay)
Most of the island's amenities are centred around Miner's Bay, including two grocery stores
Bring cash for the food stands
There is one campsite – Mayne Island Campground. It isn't open year-round and reservations are needed
You'll probably have to take your trash with you or drop it off at the island's recycling centre
Mayne Island Brewing does bottles of beer to go
You can pick up a map of the island on the ferry
There aren't many beach access signs – just follow your nose