The Juan de Fuca Marine Trail is a 47km hiking trail located on the west coast of Vancouver Island. If you're thinking about hiking it, here's what you need to know.
Shorter hikes
You can access the Juan de Fuca trail at four different trailheads – Botanical Beach, Parkinson Creek, Sombrio Beach and China Beach. If you're looking for a day hike, you can park at any of these locations and explore a section of the trail as an out-an-back hike. If you prefer not to turn back on yourself, you could always shuttle cars or catch the West Coast Trail Express back to your vehicle.
For a kids-friendly option, park at China Beach and walk the 2km down to Mystic Beach. To make it longer, carry on to Bear Beach, which is another 7km from Mystic Beach. For something longer still, start at Sombrio Beach and walk all the way to Botanical Beach. From there, get a friend to drive you back to Sombrio or reserve a spot on the West Coast Trail Express from Port Renfrew – just make sure you get to the bus on time!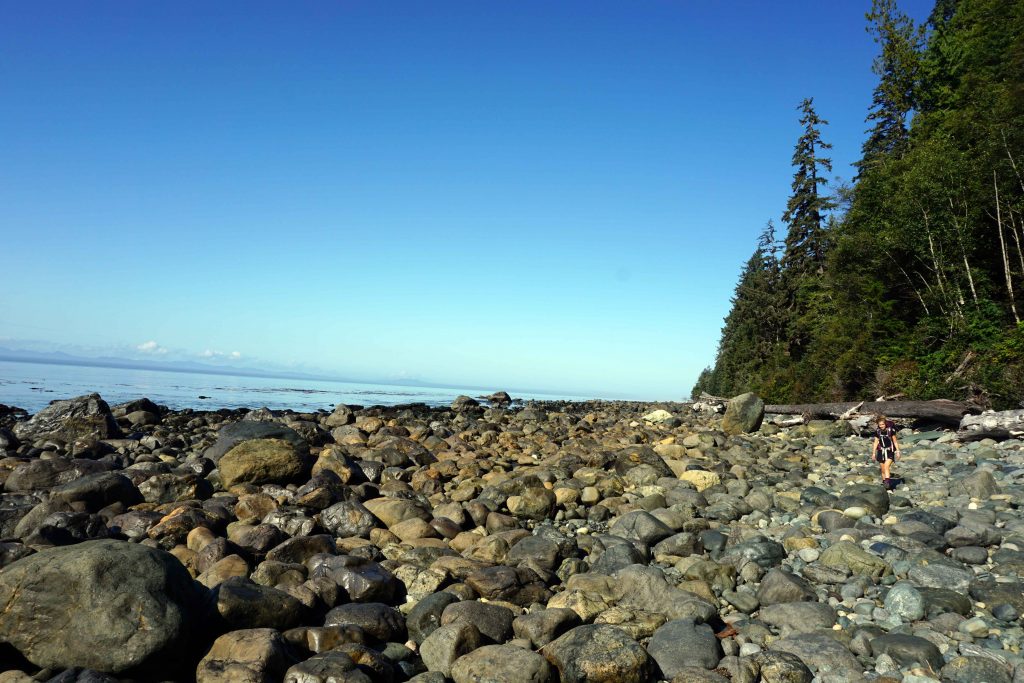 Hiking the whole trail
If you want to complete the whole trail, you can do so in one day as a trail run, or as a multi-day hike. The number of days you need is entirely up to you. If you travel quickly, you could do it over two days, spending the night at either Sombrio Beach or Chin Beach. However, this will be a push for many. Also, it would be a shame to rush your way through this beautiful corner of the world.
I hiked it over three nights and four days. I front-loaded the distance, with a long first day followed by three fairly relaxing days. This gave me more beach-chilling time – always a good thing! It also gave me a day each to hike the most difficult sections.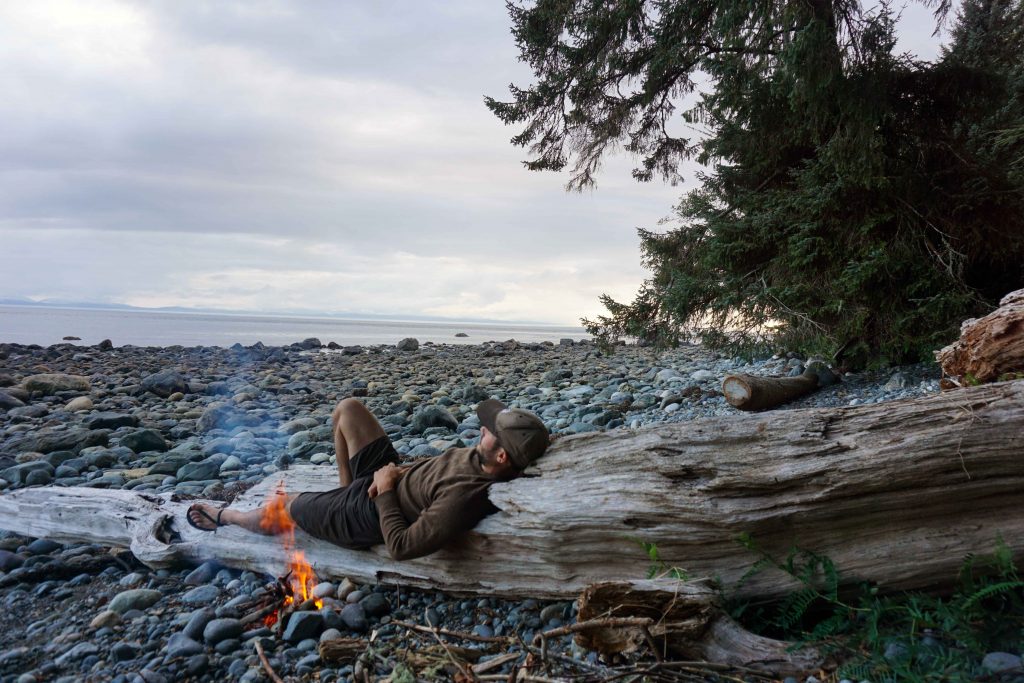 Camping on the Juan de Fuca trail
There are six campsites to choose from along the way. No reservations are needed. At each you'll find bear caches and outhouses. You don't need a permit to hike the trail, but the campsites cost $10 per night, per person. You can pay online before you go, or take cash and use the self-registration envelopes when you're there.
The trail is open year-round and can be hiked in either direction. If you hike from north to south, the starting point is Botanical Beach (near Port Renfrew) and the end is China Beach (near Jordan River). If you're going in this direction, you will reach the campsites in the following order –
Payzant Creek
Little Kuitshe
Sombrio Beach
Chin Beach
Bear Beach
Mystic Beach
Payzant Creek and Little Kuitshe campsites are in the forest, so can get muddy. Sombrio Beach and Mystic Beach campsites are often busy, as they are readily accessed from the road, making them popular with non-hikers. Chin Beach can also fill up quickly. Because the campsites are first come, first serve, it's a good idea to leave early in the morning to bag the best spots.
What's the trail like?
As you might expect from a coastal hike, the trail is undulating. Most of the flat sections are on the beaches. You may have heard of (or even hiked) the Juan de Fuca's more famous neighbour, the West Coast Trail. While the West Coast Trail is known for its boardwalks and ladders, the Juan de Fuca trail is known for its technical terrain and relentless elevation change.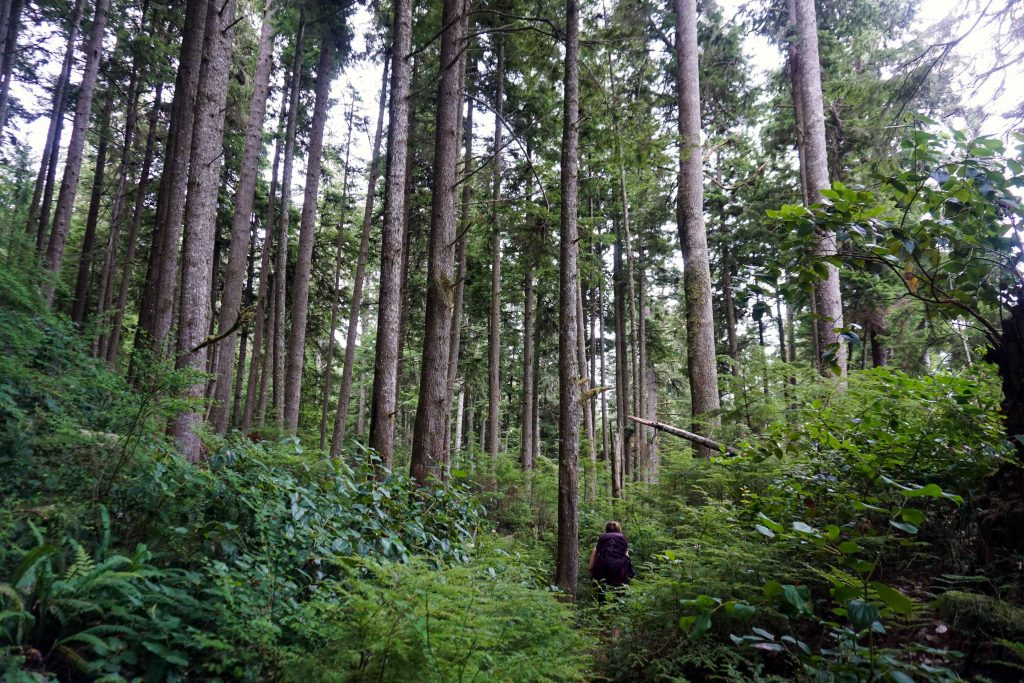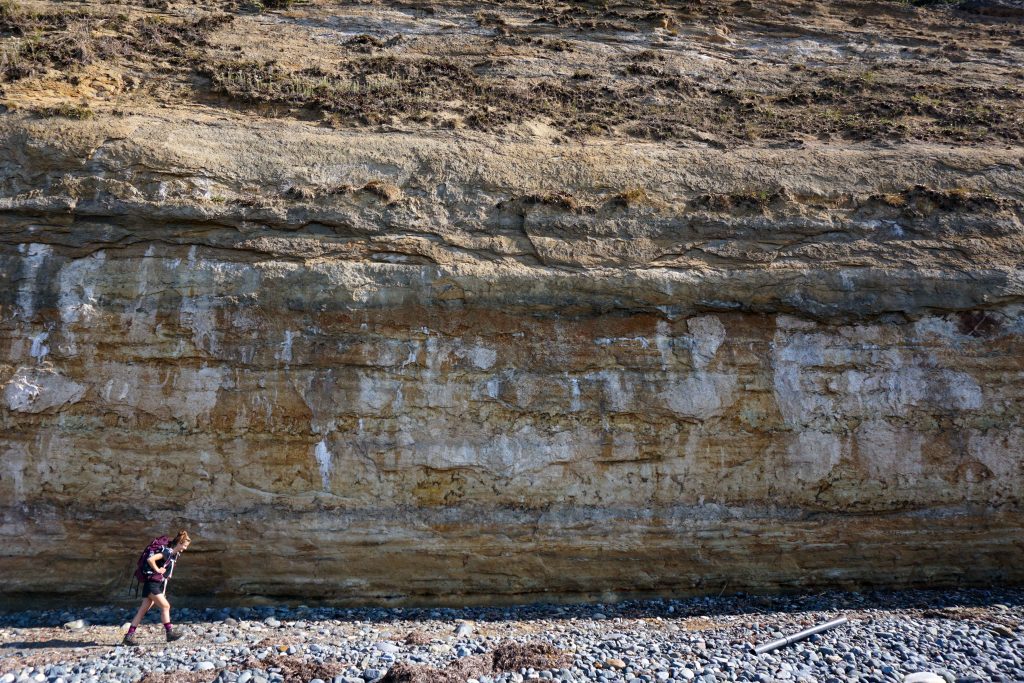 On the trail map, you'll see that some sections are classed as 'moderate', others as either 'difficult' or 'most difficult'. The most difficult section requires you to traverse up and down steep ravines, which can be tiring, especially with a heavy pack on. Thankfully it was fairly dry while I was there, but no doubt it could get very slippery in bad weather. Which brings me on to my next point…
The Juan de Fuca trail is very wet, partly thanks to the number of creeks which pass through it, and partly thanks to its location on the west coast of Vancouver Island. Even at the end of summer there were deep sections of mud. Wet weather gear is a must and gaiters are recommended. The creeks mean you can refill your water pouches whenever you need, although the water should be treated or boiled before drinking.
Here's how I hiked the Juan de Fuca trail
My boyfriend and I hiked the Juan de Fuca trail at the end of August, opting to go from north to south. Here's how it went down…
Day 1 – Port Renfrew to Sombrio Beach – 20kms
After sleeping in our car at the Jordan River Regional Park Campground for a night, we got up early and moved the car to the China Beach day use parking lot. Be sure to remove your valuables because break-ins have been known.
I'd reserved a space on the West Coast Trail Express, so waited by the highway for it to arrive at around 8am. I didn't think it was going to stop, but in fact, it pulls into a rest stop a little further up the road, on the far side of the highway.
After about an hour we reached Port Renfrew. We got off the bus and hiked 2km up the road to the Botanical Beach trailhead, which is the start (or end) of the Juan de Fuca trail. This is a bit of a nuisance, but it's as close as you can get in the bus. You might want to hitch a lift!
Shortly before Payzant Creek there's a sign to Providence Cove. This is a lovely spot to have lunch and a swim.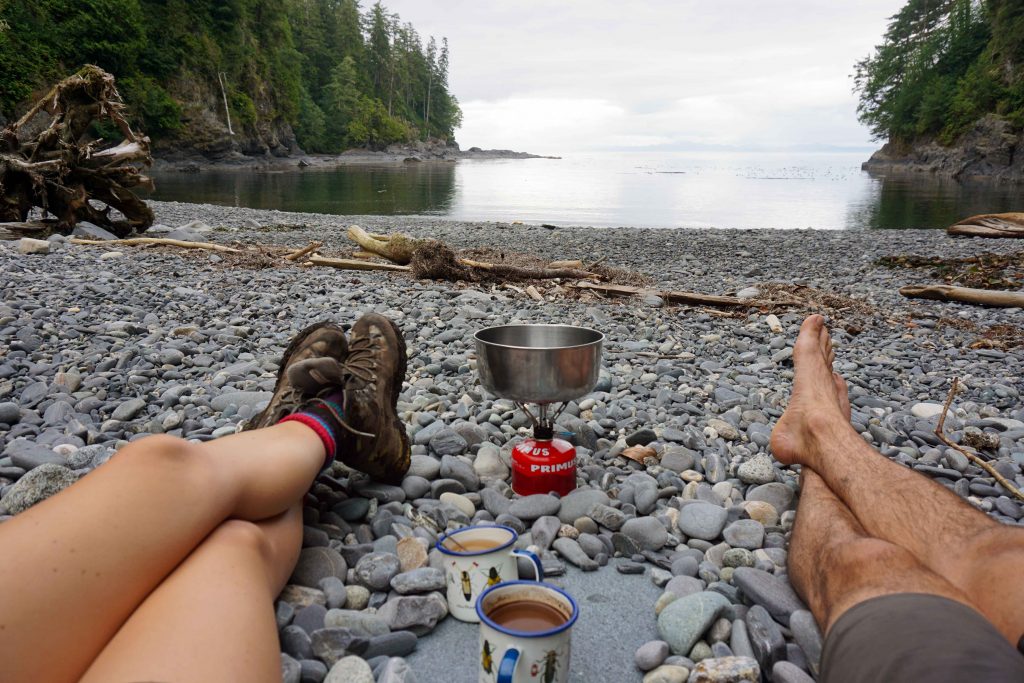 We had planned to spend the first night at Little Kuitshe, but made good progress so continued on to Sombrio Beach. This is a long first day at over 20kms, but it made the remaining days much more leisurely.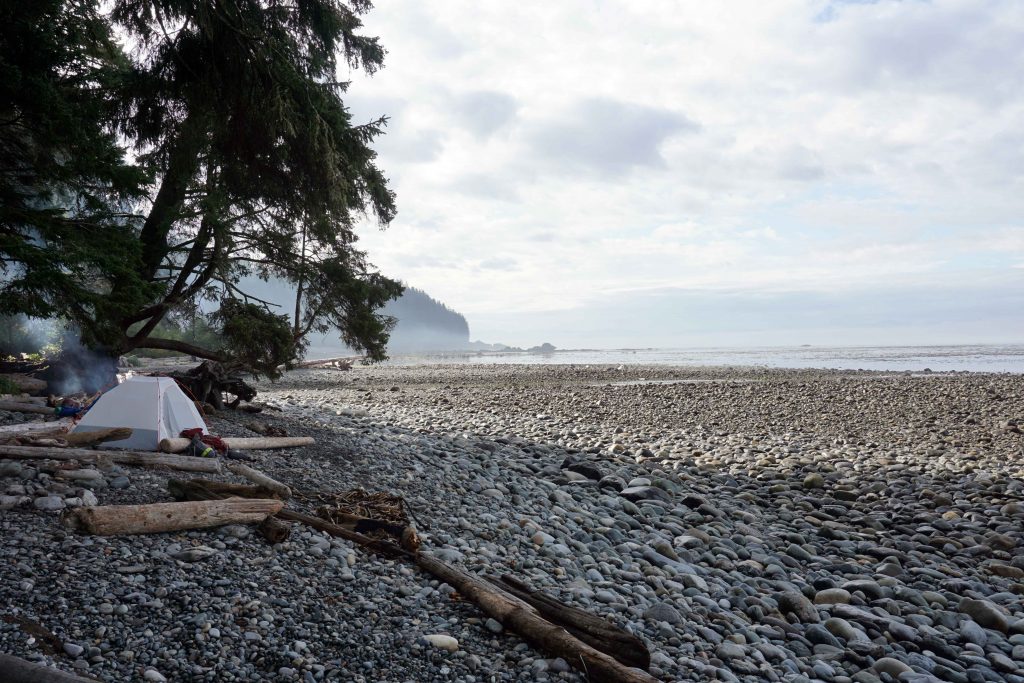 Day 2 – Sombrio Beach to Chin Beach – 8kms
After sheltering from the rain in the morning, we started late and reached our next destination – Chin Beach – in the middle of the afternoon. The delay also meant we caught the tail-end of high tide at Chin Beach, so had to don our sandals and wade through the shallow ocean. Everyone else waited on a rocky outcrop, but I was glad we carried on because by the time we'd put up the tent the campground was full. Better to arrive early on busy weekends!
Day 3 – Chin Beach to Bear Beach – 12kms
On day three we hiked as far as Bear Beach, which was my favourite campground. It's a long beach with sites at both the northern and southern end. In my opinion, the southerly end is better. This is the most difficult section of the hike.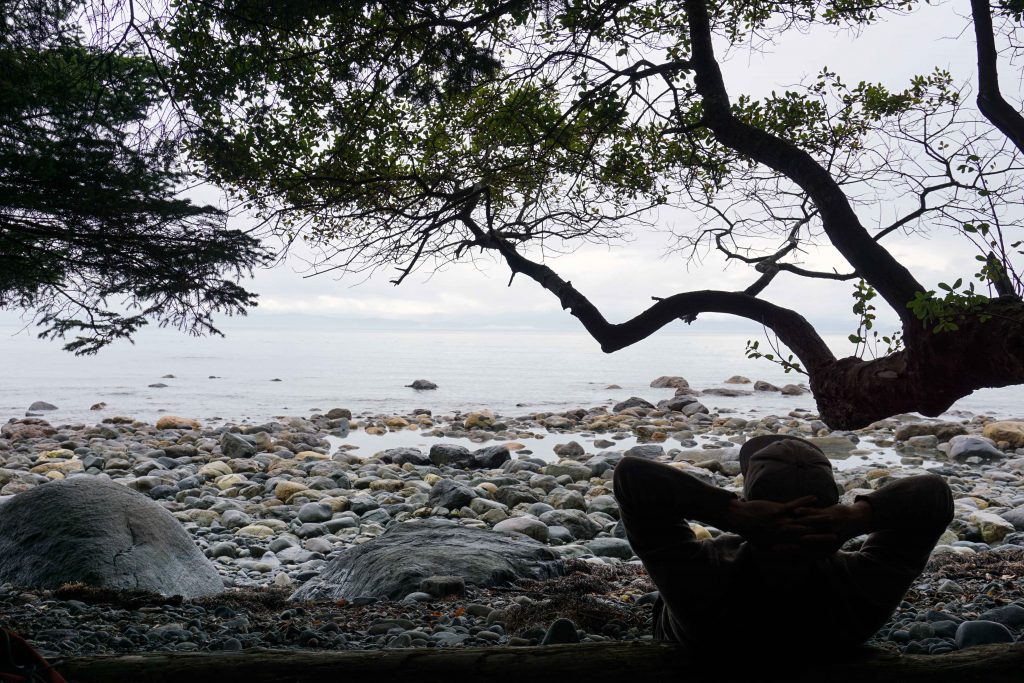 Day 4 – Bear Beach to China Beach – 9kms
On the final day we hiked back to the car at the China Beach day use parking lot, although not before a final dunk in the ocean at Mystic Beach. I was glad to finish at my car, rather than worrying about making the bus on time.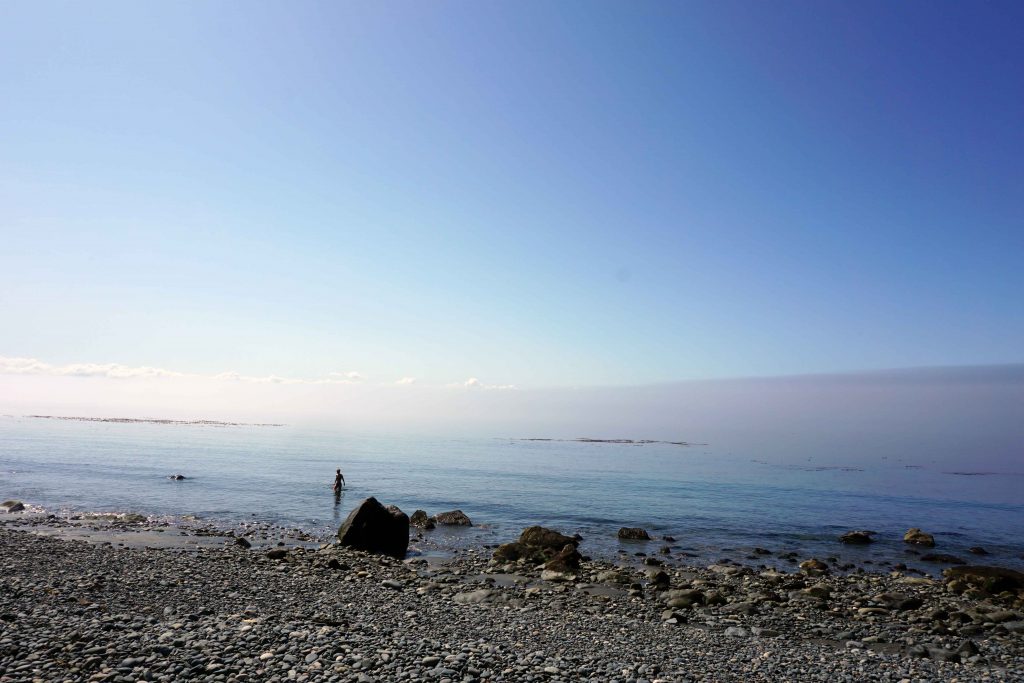 If you're hiking it in this direction, I would say this is a fairly standard itinerary, as we often saw the same faces at each campground.
What you need to know before you go
If you're planning on hiking the Juan de Fuca trail, here's what you need to know before you go –
If you don't have two cars to shuttle then you can book the West Coast Trail Express. It can pick you up at Victoria, Sooke, China Beach, Sombrio Beach, Parkinson Creek or Port Renfrew
You don't need to reserve anything other than the West Coast Trail Express (if using)
You don't need a permit but the campsites are $10 per person, per night
Some campsites – particularly Chin Beach and Mystic Beach – fill up quickly, so leave early in the morning to get the best spot
Remember to camp above the tideline
Certain sections of the trail are cut off at high tide – check the tide times and plan accordingly
There are lots of bears in the area – be bear aware
The trail is very well-marked and has km markers along the way
There is no phone reception in the area
Dogs are allowed on the trail
It can get very muddy so gaiters are recommended (but not essential)
You don't need to take much water as you can fill up along the way. The water must be boiled or treated before drinking
My thoughts on hiking the Juan de Fuca trail
If you want to try a multi-day thru-hike, the Juan de Fuca trail is a great place to start. At 47kms, the trail isn't overwhelmingly long, but it still presents challenges. Although there isn't any cell reception, it also feels quite safe. You aren't too far from a road and there's four access points along the way, meaning you can opt out if you need. It's also much cheaper than the West Coast Trail, for which you need to buy a permit.
Everyone has a different idea of what is 'difficult'. A trail runner told me that, pound for pound, the Juan de Fuca trail is harder than the West Coast Trail. Why? Because of the terrain. There's lots of big step-ups and step-downs, logs to clamber over and mud to negotiate. You have to constantly watch your footing, or the tangled web of tree routes will trip you up. And the constant elevation change can be a killer on the joints.
Terrain aside, I didn't find the hike too difficult. For me, the biggest negative of the Juan de Fuca trail is the proximity of the logging industry. Cutblocks go right up to the trail, and in certain sections the second growth forest looks like it's dead. But perhaps it's important to see – that way, we can better appreciate the old growth forests that still remain. And anyway, four days of forest wandering, beach camping and tree hugging is always a joy.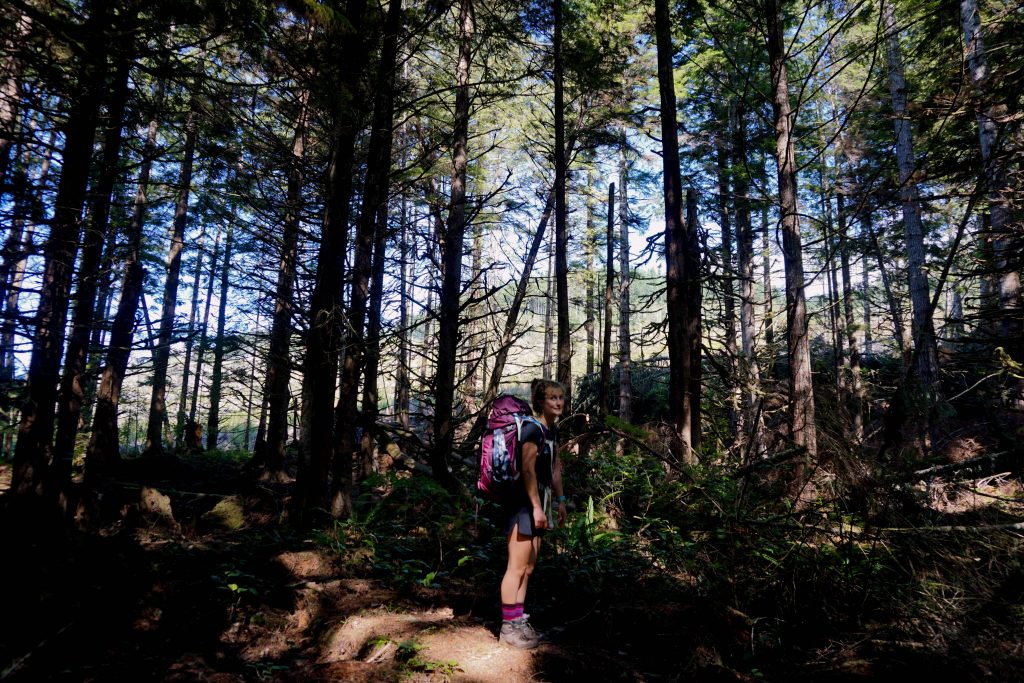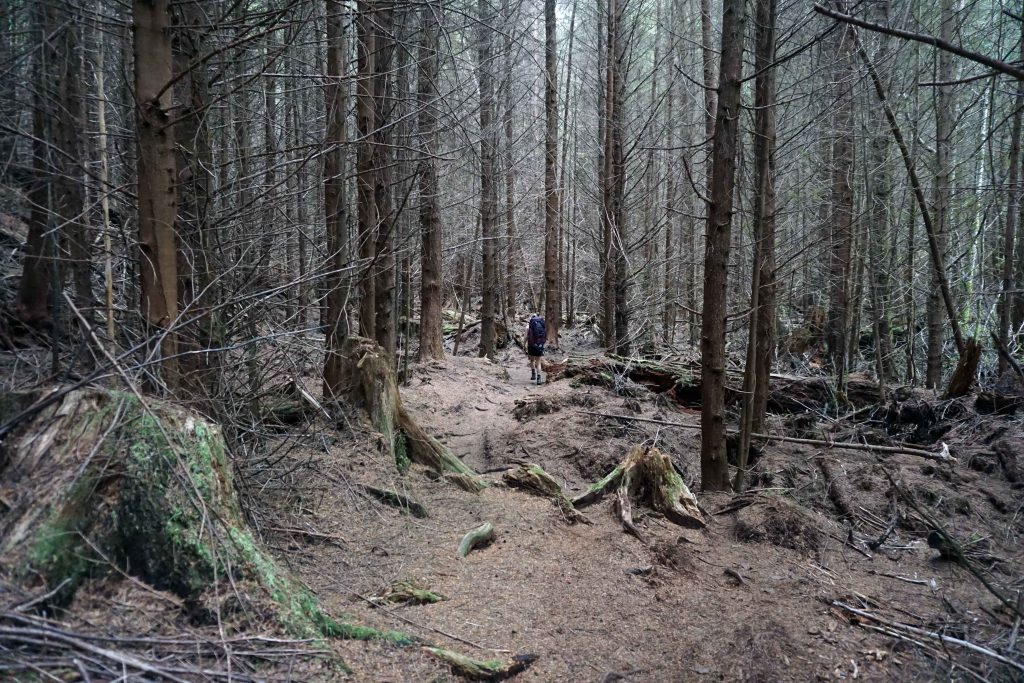 Did you like this post? Save it for later!