Vancouver Island is the ultimate playground for the outdoors enthusiast. From skiing in Mount Washington to surfing in Tofino to hiking the West Coast Trail, the possibilities are endless. There's just one problem. It's big. Like, really big. To put it into context for those Europeans amongst you, Vancouver Island is comparable in size to the Netherlands.
So when planning a two-week road trip around the island, that posed something of a conundrum – how to fit everything in? In the end, I conceded that it just wasn't possible. Instead of a whistle-stop tour, I decided to pick and choose a few destinations and take my time exploring them.
Here's how my Vancouver Island road trip panned out.
Days 1 to 4 – Ucluelet and Tofino
The first stop on the itinerary was Ucluelet, or 'Ukey', located on the west coast of the island. We took the ferry from Horseshoe Bay to Nanaimo, driving to Ukey via Coombes Old Country Market for some supplies. The drive is incredibly scenic, and it's well worth stopping off at Cathedral Grove en route for a quick walk amongst the old growth forest.
Ukey is not so famous as its neighbour, Tofino, but it's a great base if you're visiting the area. The Wild Pacific Trail is right on your doorstep, offering two different coastal walks. There's the shorter Lighthouse Loop, at 2.6km, and the longer there-and-back trail between Brown Beach and the rocky bluffs.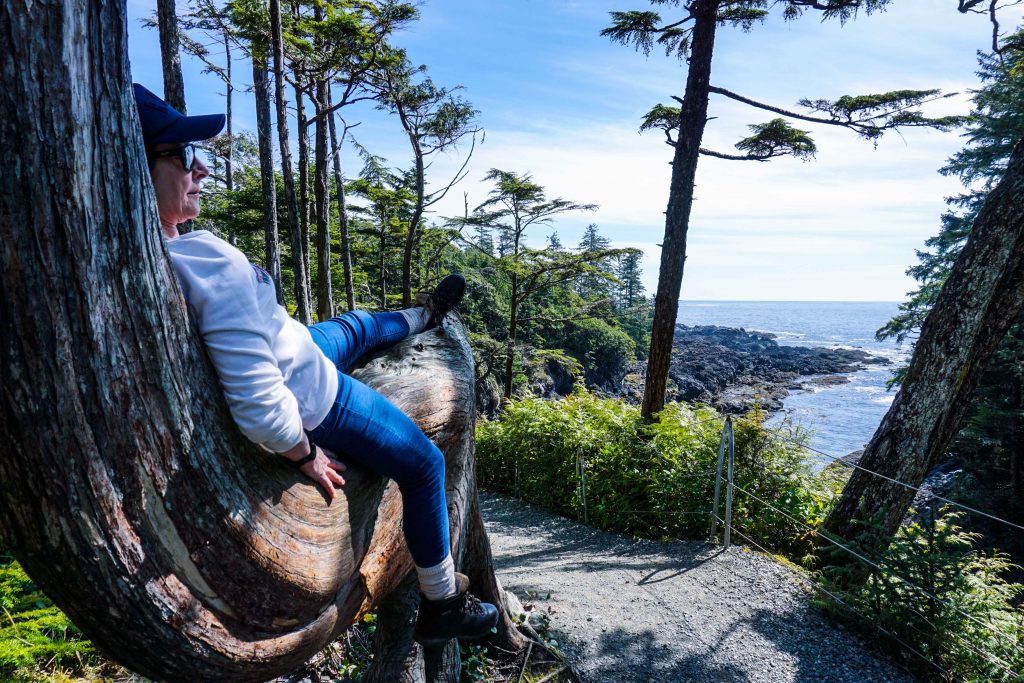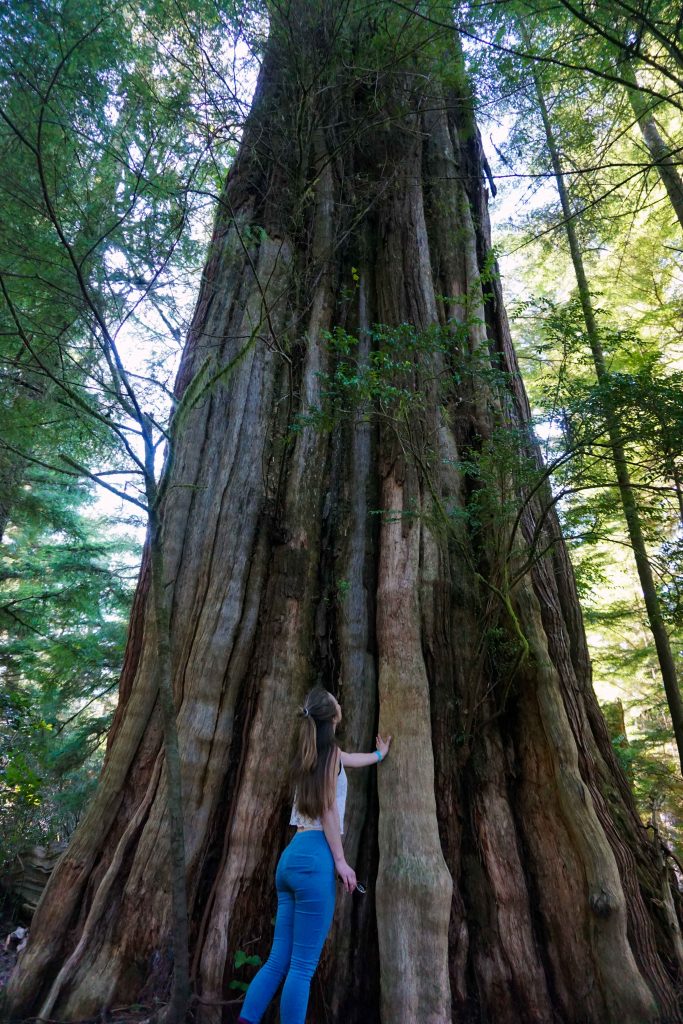 Along with exploring the Wild Pacific Trail, we hiked up the hill at Cox's Bay. Thanks to the elevation, you get wonderful views across the rainforest on a clear day. We also hit up the surf at Wickaninnish Beach and Chesterman's Beach, ending each day with dinner cooked over a beach fire.
For more inspiration about things to do and where to stay, take a look at my Top 5 Reasons to Visit Tofino.
Days 4 to 7 – Campbell River
After leaving Ukey, we drove back across the island, then headed north to Campbell River. The town itself is quite small, but quickly gives way to a vast wilderness. I'd booked a lakefront cabin out of town, so spent a lot of time rowing the cabin's boat around the lake while my friends attempted to catch some trout.
We also spent a morning at Elk Falls Provincial Park, which is just 2km from downtown Campbell River. There's a platform where you can view the thundering waterfall and a network of easy trails to explore.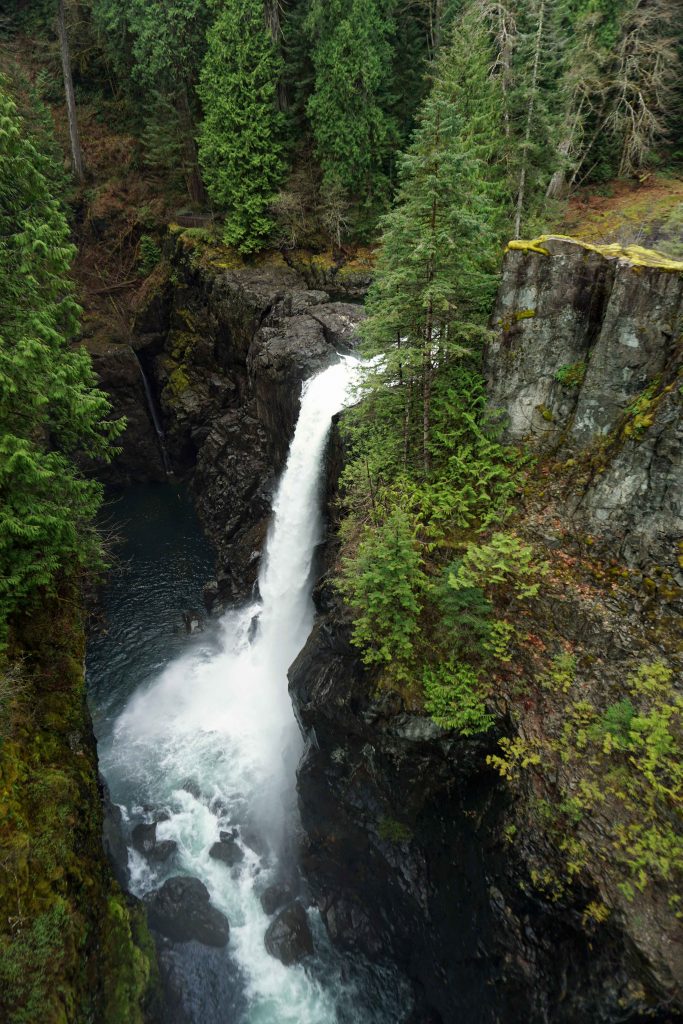 The following day we spent at Strathcona Provincial Park. Expanding over nearly 250,000 hectares, there are numerous hikes on offer, catering to a range of abilities. After a lot of debate, we opted to do the Elk River Trail. In April, the park is still under a blanket of snow. Due to constant post-holing we progressed at a slow place, so had to turn back before reaching the end of the trail.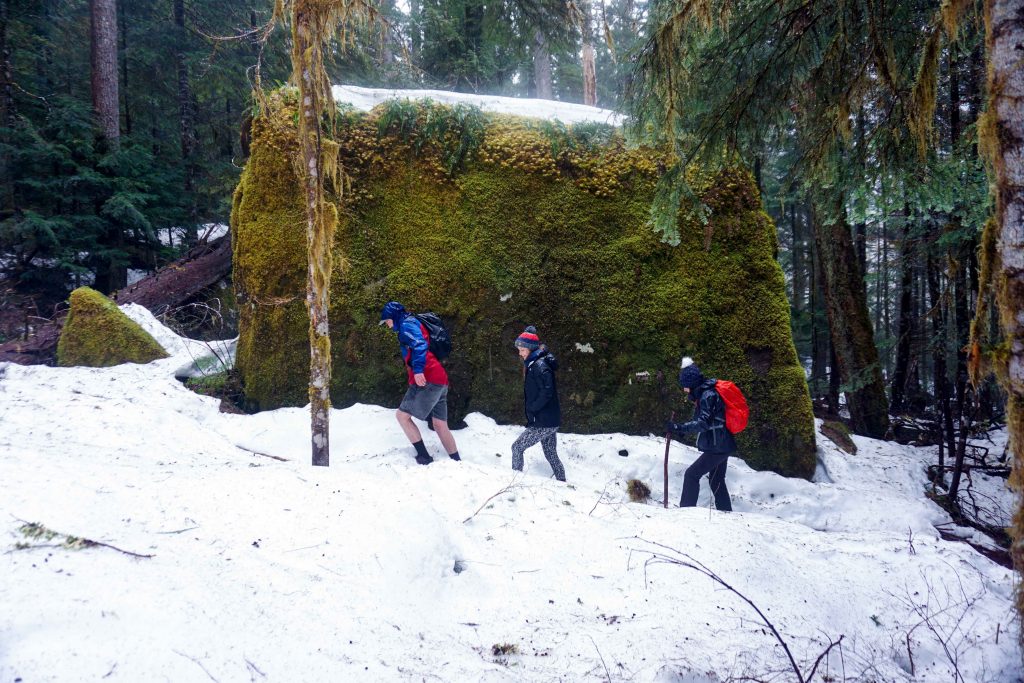 If you want to ski, snowboard or snowshoe, Mount Washington is also nearby. When we were there the season was coming to an end, so gave it a miss this time.
Days 7 to 11 – Cortes Island
Our next destination was Cortes Island, which is part of the Discovery Islands. To get there, you need to take the ferry from Campbell River to Quadra Island, drive across Quadra Island and catch another ferry to Cortes. This sounds like a lot of work, but it's worth it!
Unfortunately, a storm blew in the morning we were due to leave, meaning the ferries were cancelled until the afternoon. After drinking a lot of coffee in Campbell River, we managed to get on the ferry to Quadra Island. We were then stuck at Heriot Bay on Quadra Island for several hours, but thankfully, the Heriot Bay Inn does good food and has a pool table.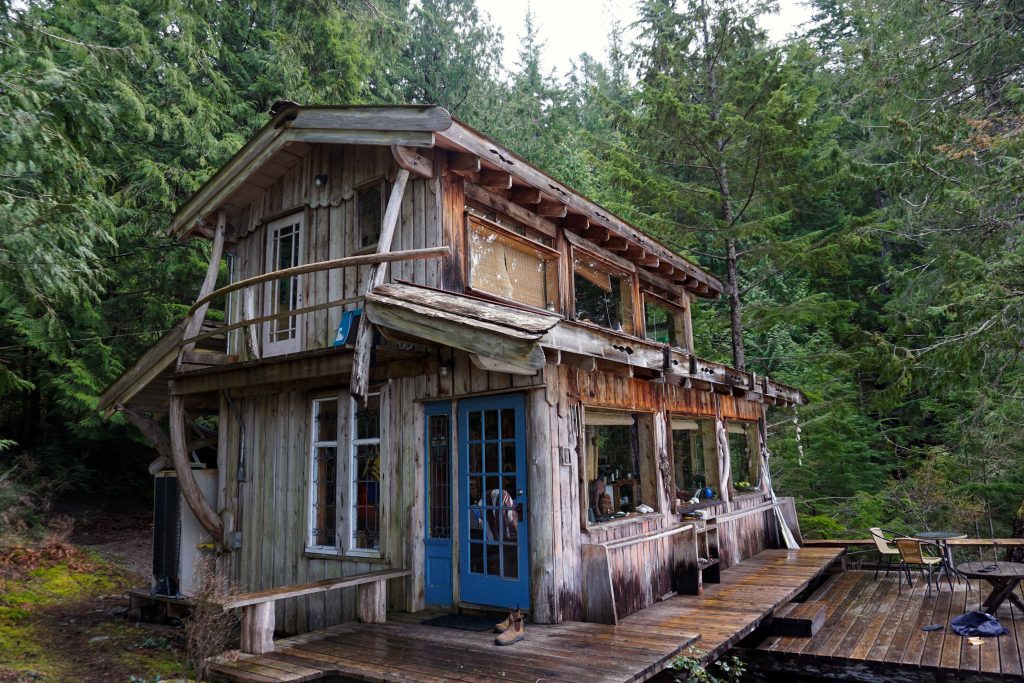 When we finally arrived on Cortes Island, we settled into our beautiful sea-front cabin. During our stay we did a lot of hiking around Ha'thayim (Von Donop) Marine Provincial Park, Green Mountain and Easter Bluffs. We also took advantage of all the fresh seafood on offer, collecting crabs, oysters and clams straight from the shoreline.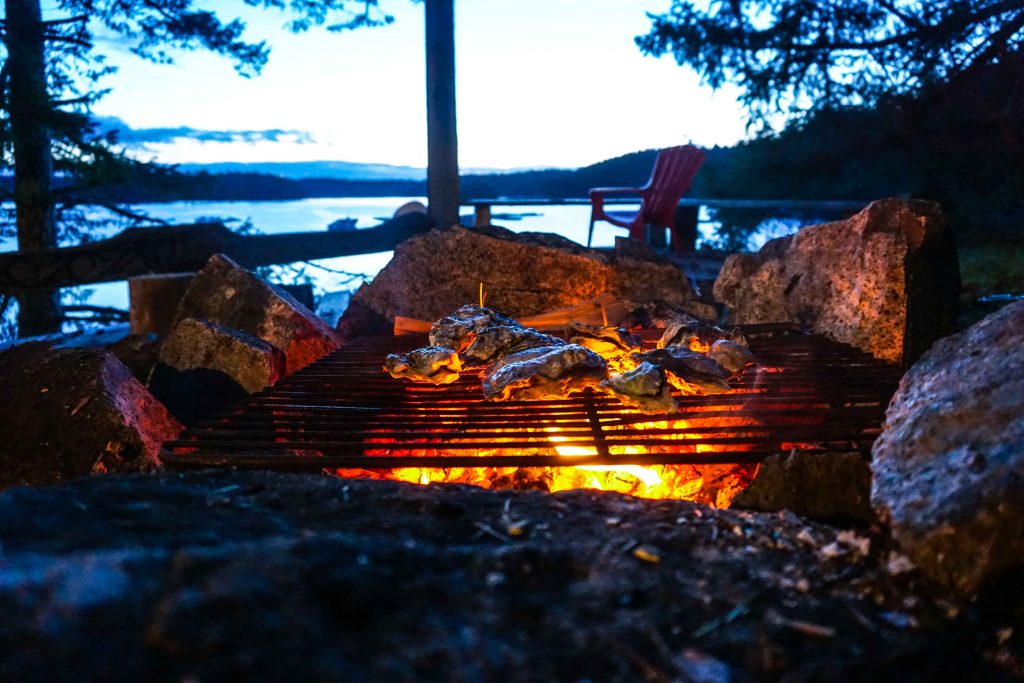 Read more about my time Exploring Cortes Island.
Days 11 to 13 – Qualicum Beach
Next, we returned to Campbell River (thankfully, not a ferry cancellation in sight) and headed back down the coast to Qualicum Beach. We stayed at Spider Lake which is good for fishing, swimming and kayaking, especially as motorised boats aren't allowed. There's also lots of trails around the lake to wander around. Horne Lake Caves is nearby, as is Little Qualicum Falls and of course, Qualicum beach (as the name would suggest!)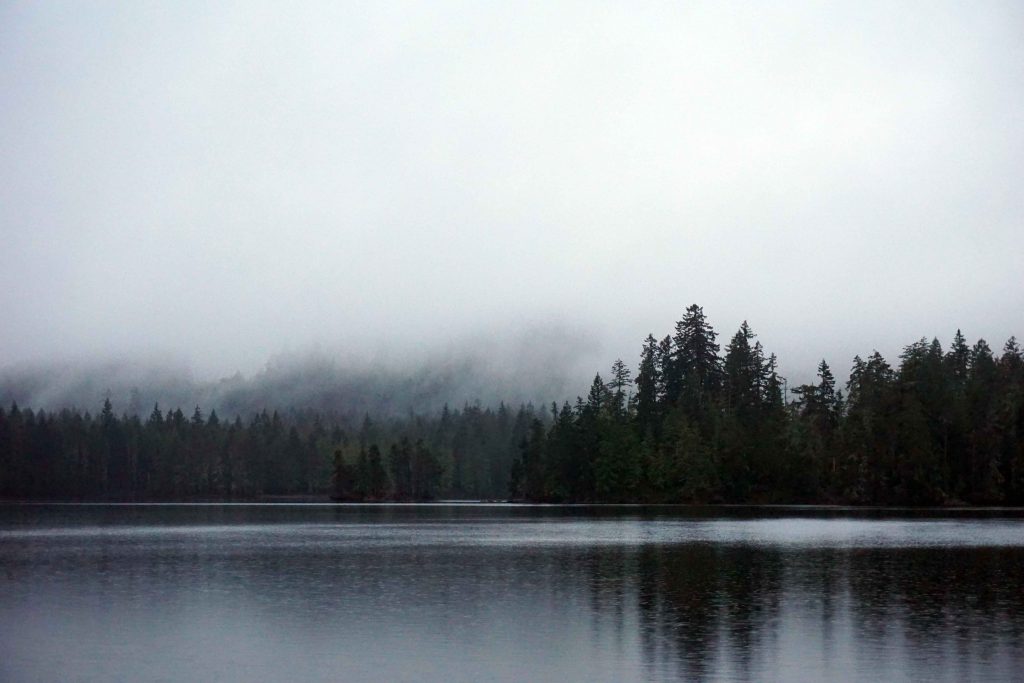 This was the shortest stopover, so it felt like we'd only just arrived before it was time to leave for the final destination – Jordan River.
Days 13 to 16 – Jordan River
Jordan River is located past Sooke, about 67km east of Victoria. There's not much to it, aside from a café and a smattering of wood cabins. But this little place has two major draws.
Firstly, there's surf! There's a point break where the River Jordan meets the sea, which is a known (but seemingly friendly) surf spot amongst locals. One person told me the season typically runs until May. It's also possible to surf at China Beach, which is quieter but rockier. Be warned. My friend's board took a beating.
Secondly, Jordan River sits at the southerly end of the Juan de Fuca trail. This 47km hiking trail is often completed as a thru-hike in around four days. However, you can explore sections of it as day hikes. You can access the trail at China Beach, Sombrio Beach, Parkinson Creek and Botanical Beach.
We spent the mornings and evenings surfing so only had time for two short hikes. The first was between China Beach and Mystic Beach, while the second was between Sombrio Beach and Sombrio Point.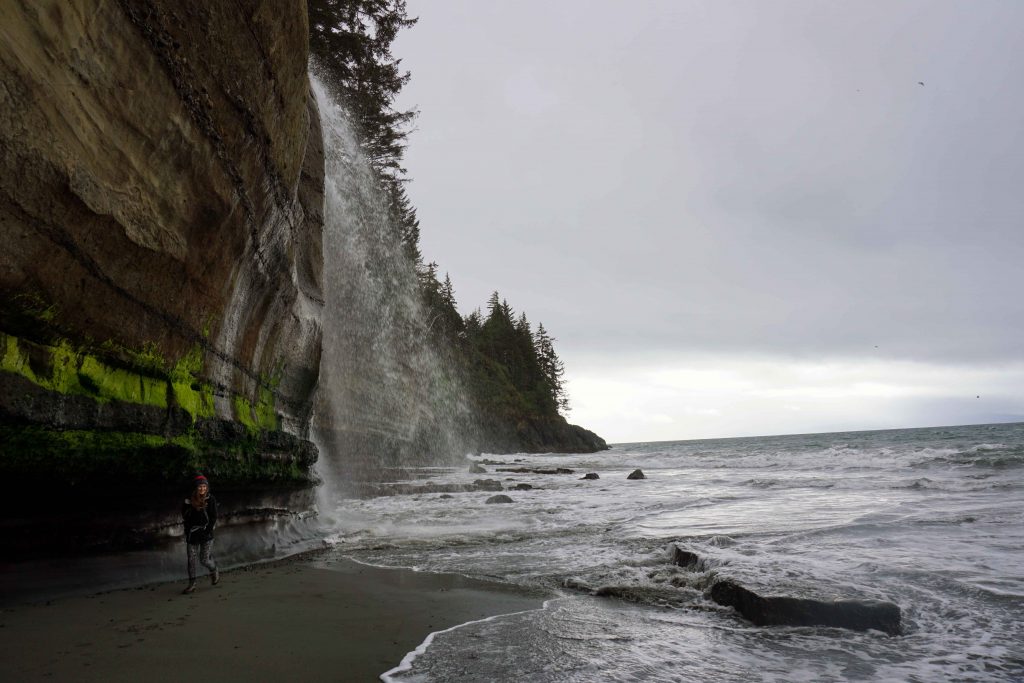 If you want to camp, the Jordan River campsite is first-come, first-serve. It only has an outhouse (no water) and you pay at the gate. Camping is also available at China Beach and Sombrio Beach. I've previously car camped at Jordan River, but this time we stayed in a tiny wood cabin with an outdoor shower and toilet. A truly rustic, west coast experience! Find out more by taking a look @rusticwestcoastcabin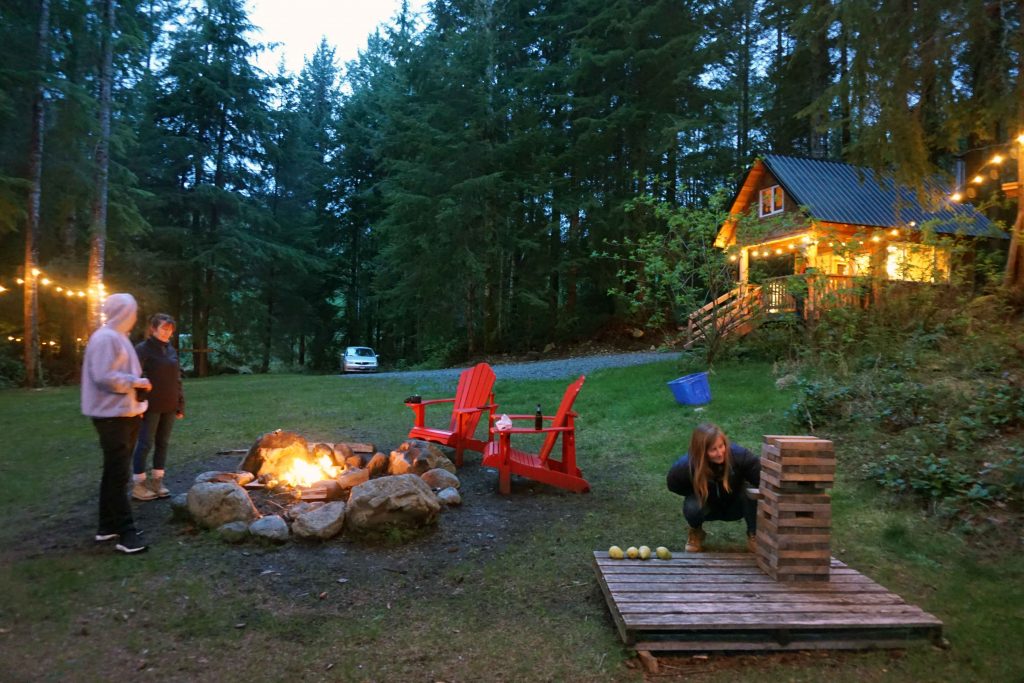 It's useful to know that there is very little mobile phone reception in this area. It's close to the US border, so your phone may also pick up US networks. You might want to turn off your data roaming.
Back to Vancouver
And just like that, our Vancouver Island road trip had come to an end. We were only an hour from Victoria, so on our final day we pottered around the city before taking the ferry from Swartz Bay to Tsawwassen.
After two weeks on Vancouver Island, I feel like I've barely scratched the surface. We didn't make it to the north of the island at all, and there's so much still to see and do in the regions we did visit. Even so, hopefully this has provided some useful information if you're planning a Vancouver Island road trip.
If you have any suggestions of your own, I'd love to hear them!
Did you like this post? Save it for later!