My first morning on Cortes Island, I open my eyes tentatively. Thanks to gale force winds and a string of cancelled ferries, we arrived the previous day much later than planned. This is my first glimpse of our cabin in the daylight.
I sit up in bed and find I haven't pulled the blinds. Outside the window, an American Robin flutters around a golden arbutus tree. Beyond that is the sea, now calm and inviting. There's an oyster farm and I watch as the owner chugs his boat across the inlet. We soon grow accustomed to his singing, a new tune marking the start and end of each working day.
I creep downstairs and assess my surroundings. I quickly conclude that it's my dream home. This cabin has obviously been built with love. Everything is made from wood, and every piece of timber looks like it's been carefully selected and skilfully handled. Even the sawdust toilet is a work of craftsmanship.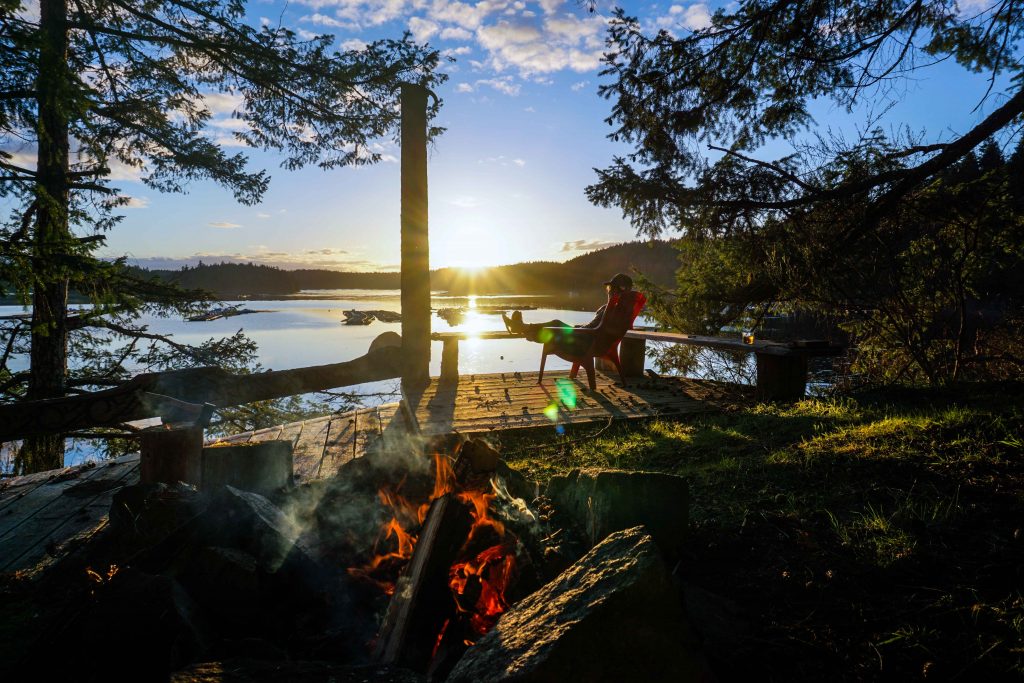 The open plan living space is full of quaint, cosy furniture with a wood-burner to boot. The large windows provide sweeping views across Gorge Harbour. In the distance, you can make out the snow-capped mountains of Vancouver Island. It makes you want to sit here all day, staring out to sea.
If you did, you'd soon realise that this is a prime spot for bird-watching. Twitchers will be delighted at the variety of birds that visit the area, with everything from hummingbirds to vultures. Seals also make a frequent appearance in the inlet and seem completely unfazed when we launch ourselves off the rocks to swim, fish and kayak.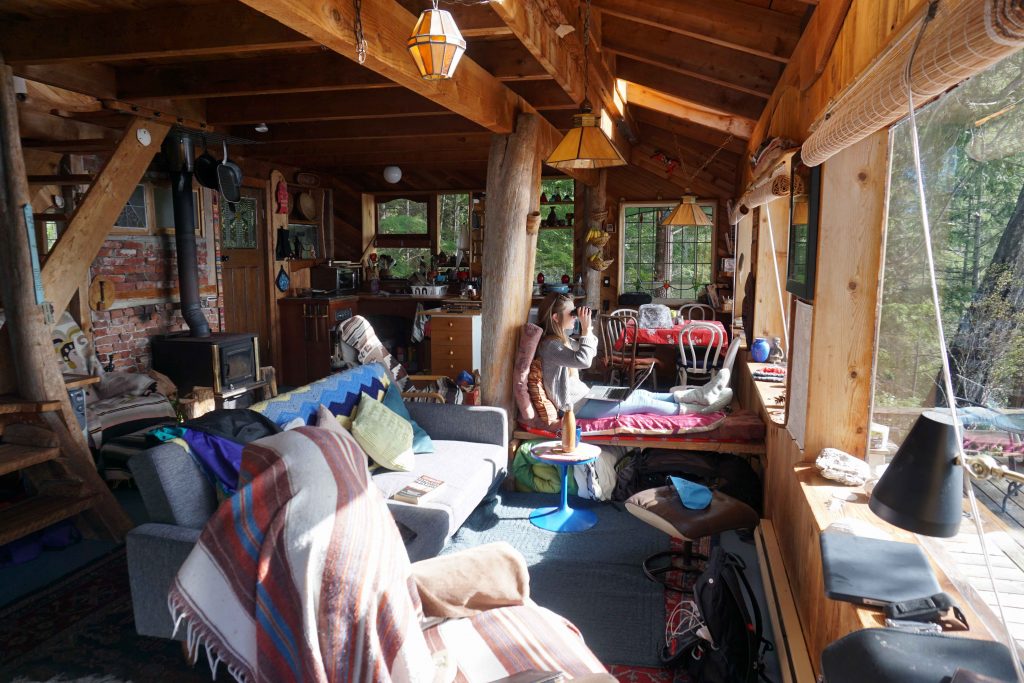 After making a pot of tea, I spot something else on the horizon. It's my boyfriend, who's taken the canoe out to drop a crab pot. As it turns out, our equipment is surplus to requirements. You can walk to the shoreline below the cabin and scoop out red rock crabs with a net, along with oysters the size of your hand.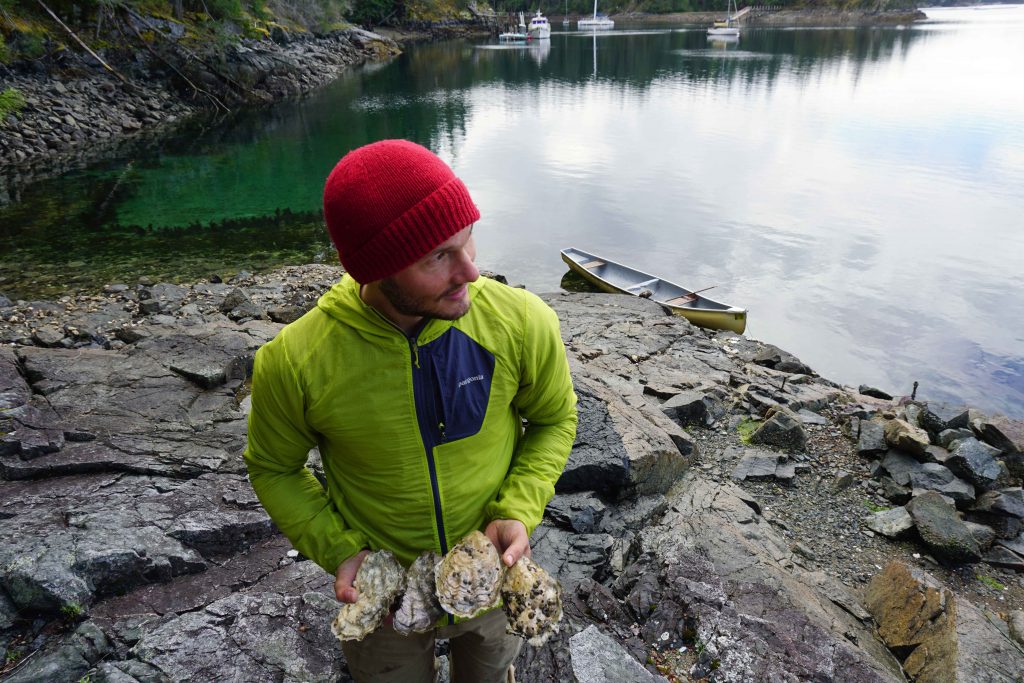 During our stay, fresh seafood becomes a daily staple. Every evening we stoke the fire in the outdoor pit, grill a few oysters and crack open a crab claw. If we've been to Manson's Landing, we'll also cook up a pot of butter clams on a bed of pine needles, conveniently collected from the foot of a nearby tree.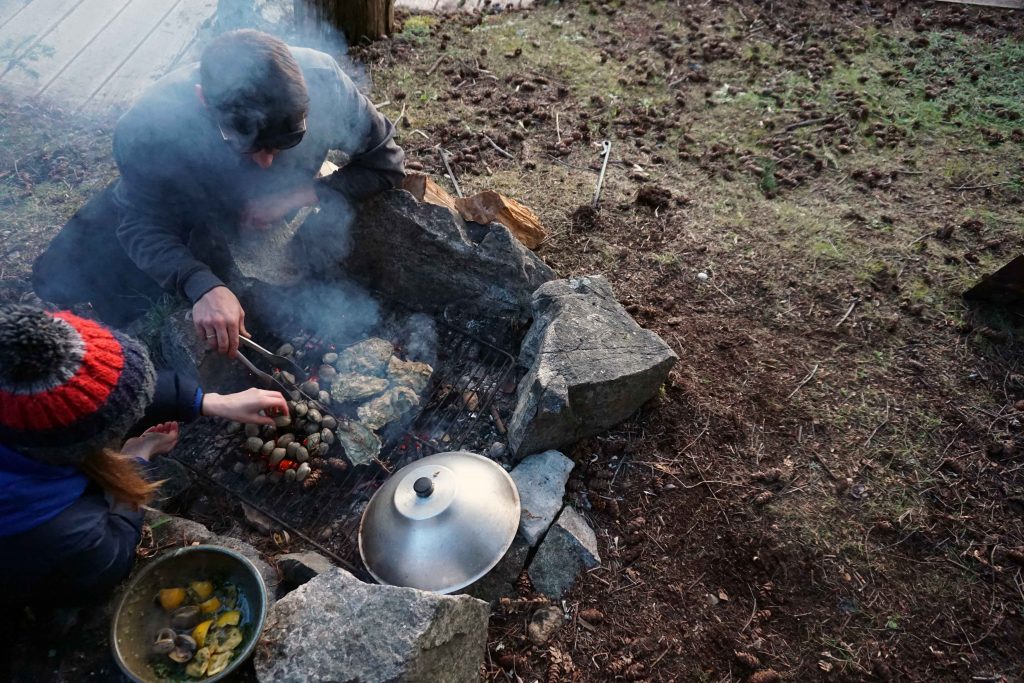 It's an idyllic way to live, sourcing food from your doorstep and cooking it as the sun sets over the Salish Sea. Self-sufficiency is a way of life on Cortes Island, it seems. There's a strong counter-culture vibe here, too, with a focus on community spirit. People even wave to you while driving, no matter that you're a tourist.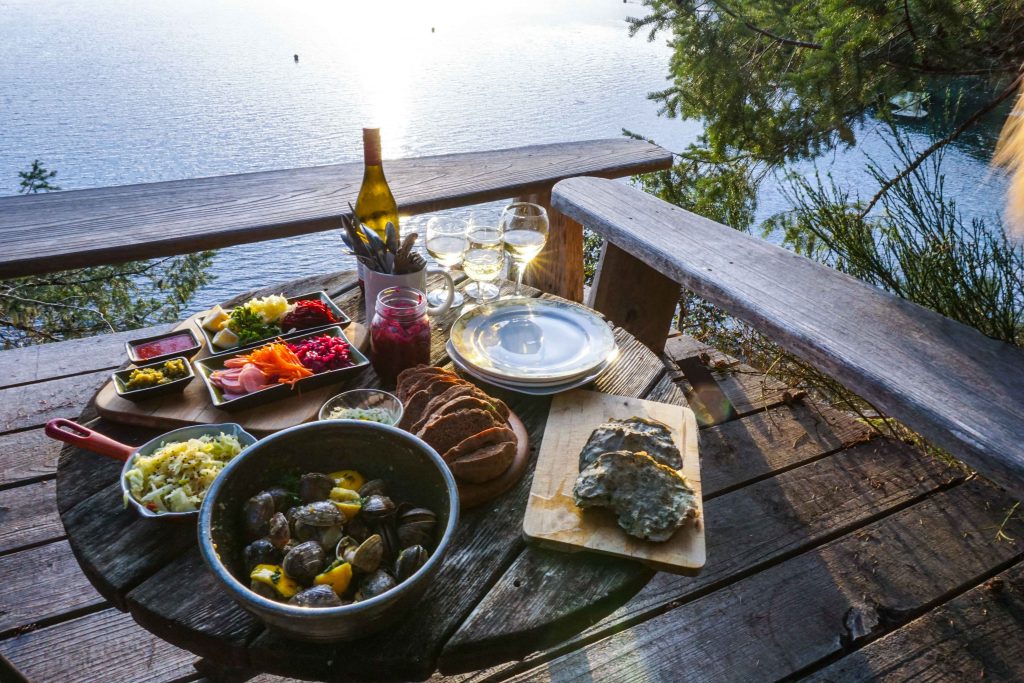 In April, it's also extremely quiet. I hear the island gets busy during the summer months, even if it does take three ferries to get here from Vancouver. At this time of year, the only other visitors appear to be boaters – a frequent sight amongst this smattering of islands in Desolation Sound, known collectively as the Discovery Islands.
By day we explore the island. The hikes up to Easter bluffs and Green Mountain are relatively short, but provide beautiful views across the region. We enjoy mostly good weather. It's either luck, or the fact that the southerly half of Cortes Island is in the rain shadow of Vancouver Island, making it drier and warmer.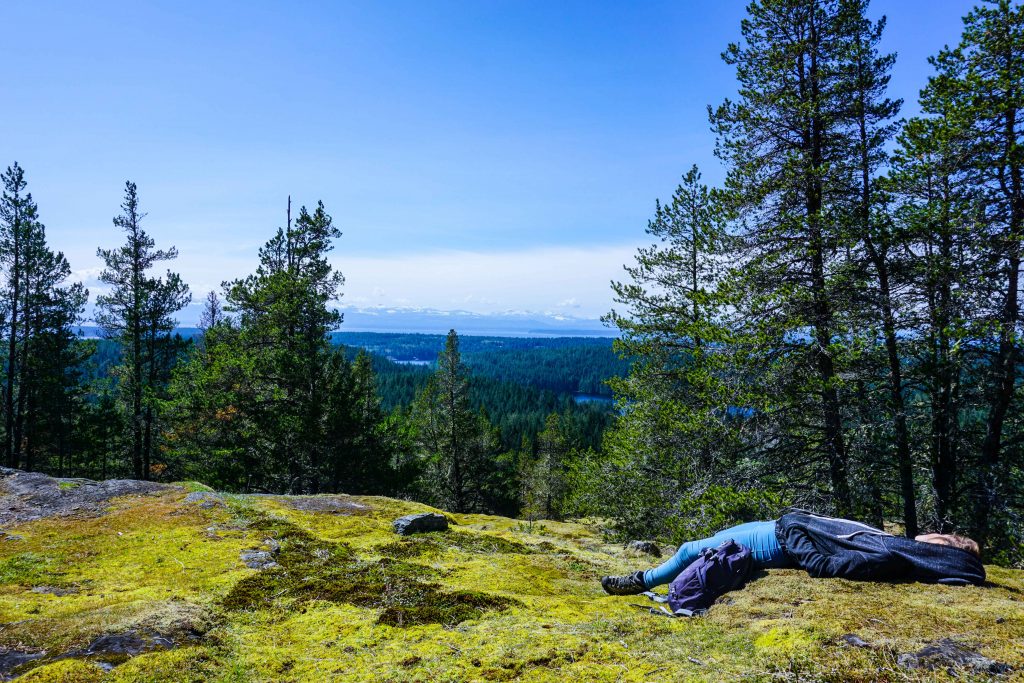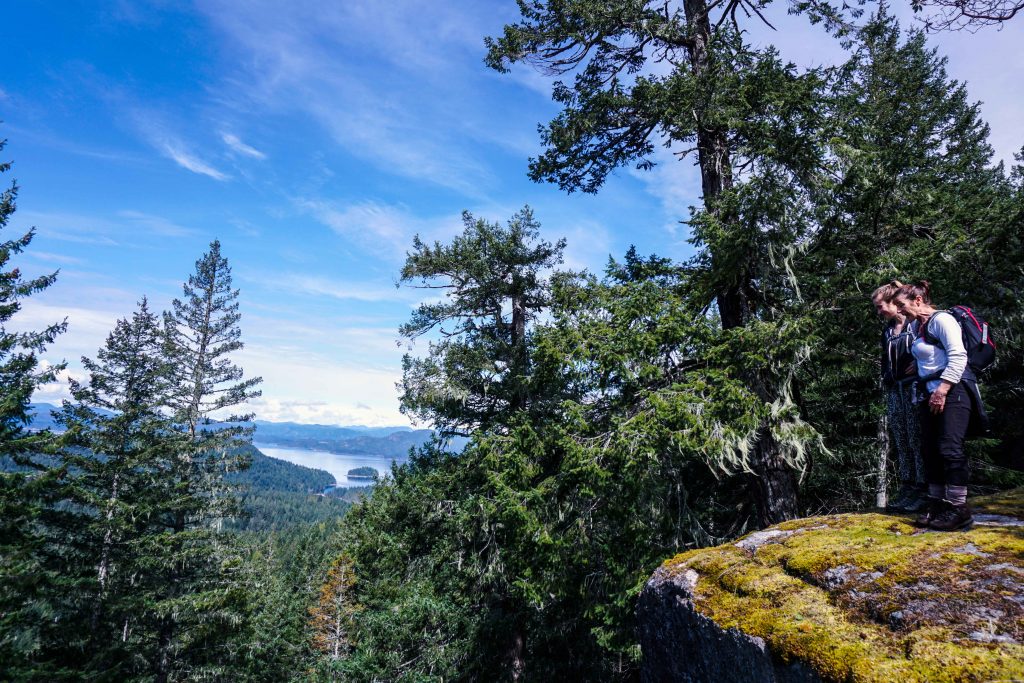 The day we head to Ha'thayim (Von Donop) Marine Provincial Park, however, it pours. We delay our start, meaning we don't have time to reach our destination of Cliff Peak. It's slow going in the forest, as fallen trees block your path, forcing you to clamber up and under the debris. Even so, it's a magical place – ancient, remote and full of wolves.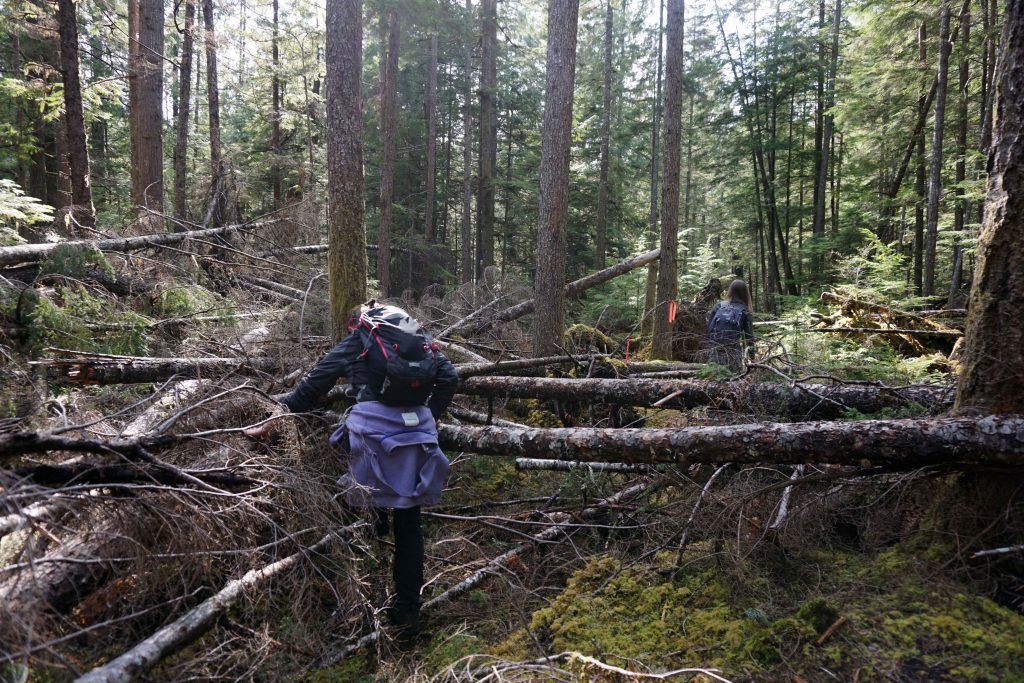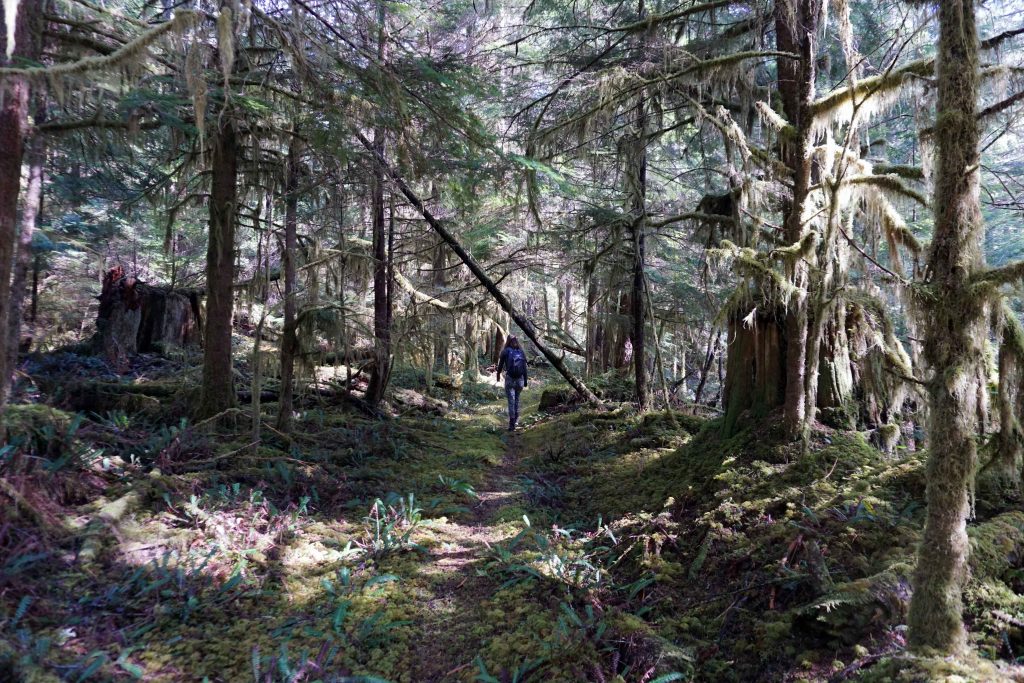 As our five-day trip comes to an end, I can see how people might come here to visit and stay forever. It's that place you move to in search of the good life. The atmosphere is laid-back and friendly. There's a vibrant community, should you want it. But there is wilderness too, full of Mother Nature's finest produce.
If I could just get a wood cabin here, I'd be as happy as a butter clam.
How to get to Cortes Island
If you live on the mainland, getting to Cortes Island requires three ferries and a healthy dose of dedication.
Firstly, get to Vancouver Island. Then take a ferry from Campbell River to Quadra Island, which has a crossing time of 10 minutes. Drive across Quadra Island to Heriot Bay. Take the ferry from Heriot Bay to Whaletown on Cortes Island, which has a crossing time of 45 minutes.
Alternatively, you can access Cortes Island via plane or seaplane.
Top tip – if you're on Quadra Island waiting for the ferry, enjoy a drink and a game of pool at the Heriot Bay Inn. Don't forget that ferries may not operate in adverse weather conditions.
Where to stay on Cortes Island
The main settlements on Cortes Island are Whaletown, Manson's Landing and Squirrel Cove. If you have a car, it is very easy to drive around the island, which opens up your options in terms of accommodation.
There's lots of rental accommodation available – just search on AirBnB.
Camping is available at Gorge Harbour Marina Resort and Smelt Bay Provincial Park.
What to do on Cortes Island
Hike to Easter Bluffs and Green Mountain
Hike through Ha'thayim (Von Donop) Marine Provincial Park and have lunch at Von Donop Inlet. Continue to Cliff Peak if you have time. Keep an eye out for wolf poo!
Get a chocolate brownie from Cortes Natural Food Co-op
Collect butter clams at Manson's Landing at low tide – be sure to get a fishing licence, take only what you need, and be wary of red bloom.
Eat some local oysters
Get a kayak and explore the coves, inlets and beaches
Things to know
Most of the island's amenities are found in Manson's Landing
You can get groceries at Cortes Natural Food Co-op and Cortes Market, which also sells alcohol
The island is 25km long and 13km wide, so you could survive on a push bike, although there are most definitely some hills
People will wave to you while driving – it's a thing, just go with it