There's something so magical about ski touring. You can get far from the madding crowd in search of new terrain, untouched lines and fresh pow. But before you can earn your turns, you'll need to invest in some new gear.
If you're new to ski touring, then take a deep breath. You're going to need to modify your traditional downhill resort set-up. This can be overwhelming – firstly because there are so many options out there, and secondly because, let's be honest, it's not cheap.
If you're operating on a budget, then check sites like Craigslist and Facebook Marketplace for second-hand gear. Stores usually offer discounts on last year's stock, and you can wait for those annual sales to come round. It's also a good idea to start shopping around sooner, rather than later. That way you can collect your gear bit by bit, rather than having a last-minute splurge at the start of the season.
Here's a run-down of everything you'll need for a ski touring set-up.
Skis
OK, this seems obvious – you'll need a pair of skis to go ski touring. You're going to want something that can float through powder, as opposed to a pair of narrow-waisted carvers. Ski technology is incredibly advanced these days and ski aficionados can talk for hours about rockers, camber and width. Basically, you'll want some powder skis or some all-mountain skis that are wider underfoot.
If you're a snowboarder, you'll need to get a splitboard mounted with splitboard bindings.
Bindings
Ski touring bindings are special because they have an uphill mode and a downhill mode. There are two options available: frame bindings and tech bindings. Traditionally tech bindings (i.e. pin bindings) were aimed at uphill efficiency but compromised on safety during the descent. New technology is now combining the best of both worlds, but only a few companies currently offer such products (like the Salomon Shifts), meaning they have a much higher price point.
Whichever you choose, be sure that your bindings are compatible with your touring boots.
Touring boots
Which brings me onto my next point: touring boots. Like bindings, touring boots have a skinning mode and a skiing mode. You don't realise how important this is until you start hauling yourself up a mountainside. If you have alpine ski boots on, your feet will quickly become sore and blistered. This is definitely not what you want in the backcountry. In fact, you want to take care of your feet at all costs. Make sure your boots are comfortable. If not, consider getting a custom liner, such as an Intuition liner.
Skins
Skins are like carpets you put on the bottom of your skis during the ascent. One side is gluey and sticks to the underside of your ski. The other side usually consists of nylon or mohair and lets you glide effortlessly across the snow. Skins come in different sizes, so select some that fit your skis. You'll then need to trim the edges (and possibly adjust the tail and tip clips) so they sit flush with your edges.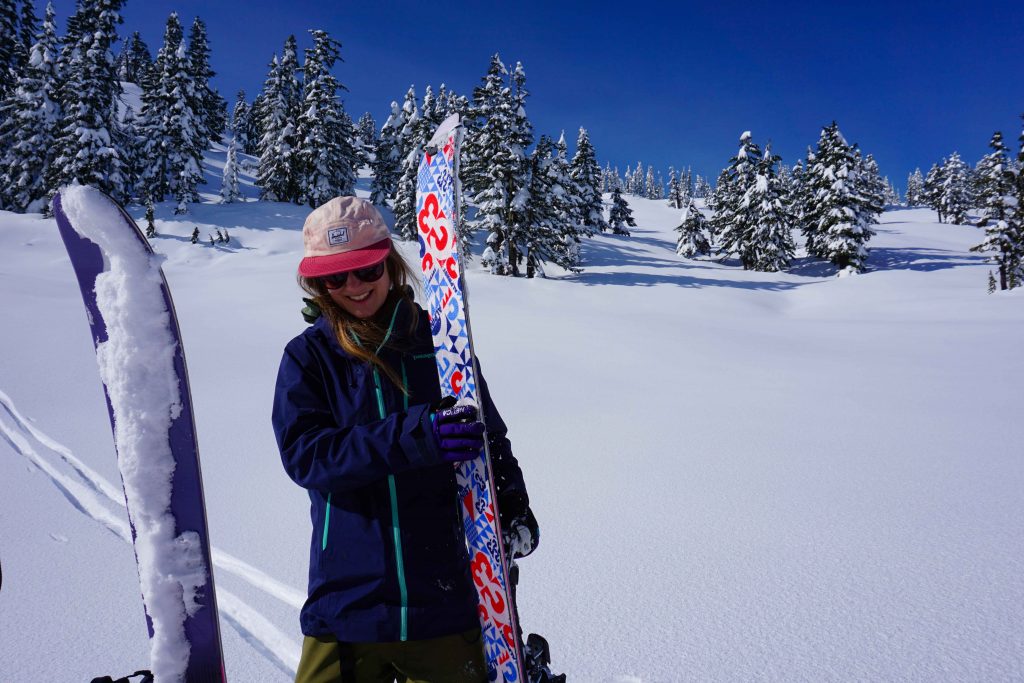 Avalanche transceiver
Now onto the safety equipment. First up, an avalanche transceiver. This might just save your life one day, so if you're going to buy anything new, this is it. Transceivers are worn across your chest at all times while you're in the backcountry. They have a send and receive mode. You keep them on send or 'transmit'. In the event that one of your companions is buried, you switch onto receive or 'search'. Your device will pick up the signal being transmitted by your buried companion. You'll then know where to dig.
Some avalanche beacons are considered safer than others, and some get an extremely bad press indeed. Research different models and check the news, reviews and advice from industry experts before you invest.
Shovel
Shovels have many uses in the backcountry. Most importantly, they allow you to move snow fast in the event of an avalanche burial. They're also useful for digging snow pits and snow caves. There are specific snow sport shovels on the market. These are lightweight and durable. Most also have handles that fold down or detach, meaning you can easily fit them into your backpack.
Probe
A probe is essentially a long metal stick that is used in an avalanche situation. This is a crude description for such an important piece of kit, but you get my point. Once you've located the rough area of your buried companion, you whip out your probe and insert it straight down into the snow. You keep going until you hit a human. Backcountry probes break down so they can be carried in your bag and feature a pull cord for quick deployment.
Lightweight/moisture wicking clothes
You probably already have a closet full of ski clothes. But check – are your jacket and pants insulated? If you've been skiing in resort, then they likely are. This is because it's cold on a chairlift. But when you're out touring, you can get incredibly hot while skinning up. Then, you can get incredibly cold while transitioning and skiing down. This means lots of lightweight layers are key.
For your outer layers, you'll want a shell jacket and pants/bibs that are uninsulated. Anything else will be too hot and heavy. Ideally, you want to achieve the holy trinity of lightweight, breathable and waterproof. For your base and mid-layers, choose moisture-wicking materials such as merino wool. Stay away from cotton.
Backpack
You'll need somewhere to put your shovel, probe, layers, skins (when your skiing down), food, water and all your other items. You might feel that any old backpack will do. However, there are dedicated ski touring backpacks available. These have a separate compartment for your avalanche tools, ensuring they're easy to reach when you need them.
Related: Kit Review – Norrøna Lyngen 35L Ski Touring Pack.
The usual ski stuff
Then there's all the other usual ski stuff, like a helmet, goggles, poles and gloves.
Other bits and bobs
And finally, all the other bits and bobs. Some of these items will be personal to you. For example, while skinning I prefer to wear a cap, sunglasses and a pair of lightweight gloves. But you'll learn what works as you go.
Then there's the other essential safety items, like a compass, a map of the area, a multi-tool, a first aid kit, sunscreen and a head torch. You'll also want some kind of communication device – you know, just in case anything should happen. Mobile phones don't always work out of bounds (or in bounds, for that matter) so you might want to invest in a satellite communication device. Ultimately, the choice is yours, but it can provide peace of mind while you're shredding around the backcountry.