The Norrøna Lyngen 35L ski touring pack is the ideal pack for day trips into the backcountry.
Product description
Norrøna says: 'The highly functional Lyngen 35L pack is our lightest backpack designed for ski touring'. It's described as 'a ski mountaineering pack with room for your equipment during a full day in the mountains.'
The review: Norrøna Lyngen 35L ski touring pack
At first glance, this bag has everything you'd expect of a touring pack. There's a dedicated compartment for your avalanche safety gear and skins, including integrated dividers for your probe and shovel so they don't slide around. And at 35 litres, there's just enough space for layers and food.
When you come to inspect the pack more closely, you'll realise (with some delight) that there are more design features than you initially thought. Some of them are simple, yet subtly work to make your life easier. Take the separate compartment for your safety gear, for example. It has red zip ties, while all the others are blue. In the panic of an avalanche burial, you'll waste no time zippering and unzippering the wrong pockets. As they say, the devil is in the detail. And it seems Norrøna has really taken the time to consider the details, allowing them to create a product that's truly fit for purpose.
When you reach the trail head, this pack starts working for you straightaway. First up, you can secure your keys to the internal key hook. Then, you can put your helmet in the external helmet carrier (which, by the way, can be rolled up and stowed away for the descent). The net does a great job of keeping snow out, because let's be honest, no one likes a damp helmet. There's also an ice axe/pole attachment, although I've not had cause to use this yet. The top pouch provides a convenient place to keep your googles. And if you need to boot pack, the two loops at the bottom of the bag enable an A-frame ski carry system. It's also possible to carry your skis diagonally, if that's your jam.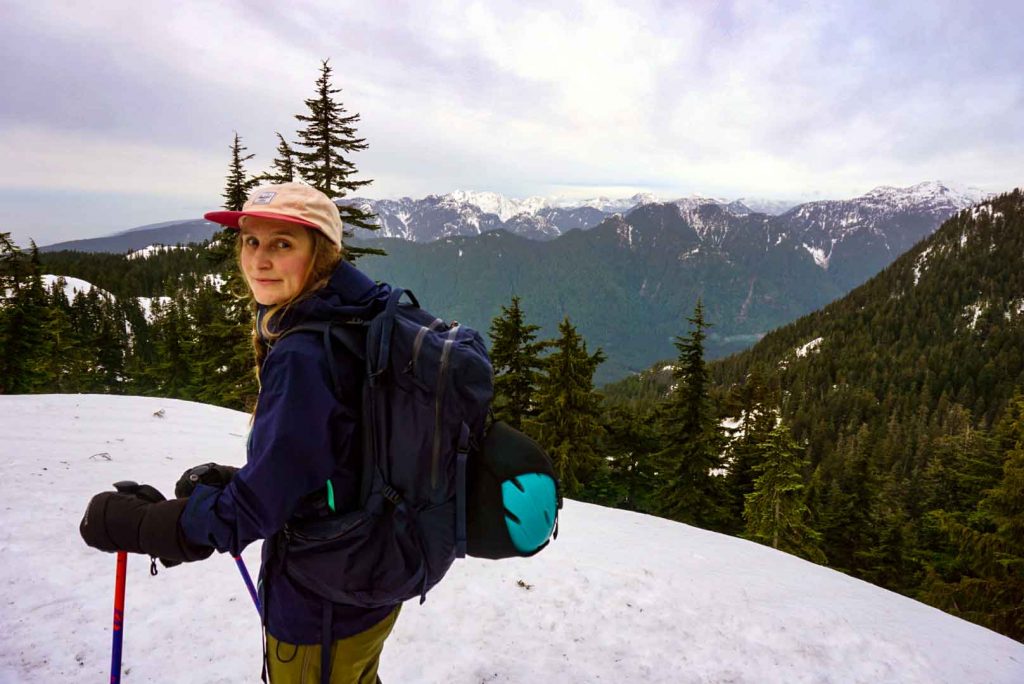 While you're on the move, the large hip pockets allow easy access to snacks and other items, like your phone. You can also wriggle your way into the main compartment from the left-hand hip pocket, allowing you to drag out a deeply packed layer or camera without having to take off your pack.
Talking of the main compartment, this is where all your other gear lives, including your layers and water. The entire back panel opens up, a clever design that allows you to see and organise all your clothes, even when your skis are attached to the pack. Inside the back panel is a large zippered compartment which is perfect for housing a water bladder. You can then route the hose through a hole and straight into the shoulder strap, which zippers open and shut to provide a hydration sleeve. This is so pleasing, as your tube isn't flapping around and benefits from a layer of insulation. The back compartment also has a mesh pocket for those items that can easily get lost, such as a head torch, compass and first aid kit.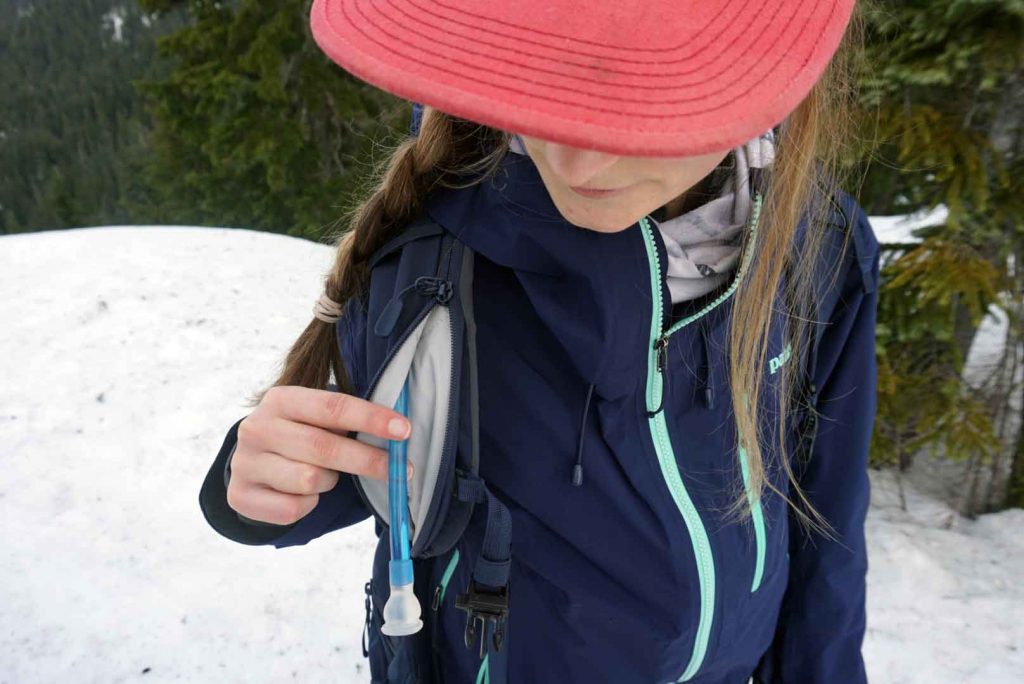 When the pack is empty, it's lightweight at 1.19kg. It's also incredibly comfortable. The heat moulded back panel acts as padding, and there are plenty of straps and cinches so you can get the fit just right. I'm a petite female with a small frame. As such, I'm normally very aware of my backpack while skiing. But thanks to the ergonomic design, this pack sits tight when you need it to, regardless of whether you're skinning up or making your descent.
If there is one drawback, it's that the material is water-resistant and not waterproof, although this is pretty standard. My first ski tour with this pack was during a wet west coast day near Vancouver. The clothes in the main compartment fared well and were only slightly damp, thanks to their location at the back of the pack. Everything else got pretty soggy and I was glad none of my electronics were in the hip pockets. As a result, I've started putting things in waterproof stuff sacks to ensure they stay dry. Also, at 35 litres I would definitely class this as a day bag. Those wanting to do multi-day tours will want something with a larger capacity.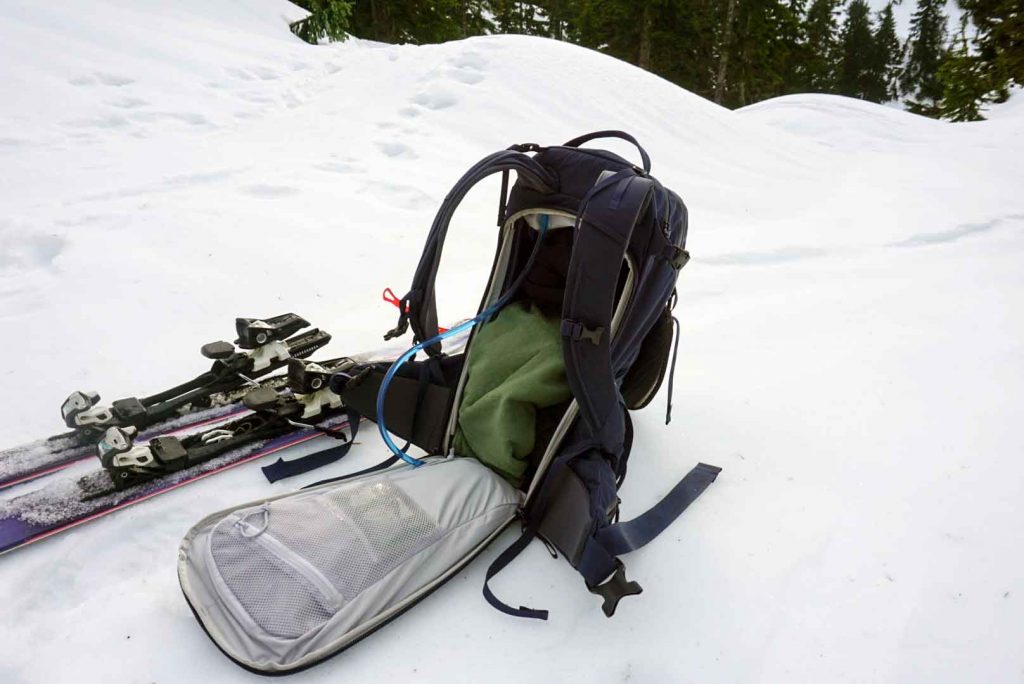 Time will tell how well this pack endures. Worryingly, Norrøna themselves have rated the pack as only three out of six for durability. However, the five-year warranty provides extra peace of mind.
The verdict
The Norrøna Lyngen 35L ski touring pack has been thoughtfully designed to meet all your day touring needs. It has a mid-level price point compared to other products, yet performs extremely well, combining comfort with high-level functionality. Would I recommend it? Absolutely.