In the summer of 2022, my husband and I cycled from Aosta to Crete for our honeymoon. The first leg of our trip was the Via Francigena, an ancient pilgrimage that starts in Canterbury and ends in Rome (although walkers can continue to Brindisi).
We joined the route in Aosta and followed it all the way to the Eternal City. The journey took us through the Aosta valley, across Piedmont's rice fields and along the Po River in Lombardy. Then we entered the green pastures of Emilia-Romagna, cycled up and over the Cisa Pass and into the rolling hills of Tuscany. After a three-night stop in Siena to enjoy the palio festivities, we continued through the Val d'Orica, with its medieval hilltop towns and rows of cypress trees. Eventually we reached Lazio in the midst of a heatwave, arriving in Rome after 13 days of touring.
Read on for a day-to-day trip report. But first, some frequently asked questions…
What is the Via Francigena?
The Via Francigena is a pilgrimage route that starts in Canterbury, UK, and ends in Rome, Italy. However, walkers can actually continue to Brindisi, which is traditionally where pilgrims would set sail to Jerusalem. For cycling pilgrims, there is a bike route from Jougne to the Great Saint Bernard Pass in Switzerland, then from the Great Saint Bernard Pass to Rome in Italy.
Should I take the bike route or the walking route?
There are two routes on the Via Francigena: the hiking route and the cycling route. They follow roughly the same direction, and each stage starts and ends in the same destination. Otherwise, they are very different beasts. You would need a mountain bike to pedal along the hiking route, and even then, I've heard that you would need to carry your bike for certain stretches. The bike route is, obviously, designed for cycling.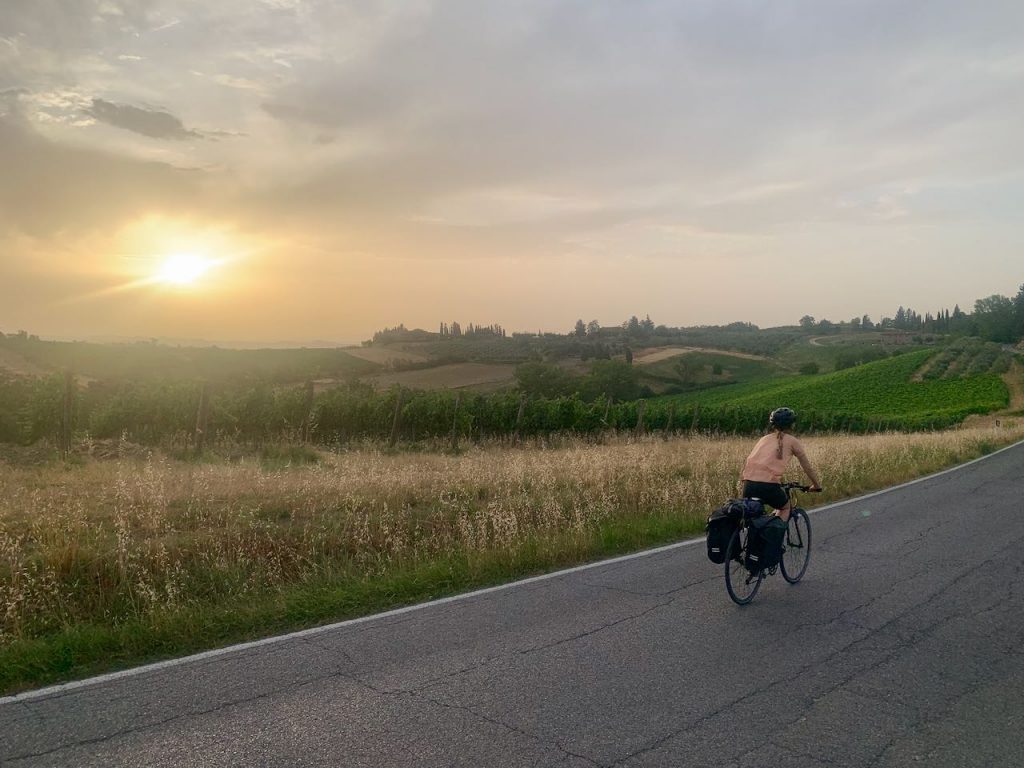 Is the bike route on-road or off-road?
Both. The creators of the Via Francigena bike route have clearly tried to make use of cycle paths and quiet country tracks where available. That being said, there is still a lot of road cycling, which occasionally involves busy cities or state roads. It's important to be confident cycling in traffic, especially as Italian drivers are not the most forgiving.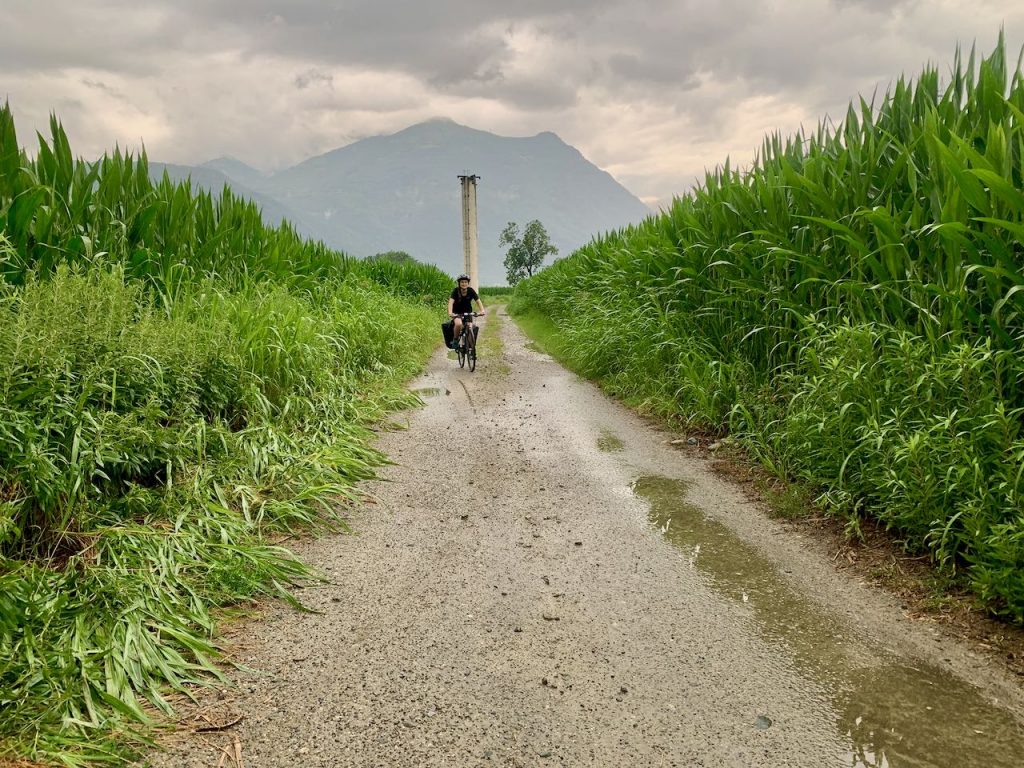 What kind of bike do you need?
The Via Francigena bike route has every type of terrain imaginable: cycle paths, forest trails, busy state roads, farmers tracks and everything in between. At times you'll want a mountain bike, and at times you'll want a road bike. With this in mind, my conclusion is that you're best off with a gravel bike. A mountain bike would be way too slow, as there are long sections of smooth asphalt. An all-out road bike would be a little delicate, and you'd likely have to push through some of the rougher stuff. We took a sports hybrid and a gravel bike. Both stood up to the test.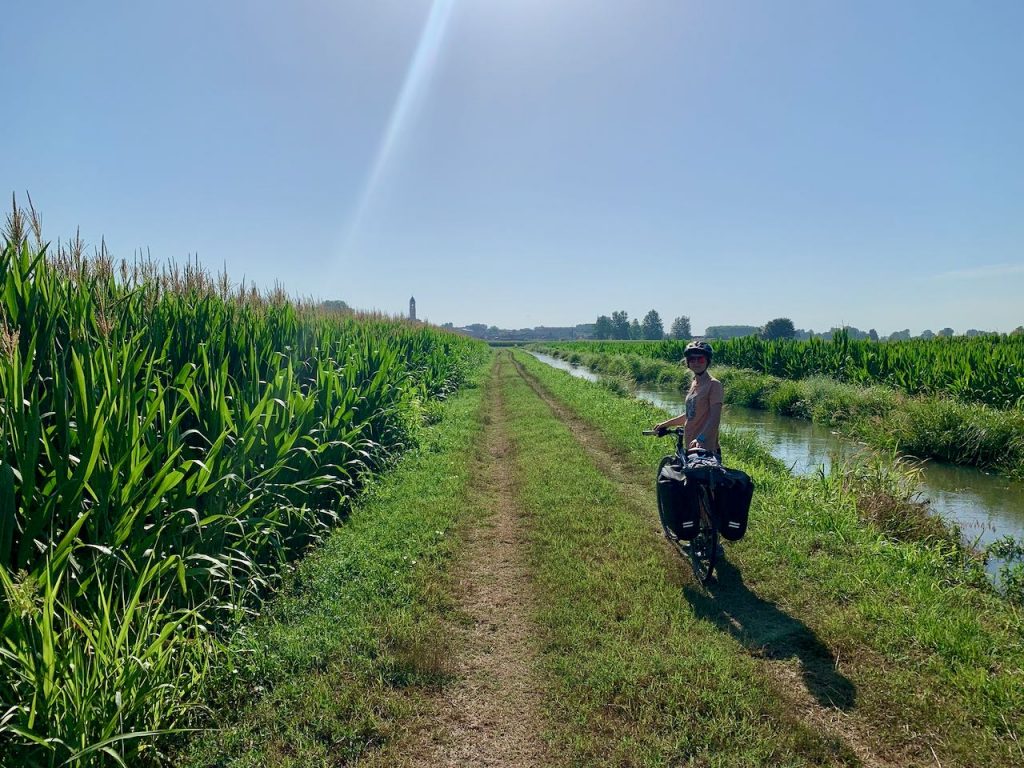 Can you take an e-bike?
Yes! We met a Kiwi couple who were cycling from Aosta to Rome along the Via Francigena on e-bikes. They hired hardtail e-bikes in Rome, then rented a car and drove to their starting point in Aosta. They were taking it very slowly, only doing around 50km a day, which meant they didn't need to worry about running out of battery.
Is the Via Francigena bike route signposted?
The Via Francigena is signposted, although the signs are not always obvious/frequent until you reach Tuscany. The bike route is marked with blue and white stickers, whereas the hiking route is red and white.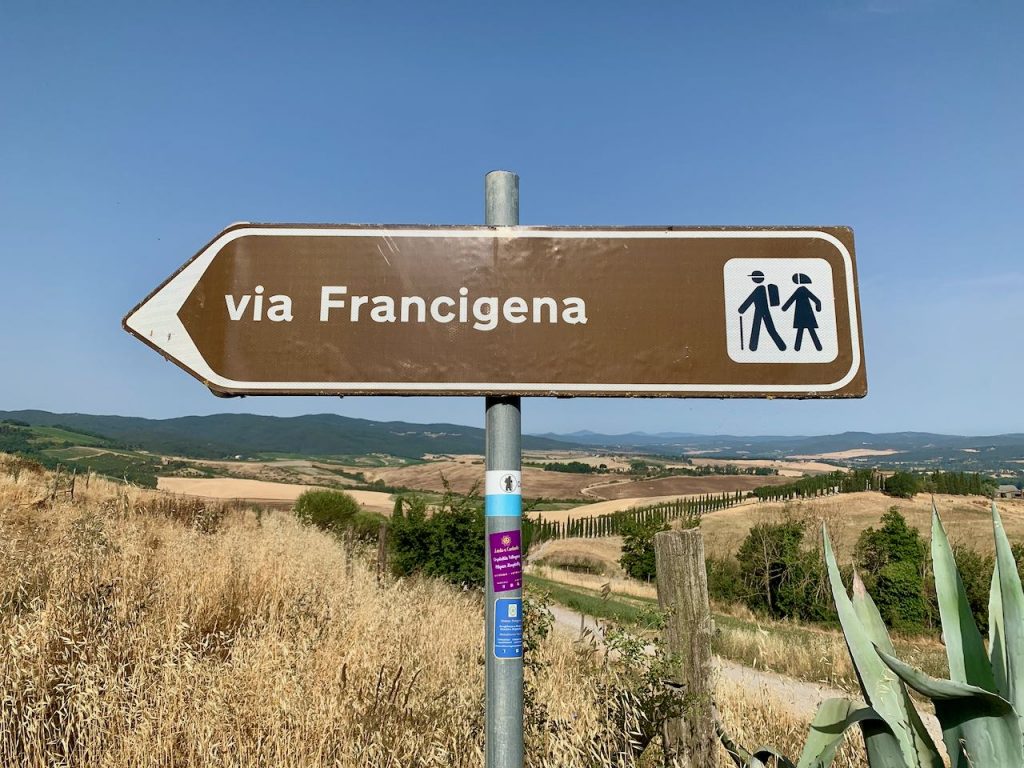 How do you navigate along the Via Francigena bike route?
Download the Via Francigena app. Open the app and select routes, then scroll down to the bottom and select 04B-from the Great Saint Bernard Pass to Rome by bike (or 3B cycling in Switzerland if you intend to start in Switzerland). You will see that the entire route is broken down into stages. Each leg has its own map which you can expand and use offline. Each leg also has a description, although the English translation is a little hit and miss.
Is the Via Francigena bike route hard?
Obviously, this question is subjective. The app categorises each leg as easy, medium or very challenging. The very challenging sections are usually hilly – and hills there most certainly are, particularly in Tuscany. However, even the easy or medium sections can present difficulties. Some of the flat areas are very windy, while others follow sandy tracks that make for slow progress. There is also the odd bit of technical riding. The day-to-day trip report below gives you a better idea of what each section involves.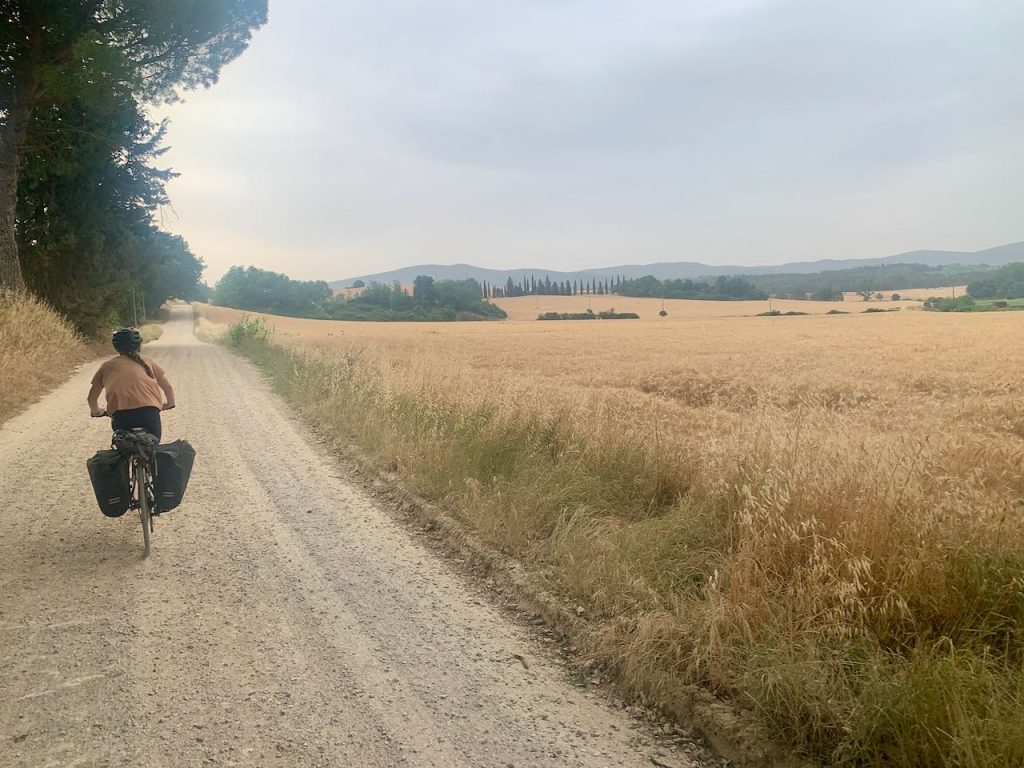 Is there accommodation along the Via Francigena bike route?
The app shows accommodation along the route, although we discovered that some places had permanently closed due to Covid. The app often provides a phone number or email address, so you can contact your preferred destination in advance to check availability. Be warned that very few people speak English.
The accommodation listed on the app consists of ospitales, ostellos and private accommodation.
The ospitales are geared towards pilgrims. They are often by donation or have a set price of around €15 per person, per night. Sometimes this includes dinner and/or breakfast. You must have a pilgrim passport or 'credential' to use these facilities. The ospitales we stayed in were very clean and had dormitory style accommodation. It helps to have your own sleeping bag/sleeping bag liner.
The ostellos we found to be a mixed bag – some were for pilgrims and required a pilgrim passport. Others were not.
The facilities at both the ospitales and the ostellos were varied. Some had laundry, some had a small kitchen, some provided dinner, and some provided just a bed and bathroom facilities.
You can also arrange your own accommodation through platforms such as booking.com and AirBnB.
Do you need to book accommodation in advance?
We never booked our accommodation in advance, but rather opted for the 'turn up and hope for the best' approach. We were lucky that this almost always proved fruitful, but occasionally we did have to resort to plan B (or sometimes plan C), which meant more cycling than originally intended.
Really, it's advised that you contact your preferred accommodation in advance because the custodians do not always live on-site. We also took to arriving earlier, rather than later, to make sure we bagged a spot.
One word of warning: we got turned away from the ospitale in San Gimignano because the custodian said they didn't take cyclists. He instead walked us to a working convent, which turned out to be the most expensive place we stayed at €30 per person, per night. We didn't get discriminated against for being cyclists anywhere else though!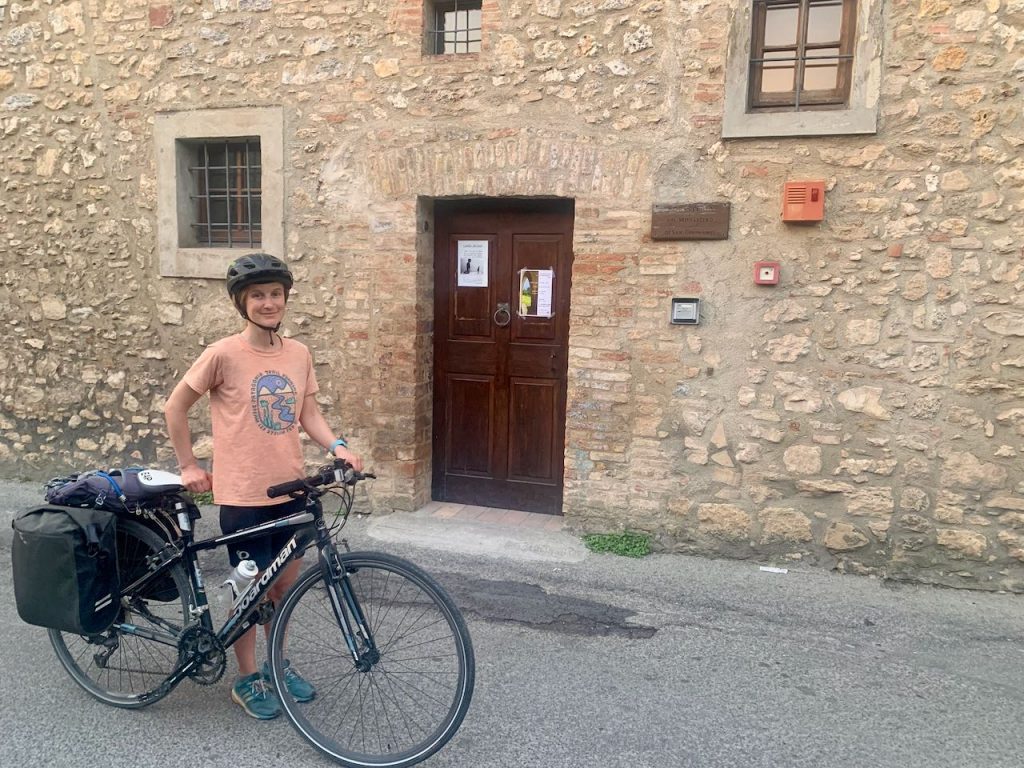 Is there camping along the Via Francigena bike route?
We expected to do a lot more camping than we actually did. In fact, we only camped in Lucca and Siena. There were precious few campgrounds along the way, and we didn't really want to deviate miles from the route in order to find one.
Wild camping is illegal in Italy. We thought we might still pitch up in a farmer's field every now and then, but ultimately decided against it. You are never far from a road or a house. Also, the desire for a shower at the end of each day was too much to bear!
Where can I get a pilgrim passport or credential?
You can buy a pilgrim passport in advance of your trip on the Via Francigena website, but you'll have to pay shipping. To avoid this, you can pick up a credential at one of the distribution points listed on the website. We got ours at the Aosta tourism information centre.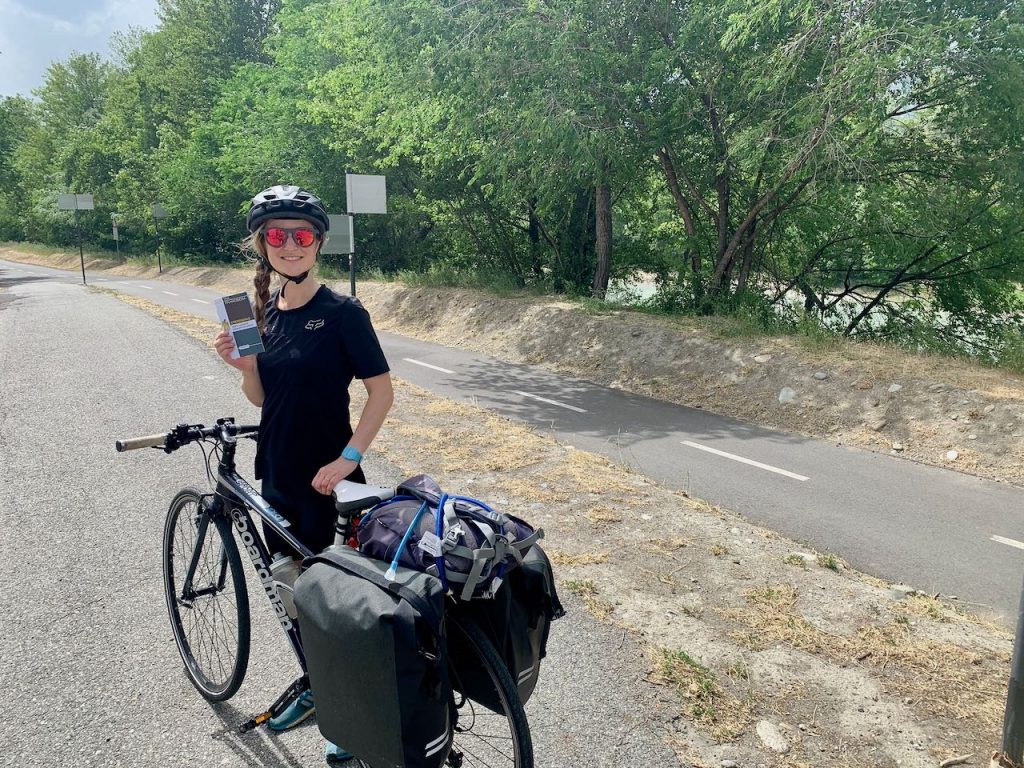 How long does it take?
It took us 13 days to cycle from Aosta to Rome along the Via Francigena bike route. This included a three-night stop in Siena to enjoy the Palio festivities.
What's the best bit?
We got asked this question so many times, but honestly, it's hard to say. Every day was so varied and interesting. For me, the best bit was probably the food, closely followed by the pretty towns and quaint villages we rode through – there are so many it would be hard to list them all. However, if you just want to do a section of the route, I'd say my favourite parts were between San Gimignano and Radicofani.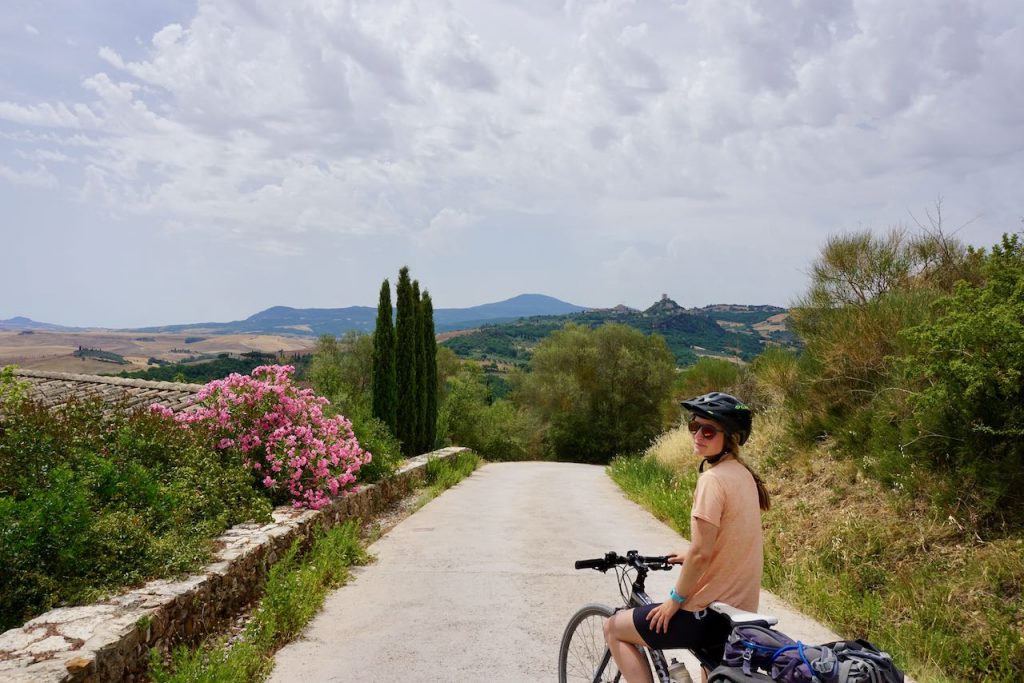 Trip report
Day 1 – Aosta to Verres
Distance: 49.5km
Accommodation: Ostello della Gioventu "il casello"
We blagged a lift with my mum who was driving her van from the UK to Italy. She dropped us off in Aosta. I would have loved to start from the Great Saint Bernard Pass so we could say we'd done the entire Via Francigena in Italy – but we weren't far off!
Our first task was to find the tourist information centre to pick up our pilgrim passports. We initially went to the administration office near the bus station, but were told we actually needed the tourist information centre in Piazza Porta Pretoria. We spent ages trying to find it, which didn't bode very well for the next 30 days to come.
After that little hiccup it was finally time to hit the road, excitement and anxiety squirming in my stomach. We rode to the south of Aosta, over the train tracks and found the Via Francigena – not that you'd know it! There were no Via Francigena signs, although it is clearly a cycle path. The route follows the banks of the river, occasionally crossing back and forth over bridges. It's an easy pedal, and had it not been for the stiff wind whipping up the valley our progress would have been much faster.
We then encountered the first of several path closures. The re-routes would have added a significant amount of time to our journey, and we had already set off much later than intended. So we decided to ignore the closures where possible and break through the barriers instead. The workmen weren't too happy about it, but it saved us a lot of hassle.
This stage is classed a 'very challenging' and I was wondering why, as the cycle path was very flat and easy-going, aside from the windy conditions. However, we soon faced a couple of very steep hills that worked their way up the side of the valley. These hills were interspersed with terraces, providing a great vantage point across the rooftops and down to the river below.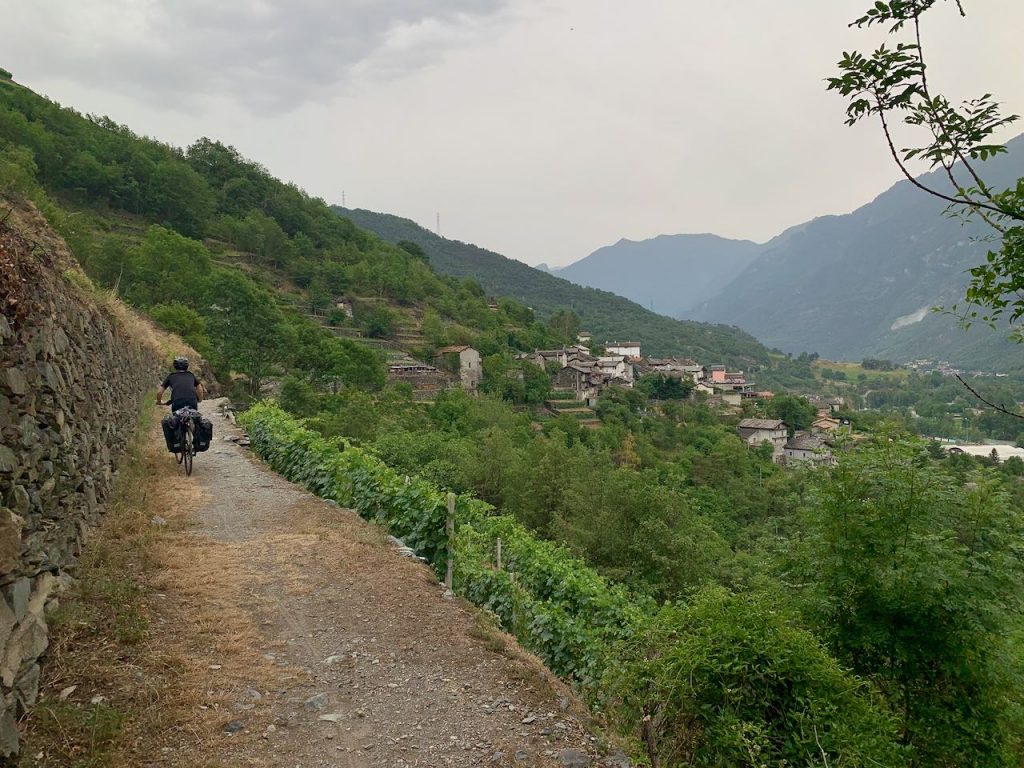 We arrived in Verres later that evening. The strong wind had made the going very tough and we'd also had a bit of rain, all in all suggesting that a storm might be imminent.
We got a room at the Ostello della Gioventu "il casello", which is the first accommodation you reach if arriving by the bike route. The ostello is by the train tracks and you have to call the buzzer on the locked gate to be let in. The staff were lovely and allowed us to store our bikes inside. But honestly, the place has a slightly creepy vibe! It was also quite expensive at €55 for a double room and breakfast. We were too late for dinner, so walked into town for a pizza.
Day 2 – Verres to Vercelli
Distance: 94km
Accommodation: Hospitale Sancti Eusebi
This was our first full day and I was interested to see how my legs would stand up to the test, having never cycled more than around 50km in one go before. We got an early start, although of course had to stop at the café near the ostello for supplies. The pistachio croissant comes highly recommended.
The route starts on tarmac roads. We had just got going when the storm that had been threatening finally broke. We were treated to a long day of rain, thunder and lightning, although thankfully the air temperature was warm enough.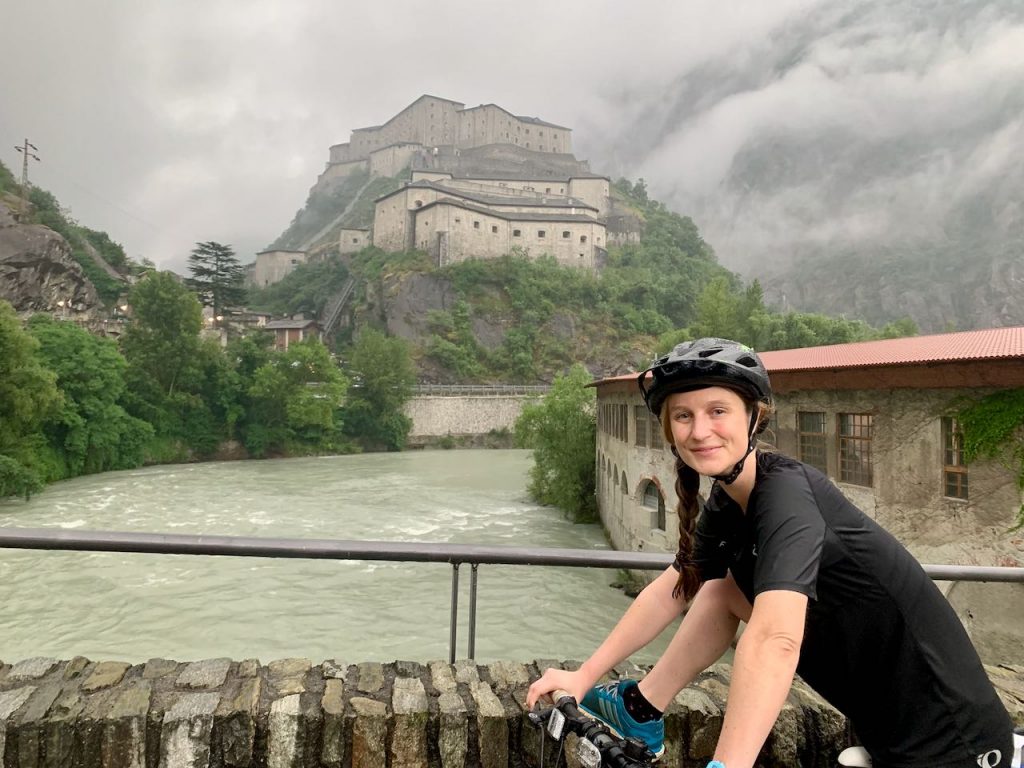 We passed through Bard, with its imposing fortress looming over the valley. The terrain got a little bit more technical, with some short, steep ascents and descents. The route really keeps things interesting, sometimes following roads, sometimes gravel paths, and sometimes farmers' fields, often with all three featured within the space of 30 minutes. We became increasingly accustomed to spotting the blue and white Via Francigena bike route signs, but they were by no means obvious. Sometimes they'd be hidden or located past the turning we wanted to go down. It became apparent that we'd have to rely on the app to navigate.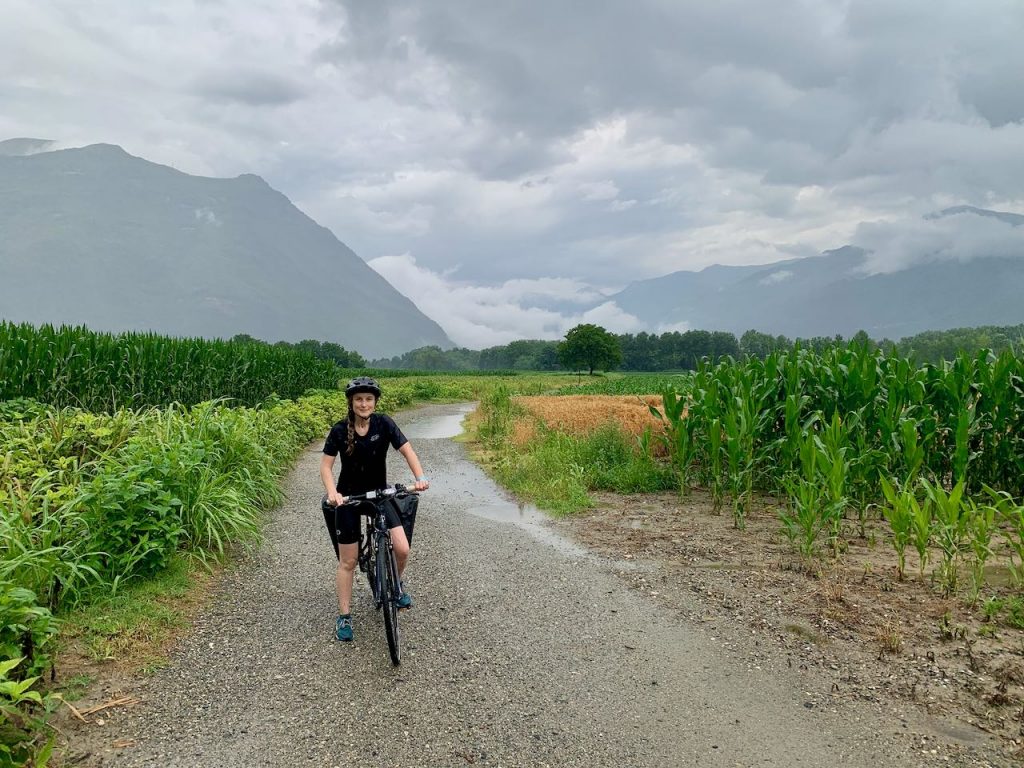 We stopped in Ivrea for hot drinks, by now thoroughly drenched and feeling the cold. We continued on towards Viverone, where we could see the lake below us. It looked like a big diversion to reach the lakeshore, and we weren't exactly gasping for a swim, what with being drenched to the bone and all. So, we carried on to the end of the stage in Roppolo.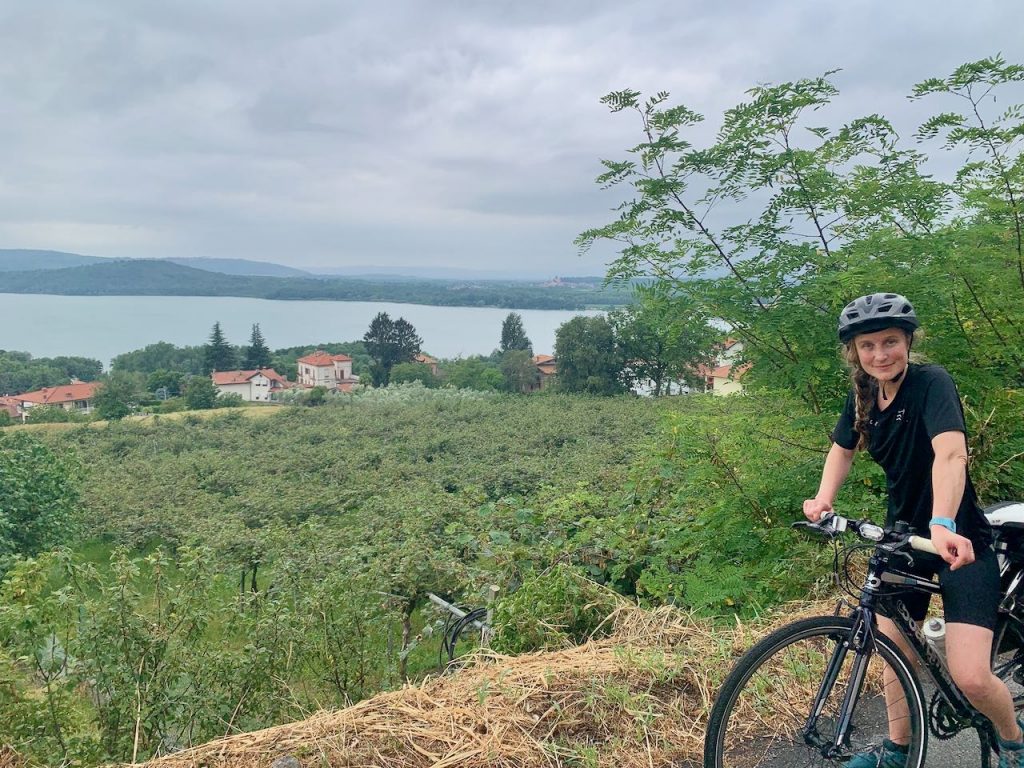 The stage between Roppolo and Vercelli is dominated by flat gravel tracks passing through rice fields. There's a lot of birdlife, but otherwise it's a long and very bumpy ride. And I mean seriously bumpy, so much so that my bottle cage rattled loose.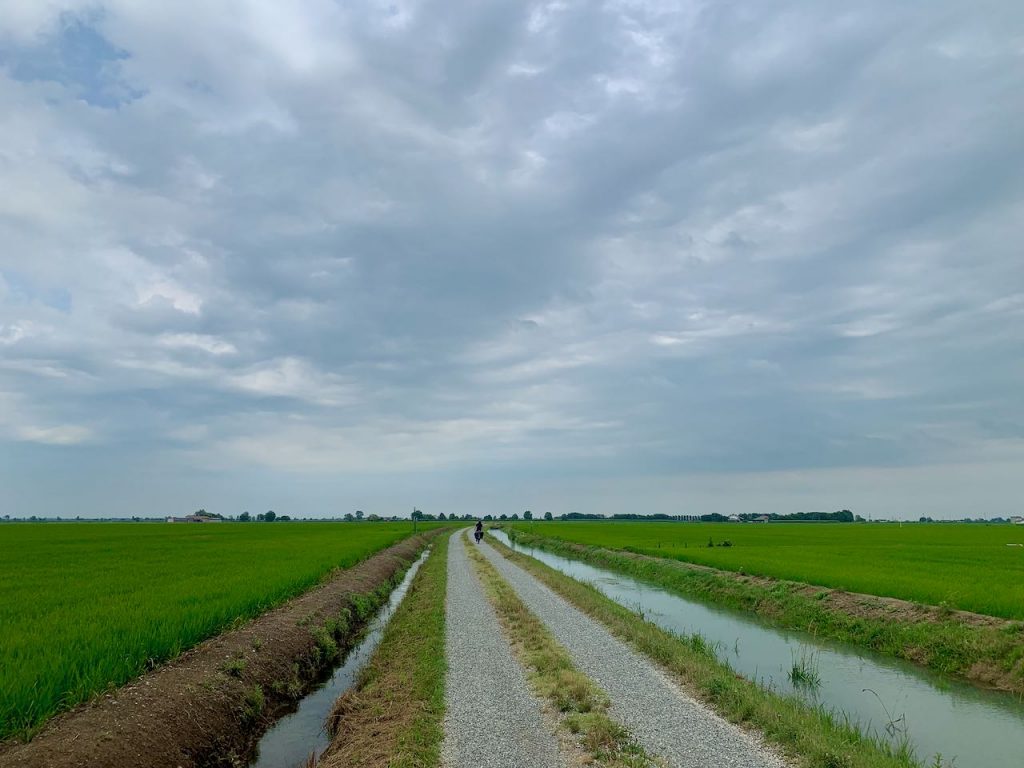 We stopped at Decathlon outside Vercelli for a few supplies before making our way to Hospitale Sancti Eusebi, which is by donation and includes breakfast and dinner. This was hands down the best accommodation we stayed in along the Via Francigena. The hosts were incredibly welcoming, and we managed to get a dormitory room all to ourselves. They also let us store out bikes inside.
After a few beers in the beautiful town square, we returned to the ospitale and joined the other pilgrims for a slap-up dinner cooked by a genuine Italian Mama. On the menu was courgette and asparagus risotto, lemon and tomato salad, frittata and a bread cake. Breakfast the following morning was equally as lavish.
I was pleased to find that my body was thus far standing up to the test. Tom, however, was suffering from saddle sore, probably not helped by the copious amounts of rain we'd encountered. Trying to explain the problem to an Italian pharmacist proved especially funny, but we were soon armed with enough chamois cream to see us through to the end.
Day 3 – Vercelli to Spessa al Po
Distance: Approx 100km*
Accommodation: Ostello Artemista
After a hearty breakfast we cycled out of Vercelli, soon turning off the main road and onto yet more gravel tracks. We made good progress in the morning until cycling through the village of Palestro, where a man drove after us and stopped us in a frenzy. We're not sure to this day what he was saying, but he seemed concerned about 'mucho traffico' and insisted we follow him. So we did. He led us to a corn field and was adamant that we push our bikes along the narrow dirt track. Tom stood on a live adder and my legs got scratched to pieces. We fought our way through the crops and quickly made a bee-line for the nearest road to Robbio!
Subsequently the route features a lot of sandy tracks, which are incredibly difficult to pedal along. We had a coffee in Mortara and picked up a €1 pizza as a snack – you've got to love Italy! Then we joined the next leg, making our way to Pavia, occasionally following the river. At one point we were both ogling at a riverside café when we cycled into each other, causing me to fall off. This turned out to be the only 'crash' of the trip, thank goodness.
We ducked into Pavia town centre for a much needed can of something cold and sugary. The route became easier in the afternoon, although we did have to manoeuvre over an abandoned pipe that had been left to flood an agricultural field. But in the main, the roads to Spessa al Po were fast and quiet, with lots of sunflower fields.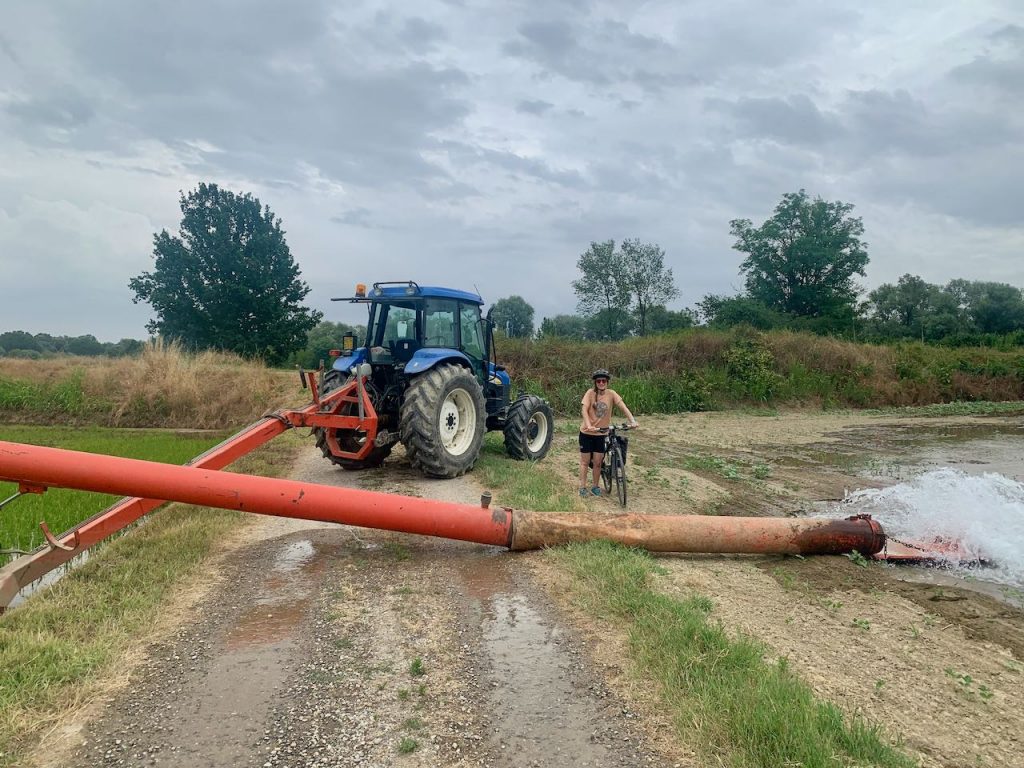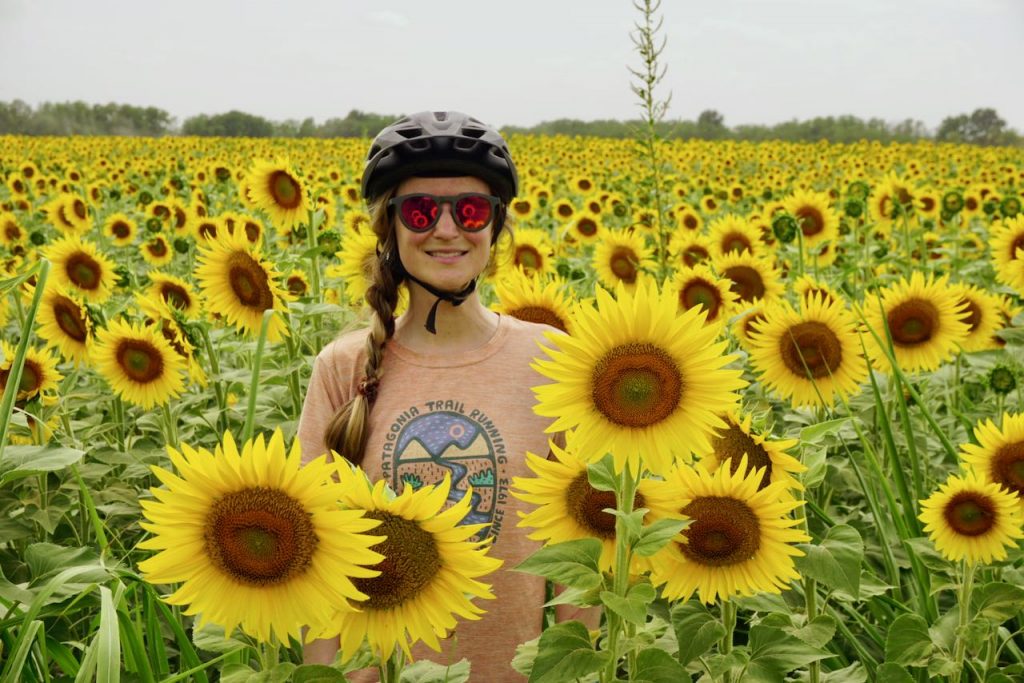 We got a room at Ostello Artemista, which is a hostel and cultural centre. This was the only place that didn't ask to see our pilgrim passports (aside from the campsites), suggesting that it's not exclusively used by pilgrims. The ostello itself is a group of beautiful red brick buildings. We locked our bikes in an old barn, but I doubt there's much crime round these parts.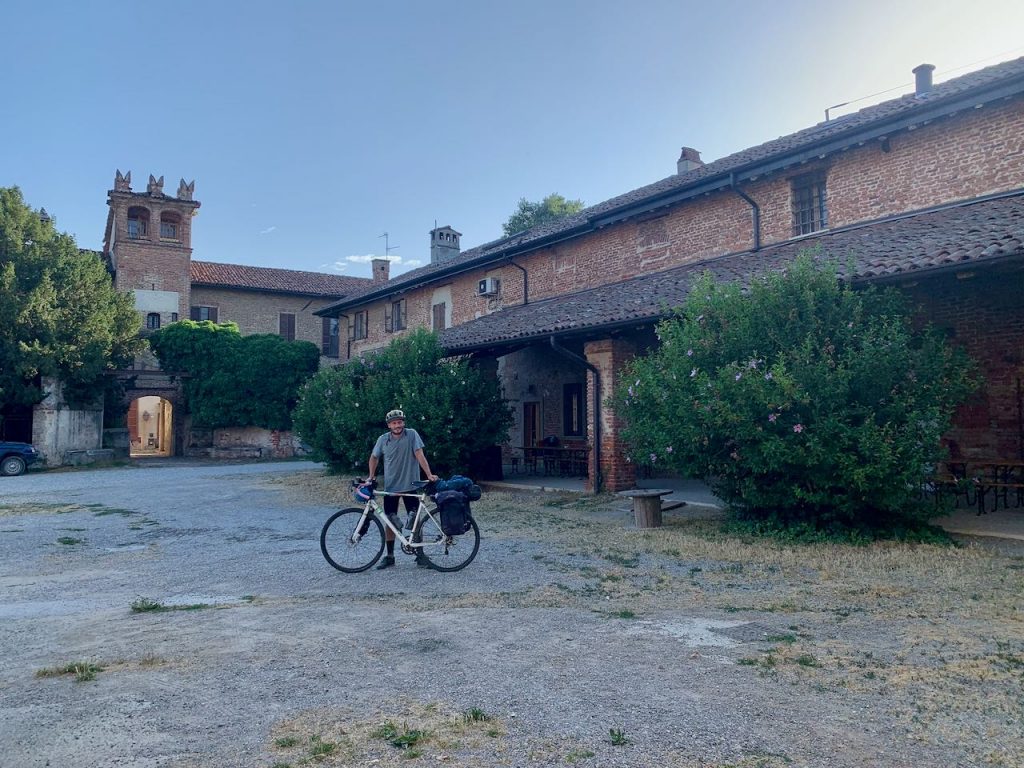 By now we had realised that every single village in Italy contains a church, a pharmacy and a bar (the Holy Trinity). So it was that we made our way to the only bar in town, where we sat amongst a group of local men who seemed to be shouting at each other, but were probably just having a good old chat (Italian style, with raised voices and hand gestures).
Spessa al Po is a quiet, peaceful village with no eateries, and we didn't have any food with us. Thankfully, we could order a takeaway pizza to the ostello, which Tom managed to achieve with broken Italian.
The terrain had been pretty much flat until now, but hills were clearly visible in the distance.
Day 4 – Spessa al Po to Medesano
Distance: approx. 100km*
Accommodation:
After what can only be described as a disappointing breakfast at the ostello, we followed the Ciclo al Po to Piacenza. This is a cycle path that follows the banks of the River Po and lends itself to some speedy kms. And speed is what we needed, as we were desperate to get to a bike shop in Piacenza before they closed for lunch (as is customary in Italy).
We stopped at Gaga Bike shop and received a 5* service. After 45 minutes, Tom had a new bottom bracket, I had new grips, and we were back on the road. After leaving Piacenza we joined onto quiet country roads, but my god was it ever windy. This was the first real test for me, as it was a struggle to keep going, both physically as well as mentally.
I bought some fruit along the way and was gifted four free bananas by the shopkeeper, which later proved to be absolutely crucial. We finished the stage in Fiorenzuo d'Arda and not a moment too soon, as I was gasping for an intake of calories. Lunch was yet another pizza – luckily, it's not something I'll ever get bored of eating.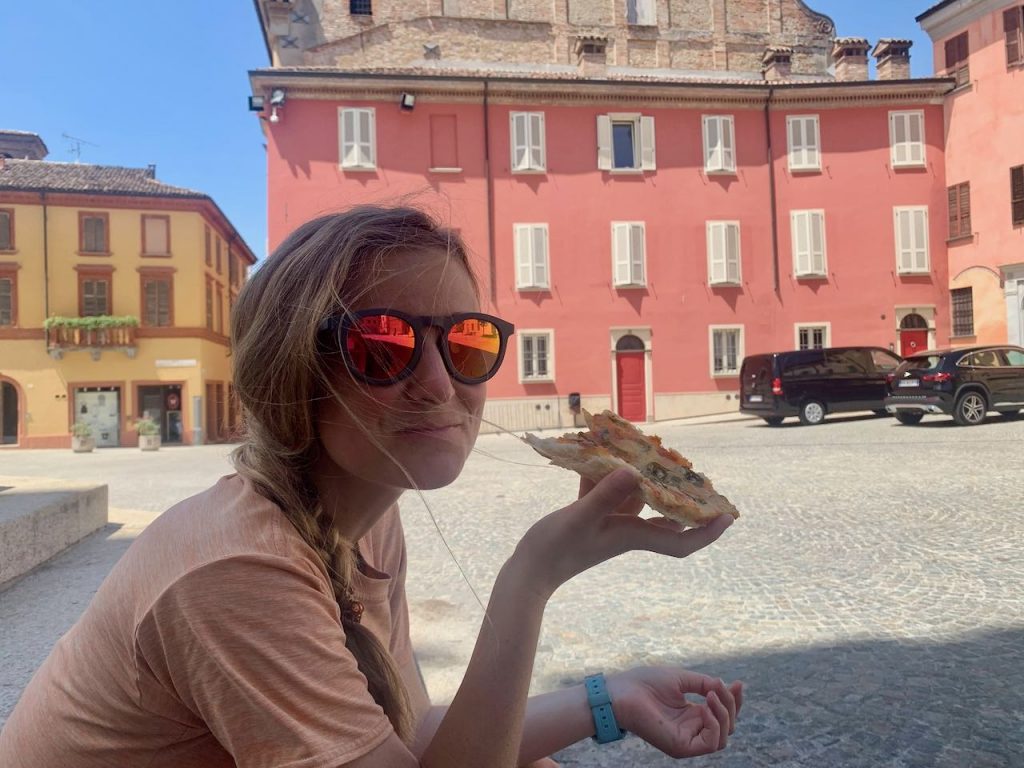 Refuelled, we pedalled to Fidenza, where I was keen to stop for the day, feeling well and truly beaten by the wind. However, there were no accommodation options, so onwards we pushed. By now we had passed into Emila-Romagna, which was obvious from the change in landscape. Flat rice paddies and corn fields had given way to rolling green pastures, hay bales and hilltop villages.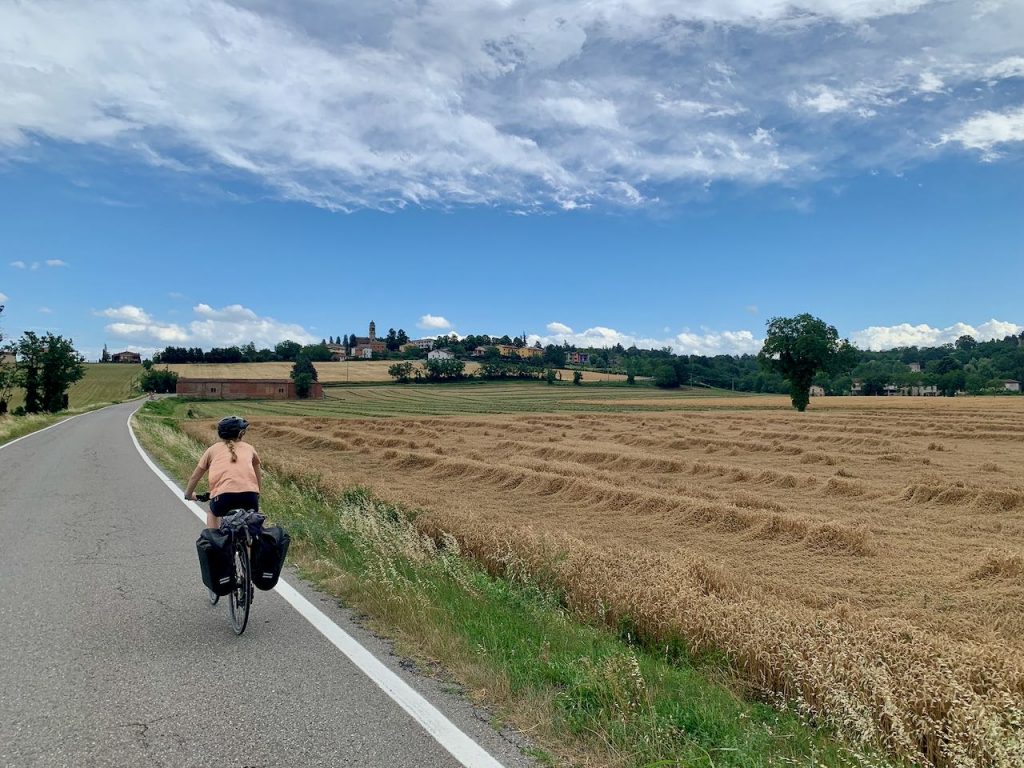 Our intended destination was Costa Mezzane. We rang on the ostello buzzer, only for a man to pop his head out from an upper story window and shout 'no' at us. Great. We explored a few other options in the area to no avail, including one we think is a modern-day convent. It looked more like a terrifying gated boarding school, so chose to give it a miss.
Eventually, we arrived at the ostello in Medesano, which is on the top floor of a children's youth centre. It was locked but Tom called the number on the door and waited for the host to arrive. He was incredibly warm-hearted, but told us that we were lucky, as he could easily have been away. He said that's we should always call ahead. In any event, we paid €15 each, which got us a bed with a bottom sheet, a shower, a small kitchen and laundry facilities for an extra €3. We were allowed to store our bikes downstairs in the youth centre.
We were the only ones there, so decided to have a night in. We'd picked up some pasta and pesto which I cooked in the dinky little kitchen while Tom popped out and sourced some beers. It had been a long and difficult day with the wind, and it was a relief to stay somewhere clean and comfortable. The only issue was the ostello's location right next to the church, which meant a long night of being woken up by the church bell every half an hour.
Day 5 – Medesano to Aulla
Distance: approx. 100km*
Accommodation: Abbazia di San Caprasio
Today was the day we tackled the Cisa Pass, a mountain pass that sits between the Ligurian and Tuscan Appenines. Not that we realised what was to come until we were in the thick of it!
But first, we cycled along fast roads to Fornovo di Taro where we stocked up on supplies. We asked the lady in the salumeria to make us a sandwich, and picked up a few croissants for breakfast. Soon after Fornovo we began pedalling uphill – and we didn't stop for quite some time. The gradient to begin with is incredibly steep, so much so that we had to zig zag the bikes back and forth across the road or we'd have gone backwards. There we stumbled upon Maxim, a French guy we'd met at the ostello in Verres who was also cycling the Via Francigena. He'd broken a spoke so Tom gave him a zip tie to keep him going.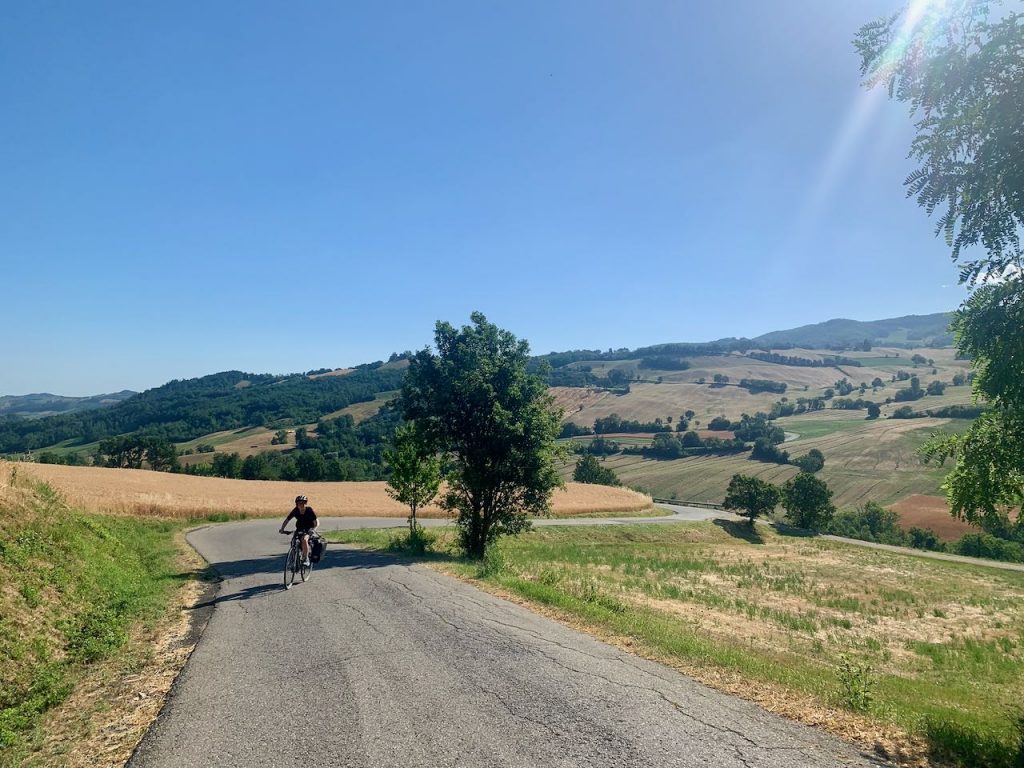 Up and up we continued, frequently being overtaken by large groups of motorcyclists who had come to ride the pass. It was certainly 'very challenging', as the app suggests, with the one consolation being the gorgeous views across the countryside. Finally, we enjoyed a long free-wheel down to the pretty town of Berceto. We ate our sandwiches and had a cup of tea at a café, where we were joined by two other cycling pilgrims – a lovely Kiwi couple from New Zealand. They explained, to my horror, that we hadn't actually done the Cisa Pass yet – that was just over the horizon.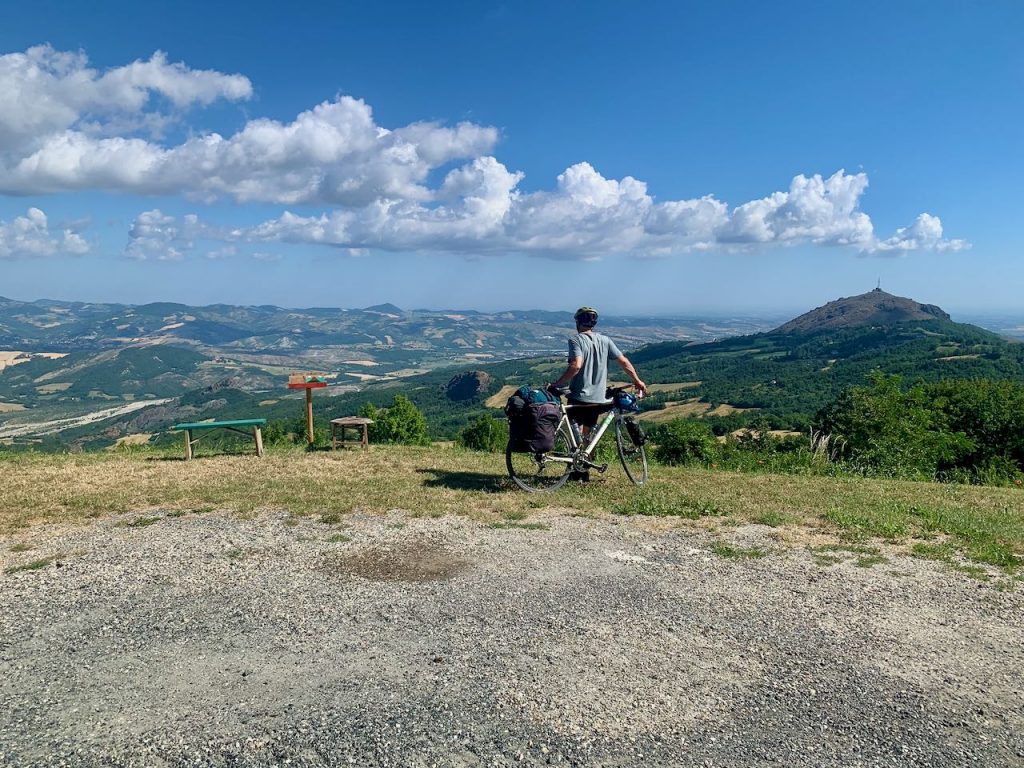 Feeling a little afraid, we filled our water bottles from the fountain in the town square, which turned out to be sparkling water (honestly, these Italians!) We then had to retrace our steps out of Berceto, which of course, was up a bloomin' great big hill. There followed yet more climbing until we once and for all reached a sign confirming that we were at the Passo della Cissa, with an altitude of 1,041m. What goes up must come down, as they say, and down we went for what felt like an age. So, that was the Cisa Pass done and dusted.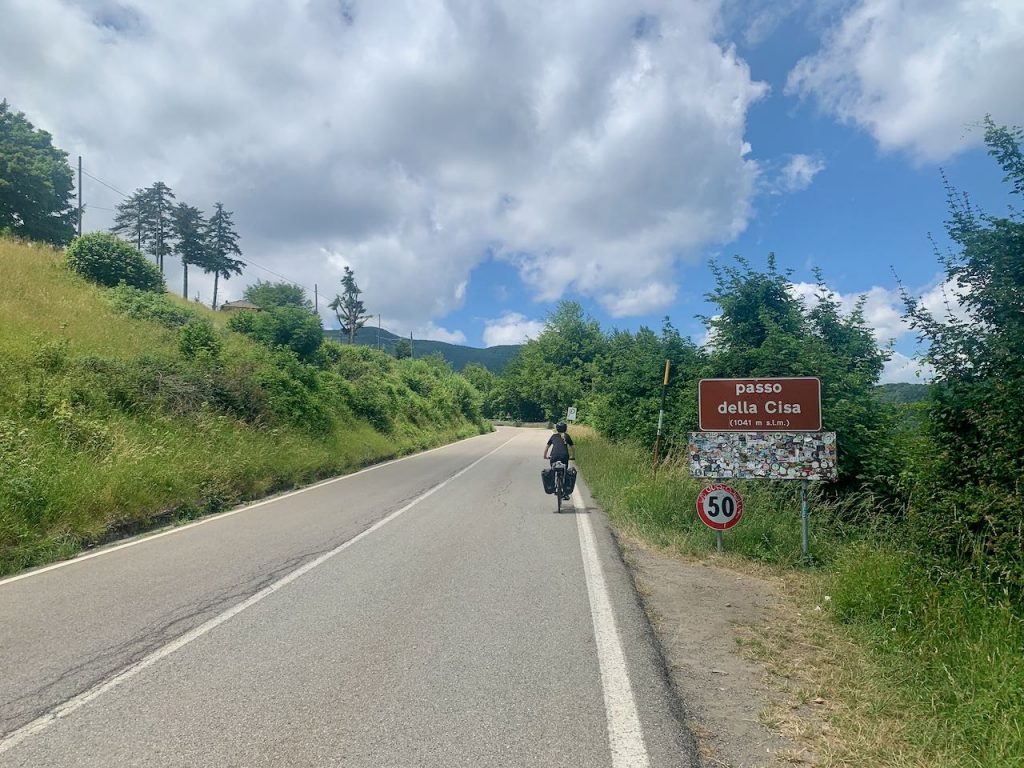 We continued on our way to Aulla, where we still encountered a few hills, but all very tame in comparison to the previous exertions of the day. We passed through some pretty villages and towns, with Pontremoli in particular stealing our hearts. There is a cobbled section over a bridge that we had to walk, and we spent five minutes deliberating whether we should jump in the river below for a swim. In the end we decided to press on to Aulla.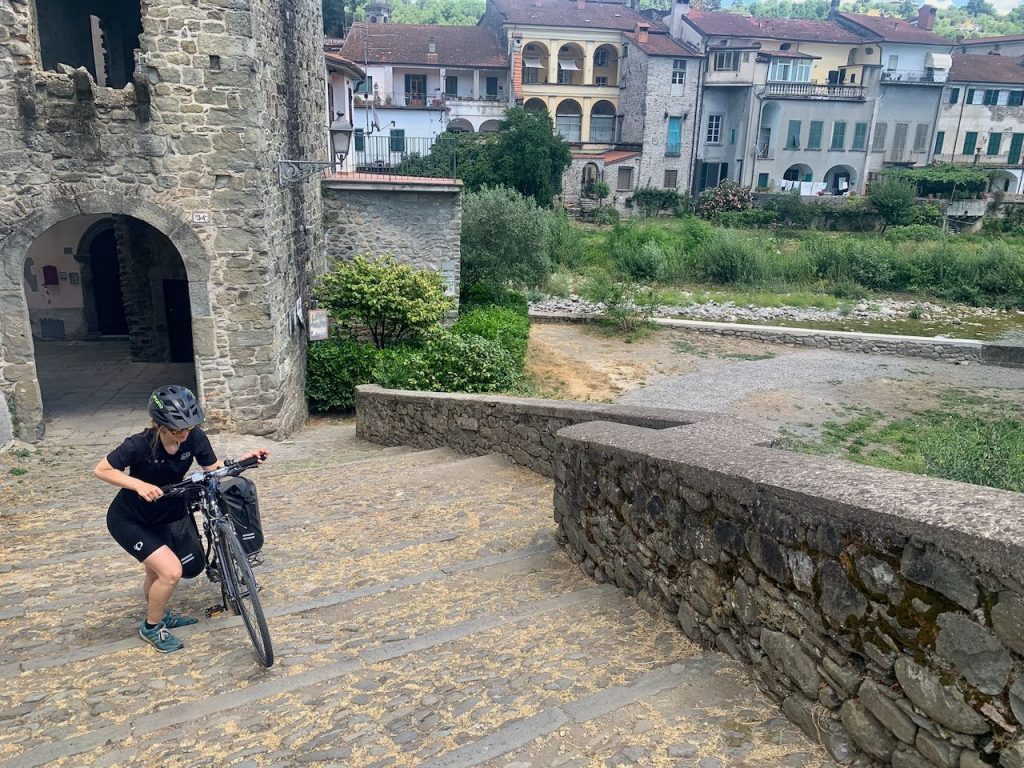 By the time we reached Aulla, I too was suffering from saddle sore. Thankfully, we had just a short stretch of cycle path until we got to the end of the stage. Initially, we couldn't find the ospitale, but knew we were in the right vicinity from the app. It was then that I spied a priest who led me in the right direction (literally, not spiritually). Turns out you have to check in at the museum first, where (as per usual) they photocopy your ID documents and stamp your pilgrim passport. We were asked for €15 each and shown where to lock our bikes up. Then we were led to another building and given beds in a shared dorm.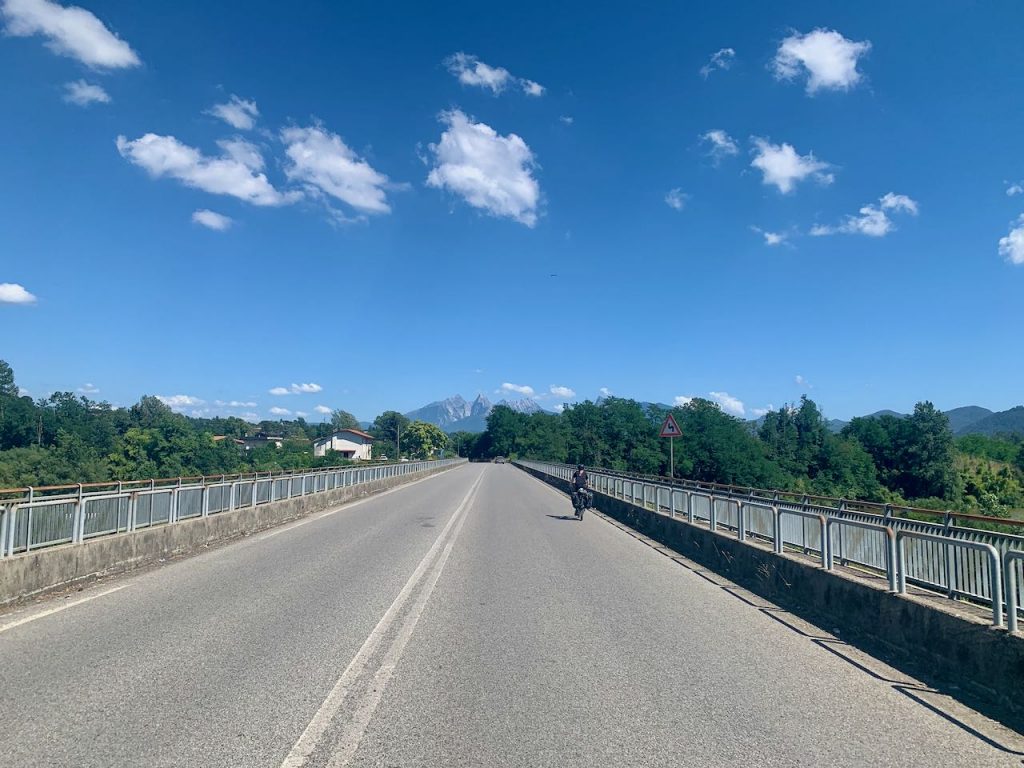 This was our first time sharing with others, and ear plugs would have been useful, especially as the hikers tend to get up at 4am to start their day. And, as would become a theme of our trip, the accommodation was right next to a church bell – which duly rang all through the night.
Maxim found us later at the ospitale, spoke now fixed. We all headed out for some beers and dinner. He expressed some surprise that I was managing so well on a sports hybrid. It's true that I was supposed to be using a gravel bike, but an issue with the airline meant it didn't arrive in time. I certainly missed my gravel bike today, as it was all roads. But still, it just goes to show that you don't need a fancy bike to complete these challenges.
Day 6 – Aulla to Lucca
Distance: 108km
Accommodation: Il Serchio campground
We grabbed some breakfast at Bar Sport in Aulla, which does pilgrim prices. Then we were straight into a steep climb out of Aulla. It's a challenging ascent, but the road was quiet and shady, and the views extend across the tree-covered hills that dominate the landscape.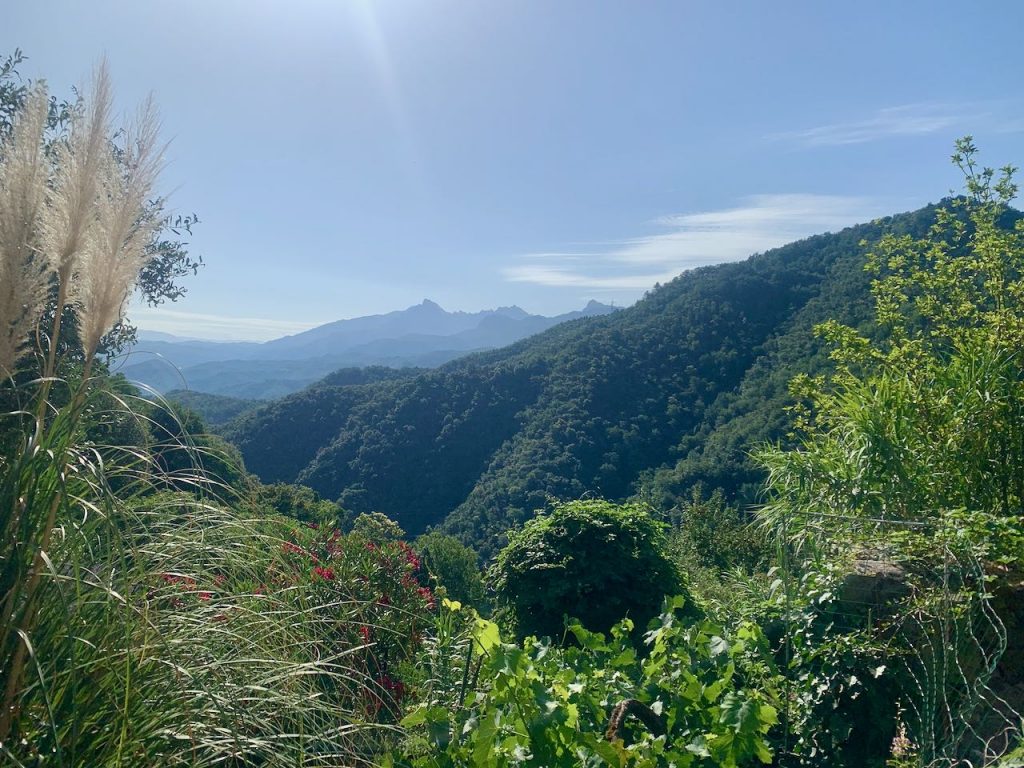 The app offers a word of warning that the 'rise to Ponzanello is quite demanding' and those unprepared for the ascent should take the train. It is demanding, but it's not exactly a mountain stage on the Tour de France. I find you just have to keep plodding at your own pace. However, the number of men in Lycra had suddenly increased, indicating that this is most definitely a hotspot for cyclists wanting to torture themselves on the steep stuff.
We 'topped out' and could see the sea, after which there was a long descent. From Sarzana the route becomes more urban and is tantalisingly close to the ocean. There was another ridiculously steep but short climb before Massa. Being a Sunday, there was very little open. We had a bit of pizza left over, but that wasn't enough to satisfy our hungry bellies. Thankfully we found what appeared to be the only place open in Massa, where we stocked up on treats and grabbed a few bits from their deli section for dinner, just in case.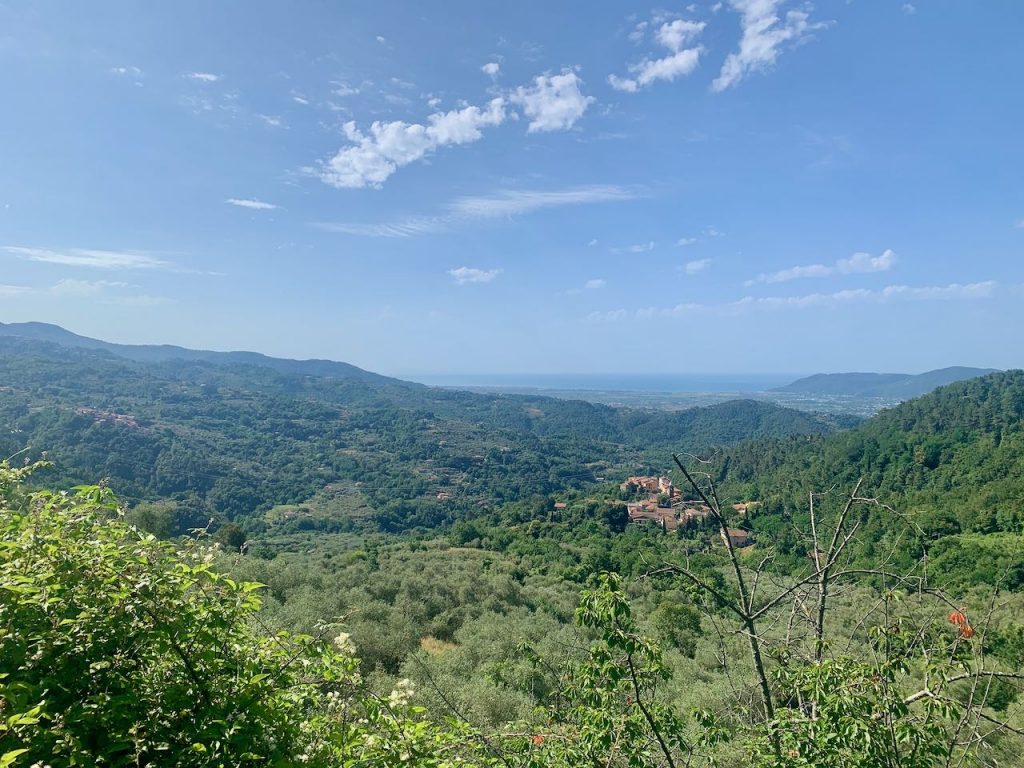 After throwing back several budini di risos, we started the next stage to Lucca. One more big climb awaited us, this time on a busier road. The gradient was manageable, so I got into a gentle rhythm and slowly made my way to the top. There was a long descent the follow, which finished Tom's brake pads off completely. He'd been struggling to find any spares since we arrived and all the shops were shut, as is customary on a Sunday in Italy. So, he had no choice but to use his feet to control his speed. Watching him whizz down a huge hill with his shoe pressed up against the front wheel was terrifying to say the least. He survived, but the same can't be said of his shoe.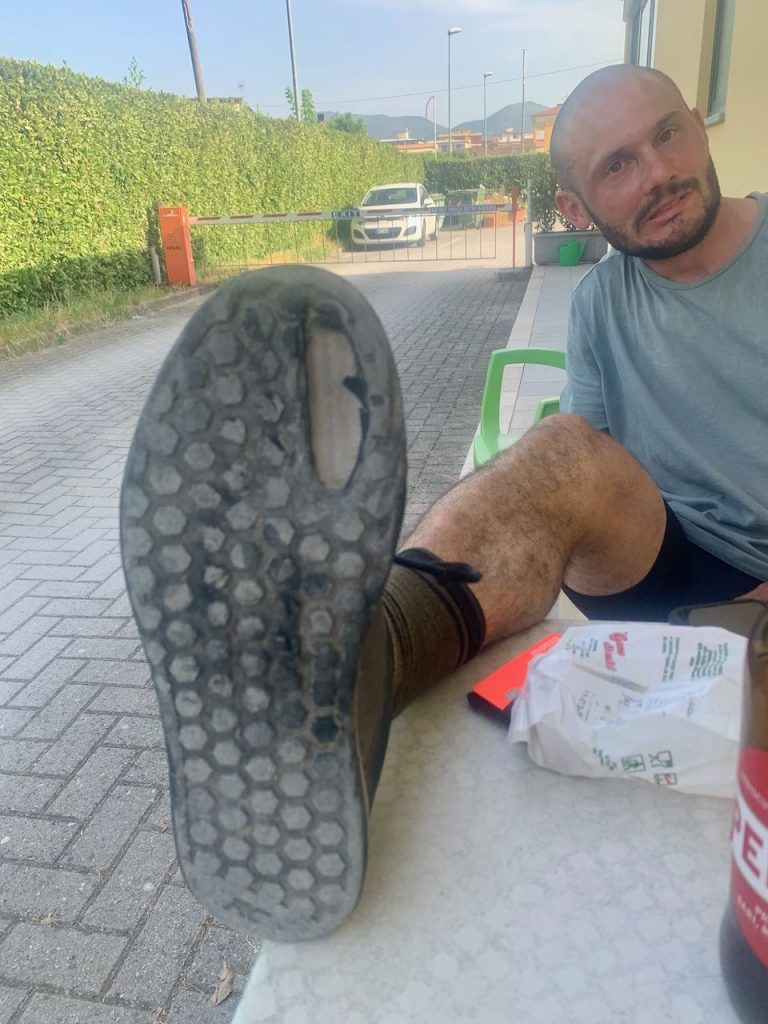 We rode into Lucca along the Serchio River, where the locals were out in force, having BBQs on the banks and playing in the water. It was a warm day – the hottest so far on our trip – and we were keen to join them. But we'd been calling the ospitale in Lucca all day without answer, so were concerned about finding a bed for the night.
We cycled along the city ramparts into town to the Pellegrinaio San Davino, but found it to be shut. It had closed during Covid and never reopened. We therefore retraced our steps and returned to the campsite near the river, which charged €25 for two people and a tent. The shower block was dirty and seemed to have a 'bring your own toilet paper' policy, and the camping area was a bit overgrown. But it had a lovely swimming pool and very cold beers available to purchase at reception, both of which were bliss after such a long day. The food we'd picked up from the deli proved essential, and we cooked up a dinner of pasta, pesto, mozzarella and anchovies. That turned out to be the only time we'd use the camping stove!
It had been a long day at over 100km, with a lot of climbing to boot. We patted ourselves on the back for a successful day, now just with two concerns in our minds: firstly, to get some new brake pads for Tom; and secondly, to work out why I had started to suffer from tendonitis in both Achilles.
Day 7 – Lucca to San Gimignano
Distance: 89km
Accommodation: Monastery of San Girolamo
The toughest day so far. The temperature had ramped up to 40°c, and there was a lot of road cycling to be had. The heat radiated off the asphalt, and even the wind was hot, making it feel like an oven.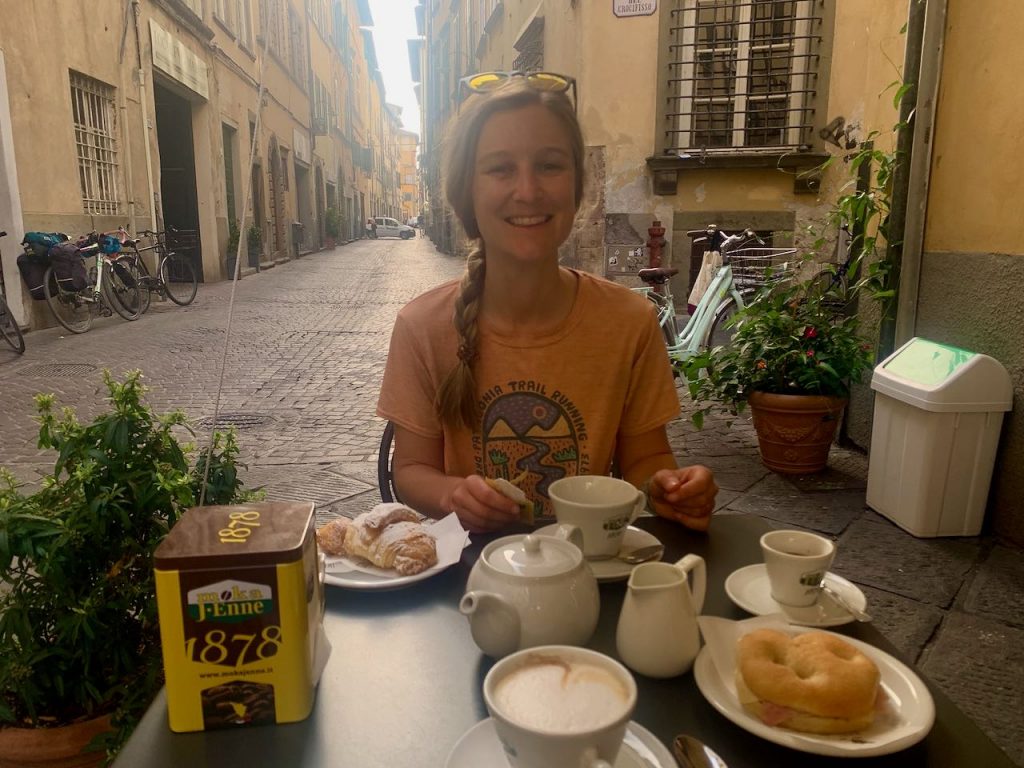 At least we had made an early start (after an excellent breakfast in Lucca), and made quick progress to Fucecchio where Tom was able to replace his brake pads at a bike shop. We then slogged our way up a hill to San Miniato, a charming historic town where we sourced some mozzarella and focaccia for lunch. Tom says it was the best focaccia of the trip, which is saying something because we ate a lot of it.
The afternoon to San Gimignano was full of relentless, rolling hills – this is Tuscany, after all. But the heat by now had become unbearable, so much so that we actually took refuge in an air-conditioned service station for a while. Tom's inner tube even exploded during one hill climb, necessitating a very sweaty pit stop. To make matters worse, the route to that point hadn't been particularly inspiring, and the tendonitis in my Achilles' heels was nearly unbearable.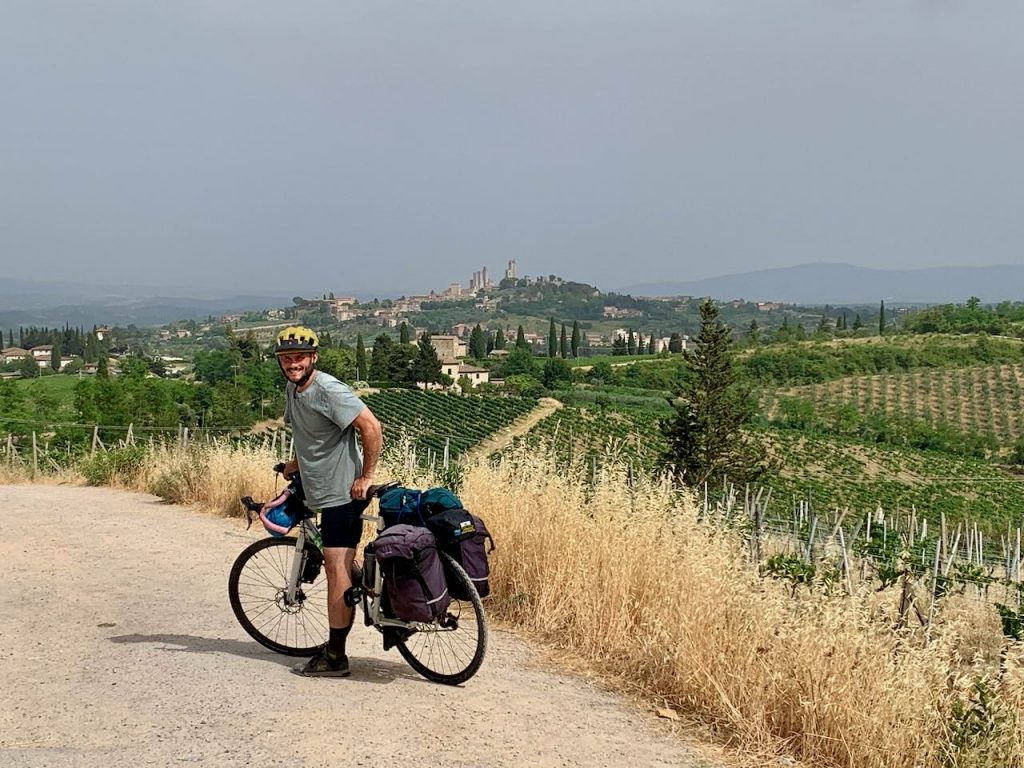 Things took an upward turn later in the day, particularly once we could see the towers of San Gimignano standing tall in the distance. Now it was beginning to look a little more like the picture-postcard Tuscany we all know and love. One last hill brought us to the heart of the old town. Tom found the Ospitale dei Santi Agostino e Giacomo, but received a hostile reception. The host said they didn't accept cyclists – even if they were cycling pilgrims – and turned him away. It was the first and only time this happened to us, and it was a real blow after what had been a seriously challenging day. At times I'd really wondered whether I was able to go on. All I wanted was to wash the slick layer of salt off my skin and have a lie down.
The host of the ospitale walked Tom out, and I suspect he had a slight pang of guilt upon seeing me looking totally desperate and bedraggled. So he said he'd walk us to another pilgrim accommodation – a monastery nearby. He rang ahead and warned them we were on our way. However, on arrival the nun didn't seem too happy to see us. There followed a long period of negotiations between said nun and the unwelcoming ospitale host, with us looking dumbly on, unable to understand a word of what was being said.
Eventually the nun handed us a key and told us to lock up our bikes over the road in the walled garden. We then returned to check in, where she asked for €30 each plus a €1 tourist tax. This seemed quite a lot of money to sleep in a working convent, but we were in too deep by that point, and the desire to just get some accommodation sorted was too great. We stumped up the cash and I explained in broken French that we'd recently got married, which seemed to break the ice between us.
We were shown to a large en-suite dormitory which we had to ourselves. To be fair to these nuns, the views across the Tuscan landscape were stunning – particularly while sitting on the lavatory! Tom did a good deed by fixing the toilet in the neighbouring dorm, after which we went out to explore the medieval town. It had been a really hard day for me, but San Gimignano was the reward, with the delicious porcini mushroom pasta I had for dinner being the cherry on top.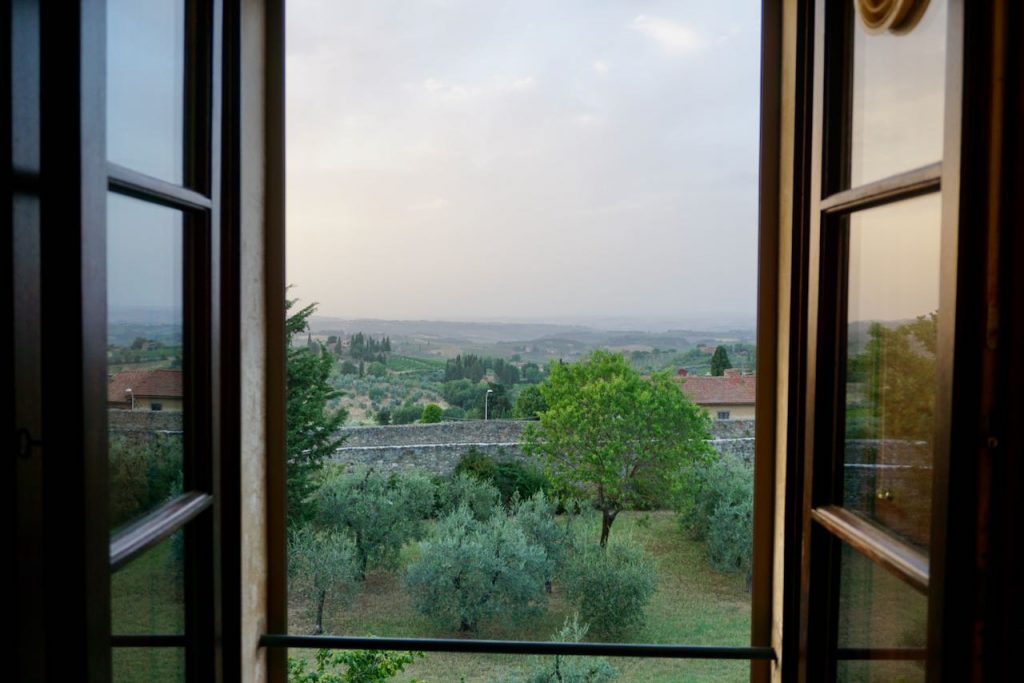 Day 8 – San Gimignano to Siena
Distance: 49km
Accommodation: Camping Colleverde
We had a short day today because we'd planned to meet up with my mum in Siena for three nights. We rose early to beat the heat, having been traumatised by the previous day's sauna-like conditions. But in fact, the temperature was much cooler and it even rained in the afternoon.
Leaving Siena in the beautiful morning light was a real treat. There was a warm, golden glow across the Tuscan landscape, which was rife with vineyards and cypress trees. There were hills all day, with a mixture of road cycling, bike paths and gravel tracks.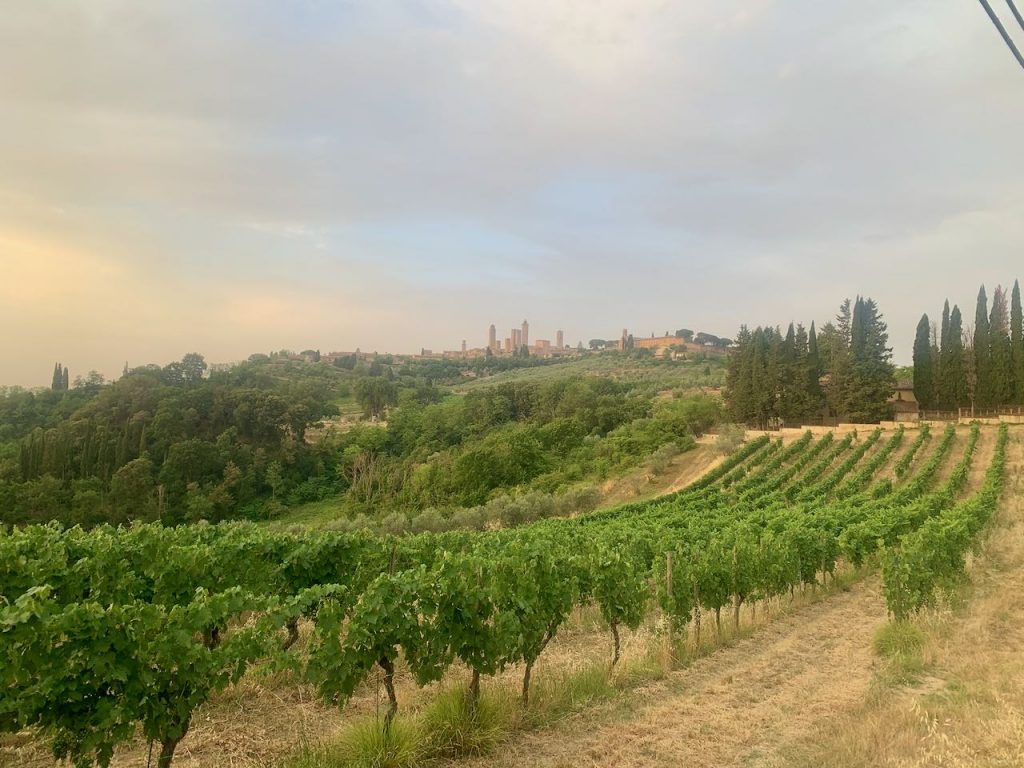 A walled town came into view, which I excitedly thought was Siena, but it transpired to be Monteriggioni. We approached the town via dirt tracks and forest trails before joining onto the main road once again.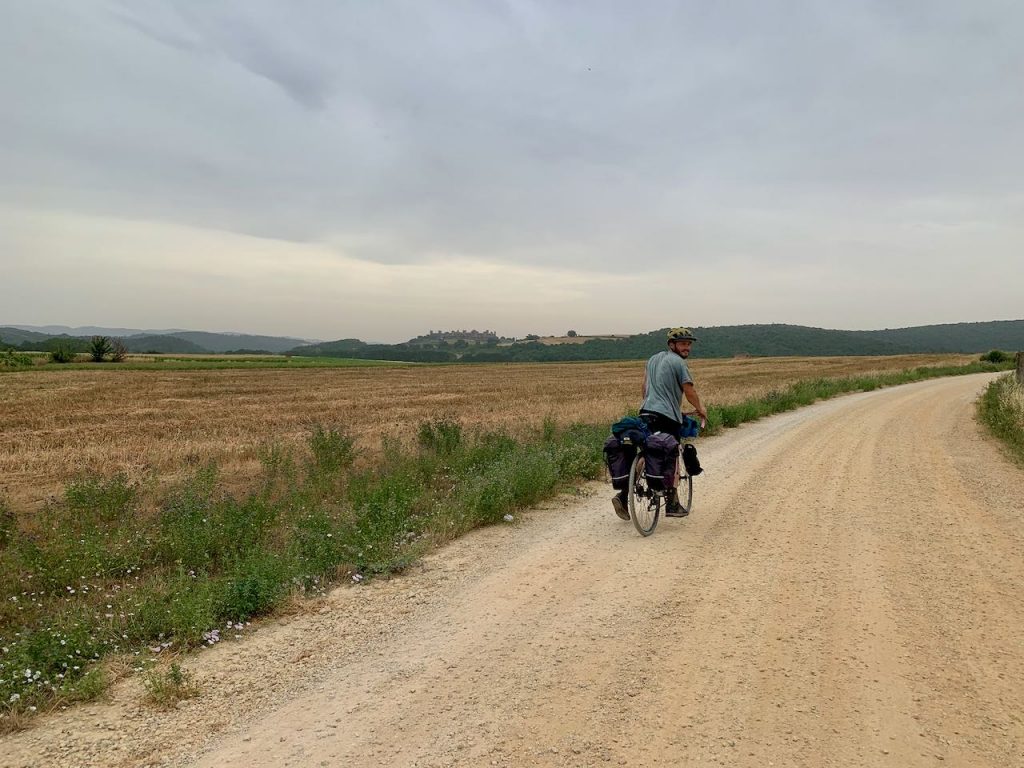 We pushed on to San Martino, arriving in Siena at 10.30am. There's said to be a lovely ospitale in Siena, but we had a pitch pre-booked at the campground.
We spent the rest of the day catching up with my mum, drinking tea and sorting through our gear. After eight days on the road, we'd discovered what we did and did not need, so offloaded a few things into my mum's van. My body was feeling fatigued and my Achilles' tendons were incredibly sore, so much so that I couldn't really walk properly. We suspected the cause was the saddle being too high. I hoped I'd be on the mend after two days' rest and an adjusted seat position.
Days 9 to 10 – Siena
Distance: 0km
Accommodation: Camping Colleverde
The next two days we spent enjoying the palio festivities. The palio is a horse race that takes place twice a year in Siena's historic square. It's a real spectacle, and I thoroughly recommend getting a guided tour in advance to learn more about both the race and the city. It's absolutely fascinating, but it would be very difficult to understand the ins and outs without an insider's perspective.
In my opinion, Siena is a must-see destination at any time of year. But the buzz of the palio really brings it alive. The atmosphere was electric, with all the contradas decorated in their flags, and all the locals out in force wearing the scarf of their district. We watched the horse ballot from a third storey window overlooking the square. Each contrada would invade the arena one by one like an army, singing at the top of their lungs and waving their arms. They would leave the same way, this time led by their horse, as though they were preparing for battle.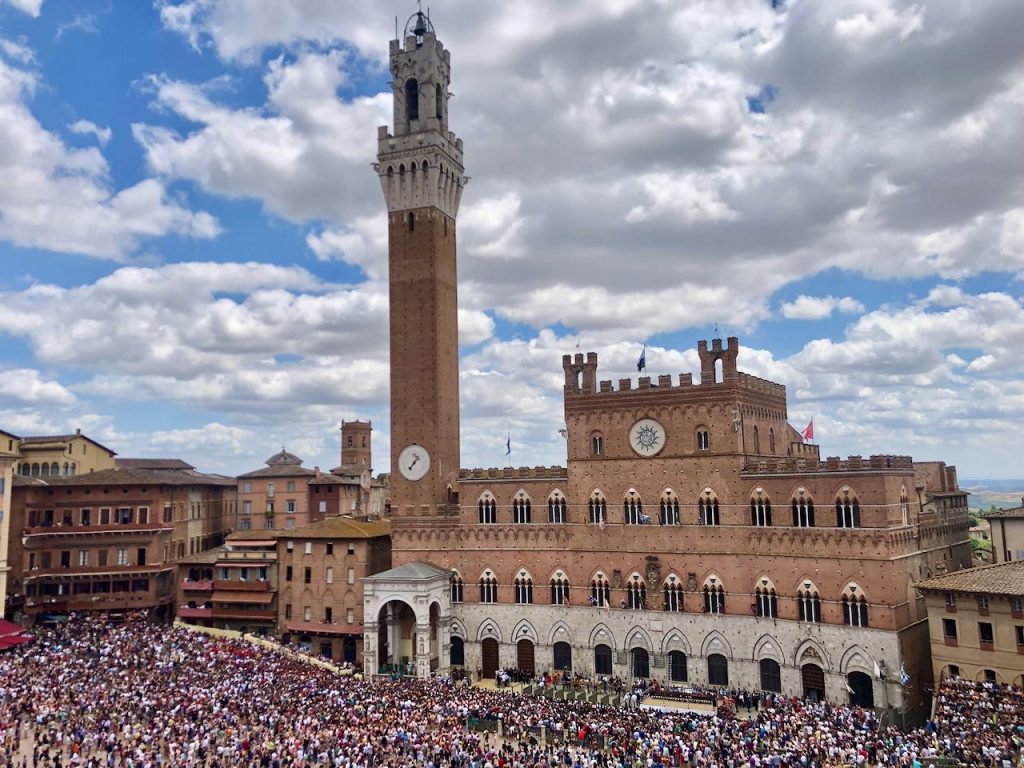 We weren't able to stay for the actual race, as we had to be in Rome by a certain date. However, we did witness a practice race, which provides a flavour of the real thing. The square was packed out, and we arrived early to secure a good spot by the start and finish line. There was a long wait while each contrada marched in. Then we were treated to one lap from the cavalry band. At last, the jockeys and their steeds arrived adorned in traditional dress…and trainers, which seems a bit anachronistic! There was a false start, after which they were of. In the end, it wasn't much of a race. Some of the riders weren't really trying, presumably to save their horse for the real deal. Even so, it was great to see, and to experience all the excitement, the sense of community and the age-old traditions.
Day 11 – Siena to Radicofani
Distance: 89km
Accommodation: Osptiale dei Santi Pietro e Giacomo
We left the campsite at 6am as Europe was by now in the grips of a heatwave. The scenery was 10/10 from the word go. We left Siena on tarmac roads, with the city skyline outlined behind us.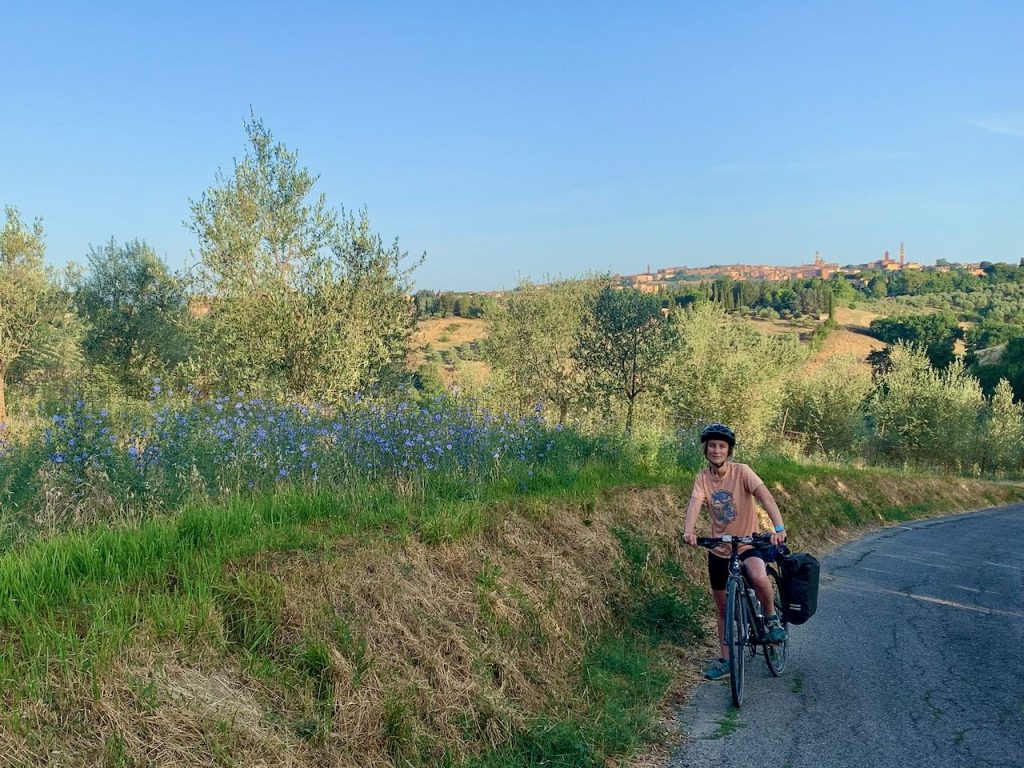 Soon we turned onto gravel roads, and were encompassed by golden wheat fields, sunflowers and rows of cypress trees. The pretty town of San Querico was our first stop, where we picked up some supplies from the panifico (bakery) and sat down at a local's café for yet more treats.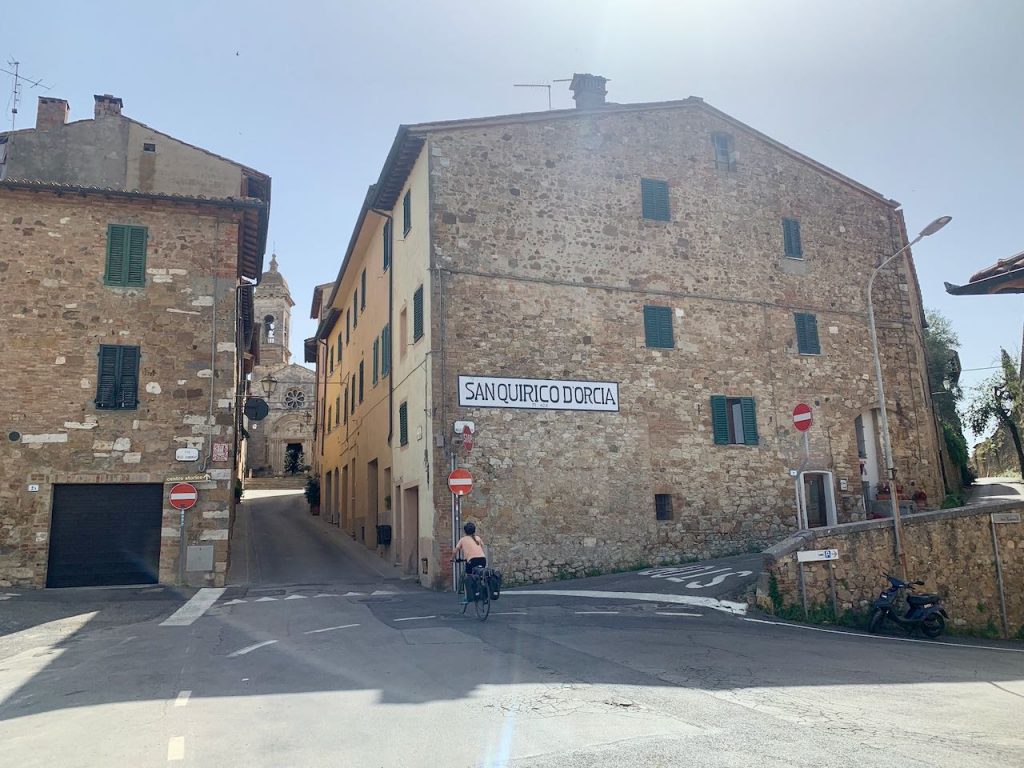 After leaving San Querico we passed through the Val d'Orica, a UNESCO world heritage site. This is the Tuscany that everyone dreams about: beautiful countryside peppered by sleepy, medieval villages. We stopped in Contignano to eat lunch, arriving just in time to buy a can of soda from the village shop before it closed for lunch. Other than the shopkeeper, we didn't see a single soul.
I had been eyeing up a hilltop fortress in the distance, which was sat atop a distinctively shaped lump of rock. It dominates the landscape for miles, and as it turns out, that was our destination. The app warns that there is a 'very steep slope on unpaved road' during this leg. This caused me some anxiety, but it's a downhill slope and it's perfectly manageable if you have good brakes and a bit of bike confidence.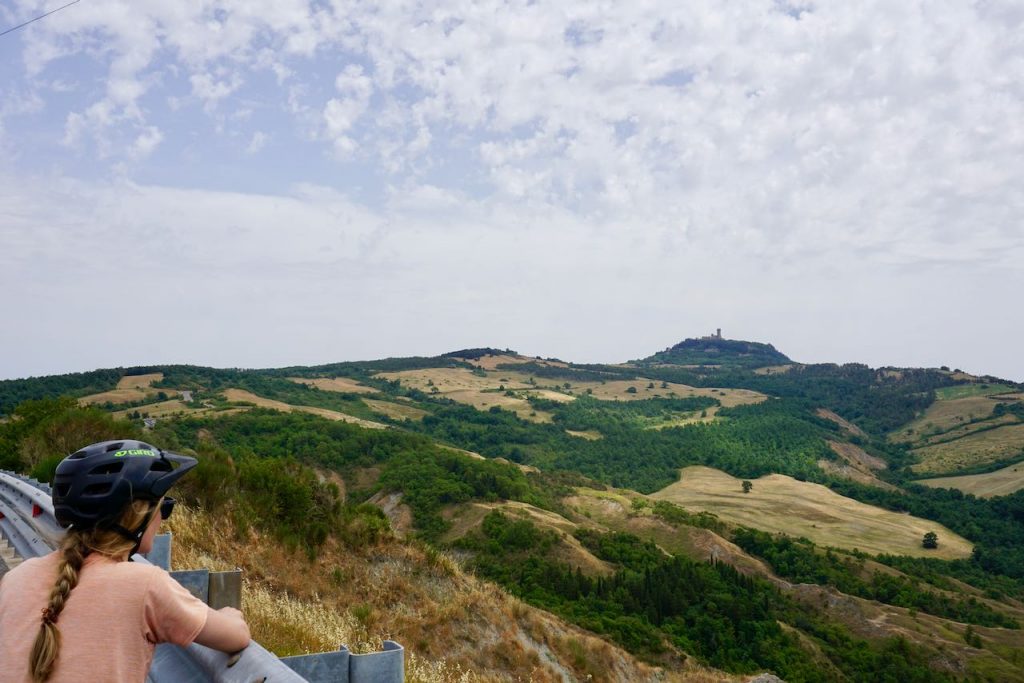 There were more asphalt roads in the afternoon. A long hill brought us to Radicofani, which sits at an altitude of 814m. We bagged a couple of beds at the ospitale, which was by donation. The accommodation is small but perfectly formed, with two dormitories and a bathroom. We were lucky to arrive early, as it was full by about 5pm. There isn't anywhere to store bikes, but they seemed safe outside round the side of the church.
After a shower, we set off to explore the village – and what a gem it is! The streets are lined with pretty brick buildings, all adorned with gorgeous floral displays, as though everyone here is a budding gardener. We walked up to the fortress where the Italian Robin Hood supposedly lived and had a mooch around. The views from the top are second to none, stretching right across the valley.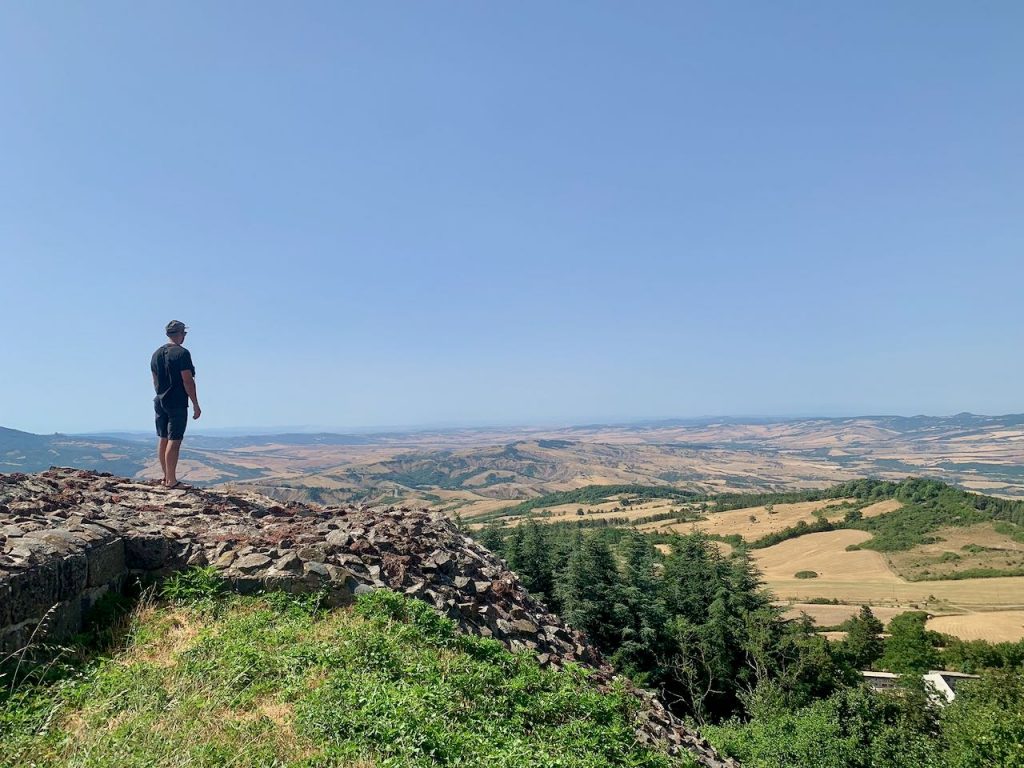 Then we returned to the village for a few beers, the first of which we purchased from a deli in the old Jewish quarter.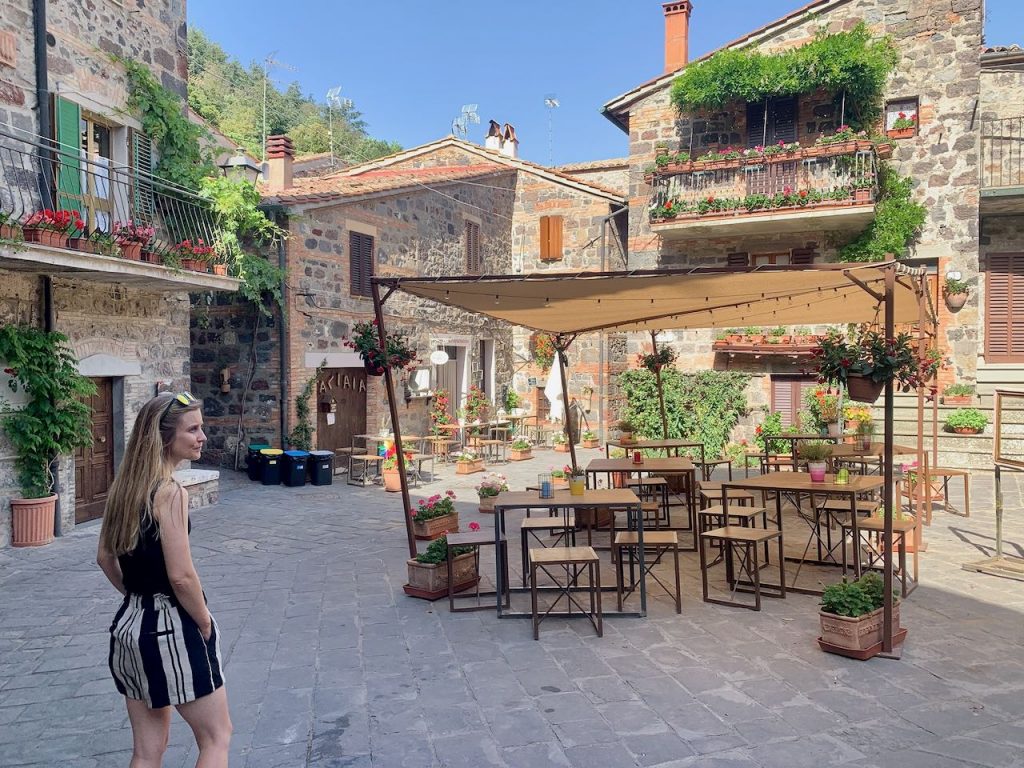 We weren't too sure what we were going to do about dinner, until we bumped into some fellow pilgrims who told us that the ospitale hosts were cooking. This was a relief! It once again emphasised how rubbish our language skills are, as we hadn't understood anything we'd been told when we checked in.
When we returned, the hosts asked to wash our feet, it being a nod to Jesus washing the feet of his disciples. We all lined up while they recounted a verse to each of us, after which they poured some water over one foot and 'kissed it'. Thank goodness we'd showered.
Dinner was pasta, salad and fruit. The ospitale was full, and the other pilgrims knew each other, having been walking together in the same direction for many days. It was then that we calculated that one day's cycling amounted to about five days of walking. Hat's off to them! We hit the hay early, and I was so tired that the disco blaring outside in the square didn't cause too much annoyance.
Day 12 – Radicofani to Viterbo
Distance: 88km
Accommodation: Ospitale del Pellegrino
We ate breakfast at the ospitale, again provided by the hosts, after which we got on the road early. It promised to be another scorcher, although the long descent out of Radicofani was almost chilly at that hour of the morning. It was fun to see the fortress behind us get further and further away. Before long, we passed into Lazio, the final region of the Via Francigena.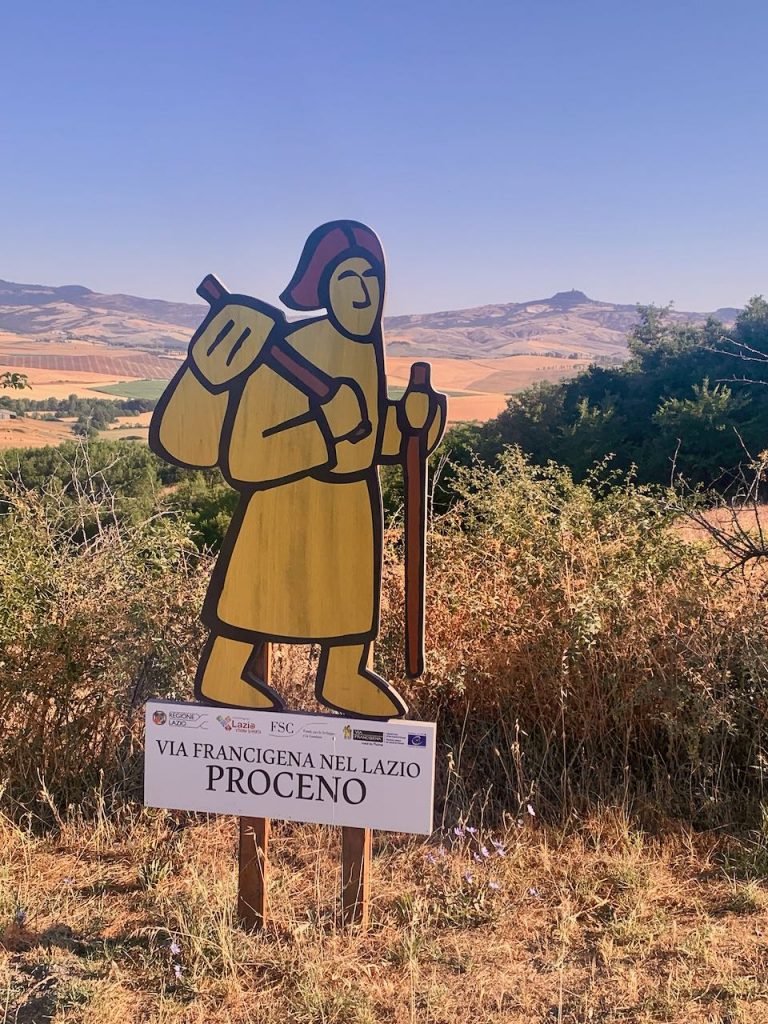 It was fairly plain sailing, despite the ever-present hills – Italians do love to build their communes on top of hills! Once Bolsena Lake came into view I started to get frustrated, as it felt so very close, but we seemed to take an age to get there, going up and down through endless olive groves.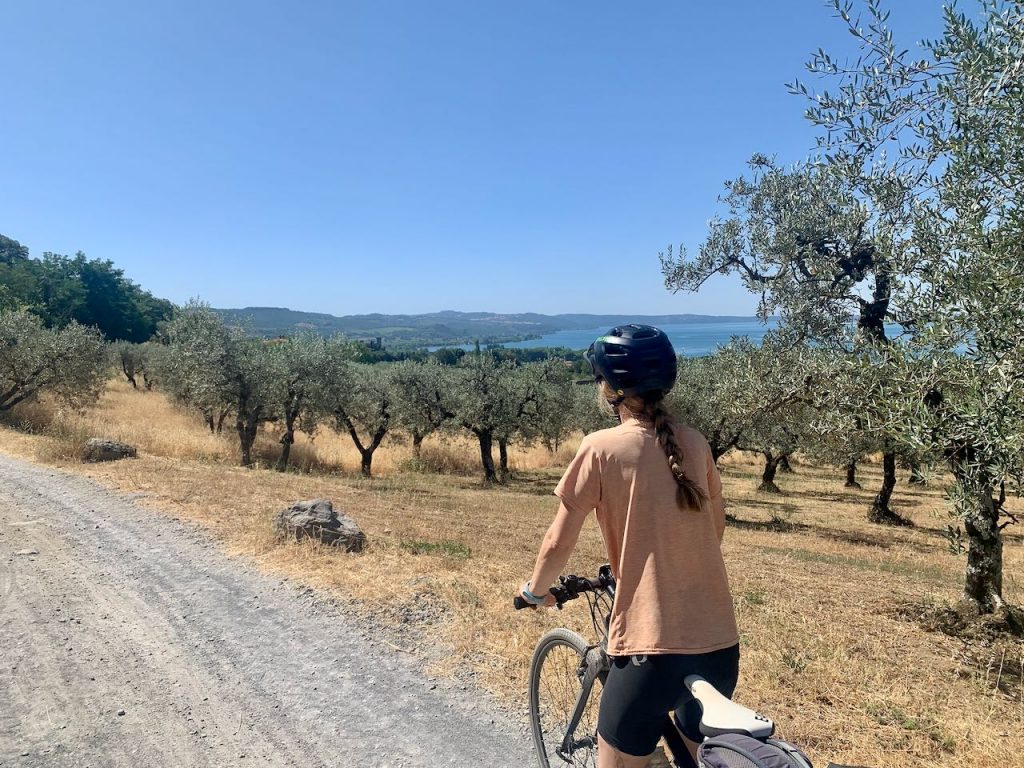 We rode into Bolsena old town for coffee amongst the quaint cobbled streets, after which we dropped down to the lake for a refreshing swim.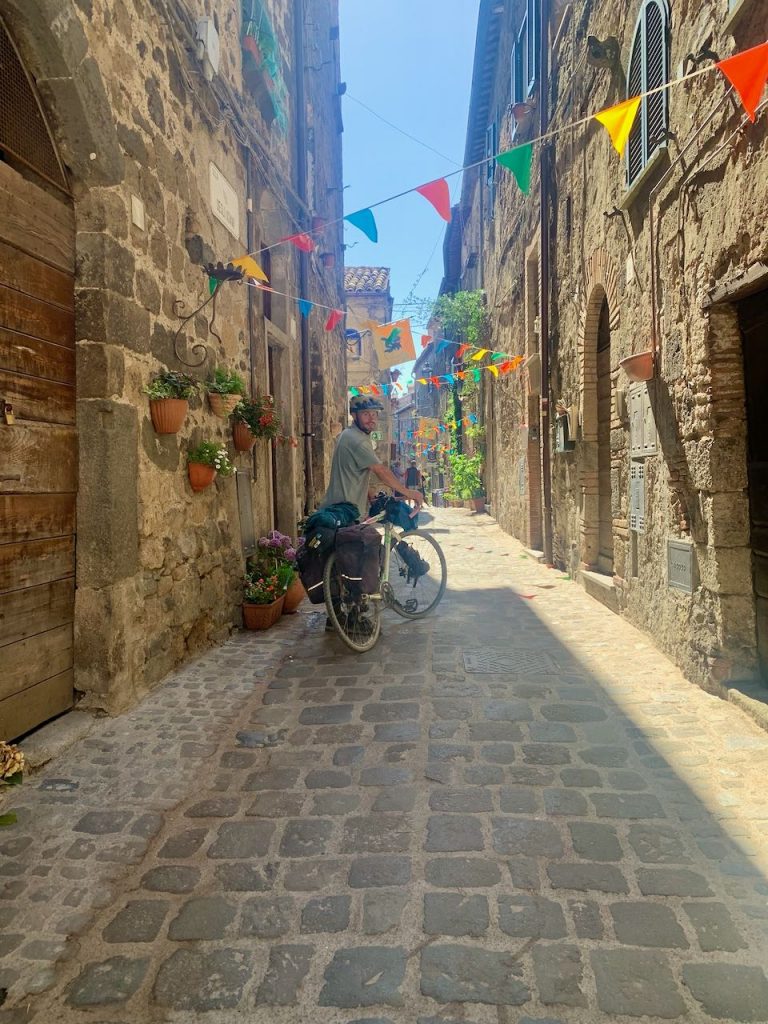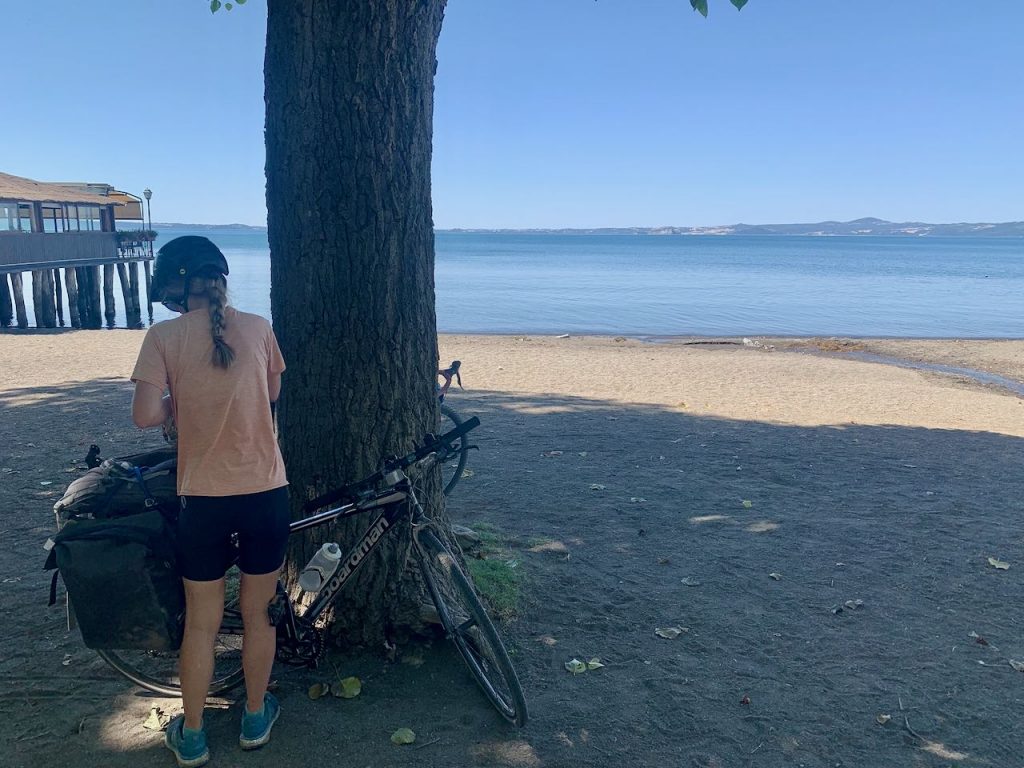 The next leg was, quite frankly, miserable. The route follows a busy state road out of Bolsena, which heads uphill all the way to Montefiascone. This might be an opportune moment to mention that Italian drivers are not the most courteous to cyclists. It was hot, I was rattled and then a car pulled out in front of me at a T-junction. I gave him what-for – it was in English, but I think he got the gist!
The saving grace of this horrible climb is the view from the top of Montefiascone. After a rest in the shade, we dropped downwards, after which the route veers off the main road. That's when things got interesting once again. We encountered some rough terrain that you'd really need a mountain bike to enjoy. Then we joined an old Roman road. Large stones are slotted together in a Tetris-style jumble, making it lumpy to ride along. So lumpy, in fact, that Tom broke a spoke.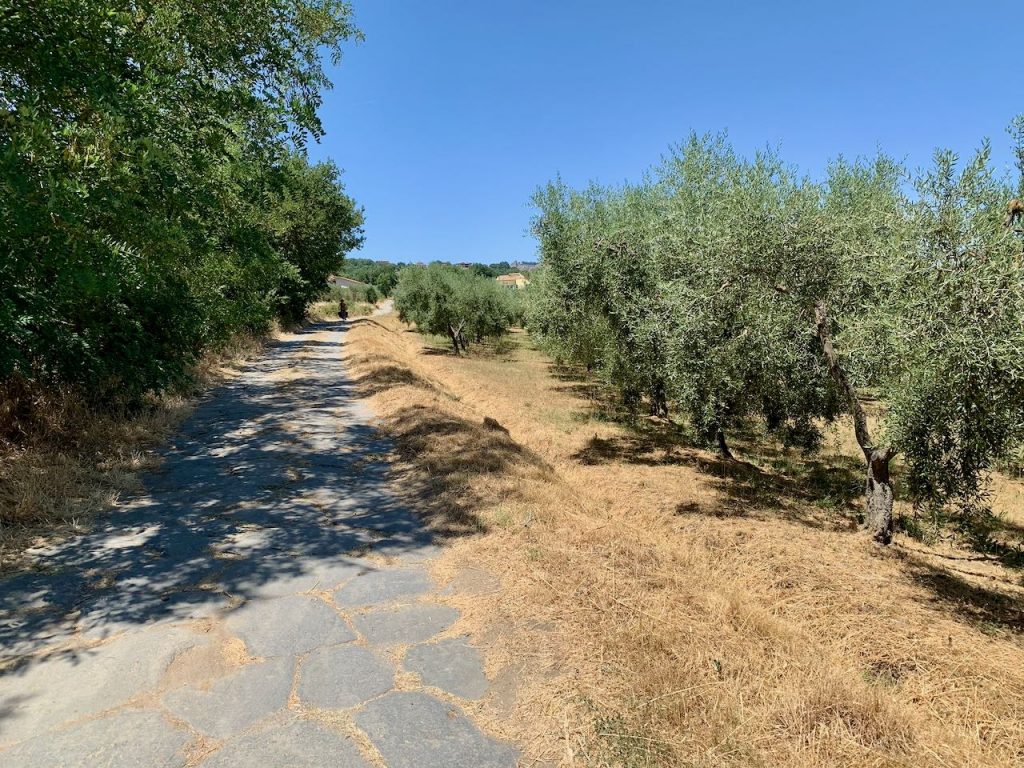 We popped out in the outskirts of Viterbo, which don't look like much. However, the historic centre is beautiful, with medieval architecture round every corner. We found the pilgrim's accommodation, but had to wait over an hour for the host to show up. There's a water fountain outside, and I swear it's the same stuff as the bottled San Pellegrino – it tastes exactly the same, but without the carbonation.
Once the host arrived there was the usual check-in procedure, with passports and pilgrim credentials having to be produced. The ospitale was technically by donation, but there was a set price of €12 each. We were allowed to store our bikes in the art shop next door. Our room had a tiny window, which made for a very sweaty night's sleep. But then we were alone, rather than sharing with other snoring pilgrims – sometimes it's a trade-off.
As always, we weren't really sure if dinner was provided, as I'd heard mention of 'dolce'. As it turns out, dinner was not included, but the host did leave us breakfast for the morning. We wandered around the old city looking for somewhere to eat. There are so many options to choose from, but eventually settled on La Monestera, an amazing pizza joint that clearly draws the local crowd. Tom's pizza was so big it came out on two plates!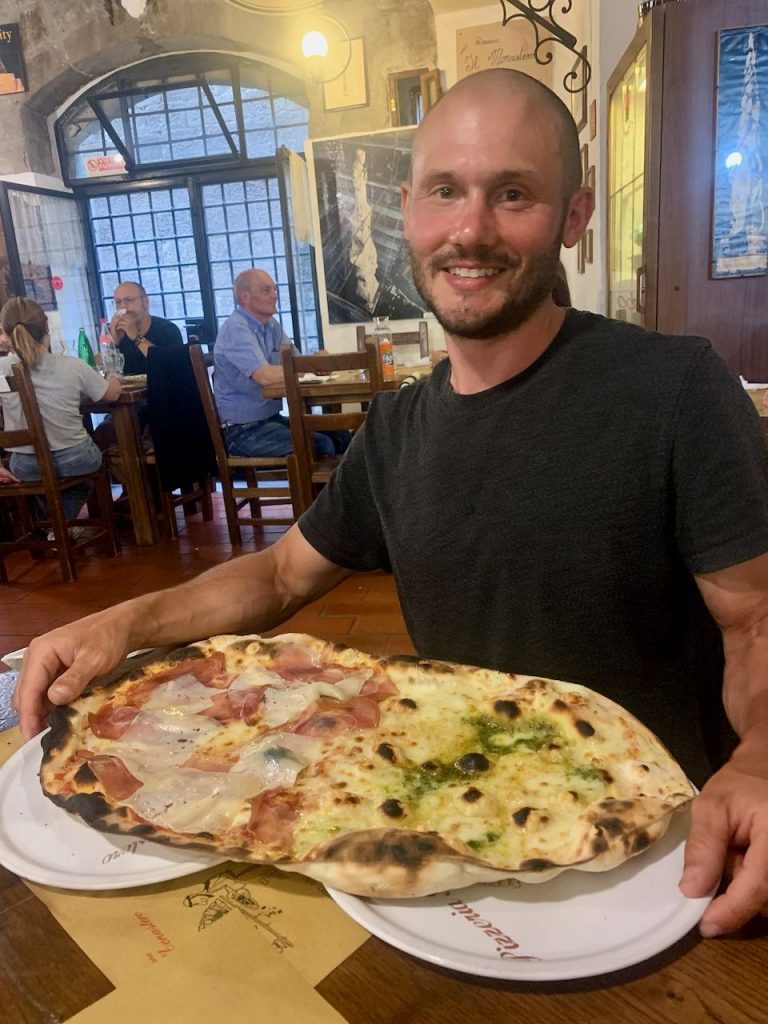 Day 13 – Viterbo to Rome
Tom had fixed his broken spoke at a bike shop in Viterbo the prior evening, so we were all set for an early start. We had to be in Rome by the afternoon due to pre-arranged accommodation, so had no choice but to tackle three stages in one day. They were all categorised as medium on the app, but to begin with it was still very hilly with some steep gradients.
The route was a mix of on-road and off-road. Sometimes we'd be floating along a smooth road through woodland, and other times we'd be rumbling along olive groves or golden wheat fields.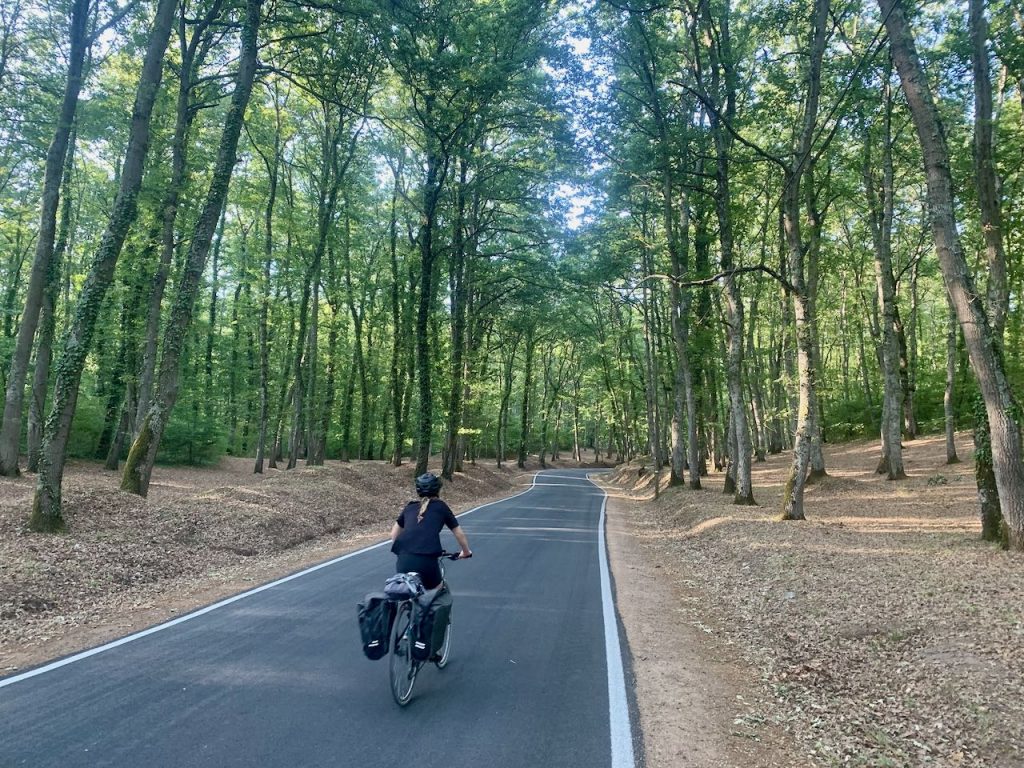 During the second leg we passed by the Monte Gelato waterfalls. It was busy, being a Sunday, and there were even some police cars controlling the traffic. We chose to ride on by, and soon afterwards entered the Veio Regional Park. We spied a good place to have a dunk in the stream and refuel on arancini balls. The pit stop was much needed, as it was now over 40°c.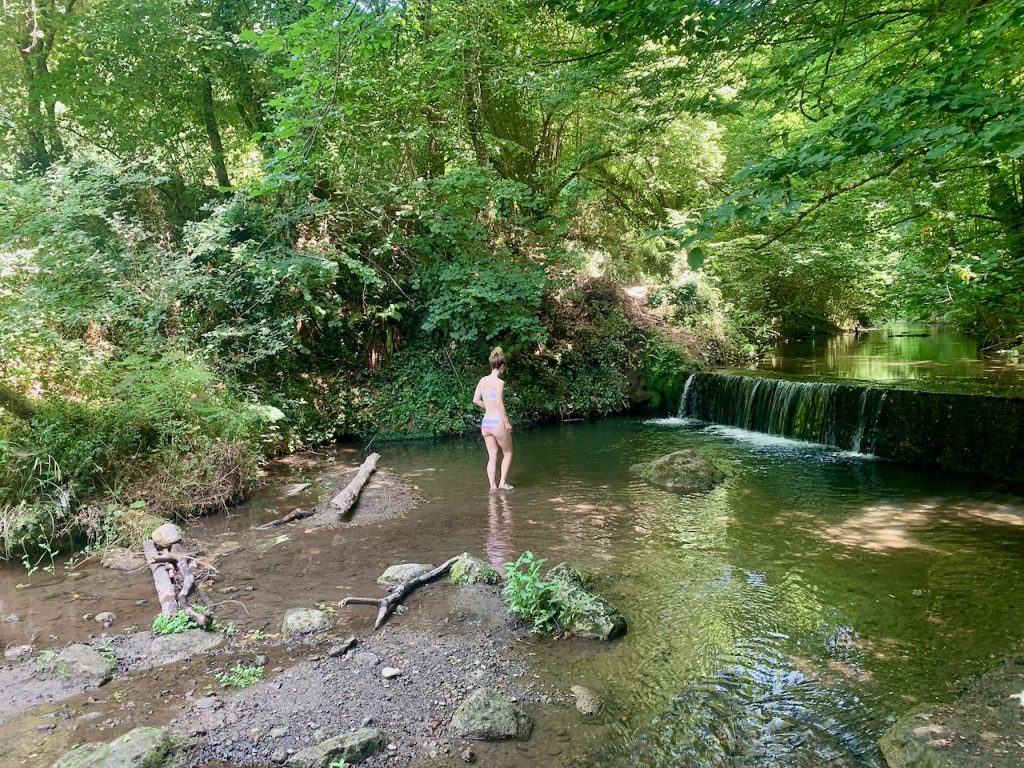 Revived by a swim, we carried on and quickly reached Formello. As we were cycling through the park, we had a close encounter will a bull on the loose. It was walking over a narrow wooden bridge, just as Tom was about to swing around a blind corner and collide straight into its horns. Had it not been for a well-time 'moo' from the bull, it could have been a much closer encounter. Obviously, I hid between two parked cars for the entire episode.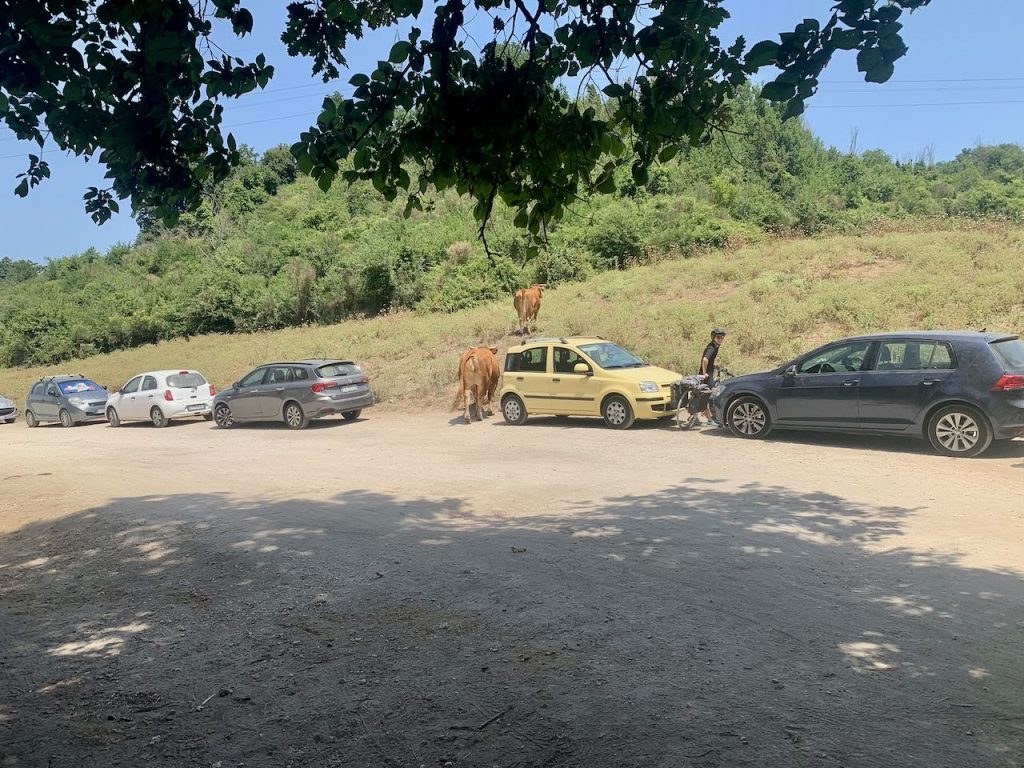 The last leg of the Via Francigena felt like a net downhill to Rome. Tom buckled his wheel on a drainage ditch, but otherwise the stage passed by without much to report. We were keeping our eyes fixed on the horizon, keen to see the first glimpse of the Eternal City. After two weeks of cycling, it was exciting to reach the finish line (at least, of this section of our journey). In fact, it was a slightly deflating experience. I don't know what I'd expected, but I hadn't considered the fact that Rome's outskirts would be quite so dirty. There was broken glass and litter everywhere. This carried on for miles, as we pedalled up and down hills through increasingly disgusting areas.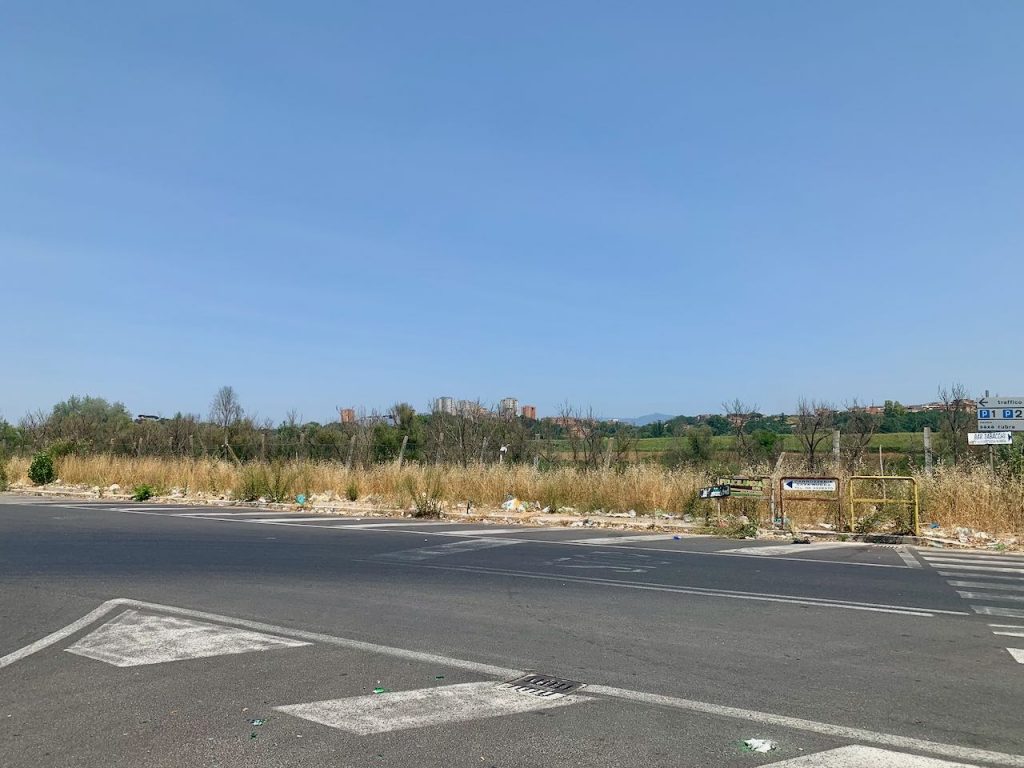 We then reached the bus terminal, but couldn't find the cycle path into the city. We must have gone wrong somewhere, as we had to shimmy under a closed gate that stated 'private property' to join onto it. The cycle path is a long and exposed bike/pedestrian lane that eventually reaches the banks of the Tiber River. The scenery changed from fields of horses and equestrian centres, to peddlers selling their wares beside ancient bridges faced with marble. After cycling past the Castel Sant'Angelo, we realised that we had bloody well made it.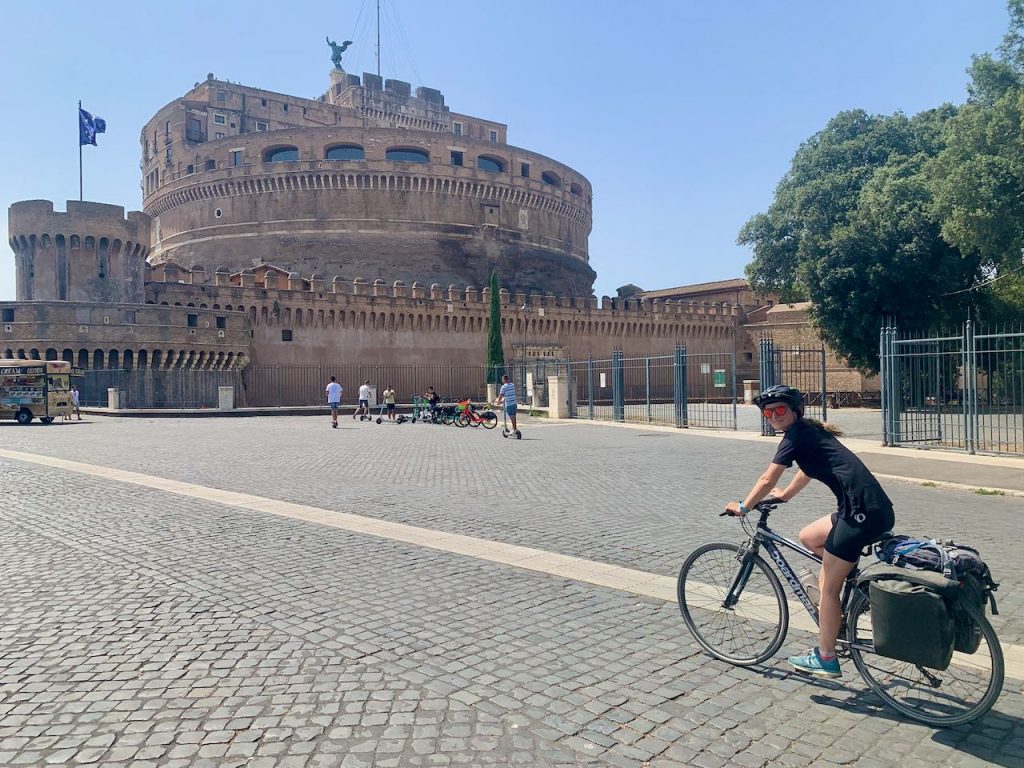 The route officially finishes in St Peter's Square, so we felt compelled to see it through to the bitter end. We wound our way through the mad streets of Rome and rolled into the Vatican City.
Job done.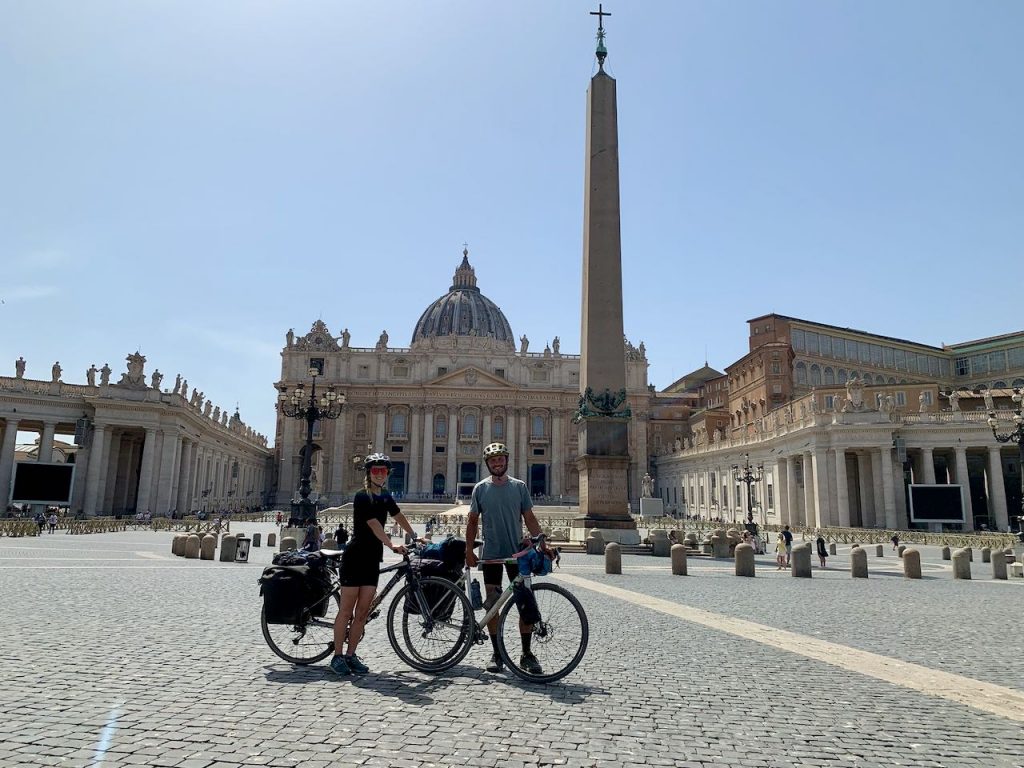 Other things to be aware of
It's very common for everything to close on a Sunday in Italy. Make sure you have enough food and bike supplies to see you through.
Shops also tend to shut in the middle of the day for an extended lunch break. Check opening hours, especially if you are heading for a bike shop.
Drinking water is easy to come by. There are frequent water fountains in the towns and villages.
Italy runs on a cash economy. It's often hard to pay by card.
Every place we stayed wanted a photocopy of our ID document. We were told this information is sent to the police.
Some places also charge a tourist tax.
We called on a few bike shops for maintenance and found them all to offer a fantastic service.
English is not widely spoken. An Italian phrase book and a translation app both came in very handy.
Accommodation is not as widespread as it is on the Camino di Santiago. It is also not as popular. We only met three other cycling pilgrims and we were there during the height of summer.
Some restaurants offer pilgrim meals at discounted prices, although we didn't see this until we reached Tuscany.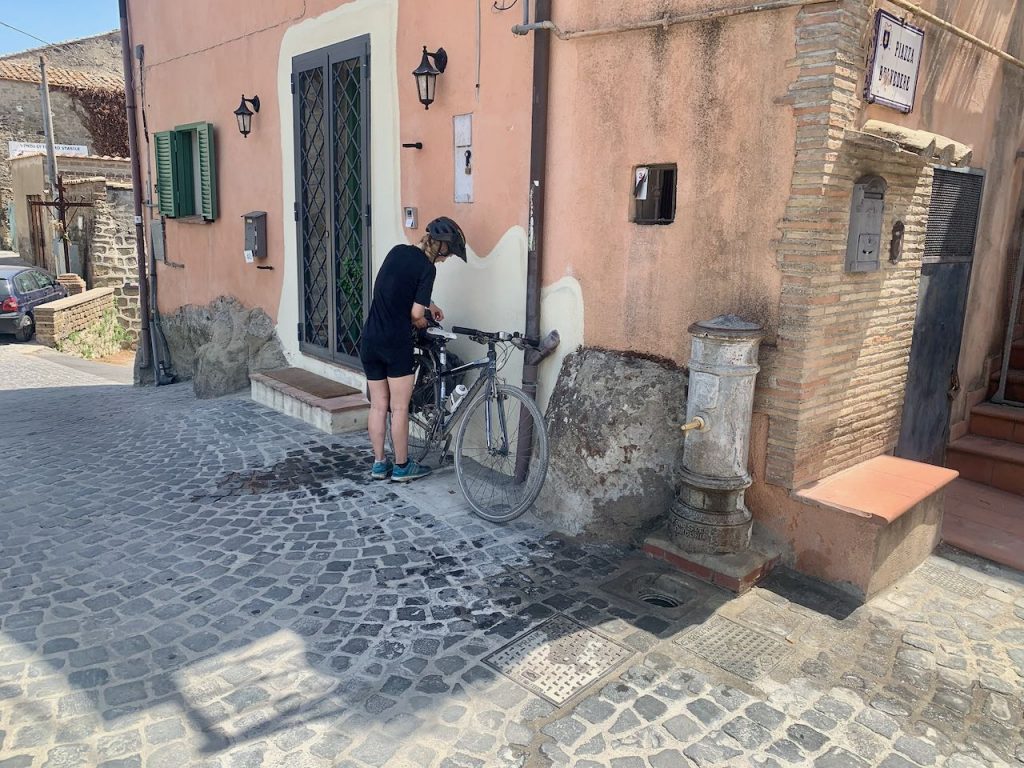 *Approximate distance as I rarely record rides!