If you love a backcountry cabin, then Tetrahedron Provincial Park is for you. With four maintained huts to choose from and a network of hiking trails to explore, it makes for a perfect weekend adventure.
Tetrahedron Provincial Park is located on the Sunshine Coast, near Sechelt. In winter it's a haven for backcountry skiers, who skin up to Mount Steele and Panther Peak in search of fresh lines. Come the warmer months, hikers hit the trails – although not in any great numbers, it seems. When we visited on a sunny Friday evening in August, ours was the only car in the parking lot.
The hiking here isn't difficult, if you don't want it to be. You gain a significant amount of elevation when you drive up the logging road to the trailhead. From then on, you can weave your way along undulating trails, past subalpine lakes and boggy wetlands. If you prefer more of an ascent, the hike to Mount Steele is available and is around 8kms (one way) to the summit.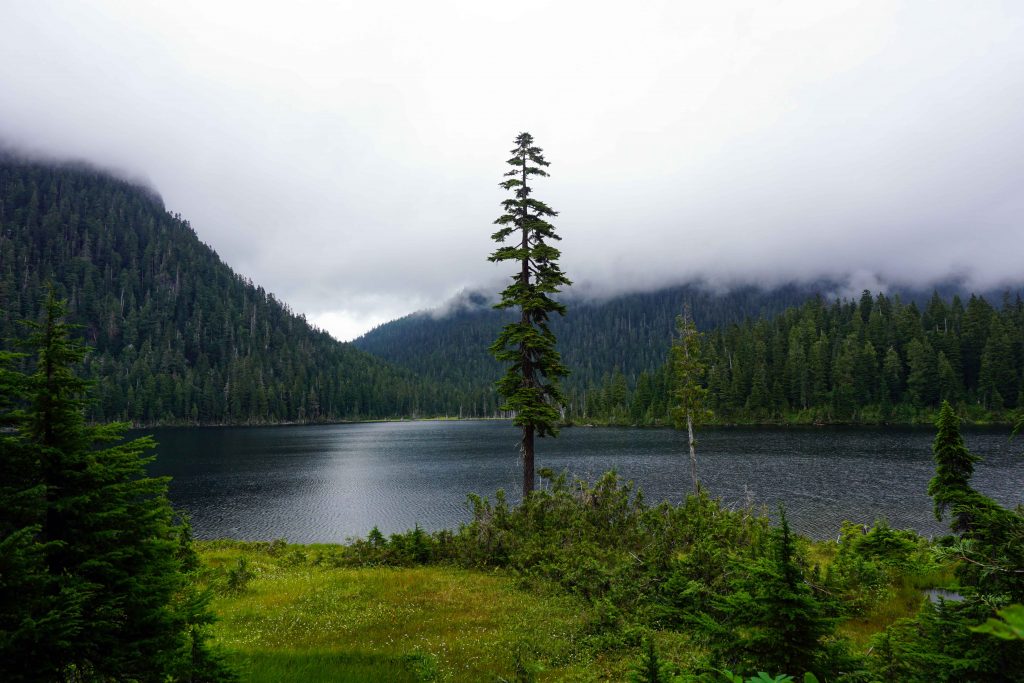 There are four backcountry cabins in the park, making this an ideal opportunity to stay overnight. While the cabins are rustic, they are brilliantly maintained by volunteers at the Tetrahedron Outdoor Club. Each has a stove stocked with firewood, a sink and grey water bucket (but no running water), a dining table and benches, an outhouse and a range of survival equipment. Even comfy sleeping pads are provided.
You cannot reserve these cabins – they are first come, first serve. You have to be prepared to share. The upstairs sleeping quarters are cosy, so you might want to take some ear plugs. In theory, the only other items you need are your sleeping bag, cooking equipment, water, toilet roll and dishwashing soap. I always recommend taking a tent, just in case the cabins are full. And you must pack out what you pack in – including food waste.
The hiking route
The great thing about hiking in Tetrahedron Provincial Park is that there are numerous options open to you. I wanted to see as much as possible in 48 hours, so devised a loop that incorporated all four cabins.
From the parking lot, we hiked the 4.5kms to Edwards Lake cabin. The first section is along an old logging trail, which if truth be told, isn't very inspirational. Then, all of a sudden, you're deep within the forest. The bushes are teeming with berries in August (and bears!) The terrain is easy-going, so it doesn't take long until you skirt the edges of Edwards Lake. The cabin itself is a little further along the trail.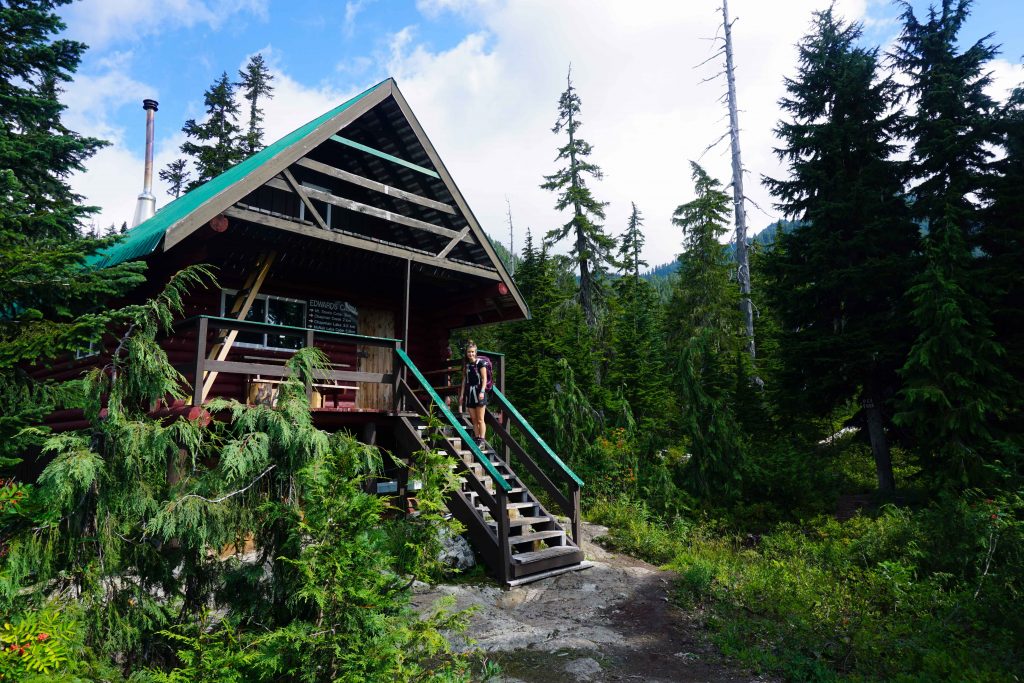 We stayed the night at Edwards Lake cabin, which we had entirely to ourselves. In the morning, we left our big packs behind and put together a day hiking bag. We then headed over to McNair Lake cabin, which is 5kms (one way). The trail rolls up and down, over roots and creeks – some with questionable bridges. As you get closer to Chapman's Lake, the ground gets wet and boggy. McNair Lake cabin appears shortly afterwards.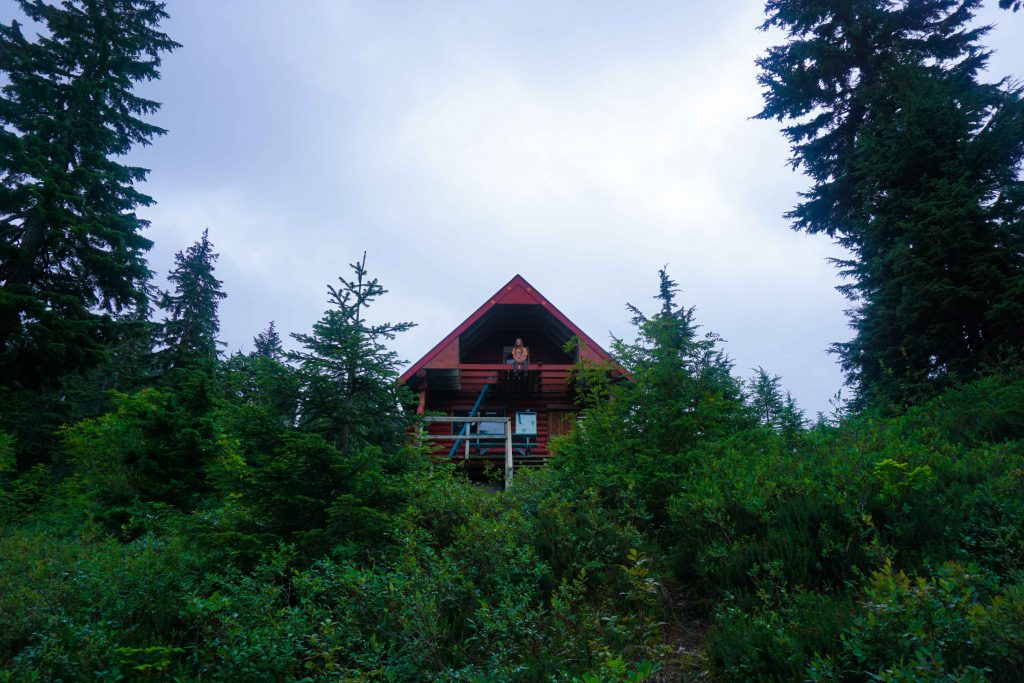 At this point we still hadn't seen another human being since entering the park. In fact, we didn't see anyone else until later that afternoon, when we came across a big group heading to Mount Steele. Walking alone to McNair Cabin was almost eerie, and strange for a Saturday in mid-summer. In Tetrahedron, it feels like you don't have to go far to achieve a sense of isolation and remoteness.
After eating lunch, we retraced our footsteps almost to Edwards Lake cabin. But instead of turning left to the cabin, we continued upwards to Mount Steele cabin, which from this point is 3km one way. It's a steep climb, so it's much easier without a fully loaded backpack. From Mount Steele cabin, it's a short hike up to the summit. We then returned to Edward's Lake cabin for a second night, and this time we were joined by a local couple.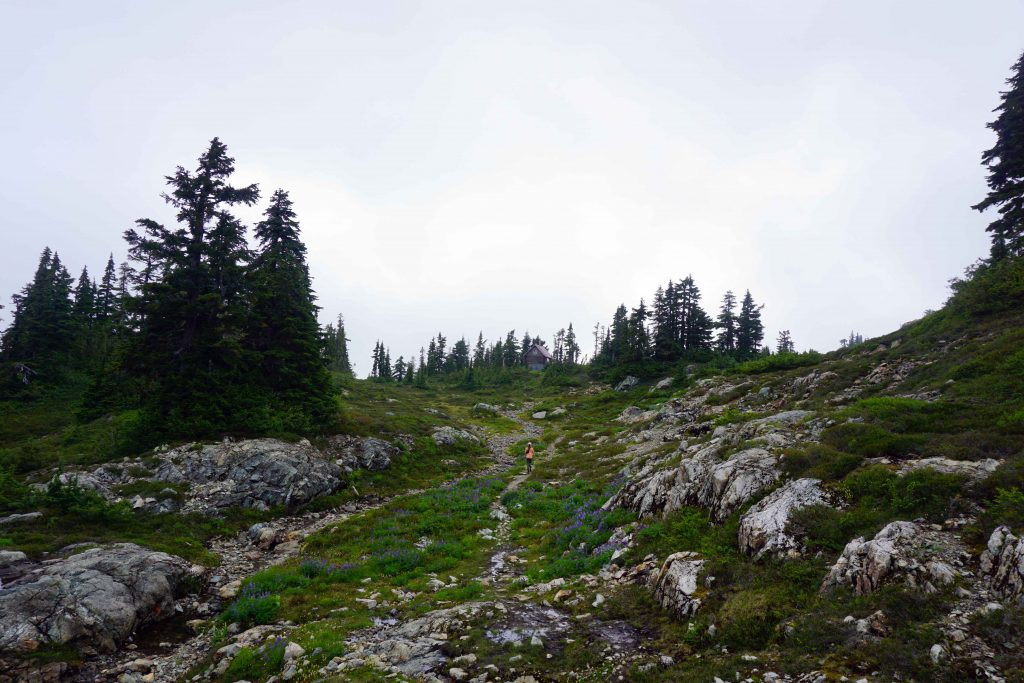 In the morning, we packed up all our belongings and returned almost to the parking lot. However, when we got to Victor's Landing, we took a left turn towards Bachelor Lake cabin. There's also a stone arrow on the floor to point you in the right direction. This is not a well-trodden path and is overgrown, so you need to follow your nose. You skirt the edge of the valley before descending down into the forest.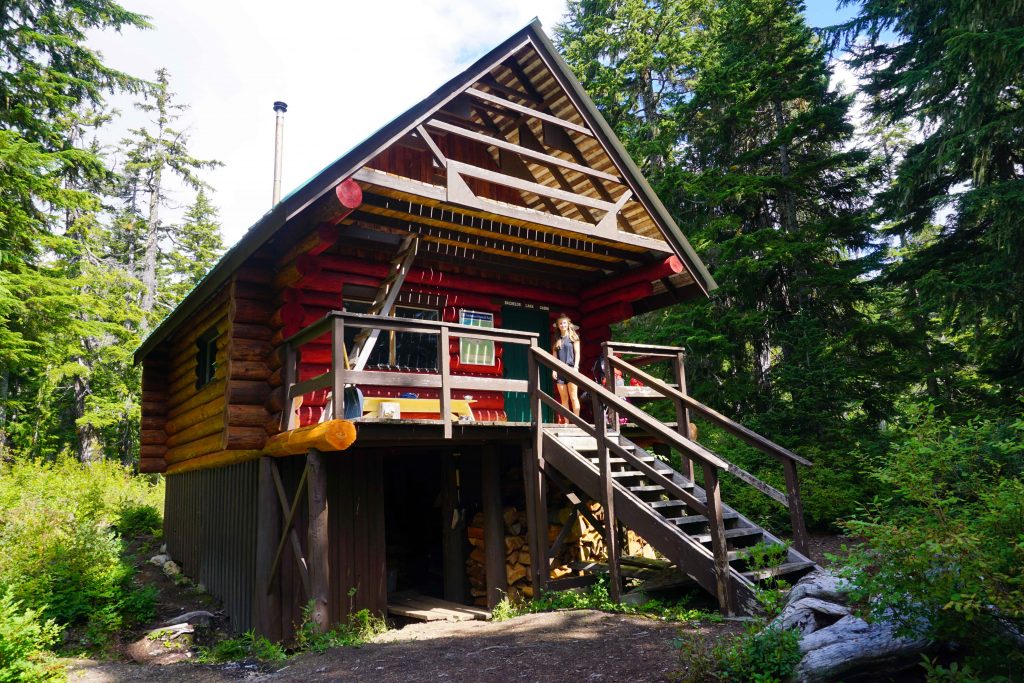 Apparently, Bachelor Lake cabin is the party cabin. We didn't find any hungover souls, but we did have lunch and a sunbathe by the lake. We then returned to the parking lot via the normal summer trail – just follow the orange trail markers. And there you have it! Two days, four cabins and a few kms under our belts.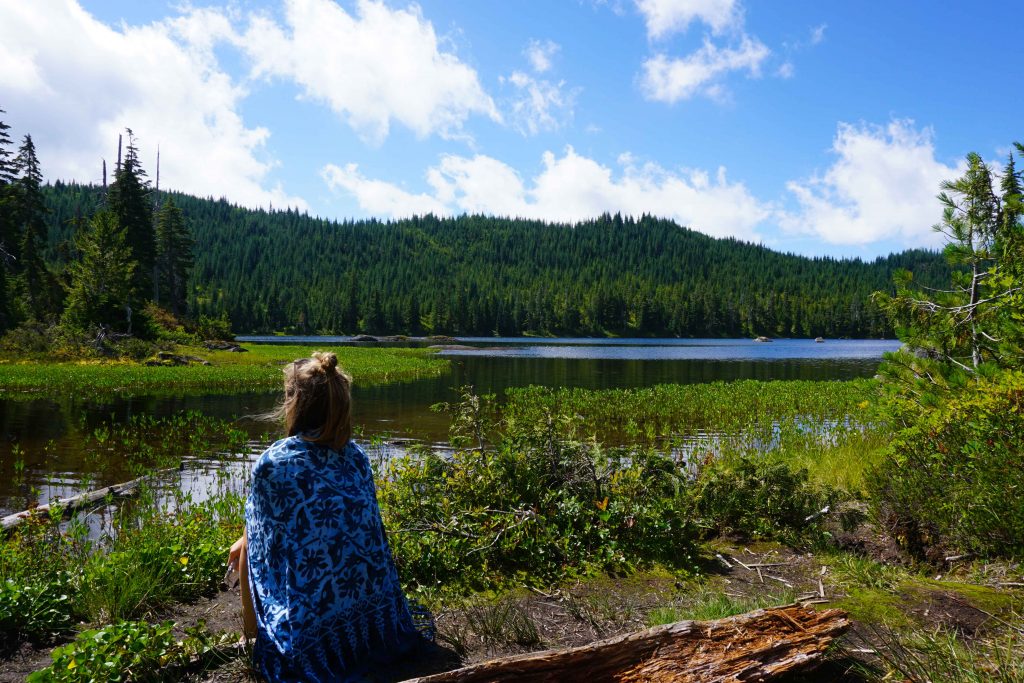 Of course, you don't have to follow this route. You can pick and choose which cabins or lakes you want to go to. Some might prefer the out and back to Mount Steele. This seemed to be the preferred destination for the hikers we did meet. Others may opt for the loop from the parking lot to Edwards Lake, returning via Bachelor Lake. For solitude, I suspect McNair Lake cabin is the best bet. It's entirely up to you.
Know before you go
The road to the parking lot is steep and extremely rough. We just about managed it in a Honda Odyssey – but only just. If you do not have a 4WD with good clearance, do not attempt to make it to the upper parking lot. If you visit in winter, 4WD and snow chains are essential.
The cabins are maintained by volunteers from the Tetrahedron Outdoor Club. If you're staying, they ask for a donation of $15 per person, per night, or $25 per family, per night. Fees are payable to the Tetrahedron Outdoor Club can be paid online. If you want to send a cheque, there are pre-addressed envelopes in the cabins.
There is no running water in the cabins. In the summer, you can refill at the creeks and the lakes. Water should be boiled or treated. Swimming is prohibited in the lakes and streams within the park because it's a watershed.
In the summer months the park is bursting with berries. Where you find berries, you inevitably find bears (we saw two). So, be bear aware!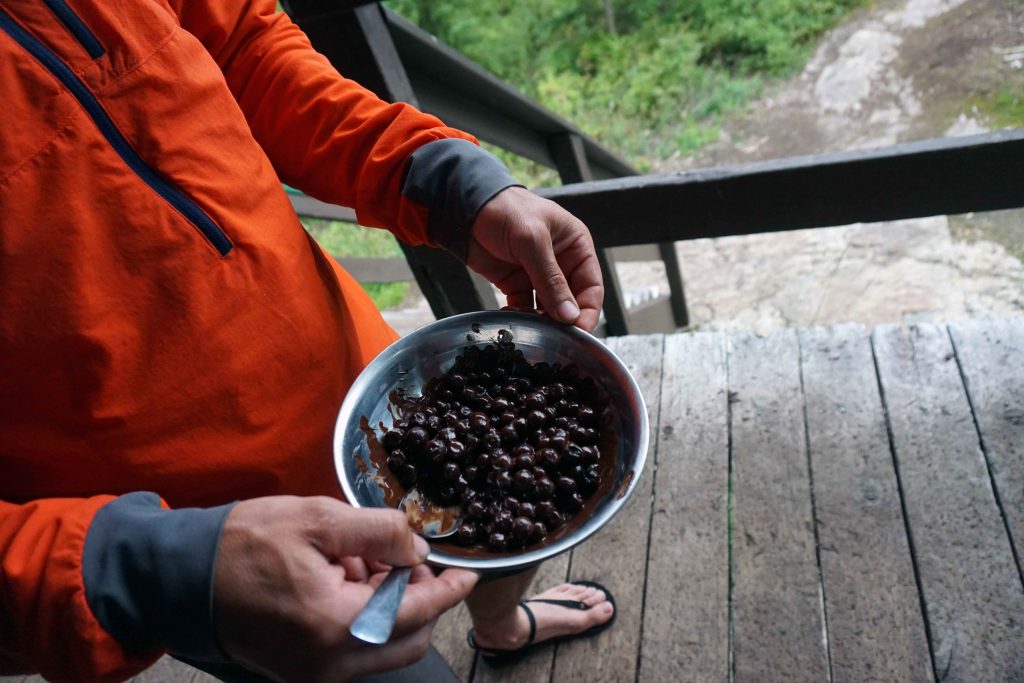 There is little-to-no cell reception in the park.
Conditions are very different in winter. The lakes may be frozen and avalanche hazards exist.