There are nine free marine access campgrounds dotted along the Sechelt Inlet and surrounding waterways, making for a great backcountry kayaking trip just a couple of hours from Vancouver.
A paddler's paradise
The Sechelt Inlet is a prime paddling destination. The waters are fairly calm thanks to the geography of the landscape, so you're unlikely to encounter big waves, as is often the case with sea kayaking. Wildlife watchers will be treated to sightings of bald eagles, seals and porpoises, along with a variety of marine life such as starfish and crabs. The deep blue sea gives way to treelined mountains where no roads go, making for a true backcountry experience in the wilderness.
To top it all off, there are no less than nine rustic campgrounds in the area, most of which are found on quiet, secluded beaches. They're also completely free of charge. This means you can load up the kayak and explore at your leisure, paddling between campgrounds until your heart's content. The first campground is just an hour from the recommended launch point, so it doesn't matter if you have one night or one month to spare – there's both big and small adventures to be had here.
If you've never done a multi-day kayak trip before, check out my blog post Kayak Camping 101 – Top Tips for Overnight Kayak Trips.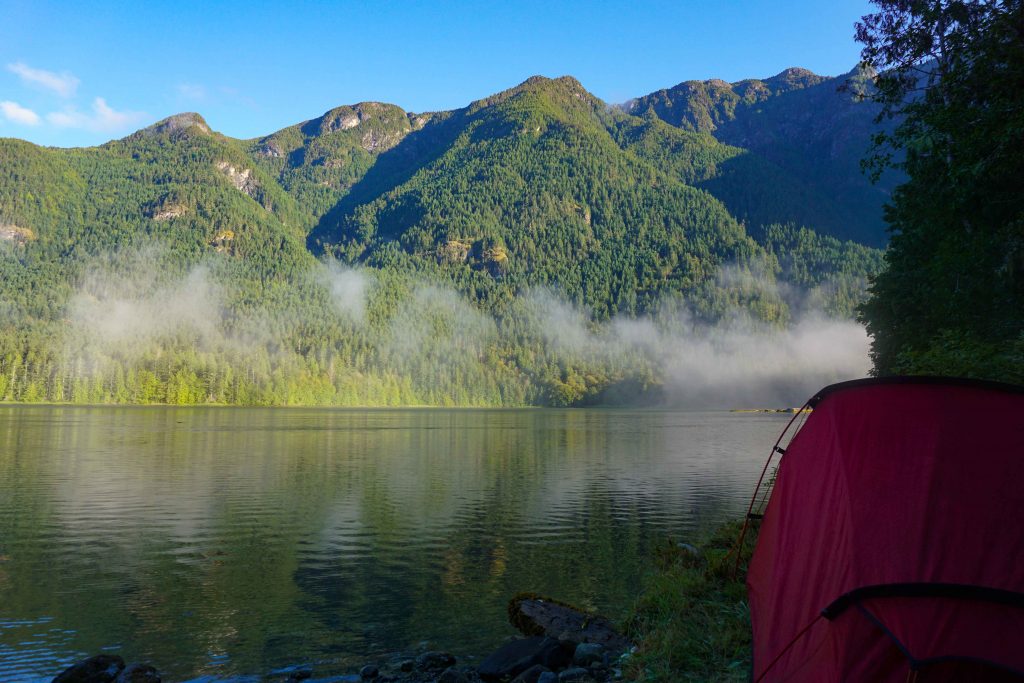 What you need to know before you go
If you're planning an overnight kayaking expedition along the Sechelt Inlet, then here's what you need to know before you go.
When to go
The ideal time to kayak the Sechelt Inlet is between May and early September.
Getting there
The most southerly part of the Sechelt Inlet is found near the town of Sechelt on the Sunshine Coast. From Vancouver, take a ferry from Horseshoe Bay to Langdale. Head west along Highway 101 until you reach Sechelt. You will probably want to launch further up the inlet, so head north on Sechelt Inlet Road until you reach your desired destination (see below).
If you're coming from the mainland then ferry reservations are highly recommended. Or you could always cycle, which is what I did!
If you have your own kayak/canoe
If you already have your own sea-faring vessel, then you can launch at the public beach in Tuwanek. You could also launch at Porpoise Bay Provincial Park, or the very southerly end of the Sechelt Inlet where there's a boat ramp, but you'll have a longer paddle to the campgrounds.
If you don't have your own kayak/canoe
If you don't have a sea kayak or canoe to hand, then don't worry: you can rent one from Paddles and Pedals near Tuwanek. This is a family-run operation and they are used to catering for overnight trips.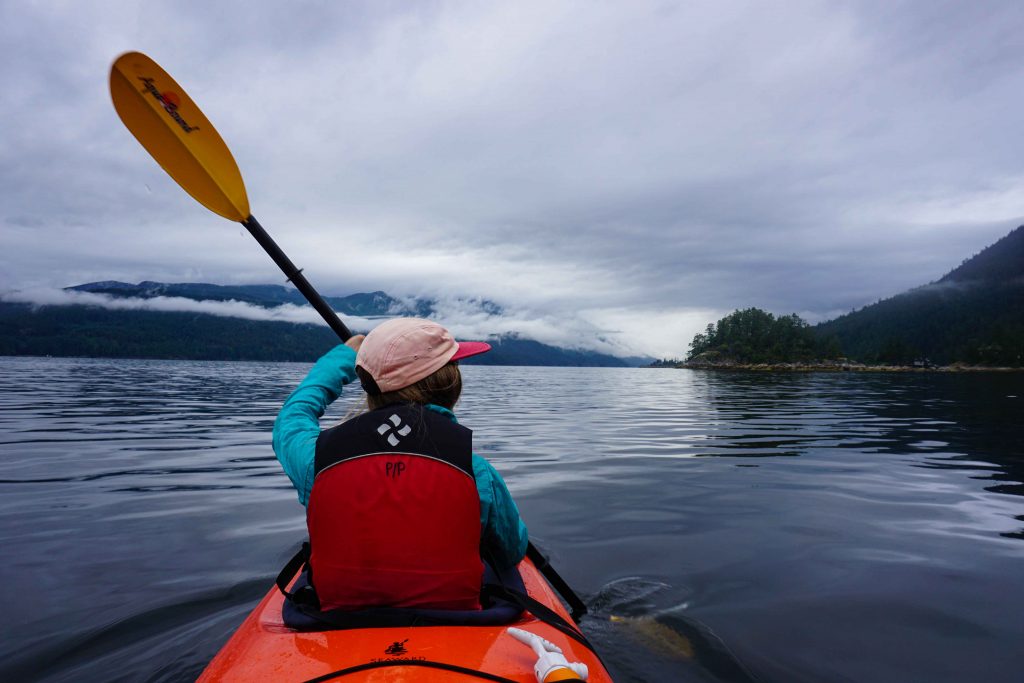 The route
The beauty of the Sechelt Inlet is that you can choose your own route, depending on how much time and paddle power you have. There are campgrounds on both the easterly shore (which is probably where you'll launch) and the westerly shore (meaning you'll have to cross the inlet to reach them). There are also additional campgrounds along the Salmon Inlet and the Narrows Inlet.
The campgrounds appear in the following order, going from south to north:
Piper Point (western shore)
Tuwanek Beach (eastern shore)
Skaiakos Beach (western shore)
Oyster Beach (eastern shore)
9 Mile Beach (eastern shore)
Halfway Beach (western shore)
Kunechin Point (where the Sechelt Inlet meets the Salmon Inlet)
Thornhill Beach (Salmon Inlet)
Tzoonie Beach (Narrows Inlet)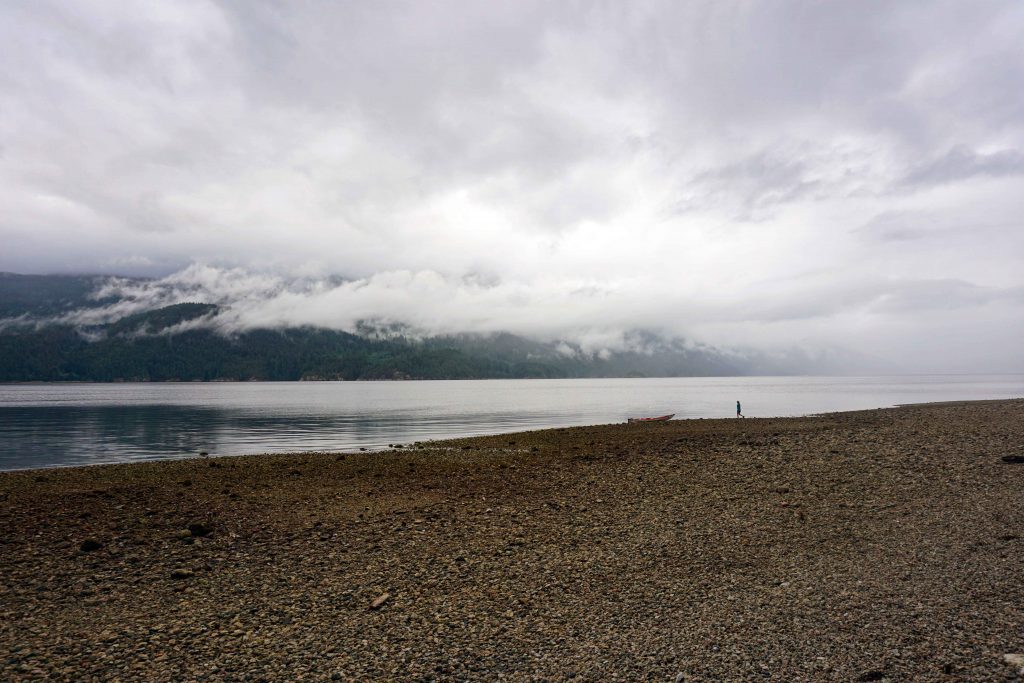 My two night itinerary
I had two nights so launched from Peddles and Paddles at 5pm on a Friday evening and headed straight for 9 Mile Beach. I confess that I was in a double kayak with my partner, who is a strong kayaker. The journey took us just over an hour, but this won't be true for everyone. 9 Mile Beach is a long, stony beach which gives way to a dense forest. It was cloudy when we visited, but the sunsets are supposed to be excellent. Campsites can be found both on the beach and further back in the forest. There's an outhouse and a large creek, although water collected for drinking must be boiled and treated first.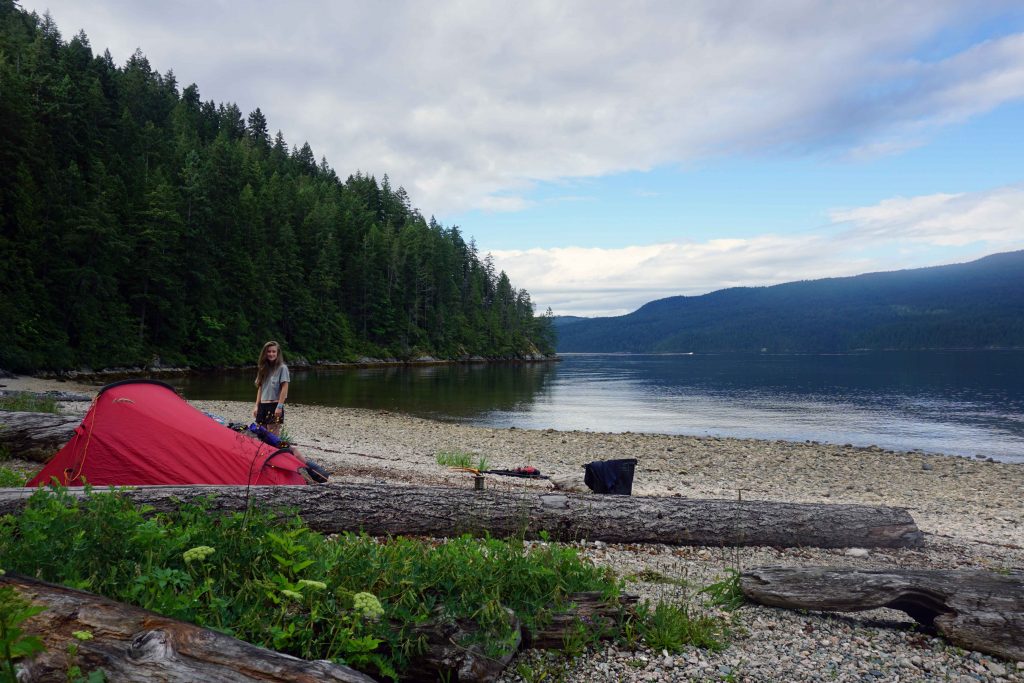 In the morning, we packed up and paddled all the way to Tzoonie Beach. The going was much harder at this end of the inlet. The winds picked up and the sea became quite choppy. It took us around three hours to get there, but I was glad we made the effort. The area is incredibly beautiful and has a remote, peaceful atmosphere. There's an outhouse, a bear cache and a creek in the forest – it's not all that easy to find, but it is there!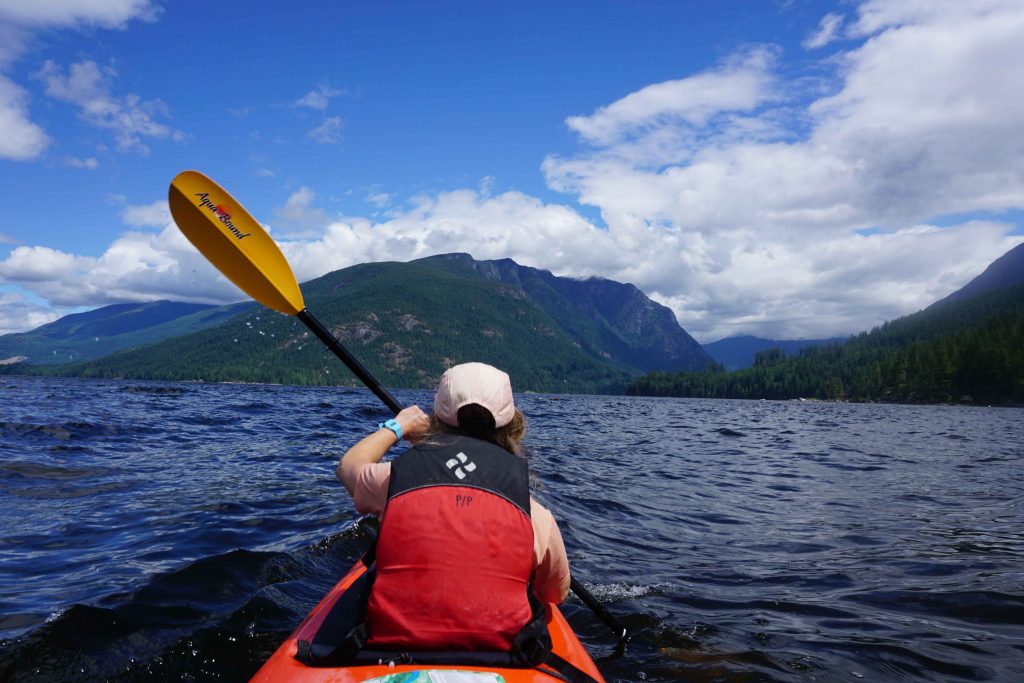 On Sunday we packed up early to make the most of the calm seas. The winds are known to blow up the Sechelt Inlet in a northerly direction, particularly in the afternoons. We didn't want to be caught going against a headwind. Thankfully the sea was like a mill-pond and we made good time. We knew we were safe when we reached Tuwanek Beach, so we stopped there for lunch and a swim before returning the kayak to Peddles and Paddles. Tuwanek Beach is a picture-perfect beach, complete with lapping clear waters and arbutus trees.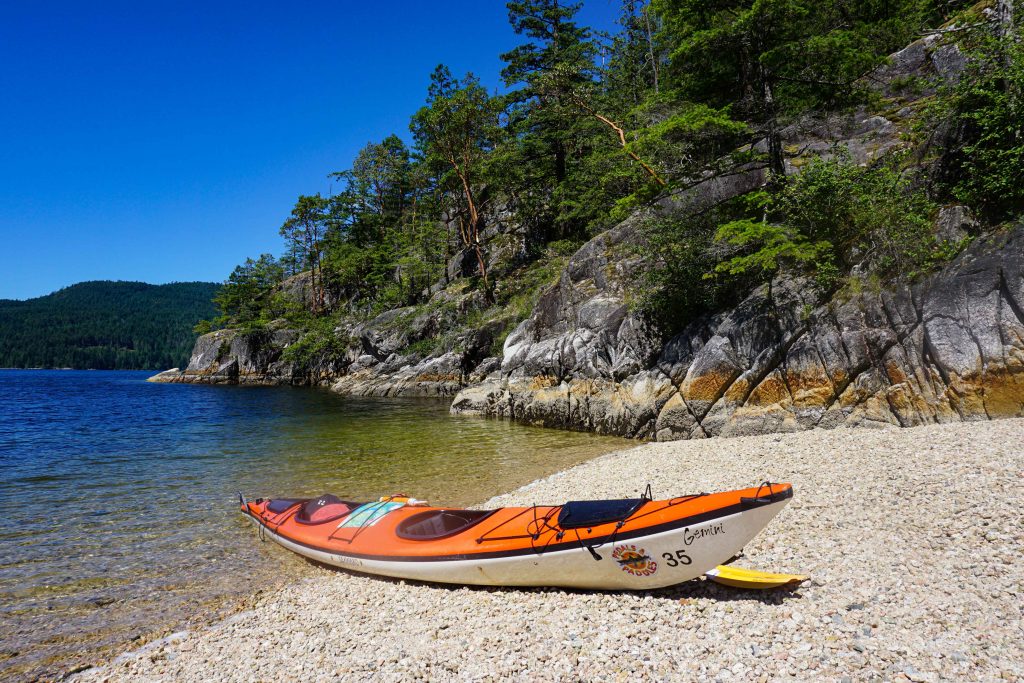 Facilities at the campgrounds
The campgrounds are rustic, so you won't find any filtered water or flushing toilets. I've outlined what facilities you can expect to find at each one, as it's not consistent across the board. They are all free of charge and are marine access only, so you cannot reach them in a car.
Piper Point
Beach
Space for two to three tents
One pit toilet
One fire ring and fires permitted below high tide line
A creek
Tuwanek Beach
Beach
Space for four to five tents
One pit toilet
One fire pit
A creek
Skaiakos Beach
Zero facilities, but camping is permitted
Oyster Beach
Beach
Space for three to four tents
One pit toilet
One fire pit
Two creeks (one large, one small)
9 Mile Beach
Large beach
Space for 10+ tents
One pit toilet
Two fire rings
A creek
Halfway Beach
Beach
Space for 10 to 15 tents
One pit toilet
One fire ring
A creek
Kunechin Point
No beach
Two tent pads located on a stony outcrop, with space for four more tents located around the point at Kunechin Bay
One pit toilet
Campfires are not permitted on the point
No water source
Susceptible to strong winds coming down from the Salmon Inlet
Thornhill Beach
No beach
Space for two tents
One pit toilet
A creek
Hard to reach due to strong winds coming down from the Salmon Inlet
Tzoonie Beach
Stony beach
Space for up to 10 tents
One pit toilet
One fire ring
A bear cache
A creek, although it's hard to find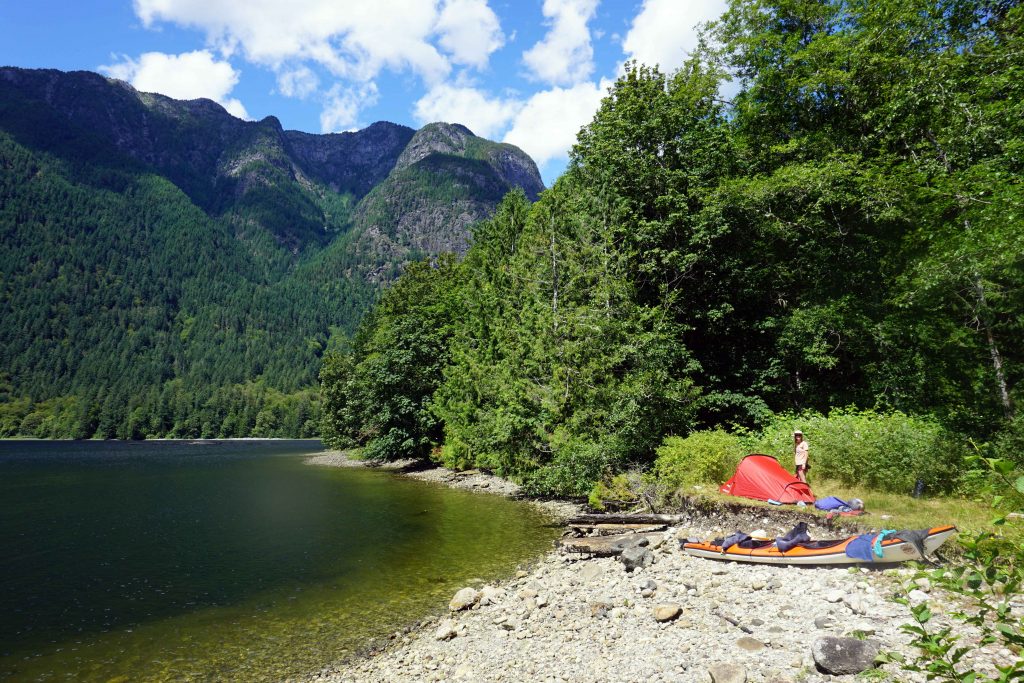 Drinking water
Water collected from the creeks and streams must be boiled and/or treated before consumption.
Safety
Kayaking comes with its own set of dangers, especially sea kayaking. Always wear a life jacket and know what to do in the event of a capsize. Paddling close to the coastline is always a good idea, especially if it's windy. The water tends to be calmer in the mornings and evenings.
It's not recommended that you venture to Thornhill Beach unless you are an experienced kayaker, as the winds can be very strong down the Salmon Inlet. Also, don't paddle past the entrance to the Narrows Inlet. If you do, you'll end up in the Skookumchuk Narrows, which has a series of powerful rapids and whirlpools.
Did You Like This Post? Save it for Later!