Spanning from Cypress Bowl to Porteau Cove, the Howe Sound Crest Trail is one of THE iconic hikes near Vancouver. At 29km long, it's like a greatest hits list of local peaks, allowing the hiker to bag them all in one fell swoop.
OK, maybe not them all, but your legs will carry you up and over St Mark's Summit, Mount Unnecessary, The Lions, James Peak, David Peak and, if you want, Brunswick Mountain. Then you'll skirt round Brunswick Lake, Hanover Lake and Deeks Lake. It's quite the sightseeing tour. Did I mention the views? They're spectacular.
If you're thinking about hiking the Howe Sound Crest Trail (HSCT), here's what you need to know.
Howe Sound Crest Trail quick facts
Distance – 29km, not including a detour to Brunswick Mountain.
Rating – very difficult
When to hike it – late summer to early autumn, preferably on a clear day when you can enjoy the views!
Time needed – two days ideally. Some advanced trail runners tackle it in one day.
Logistics – this is a point to point hike. You'll need to leave a car at either end, or get someone to pick you up/drop you off.
Start/end – most people hike the trail from south to north. This mean you'd start at Cypress Bowl (Cypress Mountain Resort) and end at Porteau Road.
Camping – wilderness camping is available along the trail. Preferred sites are Magnesia Meadows (14.5km from Cypress), Brunswick Lake (19km from Cypress) and Deeks Lake (22km from Cypress). There are no outhouses, tent pads or bear caches.
Water – if you are hiking the trail from south to north, water is scant until you reach Magnesia Meadows. From thereon, you're never too far from a water source. Boiling or treating drinking water is recommended.
Campfires – are not allowed.
Dogs – are allowed on leash. However, the section between Mount Unnecessary and Magnesia Meadows is definitely not dog-friendly. There are cables, ropes and steep step-downs. Leave the fur-baby at home.
Shorter hikes – you can exit the trail early if you want a shorter hike. Rather than going all the way to Porteau Cove, head down to Lions Bay via the Lions Binkert Trail or the Brunswick Mountain Trail.
There's some important safety information tucked into this list. For the sake of clarity, I'm going to expand on a few points.
Honestly, it's very difficult
I hiked the Howe Sound Crest Trail from south to north, stopping at Magnesia Meadows overnight. Honestly, the first day kicked my butt. I don't want to sound too big for my (hiking) boots, but I've done trails rated as difficult before and thought they weren't so bad. But this was a different story. The first half of the trail sees you scaling up and down various peaks. It's steep, not only going up, but going down too. There are ropes, cables, boulders, scrambles and sheer drops. The terrain is technical and progress is often slow-going. When you've got an overnight pack on, it makes it all the more difficult.
Be warned: the Howe Sound Crest Trail is not for beginners, or indeed intermediate hikers. It's hard. For fit and experienced hikers, this is a challenging and highly rewarding experience. Be prepared and be sure to carry the 10 essentials with you.
This is a late summer/early autumn hike only
Snow persists on the HSCT well into summer. It may balmy down in the city in June, but up at 1,500m you'll find yourself knee-deep in the white stuff. "I'm not deterred by a bit of snow", you might think. That's all well and good, but the terrain of the Howe Sound Crest Trail means that you'd need avalanche training and mountaineering skills to traverse it safely. There's a particularly sketchy col in between The Lions which can be covered in a thick slab of compact snow, even when everything else is bone dry. Slip here and you'd promptly slide 50 feet into a boulder field.
You may be itching to tick this one off your bucket list, but be patient and wait for the right conditions. The snow pack changes every year, so it's impossible to say exactly when the Howe Sound Crest Trail is hike-able. Usually, you'll be looking from late July to early October.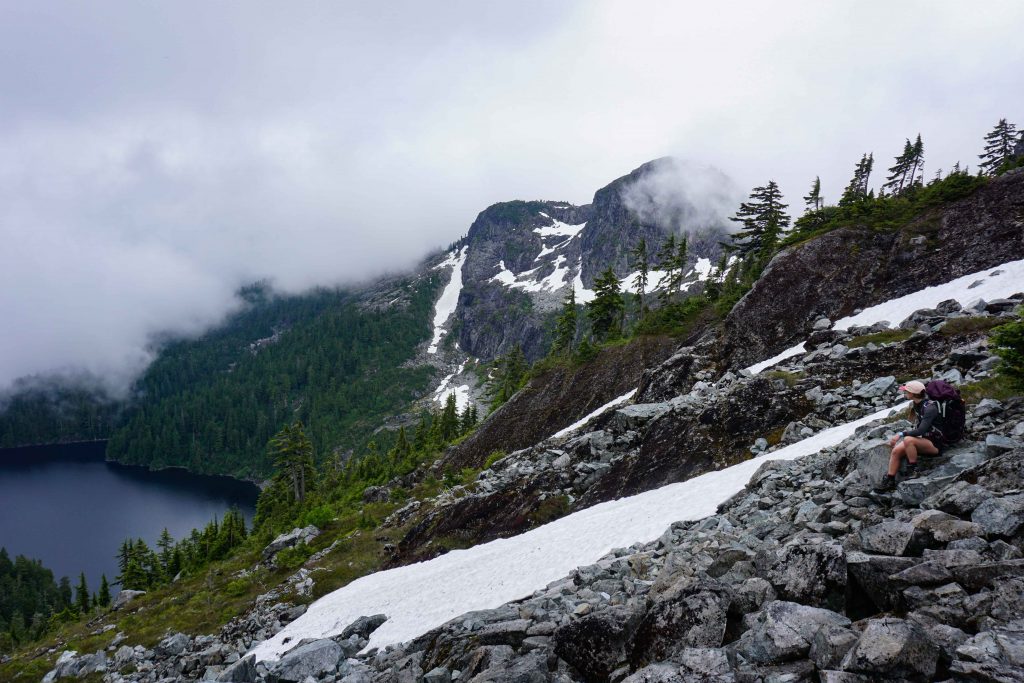 How long does it take?
If you hike the Howe Sound Crest Trail, you'll no doubt see trail runners tackling the length of it in one day. You could, in theory, hike the HSCT in one day too. However, you would need to start very early and travel very quickly to avoid being caught out by nightfall. This would be a shame, as the Howe Sound Crest Trail is beautiful. You'll want to take your time – and hike in daylight – to fully appreciate the views.
So, from a safety perspective, and for your own enjoyment, this is best done as an overnight hike. One night will suffice, but if you really want to savour the scenery, you could stay for two nights.
I'm always wary of disclosing how long a hike has taken me, as everyone's abilities are different. To give you an idea, we were hiking for nine hours each day. The first day included two short rest stops. The 4km between The Lions and Magnesia Meadows took three hours alone due to the difficulty of the terrain. The second day was more leisurely and included a detour to Brunswick Mountain and multiple stops for lunch and lake swimming.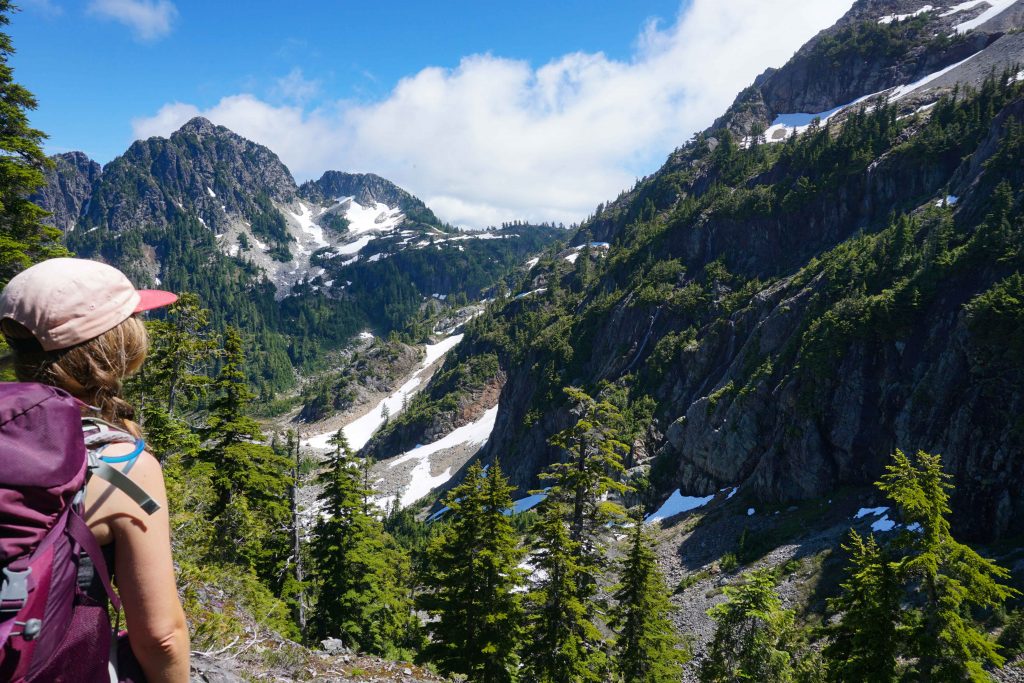 Parking and logistics
This is a point to point hike, meaning a bit of planning is required in terms of logistics. Ideally, your group will have two cars. On the morning of your hike (or the evening before) you can drop one car at your end destination. You can then all pile into the remaining car and drive to your start point. That way, when you finish your hike, you'll have a car waiting for you. You can collect the other car on your way home.
I didn't have two cars, so instead dropped my car at Porteau Cove the evening before the hike. My boyfriend collected me in an Evo. In the morning, a friend picked us up and dropped us at Cypress Mountain Resort, where we started our hike.
There is a large parking lot at Cypress Mountain. To save your legs, you'll want to park as close to the ski lodge as possible. The address is Cypress Mountain, 6000 Cypress Bowl Road, West Vancouver, BC V7V 3N9. Take exit #8 off Highway 1. At the northerly end, you need to park at Porteau Road parking lot. Follow Highway 99 and exit at Porteau Road. The parking lot can be found on the east-side of the highway, up a short hill.
Hiking the Howe Sound Crest Trail – the route
Most people opt to hike the Howe Sound Crest Trail from Cypress to Porteau Cove because the elevation gain is significantly shorter. If you, too, are stomping in this direction, then here's what you'll find.
St Mark's Summit – approx. 5.5km from Cypress
The first hurdle to overcome on the Howe Sound Crest Trail is St Mark's Summit. From Cypress Mountain Resort, there are plenty of maps and signposts towards the Howe Sound Crest Trail. You can take either the east or west access trail – you'll end up in the same place. You can veer off the trail to the Bowen Lookout if you want. Otherwise, continue to follow signs for the Howe Sound Crest Trail. As you near the top there's a series of steep switchbacks. Afterwards, the gradient starts to level out and the trail can be muddy. Soon afterwards, you'll come to the summit. This is your first real chance to enjoy the stunning views across the Howe Sound.
The hike to St Mark's Summit is a popular one. From here, the trail is quieter with fewer signposts. Be sure to look out for orange markers.
Mount Unnecessary, north and south peaks – approx. 7km from Cypress
Follow the trail round to the left where there's a steep drop down the back side of St Mark's Summit, only to be followed by a taxing ascent through the forest. This section is challenging with a heavy pack on and there are lots of tree roots to haul yourself over. You'll soon appreciate why it's called Mount Unnecessary, as you'll wish this mountain-shaped obstacle wasn't standing in between you and The Lions.
Finally, you pop out of the treeline and come to a rocky ridge. Follow this and you'll reach the south peak of Mount Unnecessary, followed by the north peak. There are supposedly incredible views from this vantage point, which at the north peak stands at 1,542m. I say supposedly, because unfortunately when I went, we were shrouded in clouds. Well, you can't plan the weather.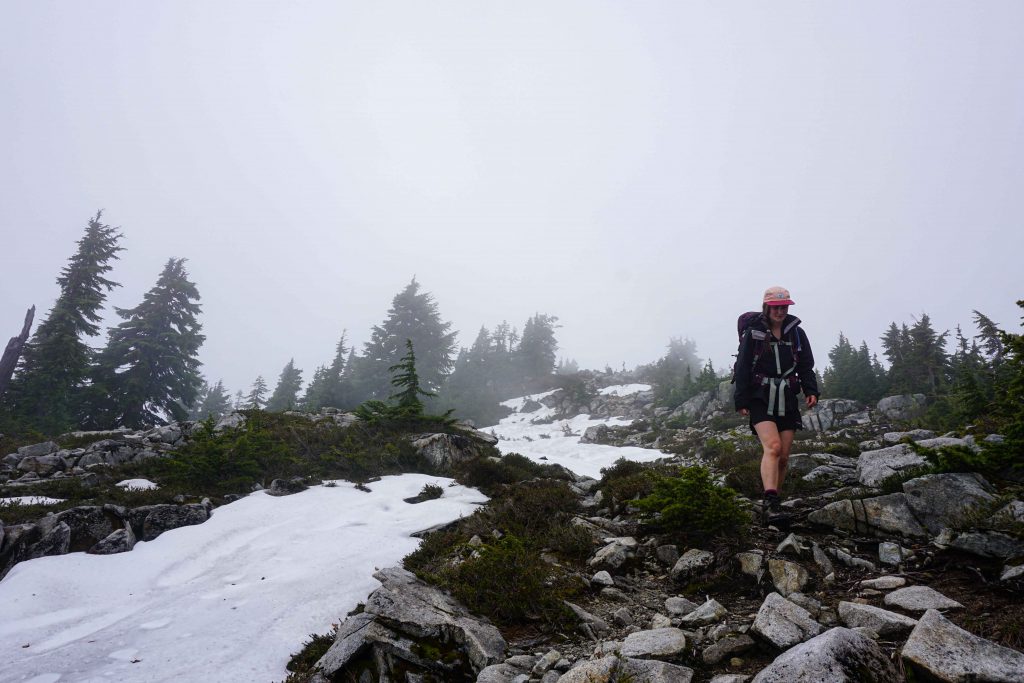 The Lions – approx. 10.2km from Cypress
From the north peak of Mount Unnecessary, you scramble down some steep rocks with the help of a rope. From here, follow the trail towards The Lions. You'll come to a rocky slope, at the top of which you'll see the Search and Rescue Cache. Follow the trail upwards. It can be difficult to navigate this section, but some of the rocks have faded orange paint on. Continue to follow the ridge crest until you come to the base of the West Lion.
Experienced scramblers and climbers may choose to drop their packs here and climb up the West Lion. I've not done it myself but I know others who have. They report that it's a no-fall zone – so it's best left to those who know what they're doing.
James Peak
At this point, things step up a notch in terms of fear factor. You'll drop downwards slightly and follow the trail across the col between the West and East Lions. This is the sketchy section I mentioned previously which is often covered in snow. The trail traverses around the East Lion and is very narrow and exposed. You'll then ascend upwards, rounding some small peaks – don't be fooled, this isn't James Peak!
Instead, you need to descend steeply around the base of Thomas Peak, where you'll come to a boulder field. This can be covered in snow, making the trail difficult to follow – keep an eye on those orange trail markers. If you're looking at the boulder field, you need to stay high, keeping to the left.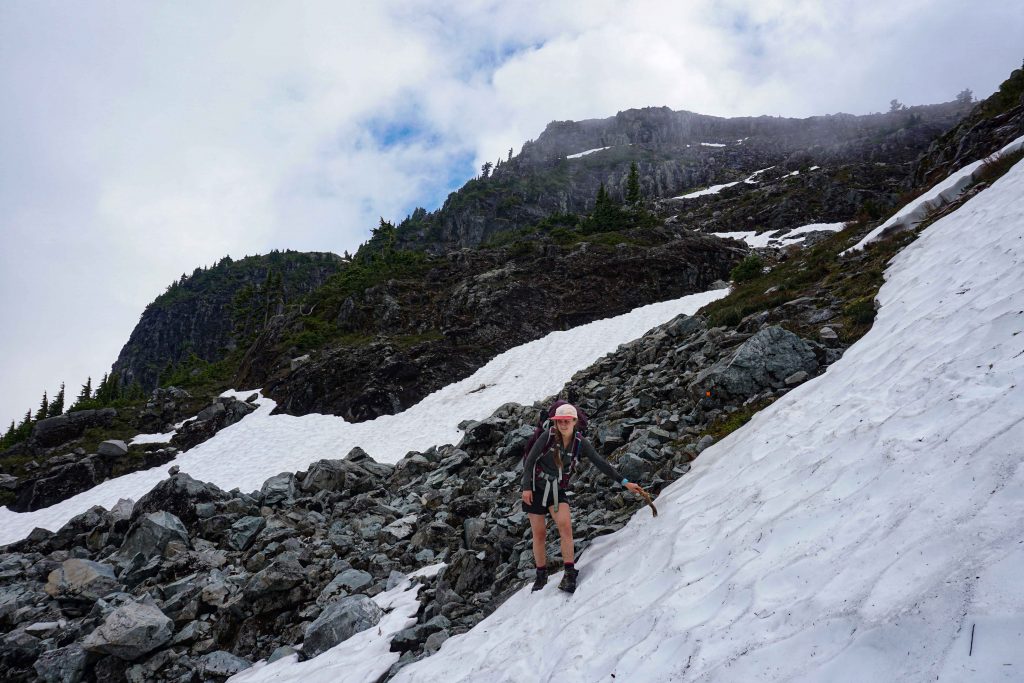 After a couple of hundred metres there's an exit that takes you back into the forest. This area is known as Enchantment Pass. Soon it becomes incredibly steep and exposed as you climb the ridge to James Peak. There's a chain rope to help you.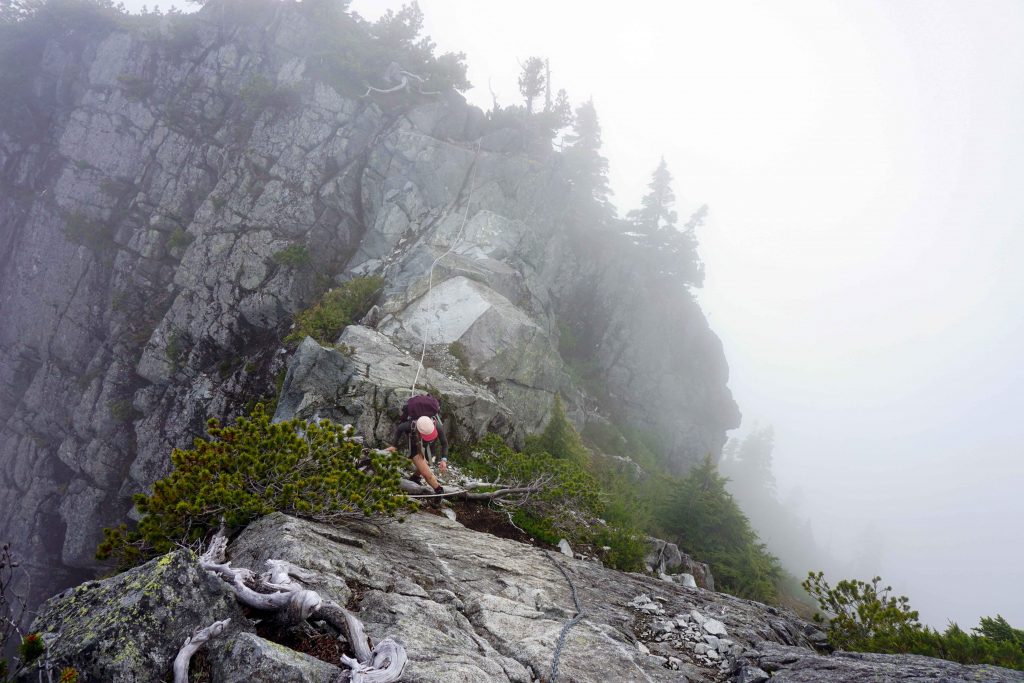 David's Peak
Once you've enjoyed yet more incredible views, it's time to descend from James Peak. The terrain becomes more open and meadow-like, but the respite doesn't last long as there's one more peak to summit – David's Peak. Once again, this is a steep climb, followed by a steep descent the other side. By now you're in the forest and it's a matter of climbing up and over trees roots.
Magnesia Meadows – approx. 14.5km from Cypress
Once you're descending David's Peak, you know there's not far to go until Magnesia Meadows. However, the going can be slow down the backside of David's Peak. Once at the bottom, there's an agonising incline up an old logging road. This section is open, grassy and full of berries – making it a hot-spot for bears. Keep grinding away until you reach a junction. Turn right and you'll see the Magnesia Meadows emergency shelter in the distance.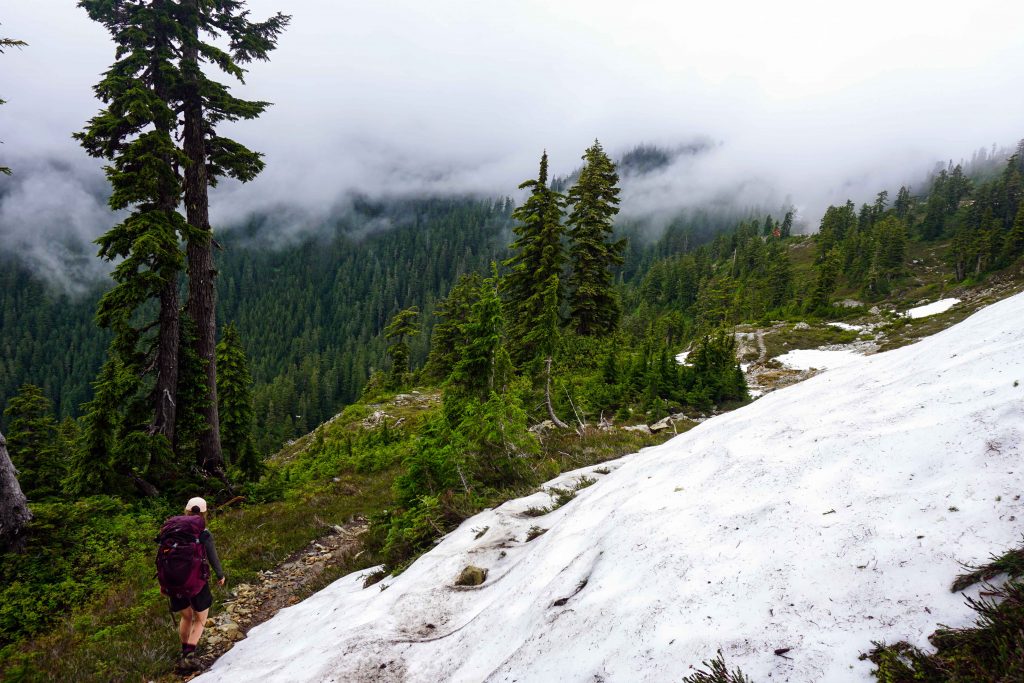 This is a gorgeous place to camp overnight. The views of the Howe Sound are framed by Mount Harvey on your left and the forest on your right. There's a running stream for water and you can take refuge in the emergency shelter if needed. There's no outhouse or bear caches, so bring a trowel and bear bag for your food.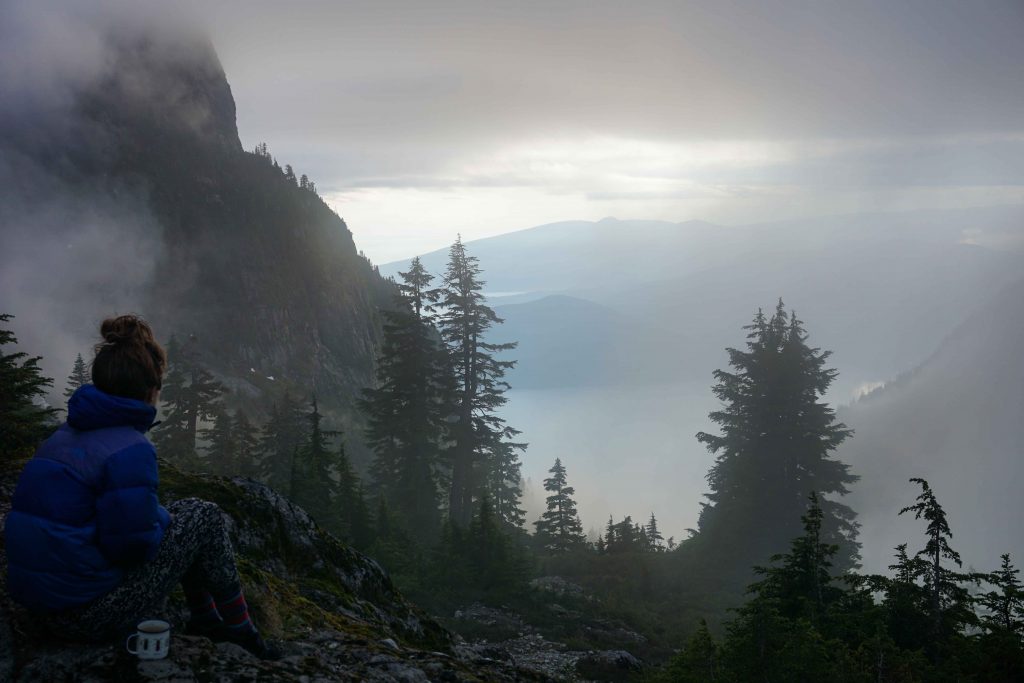 Brunswick Mountain – optional
From Magnesia Meadows, the trail continues gently upwards past the emergency shelter and into the trees. The terrain is much more manageable from here and you will cover the remaining distance much faster.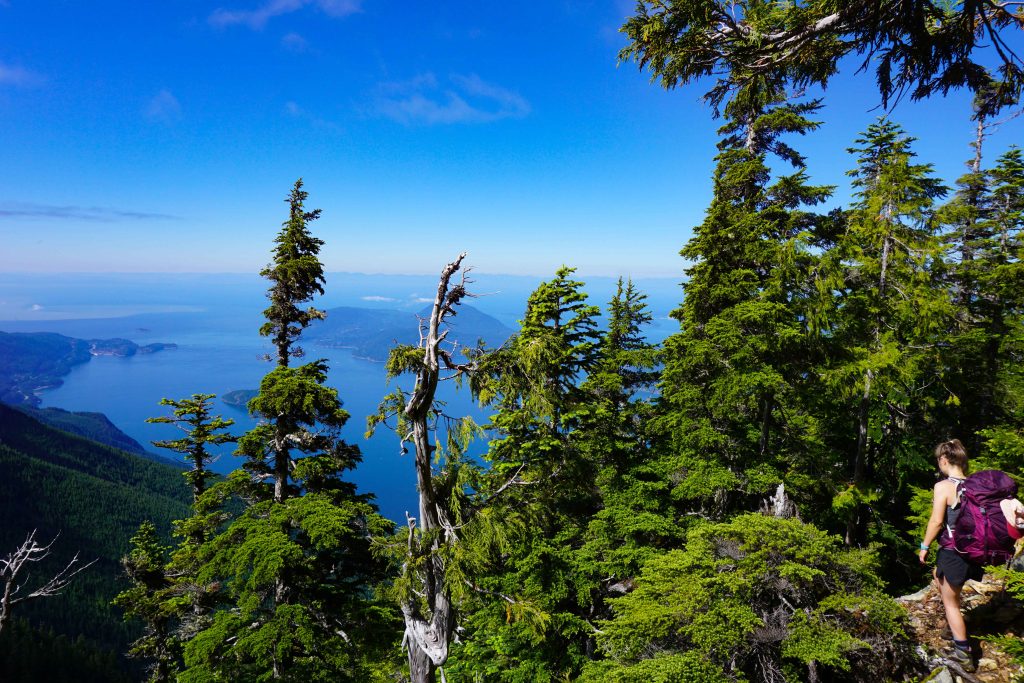 However, you can extend your hike if you want by taking a detour up to Brunswick Mountain. If so, watch out for the trail marker on your right (around 2km from Magnesia Meadows). Stash your bags and continue up the Brunswick Mountain Trail. It's a scramble to the top but you'll be treated to incredible views. Return to your bags and re-join the Howe Sound Crest Trail.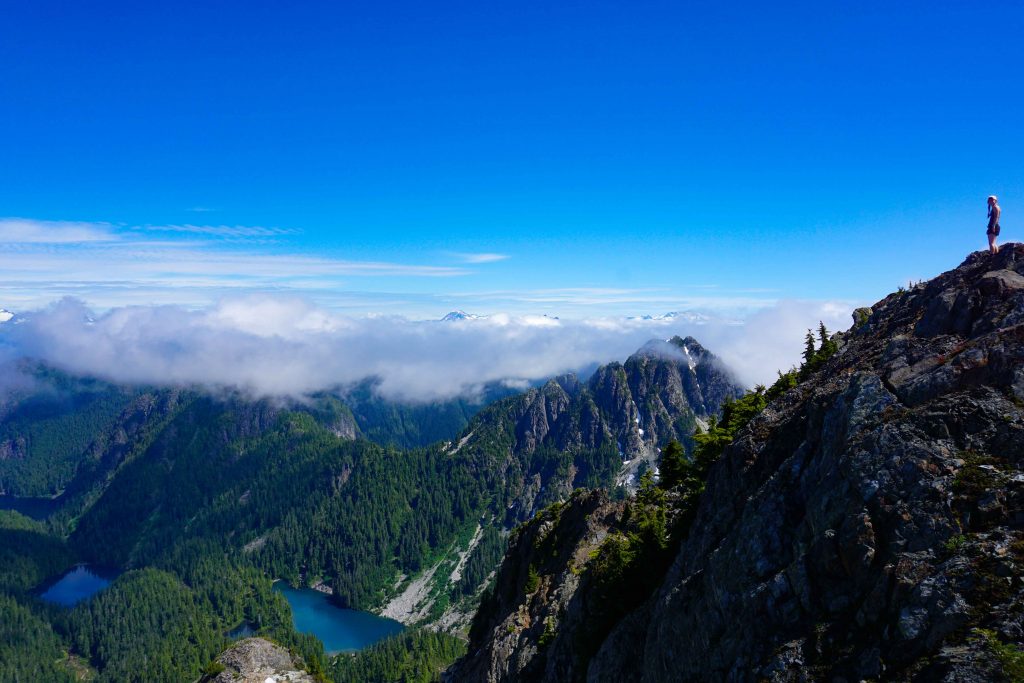 Brunswick Lake – approx. 19km from Cypress
Back on the Howe Sound Crest Trail, the gradient remains fairly level. Then, you'll start to drop steadily downwards. This section is full of pretty meadows with tarns. You'll come to the emergency shelter above Brunswick Lake before descending further to the lake itself.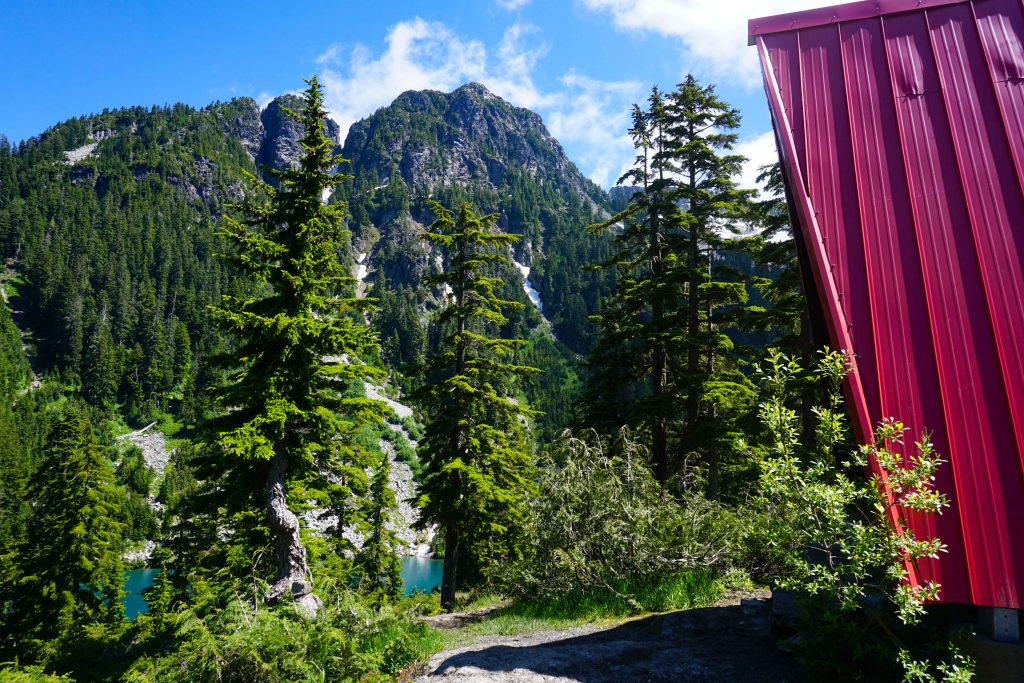 The lake is a brilliant blue colour and very cold, as you'll soon find out when you take your shoes and socks off to wade across to the other side. Take care – the underwater stones are slippery and uneven. I saw one hiker in front of me fall right in. I was glad to have my sandals with me!
This is another great spot to camp, or at least to stop for a sandwich and a swim.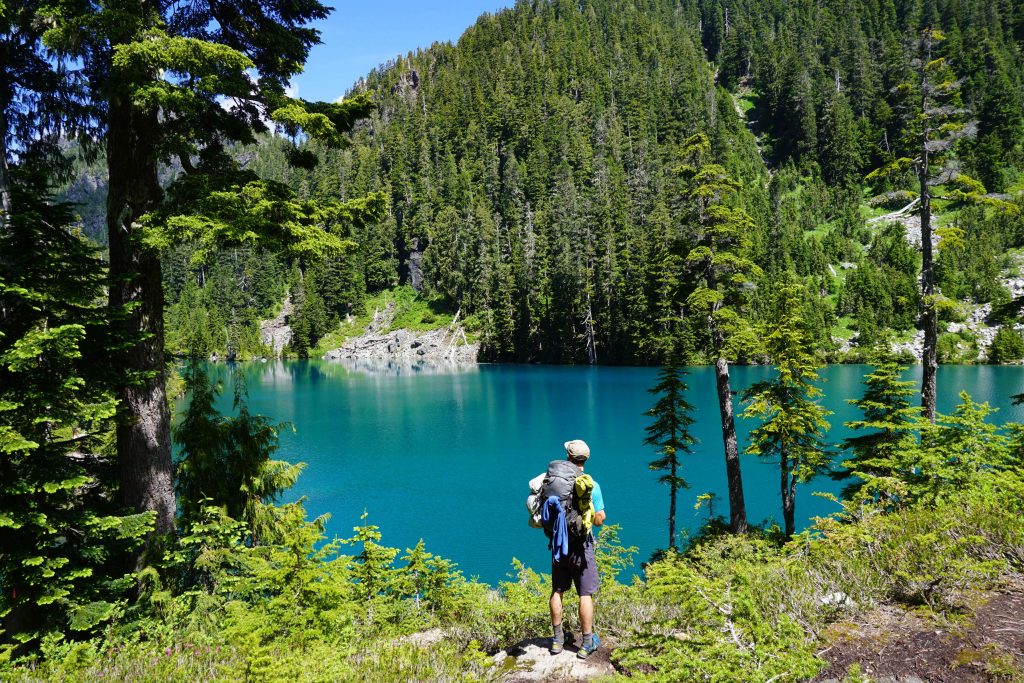 Deeks Lake – approx. 22km from Cypress
From here, a creek runs all the way to Deeks Lake. The trail runs parallel to it. You'll pass by a waterfall and Hanover Lake, which like Brunswick Lake is bright blue in colour. There are some more creek crossings, so you'll be taking your socks and shoes off a couple more times. Otherwise, the trail is fairly easy. It undulates up and down with a few rocky sections, plus a slippery section near the waterfall.
When you get your first glimpse of Deeks Lake you'll start to traverse around the water's edge. There's a short uphill followed by a short downhill, after which you'll come to a log jam across the lake. Cross over here to the other side. There are a few camping spots, and you'll probably be greeted by day trippers who have hiked up to the lake for a swim. Speaking of which, this is good place to have a dunk and a final pitstop before the long descent to the car.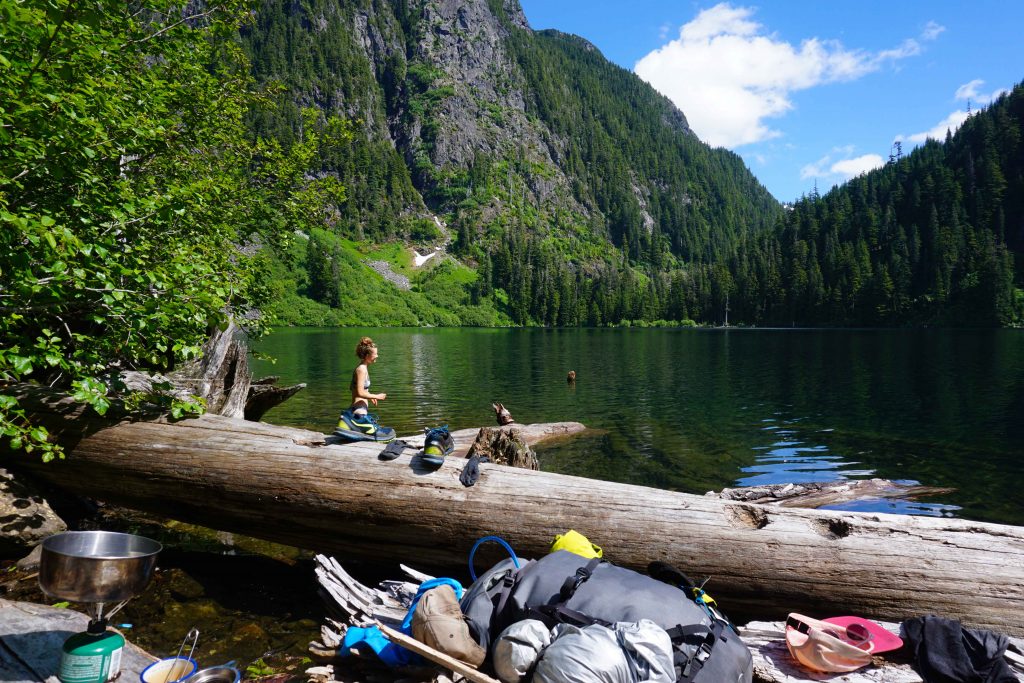 Porteau Cove Road parking lot – approx. 29km from Cypress
Once you set off from Deeks Lake, you are firmly on the home stretch. It's a long way downhill from here and your knees may start to get creaky. Down you'll go, past a waterfall, through the forest and out onto a (boring) logging road.
Due to logging activity, there is currently a detour at the end of the trail. This brings you out below the parking lot. Ordinarily, you would continue down the logging road until you reach a yellow gate. The Porteau Road parking lot is just beyond it.
Related: Best Hikes on Vancouver's North Shore
Did you like this post? Save it for later!