We glide along the ridge like lemmings, each of us chasing the tracks of the person in front. Suddenly, the leader drops down an east-facing aspect. The rest of us follow behind in hot pursuit. Within minutes, I'm full of regret. The gradient is too steep for my ability and I'm overcome with fear. Panic seizes my body, rendering me unable to ski properly. But I don't say anything – the others are ahead of me and I need to keep up.
Down we go, further and further, my mind a whirl of activity. I thought this line would bring us back into the resort, but it's nowhere to be seen. But then, I wasn't entirely sure I'd understood the plan. Everyone else seemed confident about the lay of the land. I reason that they know more than me. I suppress my mounting anxiety and push on, not wanting to be the weak link.
Finally, we regroup. It becomes clear that errors have indeed been made. We don't know where we are. Below is a seemingly never-ending slope which we think might – might – bring us to a road. To the right is deep gully, a place no backcountry skier wants to be. It seems there is no choice but to transition and skin back up from where we came. I assess the route. It's steep. We're tired. And the light is fading. Between four of us, not one person has a head torch.
Survival mode takes over
I stop obsessing over my shoddy ski form and start concentrating on the task at hand. This is a situation we don't want to be in, and we need to get out of it – fast. I dig deep as we zig zag our way back up the mountainside. I try to stay positive, encouraging the others and laughing about our terrible kick turns. But secretly, all I can think about is the light. It's January in British Columbia and it's nearly 3.30pm. The sun is dipping and we don't have long until darkness falls.
Thankfully, we turned around just in time. We make it back to the ridge and retrace our steps from earlier in the day, knowing this will lead us to safety. After what feels like an eternity, we are back at the car. There were no avalanches or rescue calls. No one was injured. But we are all shaken. Myself especially. This was my first time backcountry skiing, aside from my AST 1 course. I start to question whether it's a sport I actually want to pursue.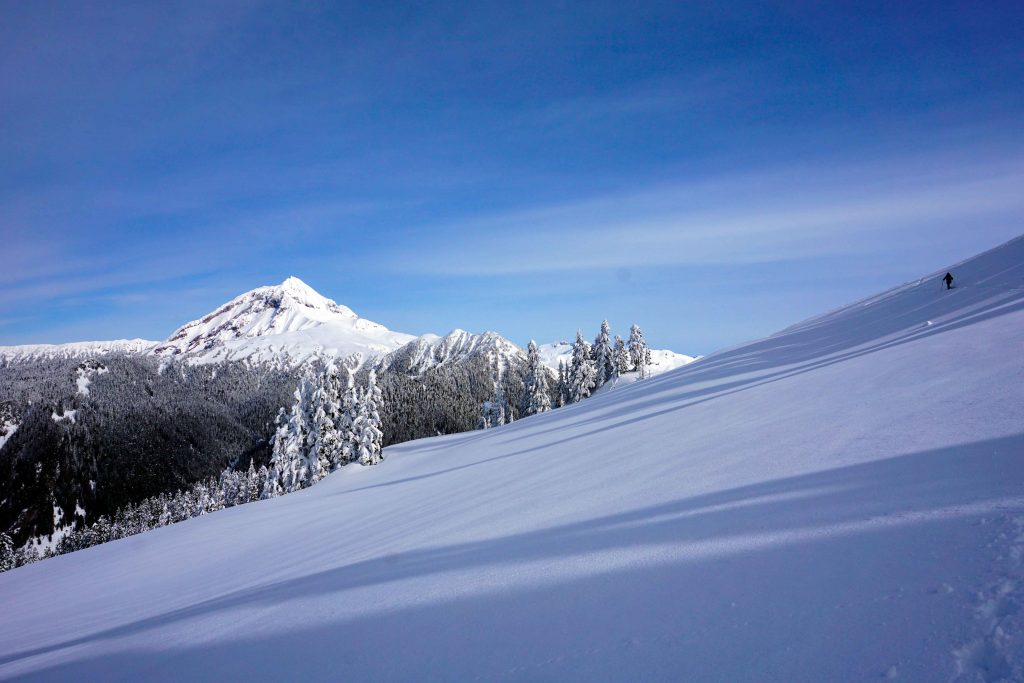 A litany of errors
What started as a pleasant bluebird day in the mountains quickly escalated into something much scarier. Perhaps it doesn't sound like a catastrophe, but it could easily have become one. The reality was that we were lost in a vast mountain range without phone signal. No one else knew where we were. Night was looming and it was about to become very cold. We had put ourselves in a very vulnerable position. It wasn't an experience I wanted to repeat. Ever.
In the coming days, we discuss where we went wrong. Really, it was a litany of errors that began almost as soon as we arrived. We changed the plan at the last minute. We dropped into a pitch without assessing the slope at the top. And we had grossly misjudged our position, as there were in fact a few gullies in between us and the resort. The biggest blunder of all: we didn't have a single light source, even though I know full well that this is one of the 10 Essentials of backcountry safety.
An important lesson
A range of emotions followed. Fear. Anger. Confusion. Even embarrassment. How could we have been so stupid? What were we thinking? We were all relatively new to backcountry skiing at that point, but we had done the necessary training. We knew what the rules were. But as uncomfortable as these emotions were, they were entirely necessary. It was the only way to understand where we had erred, both individually and as a group.
After a period of self-reflection, I returned to ski touring once again. I wasn't ready to hang up my skins just yet. But I learned from the events of that day – an essential practice for any backcountry skier. Now, I have turned the experience into a positive one. I got an insight into how quickly things can go wrong, but I was fortunate enough to avoid the consequences. It was an important lesson, and one that came right at the start of my backcountry career.
As painful as it is to recount, it is a story that should be shared with anyone heading into the backcountry, no matter what the season. It is a tale of caution. One that highlights how unforgiving the mountains can be, and that while you can never eliminate all the risks, there is so much that you can control. You can educate yourself. You can apply your knowledge. You can treat every outing as a chance to grow. If you fail to do this – whether through ignorance or arrogance – then you tread a very fine line. On this occasion, I got away with it. Others might not.