The 4-litre Patagonia Slope Runner Vest is a stripped-back, no-nonsense trail running vest, perfect for shorter training runs and races.
Product description
Patagonia says: 'we designed the Slope Runner Vest for long-haul comfort with enough storage to keep extra layers, nutrition and hydration organised and within easy reach.'
The 4-litre version (as opposed to the 8-litre version) is described as 'close-fitting and breathable for all-day comfort with just enough room for an extra layer and snacks.'
The review: Patagonia Slope Runner Vest 4L
Hats off to whoever wrote the product description because it's bang-on. The point of the 4L Patagonia Slope Runner Vest is that it's minimalist. It weighs just 160g (5.6oz) but still delivers the fundamental requirements of a trail running vest – simply without any unnecessary design features.
The vest fits really snuggly and doesn't bounce around. The adjustable ties at the front, and the bungee cords at the sides, mean you can adapt the fit according to your shape. The back panel is made of high-flex monofilament mesh, which does indeed improve breathability, as promised.
It comes with two 500ml HydraPak flasks. These slot into the front of the vest, which itself sits high on the chest. This means you can bend your head down and drink straight from the bottles, without having to remove them. There's a large compartment at the back, so you can carry a water bladder if you prefer.
Inserting the bottles can be a tad fiddly, but I've now mastered the technique of stretching both upper and lower chest pockets at the same time. This allows the bottle to drop back in. The elasticated fabric keeps them in place, so they don't fall out or slide downwards while you're running.
There's a selection of storage pockets of varying shapes and sizes, most of which are easy to access while on the go. As the product description suggests, it might prove difficult to pack a lot of layers. However, the vest is surprisingly spacious. I went on a 30km outing carrying four sandwiches, two homemade energy bars, a Patagonia Houdini jacket, an extra base layer, phone, keys, and a headtorch – and I still had plenty of room leftover.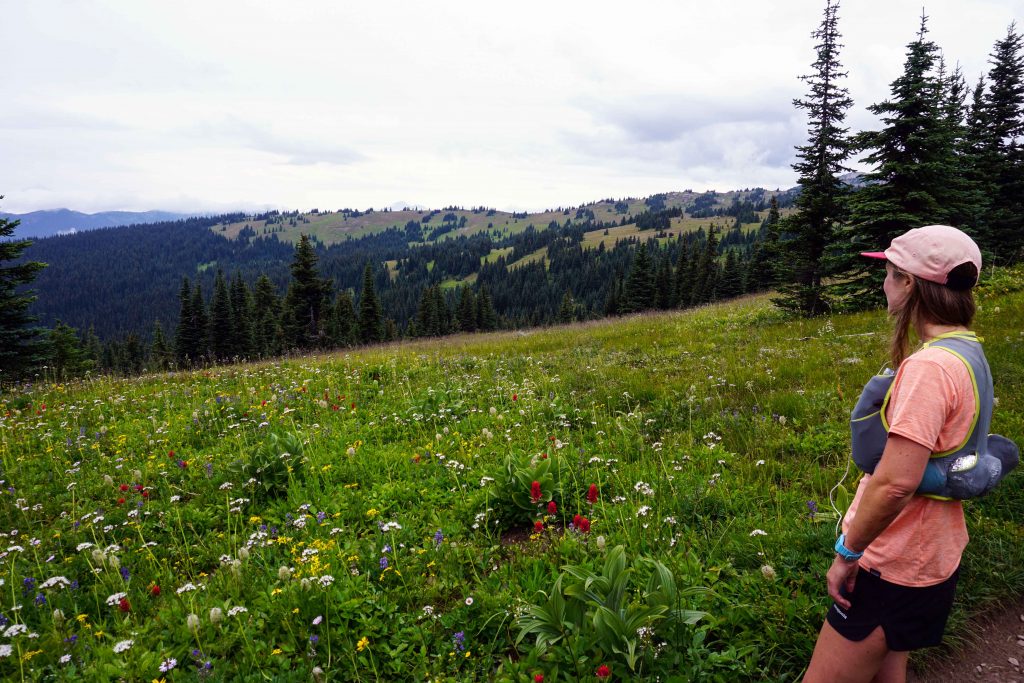 There are two zipped pockets. One tucks into the back pouch and is useful for storing things such as keys. The other is hidden underneath the left-hand water bottle and is intended for your phone. This is perhaps my biggest gripe with this vest. It's very difficult to insert your phone while the water bottle is full, and the space isn't big enough for most modern-day devices. Even so, a phone can easily be stashed in one of the other pockets.
The only other downside is that this vest is so stripped back that some design features have been abandoned altogether, including an integrated whistle. This is a bit of a nuisance if you compete in long-distance races (which typically require that you have a whistle) or you're heading out alone.
As you might expect from Patagonia, the vest is made out of 100% recycled polyester ripstop, giving it extra points for eco-credentials.
The verdict
All in all, the Patagonia Slope Runner Vest delivers everything you could want from a 4-litre vest – enough room for all the essentials, but so streamlined you hardly notice you're wearing it.