If each of the southern Gulf Islands has its own personality, then Saturna would be the brilliant introvert. Often overshadowed by its more popular neighbours of Salt Spring and Galiano, it sits quietly, largely unnoticed by the masses.
Yet take the time to explore this island, which is just 31 square kilometres in size, and you'll find it has its own hidden virtues. Beautiful hiking trails, spectacular views, quiet bays and onshore whale watching are just some of the reasons that make Saturna one of my favourite summer-time destinations. There's even a vineyard for goodness sake.
Those looking for bustling farmer's markets, a choice of restaurants and a calendar chock-full of events will be disappointed. Saturna is a sleepy, rural island. One half sits within the Gulf Islands National Park Reserve. The other half is home to just 350 full-time residents.
These characteristics, however, make it prime bike touring territory. The roads are quiet but there are enough hills to make it a challenge. I've bikepacked to Saturna on two occasions now, and while I'm adamant about visiting new places, I'd go again.
Bikepacking Saturna Island
Perhaps one explanation for Saturna's isolated existence is that it's not easy to reach. Ferries run between Saturna and Swartz Bay (Victoria) and Tsawwassen (Vancouver), but passengers typically have to transfer at Mayne or Pender. It's also possible to get to Saturna from the other southern Gulf Islands, as I recently did after bike touring on Galiano Island.
In terms of accommodation, the island has a range of cottage rentals and B&Bs. For those wanting to sleep under canvas, there are two options available.
Arbutus Point Campground is conveniently located next to the ferry terminal at Lyall Harbour and, I might add, the pub. There are seven reservable sites, potable water and, in non-Covid times, a shower. It's a short, sharp ride up to the General Store, which is surprisingly well-stocked and reasonably priced. But its proximity to the ferry, and its compact nature, mean this isn't the most peaceful of sites.
That's why my preferred choice is Narvaez Bay campground. A backcountry campsite run by Parks Canada, it's billed as "one of the most beautiful and undisturbed bays in the southern Gulf Islands". There are seven reservable sites, along with an overflow area that permits a maximum of three tents. There's no potable water and you're a long way from the island's only grocery store. Given this, it's best to stock up on all the essential items before pedalling the length of Narvaez Bay Road. During the final approach, the road becomes a little looser with more potholes. When you finally reach the end, there's a 1km walk (or ride, if your bike's up to it) to the campsite. There's also a bike rack, should you want it.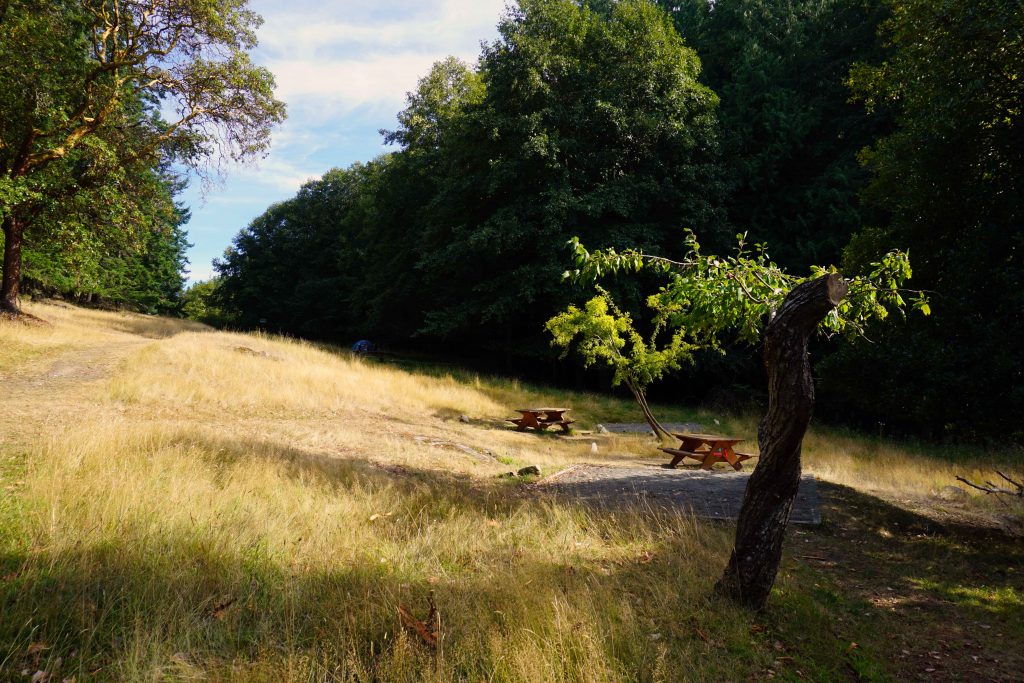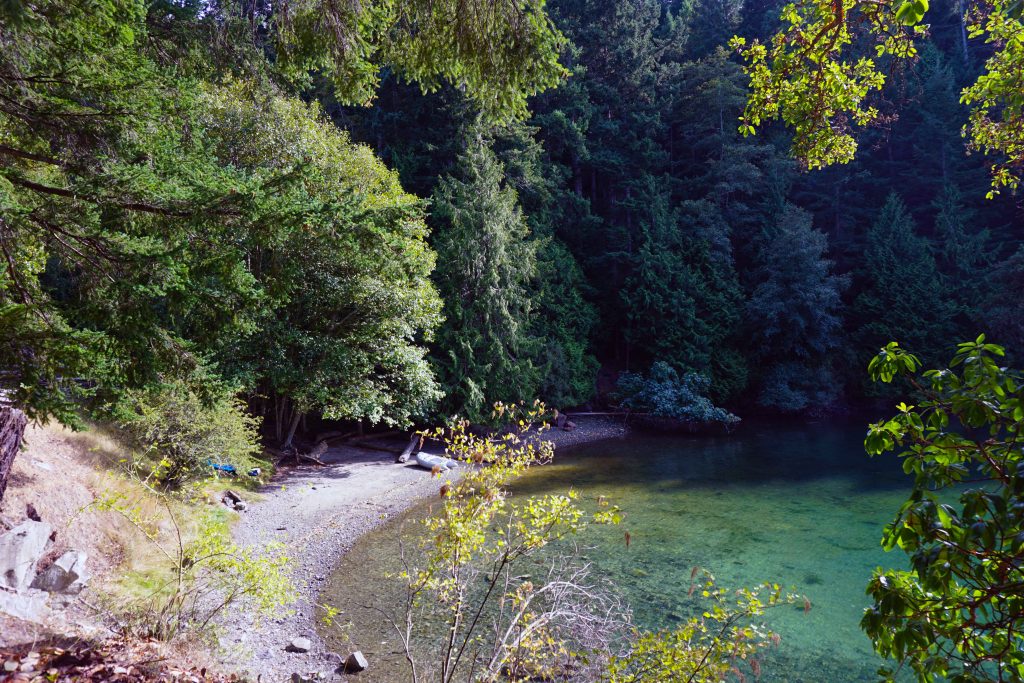 What to do on Saturna Island
Regardless of whether you camp at Narvaez Bay, it's well worth a visit. It's a gorgeous spot and the hiking trails to Monarch Head and Echo Bay are stunning.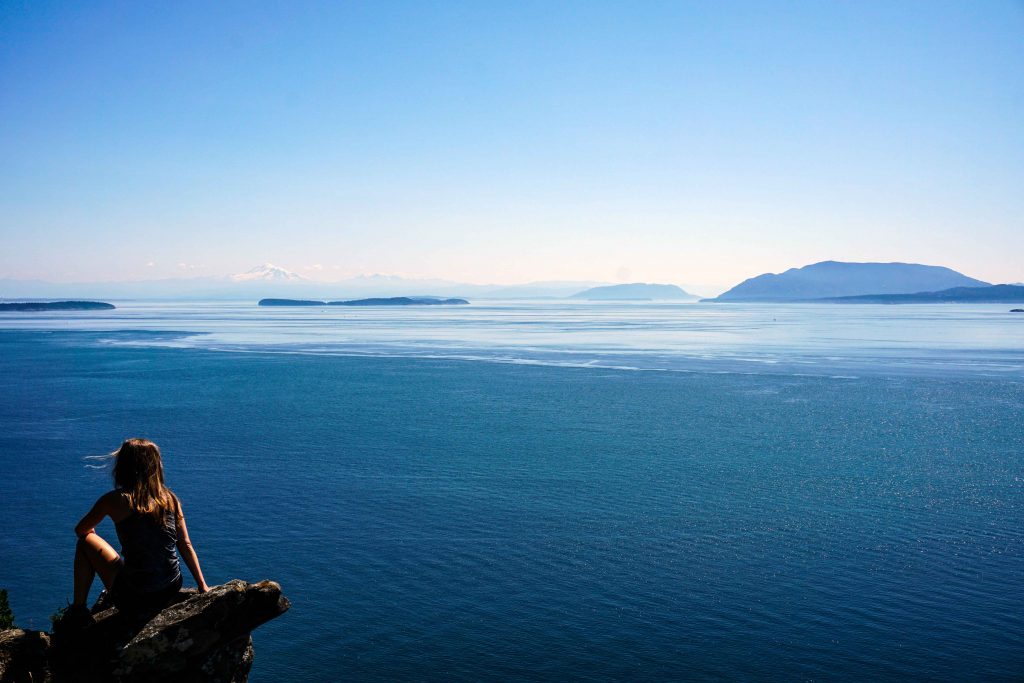 Another must-see destination is East Point. The ride there is an event in itself. Another cyclist I spoke to said it was the highlight of her trip, and she'd been touring all over the southern Gulf Islands. On a clear day, Mount Baker looms large in the distance. Thanks to the geography of the area, sea life here is abundant. The road runs alongside the shore and it's common to see harbour porpoises, seals, sea lions and otters as you pedal along.
Once you reach East Point, you'll find a former fog alarm building perched amongst the grass, which is parched golden during the summer months. Inside you can read the harrowing story of Moby Doll, the first orca to be captured and kept in captivity. Afterwards, take a stroll along the whale trail where you stand a good chance of seeing orcas and humpback whales.
For views, nothing beats those on offer at the top of Mount Warbuton Pike. At around 400m high, reaching the summit is an uphill slog on a bike. The road is steep and fairly rough. Once you reach the end, expansive views open up in front of you, spanning all the way across to the San Juan Islands in the United States. The Brown Ridge trail runs parallel to the edge. It's a relatively flat hike, and one that will have you reaching for the camera time and time again. Eagles and vultures usually soar overhead, and you may also bump into the wild mountain goats that live here.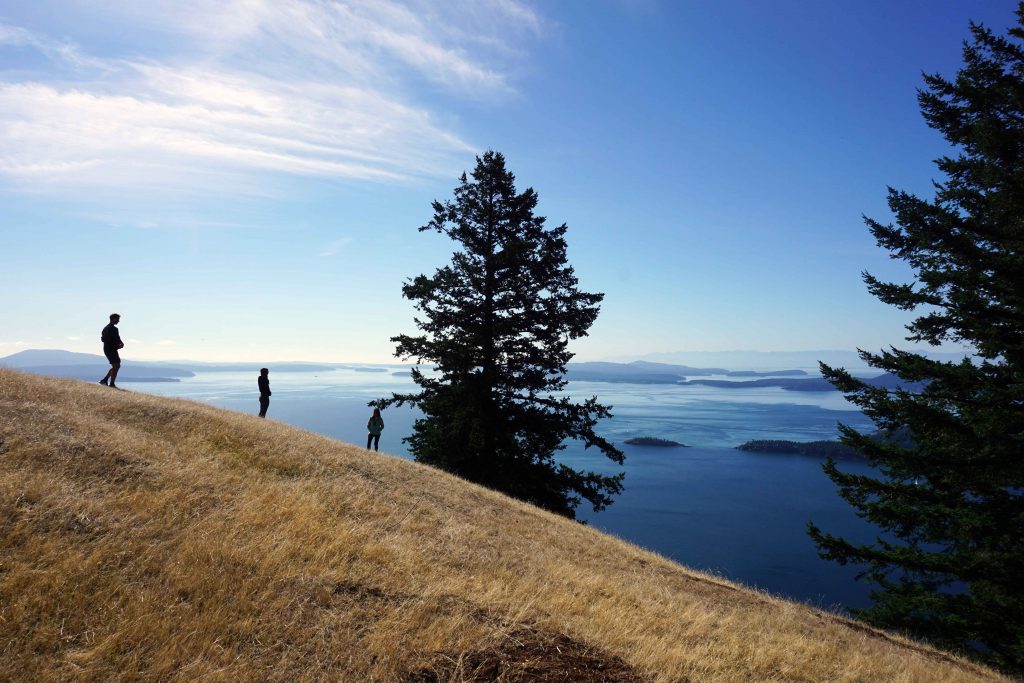 Other points of interest include Winter Cove, which has an easy 1.5km loop trail through the forest and along the shoreline. Saturna Beach in Thomson Park is great for a picnic and a swim. There's also the disconcertingly named Murder Point hike, a cliffside trail which continues along to Taylor Point.
Cabbage Island
Should you be fortunate enough to have access to a seafaring vessel, you could ditch your bike for a night and sail, motor or kayak across to Cabbage Island. There are five rustic campsites, a sawdust outhouse and a food cache – erected not for the bears, but for the rapacious racoons. Be sure to take drinking water and cash so you can pay your fees using the self-registration envelopes.
One side of the island is exposed to the elements, and the black volcanic rock is strewn with logs and windswept trees. In contrast, the other side has a white sandy beach with calm waters, making it ideal for swimming. The wetlands and lagoon make this an important area for wildlife, and eagle and oystercatchers often nest here.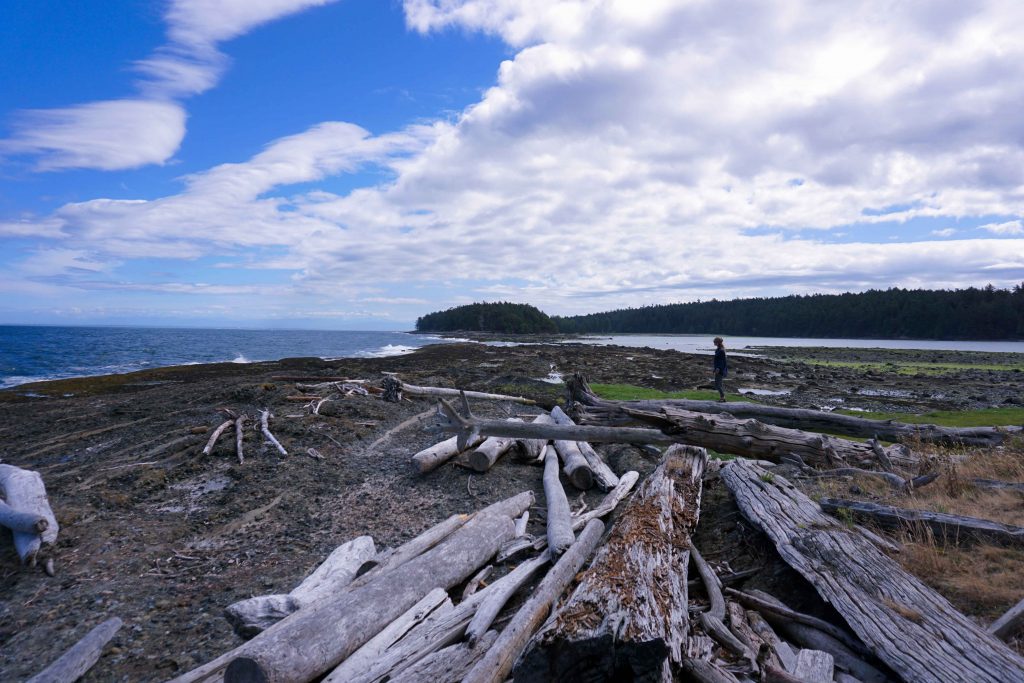 During peak season, you'll probably have to share the view with other boaters who make use of the Parks Canada mooring buoys here. But should you get the place to yourself, you'd be forgiven for thinking you'd landed on a desert island. You can't see any signs of civilisation from the beach, and should the winds pick up – as they did when I went – you might just be marooned here.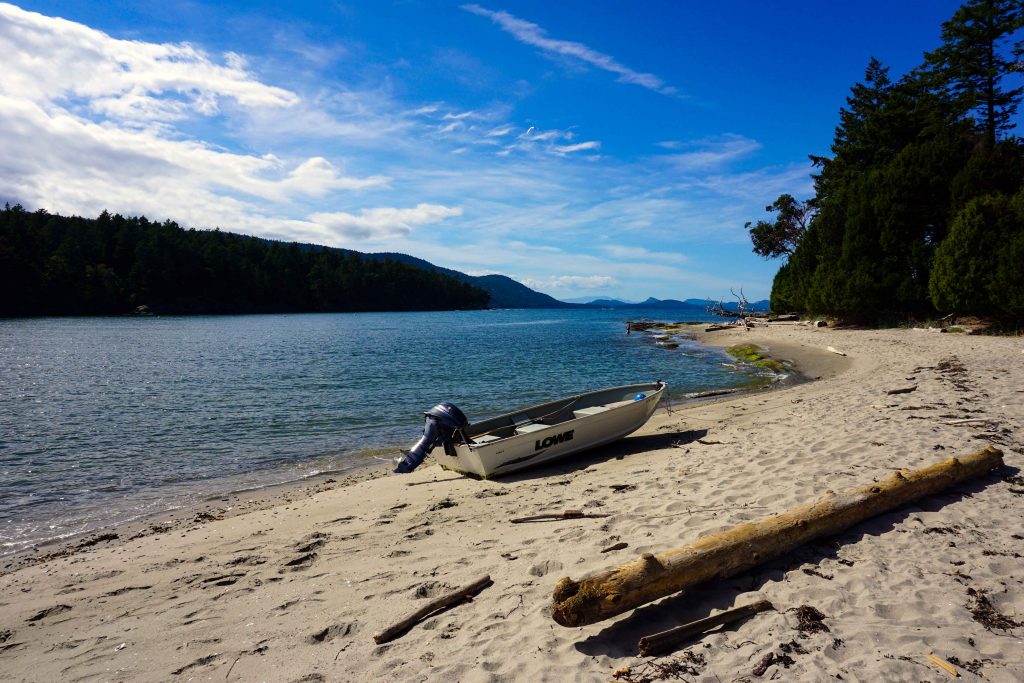 I made it off Cabbage Island in the end. But had I missed my return ferry to Vancouver, I wouldn't have minded too much. I'd be happy to pedal around Saturna with my panniers for a little while longer.
Know before you go
Get to Saturna Island via BC Ferries (Tsawwassen/Swartz Bay to Lyall Harbour).
There's only one grocery store on the island – it's located on Narvaez Bay Road, a 10 minute cycle from the ferry terminal
Narvaez Bay campground has no potable water
Hiking opportunities include Mount Warbuton Pike and Murder Point
The island has some steep hills – you'll want all your gears!