The Kootenay region of south-east British Columbia is best known as the Powder Highway – a winter destination much-loved for its world-class resorts and serious snowfall. Come summer, however, mountain bikers crawl out the woodwork looking for a different type of powder: brown powder.
In fact, this corner of B.C. has some of the finest trails around, with bike parks, flowy singletrack, X-C terrain, steep downhills and even an IMBA 'epic' on offer. Throw in the quaint towns, amazing scenery and ubiquitous breweries and you've got yourself one hell of a mountain biking road trip. The full Kootenay MTB tour would include the likes of:
Rossland
Nelson
Kaslo
Cranbrook
Fernie
Kimberley
Invermere and Panorama
Golden (including Kicking Horse Bike Park)
Revelstoke
During the summer of 2021, this was my intended itinerary. Yet the wildfires meant a delayed start, forcing me to scale back my trip to three of the big hitters: Rossland, Nelson and Fernie. Here's what I found.
Rossland
You can't talk about mountain biking in Rossland without mentioning the Seven Summits trail. Named an official epic by the International Mountain Bicycling Association (IMBA), and awarded 2007 'Trail of the Year' by Bike magazine, it's considered the crown jewel of Rossland's trail network. It's a big day out, spanning 30.4km (36km when combined with the Dewdney trail). It's also physically demanding, with 1,035m of vertical gain and a high point of 2,194m.
If you're eyeing up the Seven Summits trail, then I have a separate blog post detailing everything you need to know: Mountain Biking the Seven Summits Trail in Rossland. Alternatively, you could just shuttle the Dewdney trail, which is a fast 5.8km descent through the forest.
But Rossland's not a one trick pony; there are plenty of other trails to choose from too. The Larch Ridge loop is a fun little introduction. You'll also pass the parking lot on the highway if you're coming from Vancouver or Kelowna, so you may as well stop for a pedal. You start with a bit of cross-country on the Larch Ridge trail, followed by a descent on the Monticola trail, finishing with an uphill back to your car along COG.
The Monte Christo – KC area is another riding area, conveniently located at the top of town. The trails feature a lot of flowy singletrack, but they don't seem to link up very well (perhaps I was just doing it wrong). We did a few laps incorporating North Star, Milky Way (upper and lower), Techno Grind, Stardust and Cemetery. We also took the Green Door trail down to neighbouring Warfield, but the pedal back to Rossland was a bit of a slog, and not a particularly inspiring one at that. Milky Way was a highlight for me, and is described by Trailforks as 'one of the funnest trails around."
Other popular trails include SMD and Whiskey (in Malde Creek), plus the all trails over on Red Mountain.
Personal favourite trail in Rossland: Seven Summits combined with the Dewdney trail.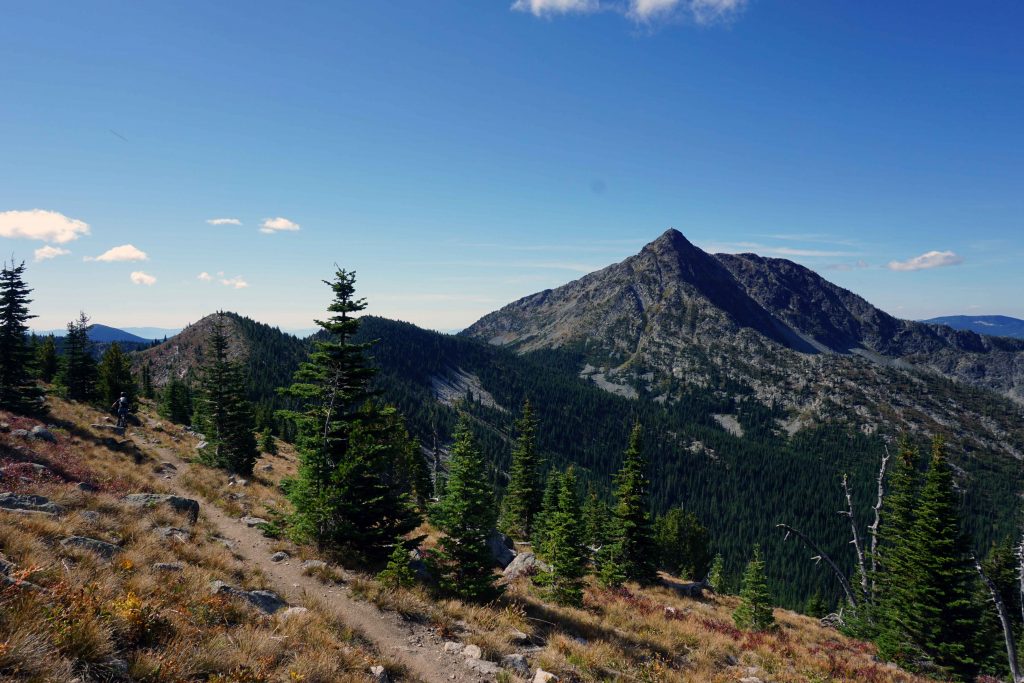 Where to stay in Rossland
The Rossland Lions Community Campground is a good base. You can ride to town and up to the Monte Christo area from here. It's also right next to the skills park. I can recommend pitch number 10 as having a good amount of shade! The campground also has free showers.
For a cheaper option still, you could sleep in your vehicle at Nancy Greene Provincial Park, although you'll have to drive to the trails from here. The camping is described as 'parking lot style sites', so it's not the most attractive location. There are also some sneaky free camping spots along the 3B highway, in between Nancy Greene Provincial Park and Rossland.
If you're looking for an actual roof over your head, you'll find loads of accommodation at Red Mountain Resort.
Other info
It's pretty much obligatory to finish the day at Rossland Beer company, which is also next to the Revolution Cycles bike shop.
Nelson
Just an hour from Rossland is Nelson, another major mountain biking destination. There's some seriously sendy stuff here if you want it, such as Bedframe (on Morning Mountain) and Newtsac (on Nelson's North Shore). Turnstyles and Lefty are machine groomed trails (both on Morning Mountain) which offer bike park style laps. Yes please.
For a big day on Morning Mountain, climb up the ascent trails (Bottom's Up, Upper Bottoms, Fairly High and Very High) onto the West Giveout FSR. You can also shuttle to this point. Ride further up the FSR to join onto Power Slave, which can be quite loose and steep in parts. This flows into Bear's Den, and a quick freewheel back down the FSR brings you to Mister Slave. This connects you to the lower trails, where you can choose between Turnstyles, Placenta Descenta and Illuminati. Placenta Descenta is quite chundery, whereas Illuminati is more varied. I would give Oil Can a miss.
Over on the Nelson's North Shore, the vibe is more slab-tastic. You can pedal or shuttle up the Kokanee Glacier Road/Bradley Creek FSR. Goosebumps is pretty much the only intermediate option over here. Expect rocks faces and slabs.
That's all we had time for, but there are other mountain biking areas in Nelson. Be aware that Mountain Station can be subject to trail closures due to active logging.
Personal favourite trail in Nelson: Turnstyles.
Where to stay in Nelson
Those camping have two options: Nelson City Campground and Kokanee Creek Provincial Park.
The benefit of Nelson City Campground is that it's a short walk to town, which is great if you want to get stuck into Nelson's food and drink scene. However, some of the pitches are crazy small, which is why you'll be asked to provide your vehicle size when you make a reservation. If you end up with one of those dinky little sites, you'll likely feel quite hemmed in.
Kokanee Creek, on the other hand, has normal sized pitches with fire rings. You can also saunter down to the lakeshore beach, and you're a hop and a step from Nelson's North Shore. But it's a 20 minute drive into town, and even further to Morning Mountain.
For accommodation with four walls, check out the Adventure Hotel, plus all the offerings on AirBnB and VRBO.
Other info
Nelson is a lively town full of heritage buildings, independent stores, art galleries and restaurants. Most of the action takes place on historic Baker Street.
When riding, remember that you're in grizzly bear country. There are plenty of signs on the trails reminding you to "make noise".
Fernie
Fernie has a bike park and a whopping 378 trails to choose from. So, you're going to have a good time in Fernie. We got to the bike park on the last day of the season, which was Labour Day in Canada. It feels a lot smaller and more jaded than bike parks such as Whistler and Sun Peaks. The Elk Chair can only take two bikes at a time and is incredibly slow. Unfortunately, the Timber Chair was also out of action, so we didn't get to explore the whole resort. But nevertheless, it's a great day out with trails for all abilities. Duff Dynasty is a fun green, while at the other end of the spectrum you've got super spicy Kodiak Karnage.
We spent the rest of the time riding Mount Fernie and Mount Fernie Provincial Park. This is partly because we could ride straight there from our campsite, and partly because we spoke to some locals who listed off all their favourite trails in Fernie – and they all happened to be in that area. They recommended: Project 9, Verboten, Eric's Trip, Red Sonja, Slunt (S-Bomb) and Brokeback Ridge. We rode them all and can confirm that they're all amazing. For the most part they were fast and flowy singletrack. Oddly, they didn't really feel like black diamonds by B.C.'s standards. The exception is Verboten which is rocky and rooty.
A few things to note: some of the climb trails are seriously steep and require thighs of steel. Also, if you ride Eric's Trip and Mic Mac you'll have to ride along the Highway trail if you're parked/staying in the provincial park.
There are tons of trails on the other side of the highway, with popular riding areas including Castle Mountain and Morrissey Ridge. The same locals told us that there has been a lot of logging up there, which they described as "depressing". That's another reason we gave it a miss this time round.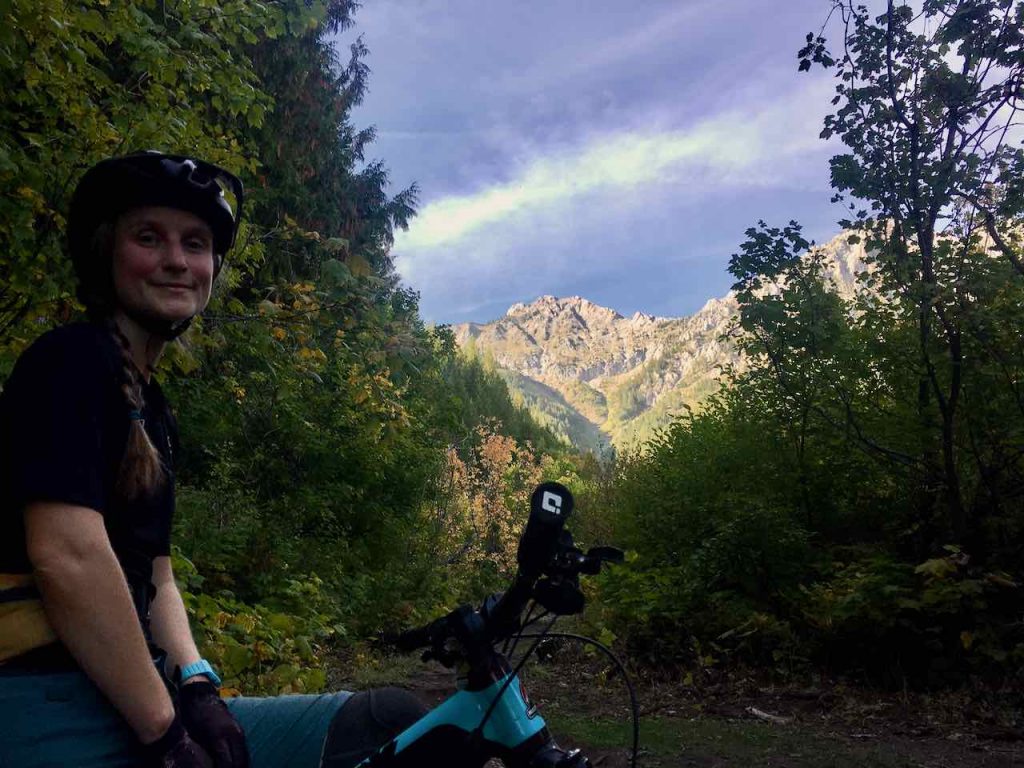 Where to stay in Fernie
Mount Fernie Provincial Park has a primo campsite with really nice pitches, fire rings and showers. You can also pay by card (if you haven't reserved in advance) which I've not experienced before with BC Parks. You can ride straight from the trails from here, which is always handy.
Free camping can be found up at Michel Creek by the river. We stopped in for a look and there were a few fishing/hunting parties there. However, it's quite far out of town. Fernie has a couple of hostels: the Raging Elk Hostel and HI Fernie Backpacker Hostel. As you'd expect from a ski town, there's also a range of hotels and AirBnBs.
Other info
There is some serious wildlife in Fernie. You cannot leave anything out in your campsite that might even vaguely smell of food. You also have to be vigilant on the trails – it's not uncommon to see a mamma Moose with a calf. Riders have been charged in the past. And yes, it's grizzly bear country.
Personal favourite trail in Fernie: Project 9.
We explored Rossland, Nelson and Fernie over 11 days, which included driving from/back to North Vancouver. Of course, we only scratched the surface of the riding on offer. I can't give you the insight that a local could – it's just an overview of what we found and what we enjoyed/didn't enjoy. Hopefully you find some of the information useful if you're planning a mountain biking trip to the Kootenays.
I'm hoping to do more riding in the Kootenays, so if you have any more tips, please feel free to share them in the comments!