If you've ever driven along the Sea to Sky highway between Vancouver and Squamish, you might have looked across the Howe Sound and wondered what it's like out there. The sea-faring vessels below look like tiny specks in the milky blue waters, and the only sign of civilisation is the plumes of smoke billowing from the Port Mellon mill.
Yet there are more facilities than you might realise. The Howe Sound is actually full of campsites complete with tent pads, toilets and bear bins. There's nine of them altogether, and they're all part of the Sea to Sky Marine Trail.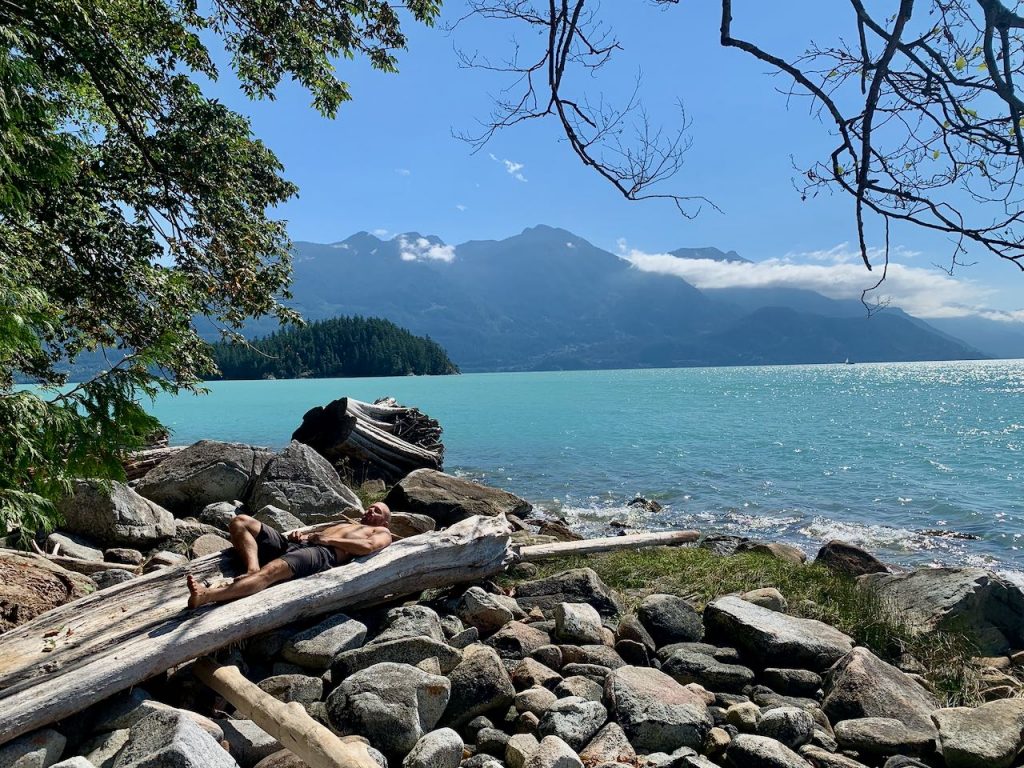 What is the Sea to Sky Marine Trail?
The Sea to Sky Marine Trail is a kayak/canoe route between Horseshoe Bay in West Vancouver and Squamish, B.C. It doesn't have to be a linear route if you don't want it to be. There are campsites dotted around the circumference of the Howe Sound, meaning you can zig zag your way along this watery wilderness as you please.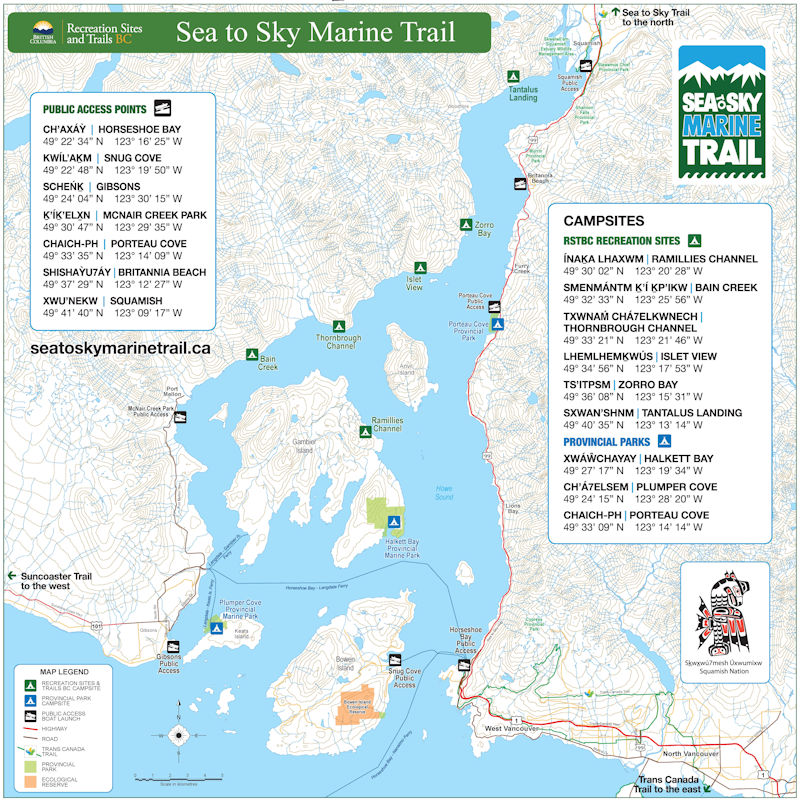 Campsites along the Sea to Sky Marine Trail
There are six recreation sites and three provincial park campsites to choose from. These are located on both the eastern and western shores of the Howe Sound, as well as Keats Island and Gambier Island.
The recreation sites are free to use. They were new as of 2015, thanks to the hard work of volunteers from the Sea Kayak Association of BC and BC Marine Trails.
From Squamish, the recreation sites are as follows:
Tantalus Landing Recreation Site – on the western shore of the Howe Sound, 7km from Squamish
Zorro Bay Recreation Site – on the western shore of the Howe Sound, 16km from Squamish
Islet View Recreation Site – on the western shore of the Howe Sound, 21km from Squamish
Thornbrough Recreation Site – on the western shore of the Howe Sound, 28km from Squamish
Bain Creek Recreation Site – on the western shore of the Howe Sound, 34.5km from Squamish
Ramillies Channel Recreation Site – on Gambier Island, 5.5km from Thornbrough access
The provincial parks either charge service fees or require a backcountry camping permit, which are available via the BC Parks website.
From Squamish, the provincial parks are as follows:
Porteau Cove Provincial Park – on the eastern shore of the Howe Sound, reservations highly recommended
Halkett Bay Marine Provincial Park – on Gambier Island, pre-paid backcountry permit required
Plumper Cove Marine Provincial Park – on Keats Island, first-come first-serve camping with fees collected in cash on site
There are also some informal campsites, like the one on Anvil Island. These are on public land, but the facilities are not developed.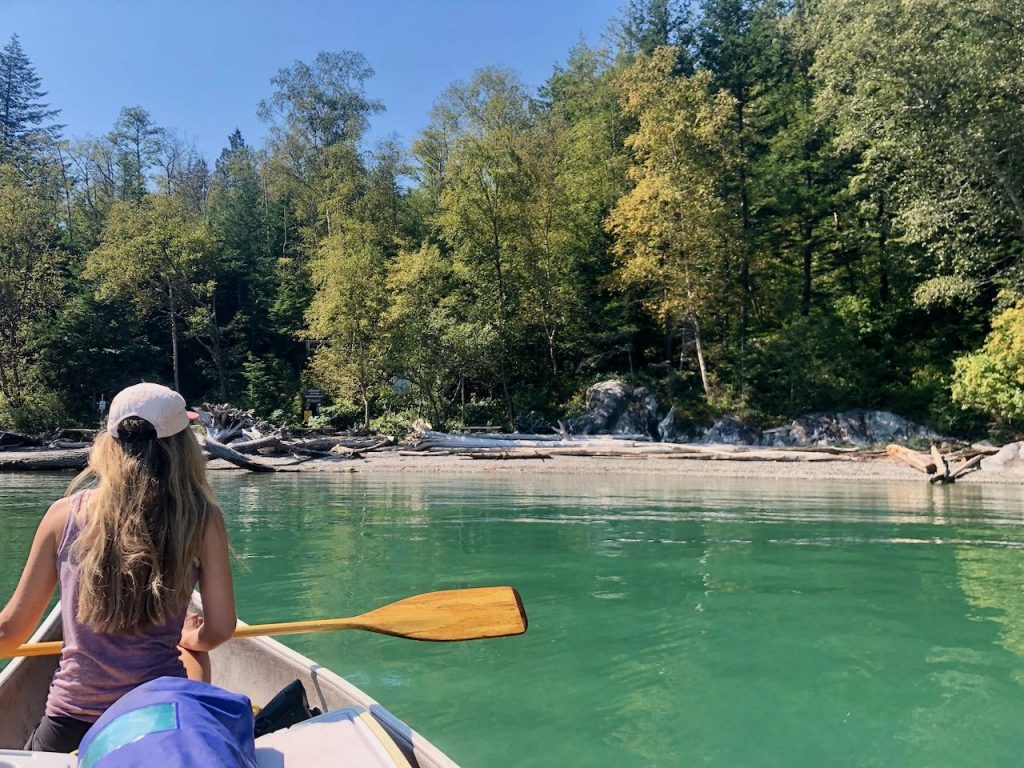 What are the facilities like?
All the campsites have tent sites, bear caches and toilets. The best way to check what the facilities are like is to use the BC Marine Trails map. Zoom in on the Howe Sound and you'll see each campsite is denoted with a green symbol. Read through the landing comments, camp comments and other comments.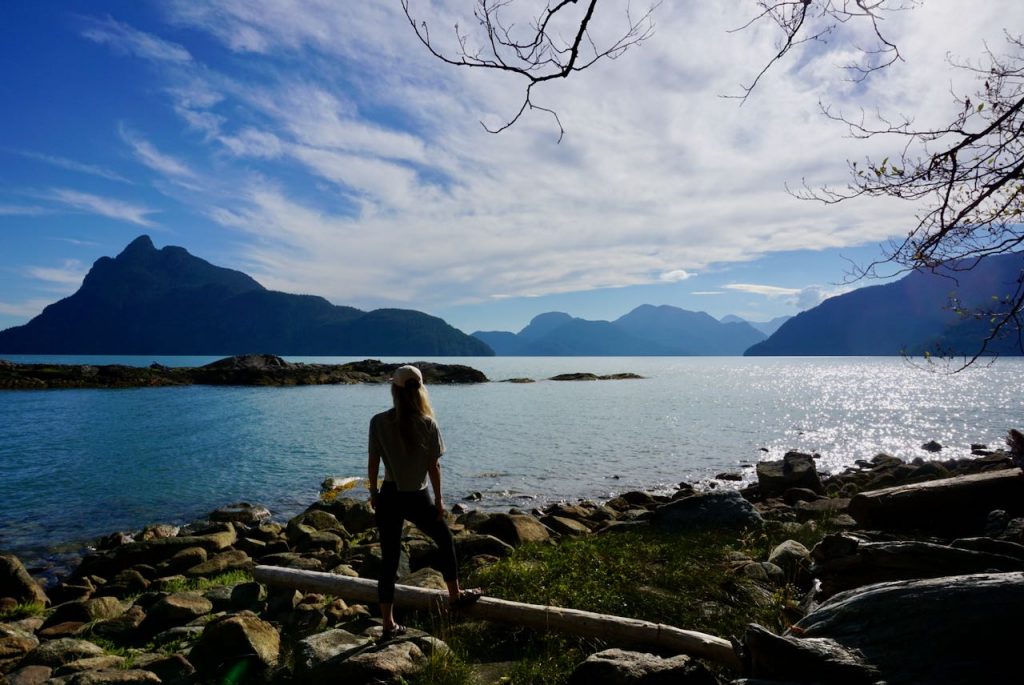 Where can I launch from?
The BC Marine Trails map also shows the possible launch sites. Popular options are:
Horseshoe Bay
Brunswick Beach
Porteau Cove
Britannia Beach
Squamish oceanfront
Langdale
Gibsons
There are plenty of other launch sites available, including Lions Bay, McNair Creek and various options around West Vancouver. Be sure to check the parking restrictions before you go, especially if you're leaving a vehicle overnight.
Are there any water sources?
The comments attached to each campsite on the BC Marine Trails map state whether or not there's water available. My research found that:
Tantalus Landing Recreation Site – has a year-round water source
Zorro Bay Recreation Site – has a seasonal stream located 200m north, boat access only
Islet View Recreation Site – has a seasonal creek located 250m south, boat access only
Thornbrough Recreation Site – has a seasonal creek
Bain Creek Recreation Site – has a year-round water source
Ramillies Channel Recreation Site – has a year-round water source one nautical mile north of Gambier Creek
Porteau Cove – has water taps available
Halkett Bay – may have water at a seasonal creek
Plumper Cove – has water at a hand pump seasonally
Three nights on the Sea to Sky Marine Trail
The beauty of the Sea to Sky Marine Trail is that you can choose your own itinerary. Even if you have just one night, you could easily make it to a campsite, depending on where you launch from.
Day 1 – Britannia Beach to Zorro Bay
As it was, we had three nights to spare. The plan changed significantly when we decided to borrow a canoe, rather than rent a sea kayak. (Rentals are available from places like Valhalla Pure Outfitters and Squamish Watersports). Being in a much slower-moving vessel, we chose to launch from Britannia Beach and head to Zorro Bay.
We timed our departure for slack tide, feeling concerned about having to leave the safety of the shore and cross the channel. The Howe Sound is notorious for winds which whip down through the valley. This is something to be very, very wary of when planning a trip in this area. Always check the tide times and the weather forecast, paying close attention to the wind.
There was a lot of confusion in Britannia as we figured out where to put in. In fact, there's a community dock directly across from the mine museum. You have to cross the railway tracks on the southbound-side of the highway. There's a sign that says private property, but actually if you swing a hard right after the railway tracks and drive past the art gallery, you'll reach a slipway. We weren't sure if we were allowed to park in the adjacent parking lot, but we left our car there for three nights and it wasn't towed.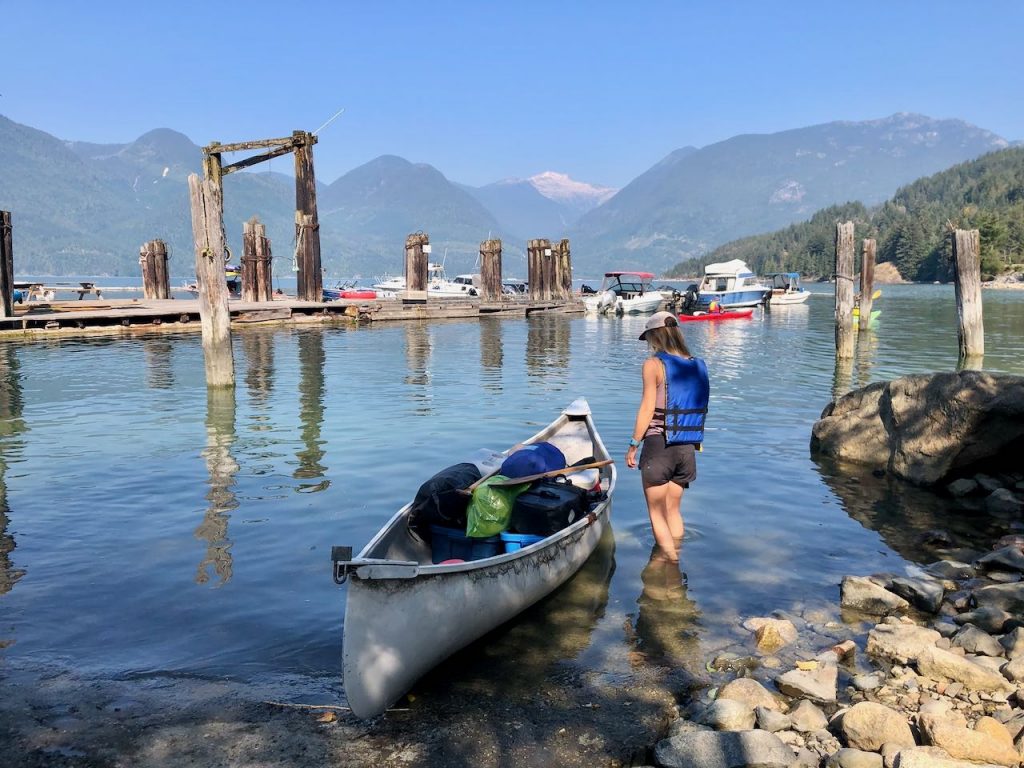 We initially stopped in a gravel lot next to the mine museum on the northbound-side of the highway. A woman working on a nearby construction site saw that we were about to portage all our stuff across the road and came to inform us that it wasn't necessary. She also expressed some alarm that we were crossing the Howe Sound in a canoe. "That's a long way in a canoe lady", she bellowed. She also said that in all her 12 years of living in Britannia Beach, she'd never heard of anyone paddling to Zorro Bay in a canoe. I can't believe that's true, but in any event, we were committed. We were also confident that we had all the necessary safety gear and trip planning under our belts: life jackets, flares, satellite communication device, bilge, slack tide, calm winds, and favourable weather conditions.
Even so, it was with some anxiety that we launched from Britannia and struck out into the ocean blue. It took just over an hour of paddling to reach Zorro Bay. It was plain sailing, and a few harbour porpoises even joined us at one point.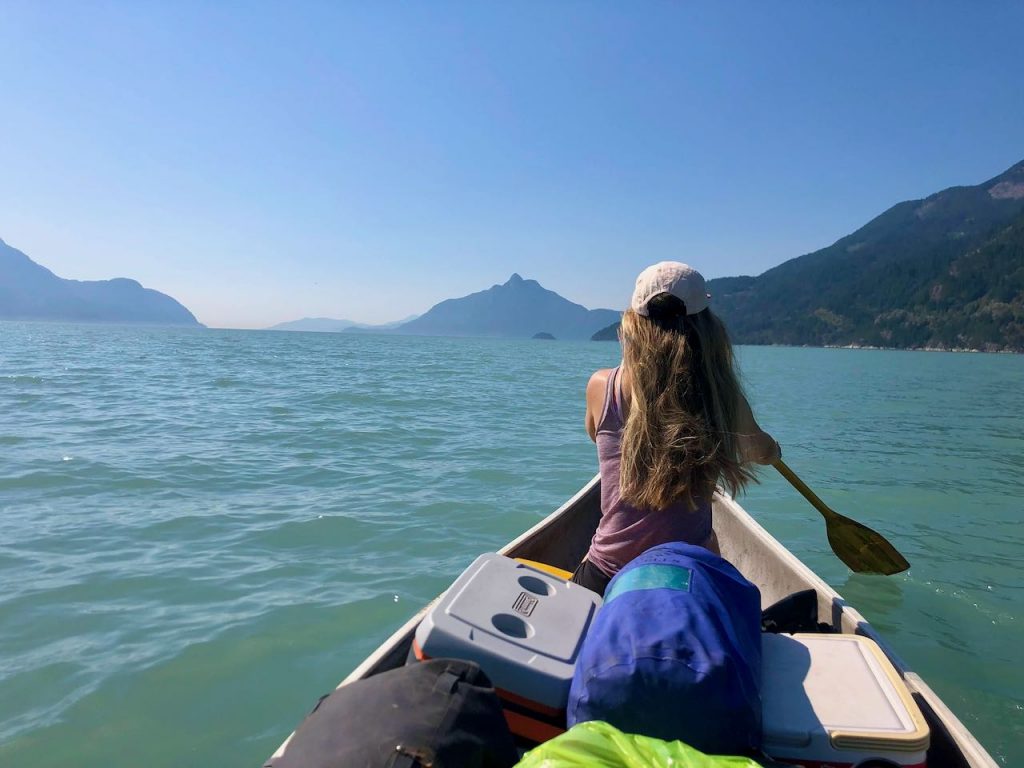 Zorro Bay is obvious from the water as there are a few white and orange government buoys floating in the bay, plus a slightly ramshackle-looking wharf and derelict cabin overlooking the beach.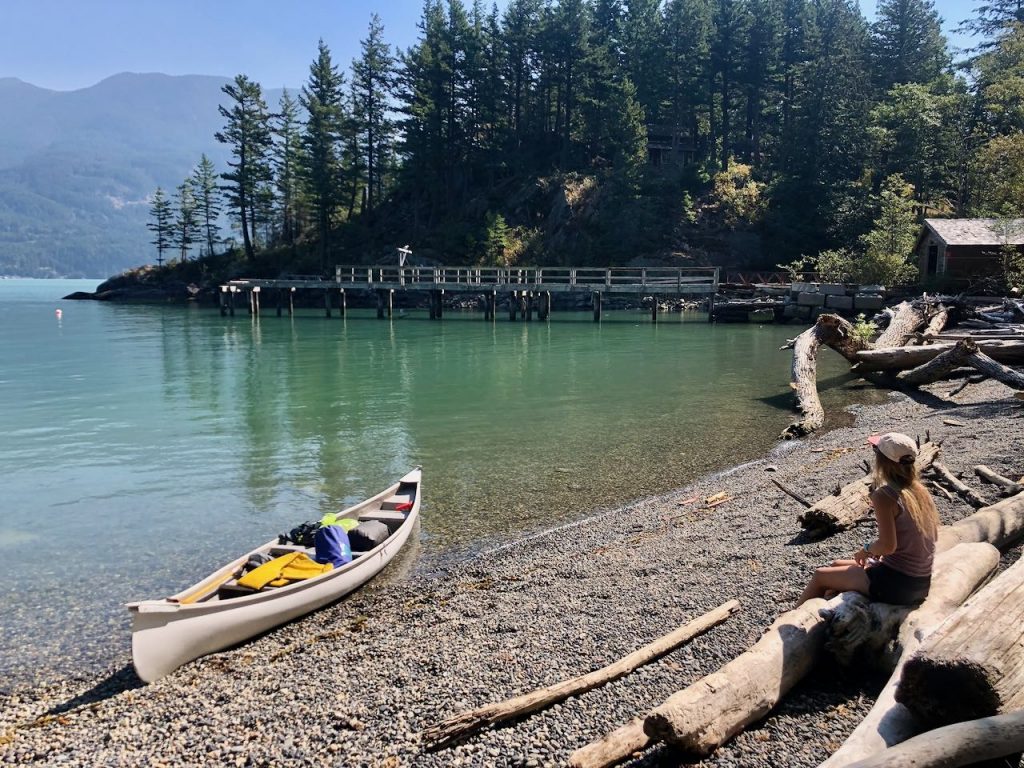 Landing is very easy north of the wharf. There are nine tent sites scattered around a steep slope above the beach. The bay is great for swimming, and although the beach loses sun in the afternoon, we clambered out onto the rocks to soak up the last of the rays. You get a great view of Mount Atwell from this vantage point too.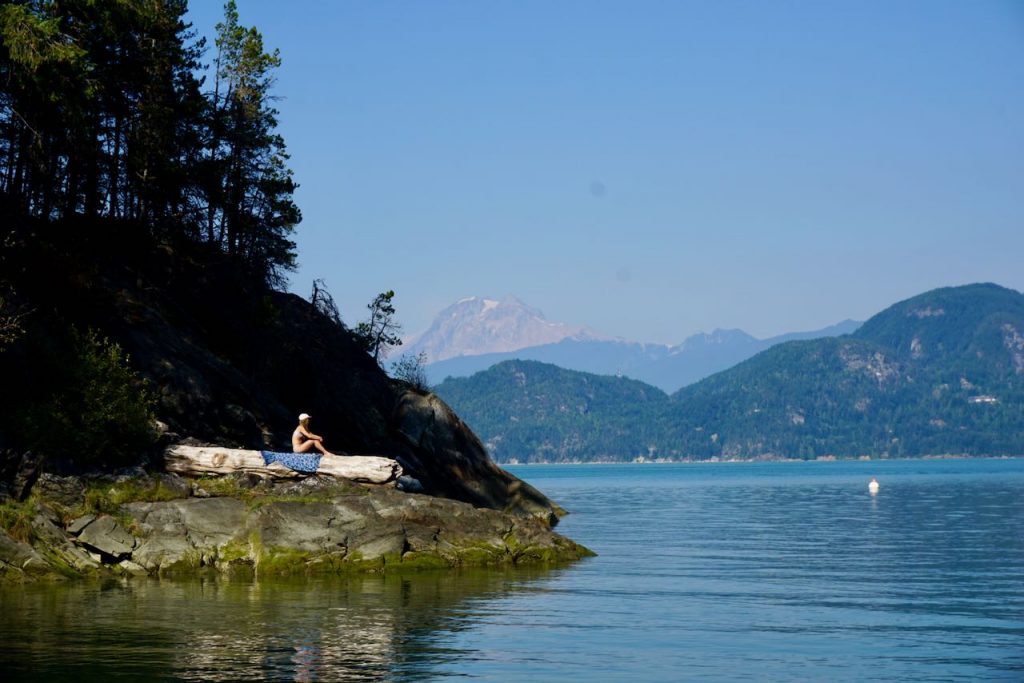 Our friends arrived later in the day, having kayaked from Squamish. The other campers were all boat users who had either motored or sailed to the anchorage. One guy warned us that he'd stood on a rusty nail by the wharf two weeks' earlier, requiring an emergency trip to hospital for a tetanus shot. So, we kept our shoes on and watched our step.
Having arrived around lunchtime, we spent the rest of the day soaking up the glorious weather. The campsite itself is encased by private land, so you can't roam very far. The other side of the headland has a tempting looking beach, but it's off limits – as is the cabin.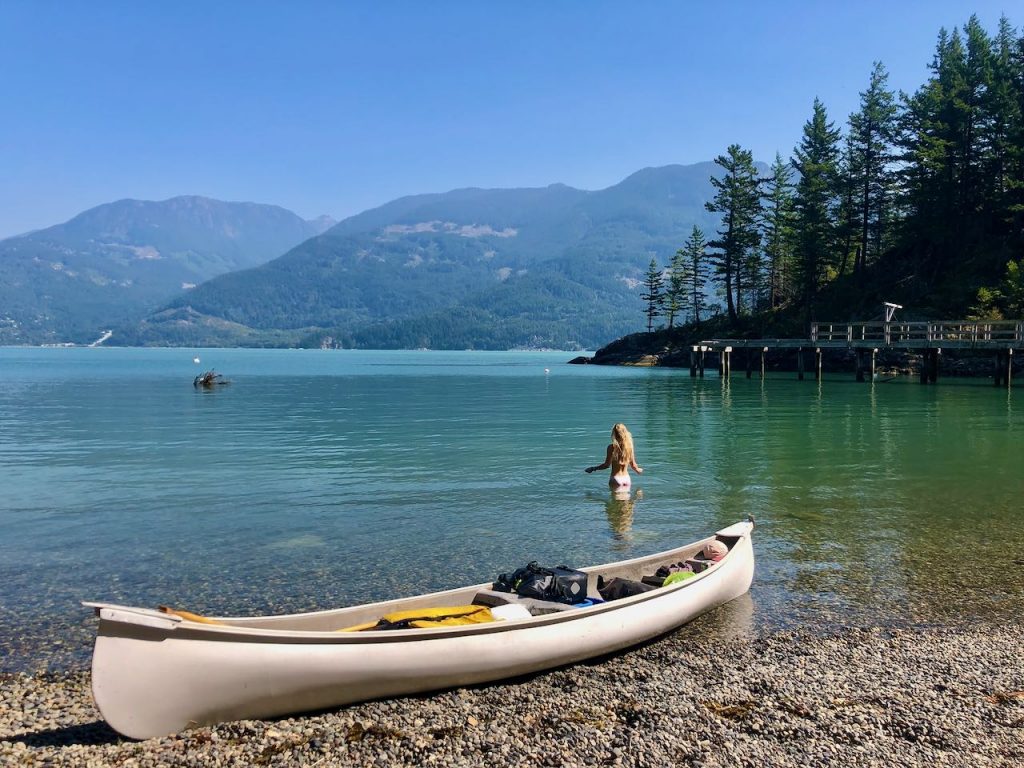 We did go in search of the water source, which I'd read is 200m north of Zorro Bay and can only be accessed by boat. We found what we think might have been a stream, as evidenced by the damp, mossy rocks. However, it was completely dry after a long, hot summer.
Day 2 – Zorro Bay to Islet View
The lack of water at Zorro Bay meant it was a priority to find somewhere to refill. Now a party of four – one canoe and one double kayak – we struck off in the direction of Islet View. The winds had ramped up a notch and it was pretty hairy paddling once we left the safety of the bay. There was a moment when I didn't think we'd make it, as the canoe was bouncing around in the waves and we weren't making any headway. We kept our heads down, gritted our teeth and kept paddling.
Things became easier once we rounded a point and began heading in a westerly direction. Shortly after we reached Islet View. A landing has been carved into the stone beach, but it's hard to see in high tide – especially when the waves are crashing against the shore, as they were. It can take a bit of navigating, and later we helped a couple of kayakers who were struggling to land without smashing their hull against the rocks.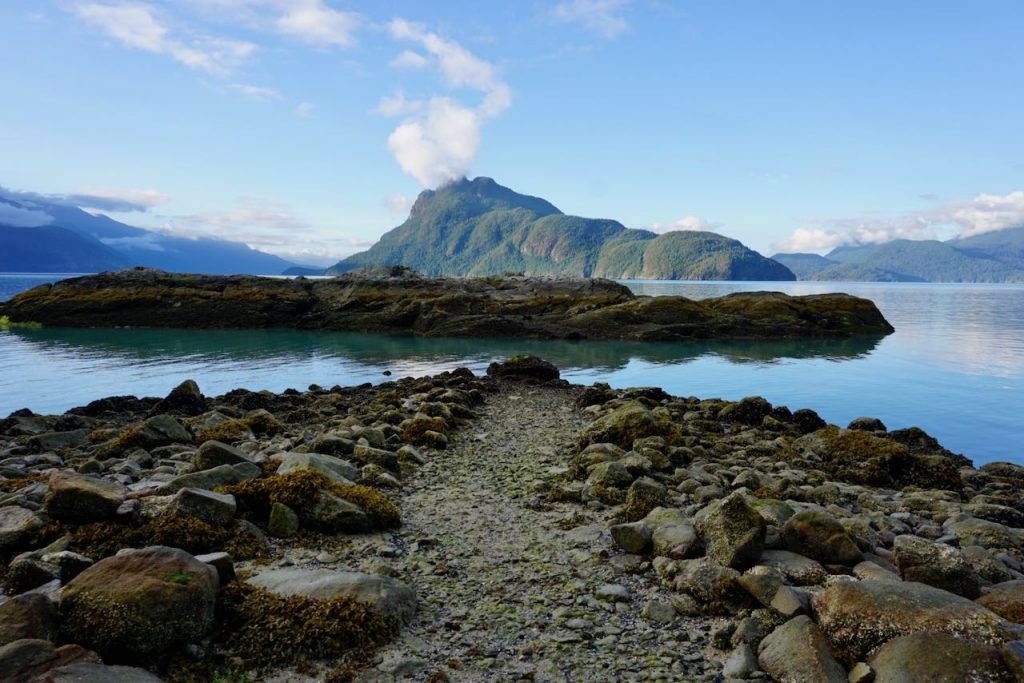 We ate some food while our friends in the kayak went in search of water. We were concerned that we might have to continue on to Bain Creek or Ramillies Channel, both of which are said to have year-round water sources. However, that wasn't an appealing prospect thanks to the wind. Happily, they discovered a 'waterfall' trickling down off some rocks about 250m south of Islet View. It's boat access only, and then you have to clamber almost vertically up some wet, slippery rocks. It would likely be difficult to land at high tide, and choppy seas also make it a bit of a challenge.
Satisfied that we had a water source nearby, we decided to set up camp at Islet View and enjoy what was turning out to be another scorcher. The tide mark was surprising high up the beach, so we hauled the vessels right up to the treeline and tied them to an overhanging branch.
The tent sites are amongst the trees, some of which are wooden platforms and some of which are clearings on the ground. There's a particularly stunning pitch at the end of the campsite with views across the Howe Sound. The pit toilet is a composting toilet, similar to those used on the Appalachian Trail. It's located up a steep slope, but it's probably one of the best smelling outhouses you'll ever use! The bear cache is quite small. We couldn't fit all our treats in it, so had to scale a tree to hang bear bag.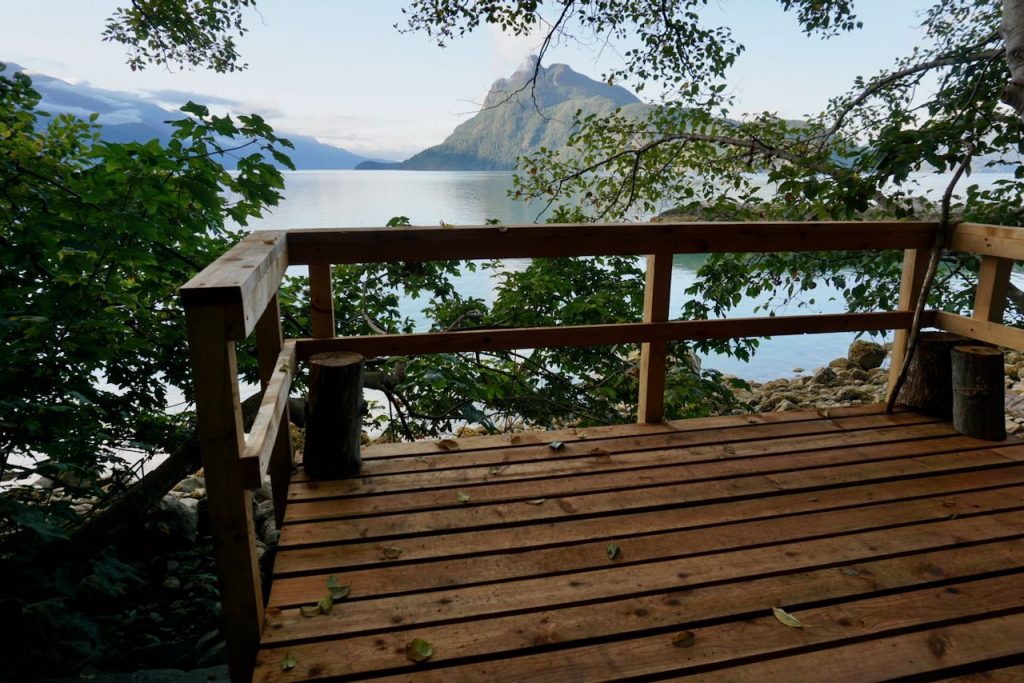 There's a little stony seating area in between the trees and the ocean where people have made makeshift benches and camp kitchens. It's a great place to string up a hammock and watch the seals on the rocky outcrop opposite. While the swimming isn't as good as at Zorro Bay, the views are definitely superior. From this aspect, you can't see the mine, the mill or hear the highway. Instead, there's just the bright blue sea peppered with islands, including Anvil, Gambier and Kwum Kwum.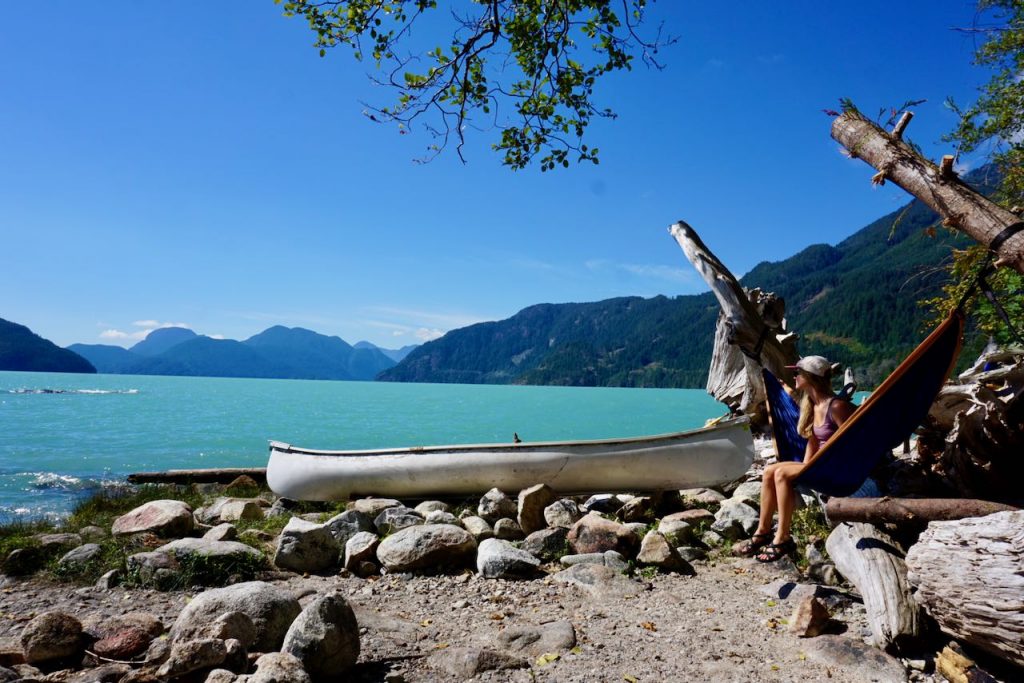 By the evening we realised that the mosquitoes at Islet View are numerous – and savage, as they always are in Canada. Campfires were banned, and they were so persistent that we all retreated to our beds early in order to escape.
Day 3 – Islet View
Rain was forecast and it landed right on time at 6.30am. We had the foresight to set up a tarp over the picnic table, so we had somewhere dry to sit. None of us fancied paddling in the inclement weather, so we had a lazy day of reading, snoozing and drink copious amounts of tea.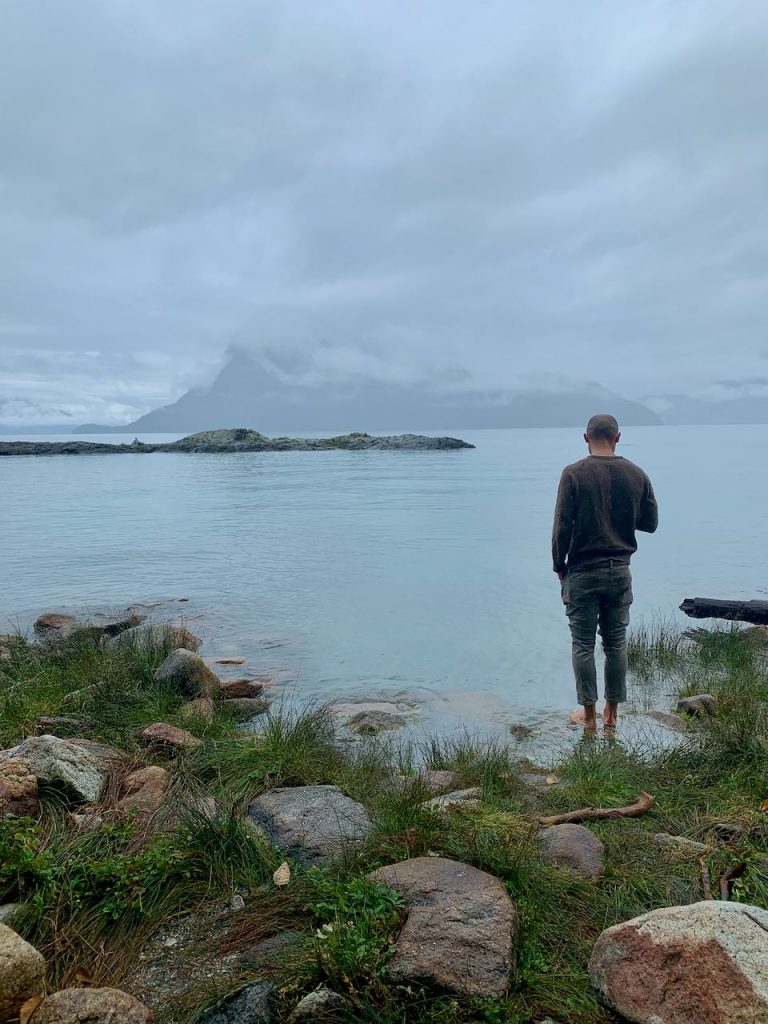 The rain cleared later in the afternoon, so we paddled up to the water source to refill our receptacles. A few kayakers dropped by but continued onwards, so it was just the four of us for the night. And the mosquitoes, of course, which hadn't been deterred by the rain. We were all covered in bites and being driven slightly insane.
There was a loud bang during the day, and another in the dead of night, both of which sounded like a tree falling.
Day 4 – Islet View to Britannia Beach
We rose early to make use of the calm winds and slack tide. Unfortunately, it was a low tide, so we had to carry everything down the stinky, mussel-covered landing. We launched by 8.15am and were treated to glassy seas for the length of the return journey. It makes such a difference paddling under calm conditions.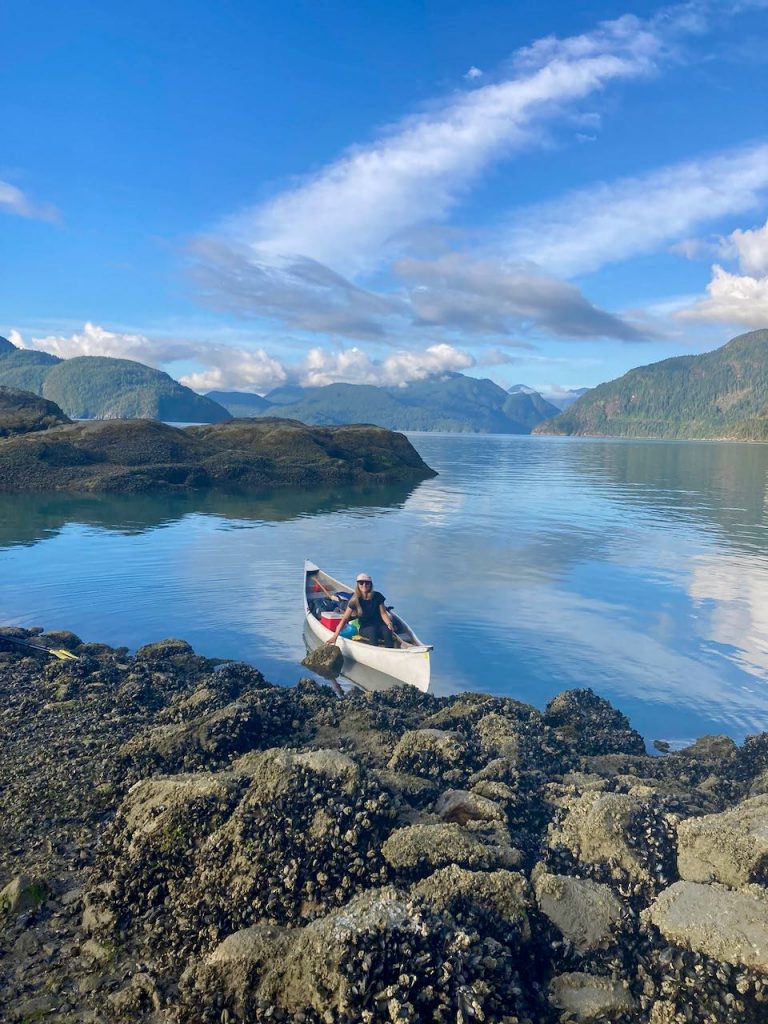 We made our way back to Zorro Bay, after which we pointed the vessel in an easterly direction, using the mine museum as a navigation landmark. It took around two hours to reach the community dock, where we were glad to see that our car hadn't been towed.
Other things to note
I'm keen to return to explore more of the Sea to Sky Marine Trail, this time in a sea kayak, which lends itself to faster travel. Ramillies Channel Recreation Site looks especially appealing. I'll give Bain Creek a miss as you can apparently hear Port Mellon mill.
We didn't see anyone else in a canoe, and other people seemed quite surprised by our mode of transport. It's fine in the smoothest of seas, but otherwise a sea kayak is more suitable.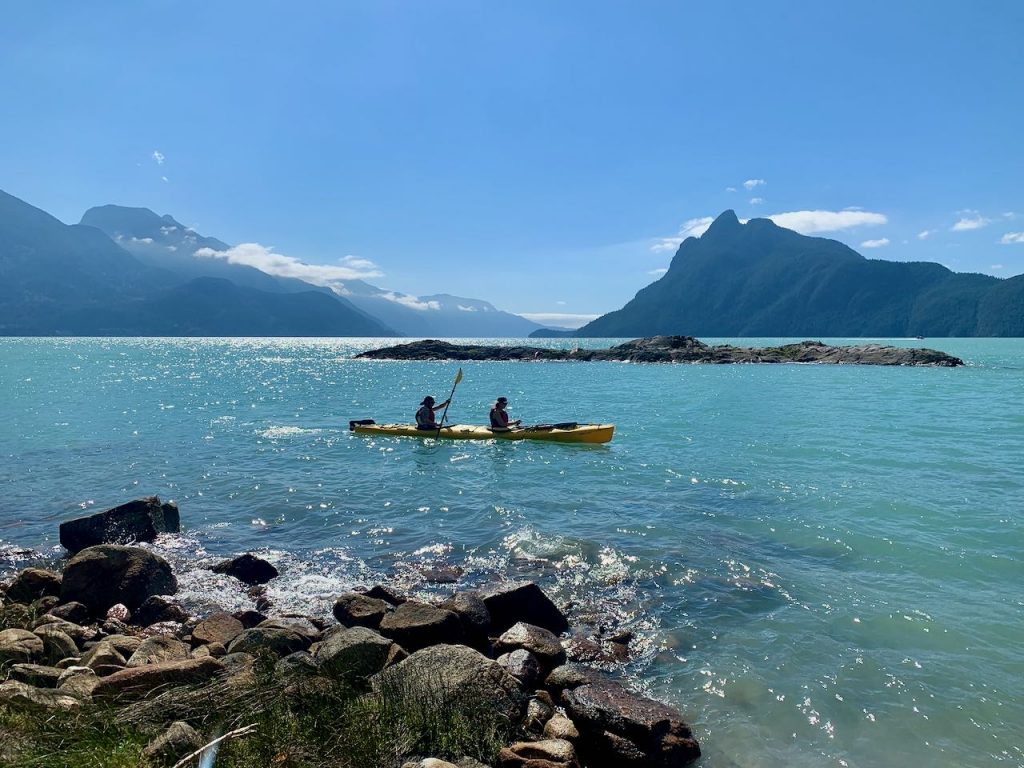 Whatever route you choose, be sure to plan your trip around the tide times and the weather conditions, particularly the wind. You can find the tide times for Gibsons and the weather forecast for the Howe Sound on the Government of Canada website. Slack tide is the time the tide changes. Currents and rips are often more manageable an hour before and an hour after slack tide.
The Howe Sound also has busy ferry corridors. Ferries often struggle to see paddle-craft, especially in the dark, during choppy seas or fog. They also produce a significant wake. Check the ferry times on the BC Ferries website to avoid an encounter, or alert them to your presence via a marine VHF radio.
The Sea to Sky Marine Trail website has more information on trip planning and hazards.