It's 8am and the sun is just starting to warm my skin. To my left, the crashing waves of the Atlantic roll in. To my right, grassy sand dunes flutter in the breeze. Ahead of me lies a vast, empty beach. I put my hand down to pat my horse's neck, then tighten the reins in anticipation. I wait for the signal. Then, with a jolt, we're off.
For the next five minutes, all I can hear is the wind whipping in my ears. I set my gaze on the horizon and remind myself to breath. My horse has a long, even stride. I trust him, so I give him more rein. He responds accordingly and picks up the pace. In 25 years of riding, I've never galloped this fast, nor for so long. Soon my legs start to burn.
Our guide, Jose, puts his hand up. This our cue to put on the brakes. We ease off and wait for everyone to congregate. I look back and marvel at the distance we've travelled. Finally, there are 12 horses, all snorting and straining. Their riders are smiling from ear to ear. It's an exhilarating way to start the day, and there's plenty more to come.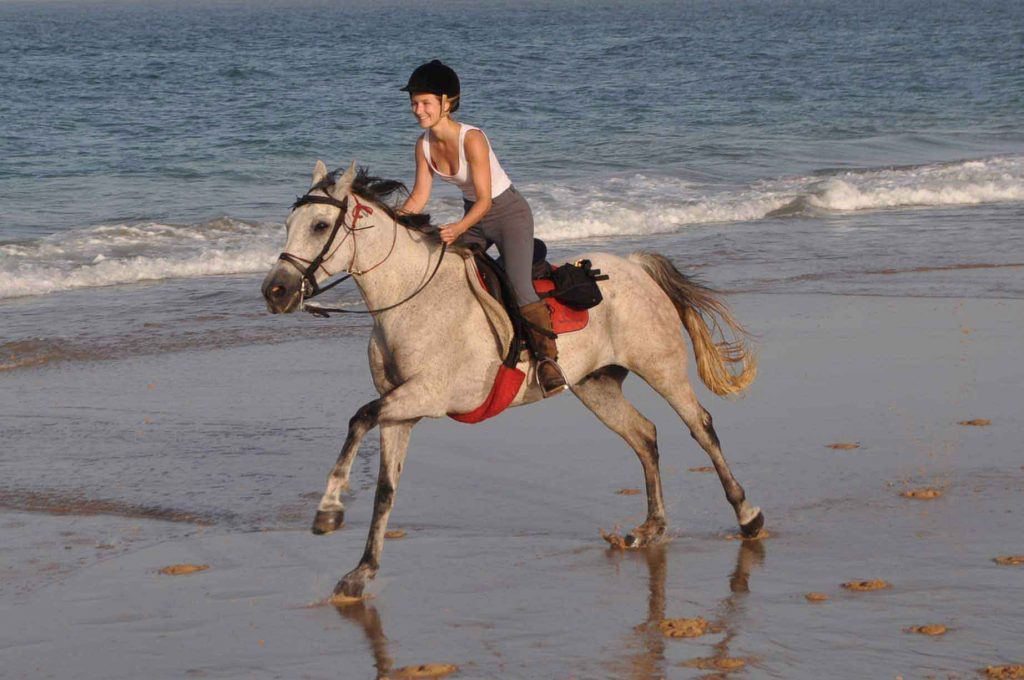 Los Alamos
I'm on Cape Trafalgar in the south of Spain. Over 15 years ago, Rachel moved here from the UK to work at a local stable. Shortly afterwards, her brother Andrew and his wife Rhiannon joined her. Together, they now run Los Alamos, which they describe as the 'ultimate Andalucian horse-riding experience'.
Their position on the Costa de la Luz is enviable. This feels like the Spain of old, with dusty roads and whitewashed buildings. The rich equestrian tradition of Andalucia is palpable. Men ride their horses to the local bar and tether them up outside. The coastline remains unspoilt. There's not a high-rise hotel in sight.
Although in many ways, I myself am on an all-inclusive holiday. Other than flights and travel insurance, everything has been taken care of for me. Andrew picks me up from the airport in Malaga and drops me off a week later. All my meals are provided and I'm told to help myself to the fully stocked drinks cabinet.
The horses
But instead of rising early on my first morning to bag a sunbed, I pull on my jodhpurs and walk five minutes to the stables. There, Rachel and her team have prepared our horses. There's a mixture of Arabs, pure-bred Andalucians and crosses on offer. It's evident that they are all impeccably treated, their health being the top priority.
My horse is called Shukran, which means 'thank you' in Arabic. I am thankful, because for me, he's perfect. This is no coincidence. The previous evening, Rachel asked each of us what kind of horse we like to ride. I favour forward-going but sensible, and that's exactly what I got. Here, horse and rider are matched by personality, not just by height and weight.
We spend the first day in the saddle getting to know one another. There's 10 people in my group, which is the maximum allowed. We have a guide at the front and a guide at the back. Together, we snake our way around the forest, getting a few trots and a short canter under our belts.
The accommodation
After around five hours of riding we return to the stable and untack. Once the horses have been turned out, we return to the beautiful Spanish finca, which is home for the week. There are nine rooms, all traditionally furnished. In the centre is a communal living area, complete with an open fire for the winter months.
We have the rest of the day to spend as we please. The first day I lie by the swimming pool, reading book in one hand, gin and tonic in the other. Later in the week I head to the nearby beach at Barbate. Another afternoon, I explore the quintessential Spanish hilltop town of Vejer de la Frontera. Each time, Andrew drops me off and picks me up.
In the evening we gather around the large dining table as Rhiannon serves up a delicious home-made, three course meal. Before arriving, I decided to give up dairy, and she adapts the menu for me without complaint. Wine flows and conversation gets underway. It's an extremely social set-up, and it's not surprising that most people have come alone.
The riding
On the second day, the riding steps up a gear. There's no trotting to be had. From here on in, if we're not walking, we're either cantering or galloping. Take note – you have to be an intermediate or advanced rider on this holiday. Novices simply cannot be catered for, although non-riders are welcome to stay at Los Alamos, should they wish.
I believe, however, that you need to ride to experience the magic of this place. I find the quality of the riding startling. So often on group hacks you're lucky to get a canter in, and even then, it's at a sedate pace. Not here. There's 5,000 hectares of forest adjacent to the stables, and each day we cover a lot of ground.
We canter nimbly along narrow tracks, weaving our way around corners, past umbrella pines and eucalyptus trees. We race along wide, open firebreaks. We even canter downhill on a sandy path known as the rollercoaster – a strange sensation, even for the experienced rider.
Thankfully the tide is in our favour, so two mornings we are treated to a beach ride. Normally this isn't permitted during the summer months, but Los Alamos has a special licence. Now we can see what our horses are really made of. It's fast and furious. My Spanish Arabian doesn't even break a sweat. It's no wonder he's an endurance champion.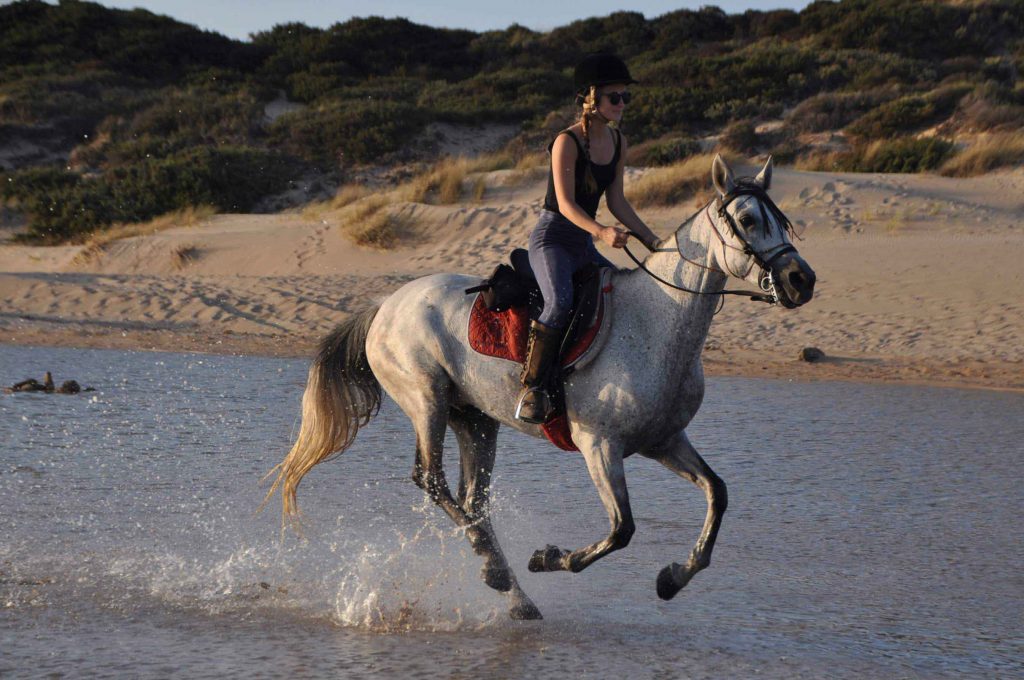 The holiday
As the week wears on, I settle into the familiar routine. Each morning breakfast is laid out in the dining area where we help ourselves. After a morning of riding, we stop for lunch at a local taverna. It's all been organised and regional produce fills the table. The horses snooze happily in the shade, their girths loosened for the time being. In the afternoon, we make our way home to spend a few hours as we wish before dinner.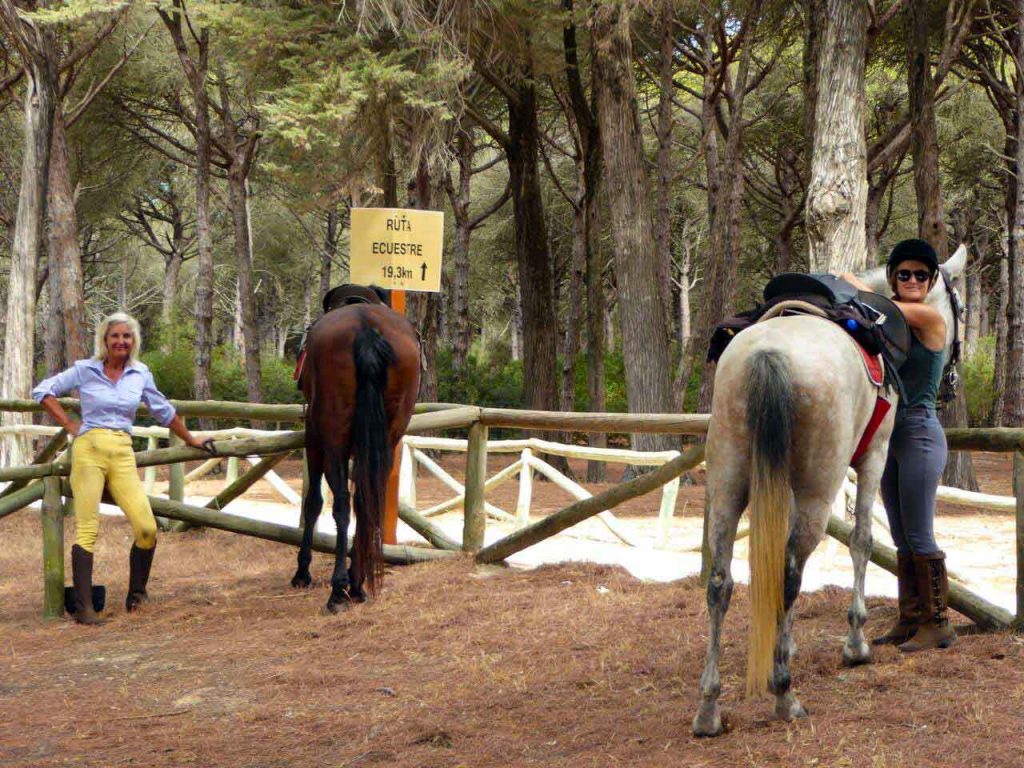 On Thursday the horses rest, so those who are interested attend a show at the Royal Andalucian School of Equestrian Art in Jerez. The cost of transportation and the tickets are included in the price of the holiday. Afterwards I buy some local sherry, if only to use the spending money I have brought with me and found no other use for.
I thought I would welcome a day off. In fact, I miss being in the saddle. I can understand why the majority of guests at Los Alamos are repeat bookings. The pace of riding, the stunning scenery and the warm hospitality make this like no other horse-riding experience I have ever encountered. That may be the only downside to Los Alamos – it sets the bar so high, little else can compare.
Horse riding holiday Andalucia
Los Alamos is open throughout the year. Holidays run from Sunday to Sunday, or for shorter breaks from Wednesday to Sunday. Non-riders are eligible to a discount. Bookings can be made directly with Los Alamos, or through In The Saddle.